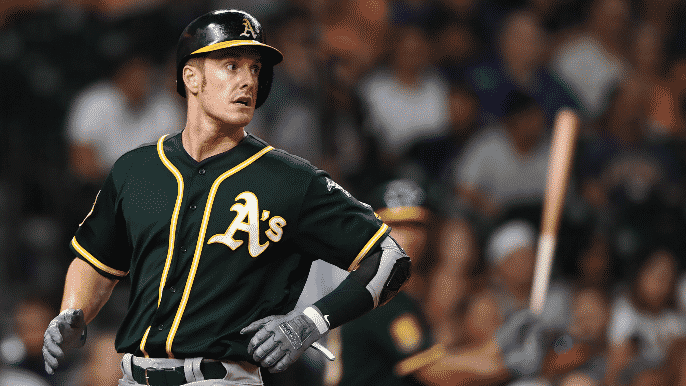 Risers
Mark Canha, OF, OAK
Canha is one of those guys that never seems to be anything more than waiver wire fodder. But now it's simply impossible to ignore what he is doing at the dish. The 30-year-old outfielder is quietly having an impressive season, batting .268 with 17 home runs.
Canha has been red-hot since the All-Star break, batting .311 with five home runs, 11 RBIs, and two stolen bases. The A's are 10th in the league in runs scored as they continue to make another improbable playoff run. Canha should continue to be involved in the production of runs for the potent A's lineup as he generally bats in the middle of the order.
Looking at the numbers behind his performance, we can see Canha has been a bit unlucky. His BABIP of .268 is a bit low. I don't expect that number to climb too much higher as he has a 44.8% FB%. He is clearly going for home runs when he steps into the dish, an approach that will continue to work. As we grind through the dog days of summer with more and more injuries, Canha is ready to step in and give you some power.
It's quite likely that Canha is still on your waiver wire, especially in traditional leagues that don't take into account OBP (his OBP is an impressive .382). Canha is currently owned in: 6% of leagues in ESPN leagues, 6% of Yahoo leagues, and 15% of CBS leagues. These numbers seem incredibly low to me. Grab him now if you're lacking for outfield depth and ride the hot streak.
Adam Duvall, OF, ATL
Duvall has taken the majors by storm since he was recalled just over a week ago, hitting five bombs in only eight games with the Braves. This coming after blasting 29 home runs with the Braves' AAA squad in 94 games.
We have seen feats of power from Duvall before as he had 64 combined home runs for Cincinnati in 2016 and 2017. 2018 was a miserable season for Duvall as he batted .195 with only 15 home runs. Duvall's fly ball heavy approach will never result in a high batting average but he was quite unlucky. He had a BABIP of .237 with a Hard% of 36.6%. He was still hitting the ball harder than league average (35.3%) so I don't foresee that number being so low this time around.
With this year's juiced ball, the potential for even more home runs is there for hitters willing to put the ball in the air. And Duvall, with a career 47% Fly Ball%, is definitely swinging for the fences.
It's still too early to read into the trends behind his performance but Duvall has a 61.9% Hard%. He's absolutely mashing the ball for a Braves' squad that is already 5th in runs scored in baseball. With each bomb, Duvall keeps climbing up the list of players most added. He is currently owned in: 45% of Yahoo leagues, 17% of ESPN leagues, and 46% of CBS leagues. Grab home now and ride the power wave.
Fallers
Danny Santana, 1B, 2B, OF, SS, TEX
When a player has a breakout performance out of nowhere, it's easy to assume that performance will continue for a long period of time. So I won't blame you if you profited off Danny Santana's breakout this season and you are hesitant to sell. So let's dig into the numbers to see what is going on with the journeyman who plays all over the diamond.
Santana is batting .324 with 16 home runs and 12 stolen bases. Considering he has eligibility at shortstop, those are elite numbers. Santana's BABIP is .406, an extremely high mark. While he is a fast baserunner, he is due for a market correction of about 40 points in batting average.
As for the power, well Santana is not really a power hitter. Those 16 home runs are already a career high (he had 7 in in 101 games in 2014 with the Twins). We can chalk up some of these to the juiced ball. But Santana's FB% is only 35.1% (quite low for a power hitter) and his HR/FB% is 21.9%. The major league average for HR/FB% is 15.1%, so we already know more of those fly balls are going to be outs going forward.
There's nowhere to go but down for Santana. The time is now to move him in a trade before he loses value.