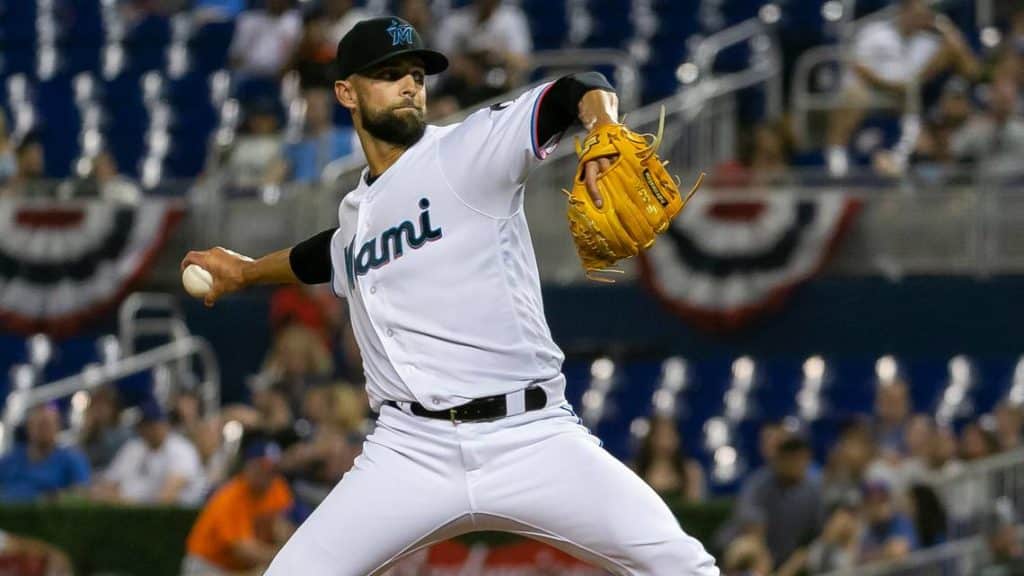 Risers
Nick Anderson, RP, MIA
This year's trade deadline is more important than ever as there will be no waiver trades after July 31 as in previous seasons. The chips have already started falling as Miami shipped closer Sergio Romo to Minnesota. This means that Miami needs a new closer and the likely beneficiary is rookie Nick Anderson.
Anderson has a dazzling K% of 36.9% as he has whiffed 66 batters in only 42.1 innings pitched. His ERA of 4.04 is quite average, but his FIP of 2.70 means his ERA going forward will likely fall. Unlike Romo, who can't get out lefties, he has no major platoon splits. Anderson's wOBA (weighted on-base average) against lefties is .312 and .280 against righties.
There is a good chance Anderson is still available on your waiver wire: 6% owned in Yahoo leagues, 7% in ESPN leagues, 10% in CBS leagues. Pick him now before he starts racking up saves and grabbing everyone's attention.
Niko Goodrum, 1B, 2B, 3B, OF, SS, DET
With injuries piling up across the league, it's nice to have guys with positional flexibility. Enter Niko Goodrum.
Goodrum qualities at every position on the diamond besides catcher. With average power, good speed, and solid on-base skills, Goodrum makes for an excellent stash on your bench.
In the last two weeks, Goodrum is batting .386 with three stolen bases and two home runs. He is on pace for 15 home runs and 15 stolen bases. That's good production at shortstop but is also playable in spirts on the rest of the diamond.
Goodrum is hitting the ball well. He has a Hard% of 37.1% and a Line Drive% of 28.6, both of which are above average. As Goodrum continues to work his way into fantasy relevance, owners are taking notice. He is owned in: 23% of Yahoo leagues, 11% in ESPN leagues, and 37% of CBS leagues. He can fill in for your injured starters anywhere if they have unexpected DL stints as teams are quick to put guys on the 10-day IL.
Fallers
Chris Paddack
Paddack has been one of the best pitchers in fantasy baseball this season. The 23-year-old rookie has a 2.84 ERA and WHIP of 0.89 with 99 strikeouts in 95 innings. But now follows why his value is way too high and he has nowhere to go but down.
Paddack has a BABIP of .209 and a Hard% of 44.2%. He has been incredibly lucky to have a BABIP so low while giving up so much hard contact. For comparison sake, Kenta Maeda has a BABIP of .230 with a Hard% of 30.1%. It's extremely unlikely that Paddack can continue this Houdini act of giving up line drive after drive that ends up in the glove of his teammates. Paddack's FIP of 4.03 basically tells us that his performance has been rather average to date.
Paddack is also having trouble limiting fly balls. His FB% is 41%. Hard contacts and fly balls is a recipe for disaster in the 2019 juiced baseball era.
While the Padres continue to stay somewhat relevant in the playoff chase, they are more inclined to keep Paddack in the starting rotation. But we don't know how long this will continue and if they have an innings limit in mind for the young rookie. Now is the perfect moment to explore a trade for Paddack as his performance will only fall going forward.