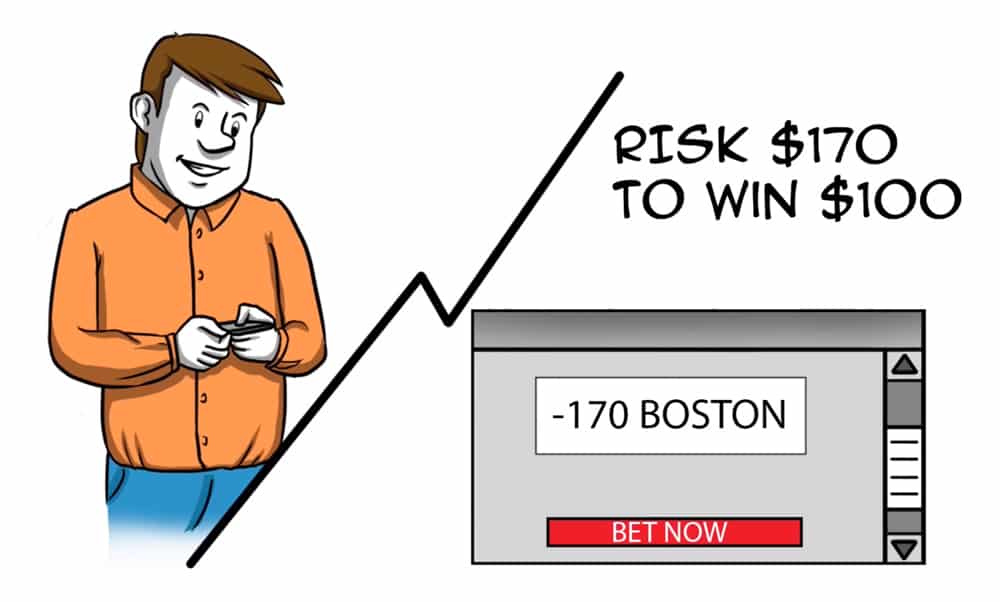 If you're new to sports gambling, you might not understand why you can't just bet $100 on your favorite team and always profit $100 if they win. That's because you have to take into account the odds a sportsbook places on each outcome.
Betting on a team to win, without using the spread*, is called taking the moneyline.
Sportsbooks offer moneylines for each outcome of a game or match. The "favorite" team is given a negative moneyline.
For example, if the Arizona Cardinals are -110 to beat the Detroit Lions, that means you'd have to bet $110 to win $100. That's because the oddsmakers believe Arizona is more likely to win outright, so you get less money for betting the favorite.
The "underdog" is given a positive moneyline. For example, if the Phoenix Suns are +170 to beat the Los Angeles Clippers, that means you'd win $170 with a $100 bet. That's because oddsmakers think Phoenix is unlikely to beat the new-look Clippers with Kawhi and PG-13, so you win more money for making a riskier wager.
The final score doesn't matter. That only comes into play when you're using the points spread.
What it comes down to is this: sportsbooks want to minimize their risk, so they pay less money for likely outcomes and more money for unlikely outcomes.
For a more-thorough and more-enjoyable explanation of moneyline betting, check out this tutorial video from SportsBetting3.com.
Their guide walks you through everything you need to know on how to bet the moneyline. They even get into how soccer can really make things confusing with three-way moneylines and no obvious outcomes, meaning all moneylines will have + numbers.
Wait, what? I know, soccer is the outlier, but SB3 makes it easy to understand.
All right, watch the video tutorial, then get out there and LET IT RIDE.
*Spread = short for "points spread" – rather than just choosing an outright winner, gamblers are able to bet on the final margin of victory, with the favorite needing to win by a certain number of points and the underdog needing to stay within a certain range of points.