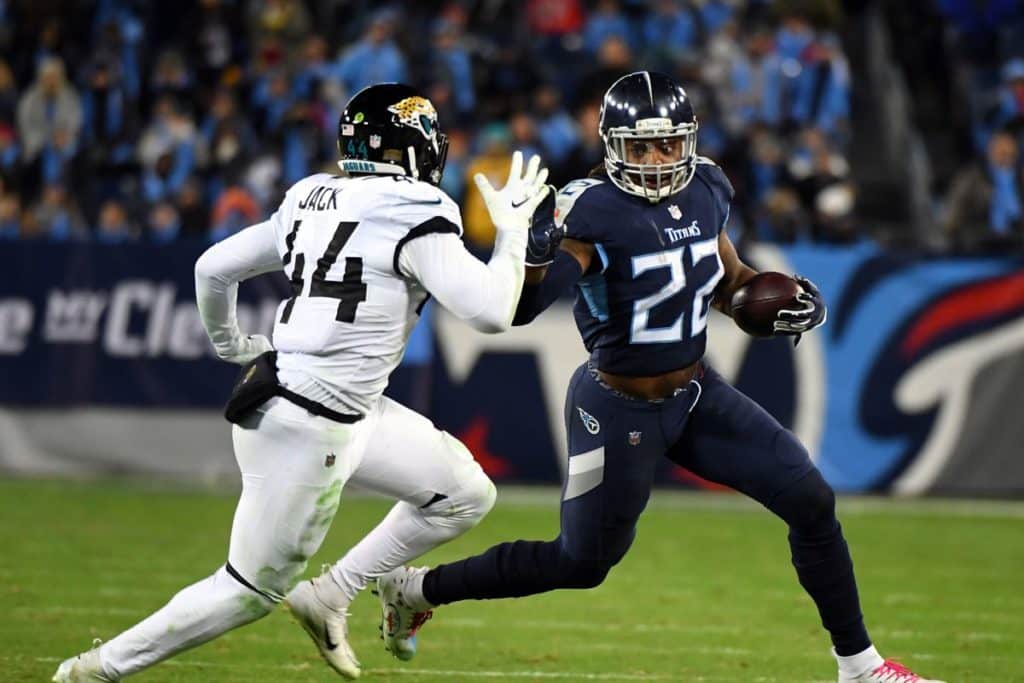 NFL Best Ball Fantasy Football's appeal fits the mold entirely to that of a DFS player: draft your team and LET IT RIDE. If you're new to it, fear not, that's why this article is here.
And just for the sake of for-fun reference, occurring live in the moment of inscribing this, I'm doing my first Best Ball draft of the season and will provide some intermittent picks throughout the article, finally concluding with my draft results.
The Beauty Of "Boom Or Bust" In Best Ball
No fretting the waiver wire weekly. No deliberating between WR4 or RB2 for your second Flex roster position at 2:30 am. What you draft is what you get, and that's it for the season. Kick up your feet and hope for the best.
But how do you set yourself up for the most successful and enjoyable approach to the season?
While there is no set scoring differences or positional skewering (unless your league decides on it), the underlying theme is that your top fantasy performers each week at each position are who wind up filling your roster automatically. This roster is defaulted to your standard allotments of 1 QB/2 RB/3 WR/1 TE/1 FLEX.
This particular format promotes a sort of "boom or bust" approach to your draft methodology, considering your highest scoring players each week will fill out your positional starting spots regardless of how high those totals are.
Essentially, guys who never have a high ceiling with middling fantasy scores each week will never result in you winning your Best Ball league championship.
LIVE BEST BALL DRAFT PICKS (10TH OVERALL PICK):
10th Pick: Michael Thomas (WR, Saints)
Pretty much chalk here, but wanted to opt in for a big-play receiver with my first pick considering how the NFL rules protecting passers and receivers encourages big plays at this position. And what better a start than with Brees' right hand man? Adams and Hopkins already off the board as well.
15th Pick: Todd Gurley (RB, Rams)
I was torn between Mixon and Gurley here, but then reality set in: it's Todd Fuckin' Gurley. Nobody in that backfield is coming close to his job in the foreseeable future either (barring any injury setback; and elected not to handcuff later since there isn't a clear-cut guy), and Mixon still has the lingering threat of Giovanni Bernard to vulture his touches.
Drafting High-Upside Players
Like in any fantasy football draft, after the first five or so rounds, reaches will be made and mistakes can be capitalized upon.
Realizing that when you've surpassed the obvious consistent stud plays at each position, sticking to the guidelines of drafting players who have a potential of hitting that high ceiling any week is going to prove valuable through the course of your season.
Whether it be filling a major role later down the line or having the notoriety of popping out of the shadows to have that one huge week, drafting high-upside players is the key to ensuring your starters have a shot at hitting some huge totals on random days.
One thing you'll be dreading is if you have a player consistently making the starter at a position with vanilla numbers each week.
Don't get me wrong: consistent numbers instead of no numbers sounds like a great thing on paper. But never getting a big number when your starters at a position are constantly stuck posting average fantasy turnouts will prevent your season total from stacking up at the top to provide you a chance at paydirt.
Therefore, if you happen to have drafted a stud at Wide Receiver, but happen to have missed the boat on the top plays at Running Back, you'll want to aim for the next in line who may have subpar numbers on some given weeks but explodes for three touchdowns the next.
LIVE BEST BALL DRAFT PICKS (CONTINUED):
34th Pick: Derrick Henry (RB, Titans)
I got sniped on AJ Green just before my pick, so I went with the best boom play with projected consistency (considering Dion Lewis' fall from the heavens) and without a looming suspension that could potentially carve out half of a season of productivity (that in Tyreek Hill also being available here). Monster carries should he stay healthy and all but solidified the backfield with his dynamic performances at the end of the 2018 season.
39th Pick: Brandin Cooks (WR, Rams)
This was my first whiff in the draft, losing sight of multitasking and primarily the fact that I had already drafted Todd Gurley (I'll get into drafting players from the same team shortly). Granted, it's not a total crime against humanity but in hindsight I would've preferred a slightly less "boom" play if it meant from a player from a different team. With who was available in this area of the draft, I would've gone with Chris Godwin instead given my circumstances.
Rounding It Out
Looking back at my Brandin Cooks pick in the fourth round, it isn't entirely out of reason to roster players from the same team. However, if you're going to do so, I would likely cap it at two from any position to ensure you're not limiting yourself too much on any given week.
Naturally this theory applies to standard season-long fantasy football as well, but the overlapping is much easier mitigated with having the personal option to start whom you like in that format. If I'm getting two guys from the same team in my starting lineup, I'm looking for a high-octane offense whose coaching system provides enough to feed both players should they wind up as my top scorers.
While there are plenty of reasonable strategies one could carry over from traditional season-long fantasy experience, trusting the process far enough to dig beneath the "safe" chalk in some rounds in order to roster a player with a higher ceiling despite the risk involved in said player will ultimately carry over to standout weeks for you in order to cash in come season's end.
LIVE BEST BALL DRAFT PICKS (FINAL ROSTER):