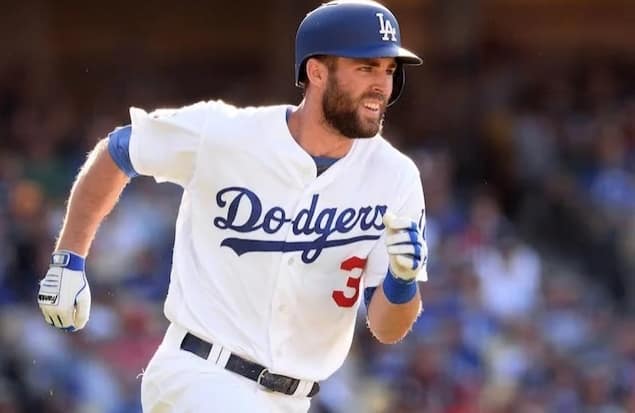 Risers
Chris Taylor, SS, 2B, OF, LAD
The versatile Taylor is heating up and forcing his way onto the diamond. Over the last three weeks, he is batting .368 with three home runs, two stolen bases and 18 RBIs.
Taylor, who has played at least 15 games at SS, 2B, and in the outfield respectively, is a solid five-category contributor for the Dodgers.
Taylor had a rough start to the season, batting only .171 through April with a pathetic Hard% of 22%. But he's been tearing the cover off the ball in June. Taylor's Hard% in June is 50.8%, bringing his season-long number up to a respectable 36.6%.
Because of his above-average speed, Taylor has a high BABIP of .346, but that number is in line with his career norm of .344. His approach at the plate is solid as well, showing a good mix of ground balls and flyballs (39.6% Ground Ball%, 34.6% Fly Ball%) that allows him to hit for average and power.
His ownership is on the rise across all league formats: 54% in Yahoo leagues, 42% in ESPN leagues, and 53% in CBS leagues.
Grab him now and slot him in all over the lineup to get a little boost in every category.
Christian Walker, 1B, ARI
It seems like a lifetime ago that Walker was in this same space, but for the wrong reasons.
Walker had a hot start to the season, bashing home runs with a high average that was unsustainable based on his underlying performance.
But in the last two months, Walker is straight up mashing the ball. Walker's Hard% is at 50% for the season. His approach is split perfectly between ground balls and fly balls (39.7% GB% and 39.7% FB%), allowing him to hit for average (.260) and power (14 home runs).
That average should continue to climb with his solid approach and ability to hit the ball on the screws.
Walker has rare speed for a first baseman (five stolen bases) that may not last but could help you win the week in steals in category-based leagues.
I love his upside going forward. He has the potential to bat .280 and hit 40 bombs, especially with his competition for playing time, Kevin Cron, in the minors.
Brendan McKay, SP, TBR
McKay got the call to the show on Saturday and was dominant, throwing six scoreless innings against the Rangers while punching out three.
McKay, as referenced here, is the #2 prospect in Baseball America. I won't overcomplicate things here. If he's available somehow in your league, grab him.
Fallers
Nick Pivetta, SP, PHI
Pivetta continues to disappoint this season, failing to deliver on the ace potential he flashed last year with his high K% (27.1%).
But it's time to face the reality that he's not that pitcher anymore. Pivetta was demoted after an atrocious start to the season. After an unimpressive showing in AAA, the Phillies brought him back up and it's been more of the same.
Pivetta has a meager K% of 19.4% and a BB% of 7.3% this season. That's just not gonna cut it. Last year his ERA was high (4.77), but it now sits at 5.63.
Pivetta is just not rosterable at this point. Cut bait and use the roster spot for streaming starting pitching off the waiver wire.