It'll be another challenging week for bettors this week, as for the second straight tournament the PGA Tour heads to unfamiliar territory. This week marks the inaugural 3M Open at TPC Twin Cities in Minneapolis, MN.
The 3M Open itself is not new, as for years TPC Twin Cities played host to an event on the Champions Tour. But the PGA Tour plays a much different game than their elders, so simply looking at those leaderboards for clues is a fruitless task.
Here's everything to know before the players tee it up this weekend.
The Field
Like the Rocket Mortgage Classic last week, the star power in the field is shallow and outside the bigger names there isn't a whole lot of players who'll drive ticket sales. The biggest fish is Brooks Koepka, who will use this tournament as a final tune up before the Open Championship at Royal Portrush in two weeks. Joining him are Jason Day, Phil Mickelson, Patrick Reed, Bryson DeChambeau, Tony Finau and Hideki Matsuyama, who also will be making their final starts before the Open Championship as none of these players are expected to play in either the John Deere Classic or the Scottish Open prior to the final major of the year.
After this crop of players, the field is very mediocre (to put it nicely). CBS will be hard pressed for good ratings on Sunday if none of these players are in the mix to get the win. On the flip side, like it was for Nate Lashley in Detroit it provides an opportunity for an unheralded player to get a win and change their lives forever.
The Golf Course
TPC Twin Cities is night and day when compared to the Detroit Golf Club, the host of last week's the Rocket Mortgage Classic. Whereas the Detroit Golf Club is a time capsule of old school golf architecture, TPC Twin Cities is a much more modern design with snaking fairways that creep its way around hazards and a suburban subdivision. It's a style of golf course quite popular during a golf course boom of the 1980's, 1990's and early 2000's where communities were built around a golf course.
TPC Twin Cities was first opened in 2000 and was designed by Arnold Palmer with consultation from Tom Lehman, Minnesota's favorite golfer. It wasn't long before the golf course hosted a professional event, as it became the home of the 3M Championship for the Champions Tour until 2018. With the reshuffling of the schedule and the PGA Tour's desire to move more tournaments to bigger markets, this year's 3M Open takes the place of The Greenbrier on the schedule and makes its debut for the PGA Tour in 2019.
Let me first start by saying something nice about TPC Twin Cities. Like almost all golf courses in the TPC network, it is in immaculate condition. The greens are in excellent shape, there's no dead spots in the fairways or rough, and the bunkers are smoothly raked with soft sand. Though TPC golf courses can be a bit of a burden on ones wallet, one can expect fantastic course conditions for the amount of money they fork over for a round.
With that said, TPC Twin Cities is an absolute train wreck of golf course design.
Front Nine
Back Nine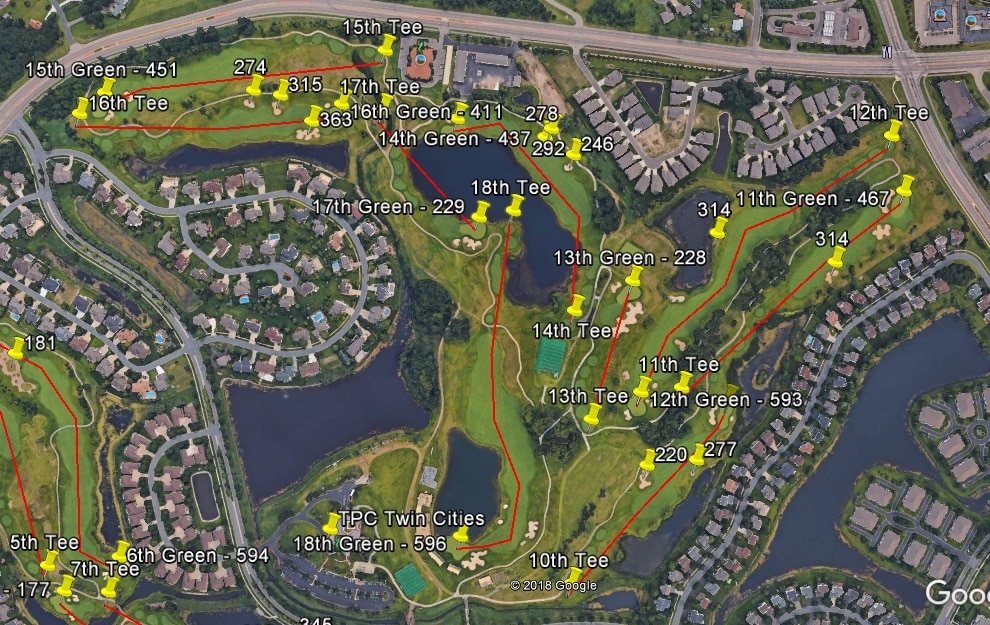 If EA Sports gave an 11 year old a two liter of Mountain Dew and asked them to design a custom golf course for one of the Tiger Woods video games, the output would be TPC Twin Cities. "Oooooo, let's put a water hazard here! And let's put a bunker here! And look, here's another giant water hazard over here. MOAR BUNKERS! Can I put the Metrodome in the middle of the 12th fairway?" This golf course is a complete overindulgence of hazards and a huge mess tee to green for several holes.
In all, 12 of 18 holes on the golf course brings water into play off the tee or on the approach shot. There's nothing wrong with strategically placed water hazards or bunkers to challenge players. But the manner in which they're placed at TPC Twin Cities seems with more of the intention of showing off and peacocking instead of placing them in a strategic fashion.
Worse off, there's a lot of placement of bunkers where they just don't make any logical sense. There are a few holes on the golf course that feature fairway bunkers where only a gross misshit off the tee is capable of putting it into play. For example, the 1st hole features a fairway bunker that requires a 256 yard carry from the back tees (where the pros will play it) and only 198 yards to carry from the blue tees (where most mid handicappers will tee it up from).

Only a poor tee shot will bring this bunker into play, which leaves one to wonder why Palmer and Lehman are doubly punishing a poor tee shot on this hole? That bunker would be much better served up the fairway or on the opposite side where the landing zone widens up. This issue can also be seen on holes 3, 6, 10 and 14, where there are bunkers off the fairway that are only accessible by poor tee shots that doubly penalize a player.
Nonsensical bunkering can also be found on Hole No. 7, supposedly a drive-able Par 4:
The official yardage on the scorecard from the tips is 381, but I suspect they'll move the tee boxes up to give an incentive for someone to try and drive for the green. But for us mere mortals who often have a 50/50 shot of either hitting a good drive or a snap hook off the tee, why would anyone try and go for the green with the way this hole is set up? Not only is it a big carry over the water hazard down the left side, but players also have a huge bunker 40 yards short of the green one would have to carry as well. There's also an oasis bunker short right guarding the green, as well as fairway bunkers hugging the entire right side. In order for us common folk to drive the green, you'd have to hit almost a perfect right to left tee shot to fit perfectly down the narrow neck of the fairway to avoid all the water and sand down the hole.
I'm sure the good folks of Minneapolis are proud of this golf course. It's in great shape and they probably take pride in how tough it is on us mere mortals. But just because a golf course is "tough" doesn't mean it's good. If you're reading this and are a mid to high handicapper, you probably would be pretty hard pressed just to break 100 with all the trouble on each hole. Who really wants to sign up for that while also forking up a ton of money for a private membership there and knowing you could lose an entire box of Titlist Pro V1's anytime you play 18.
I understand why the PGA Tour eliminated The Grenbrier from the schedule in favor of Minneapolis. The Greenbrier struggled to attract good sponsorship dollars especially after the flooding they had back in 2016 that cancelled the tournament. But the Old White TPC at the Greenbrier was a marvelous golf course, and despite what you think of the political leanings of Big Jim Justice he ran a wonderful tournament that gave back a tremendous amount of money and capital to people of West Virginia. While it's still to be determined when in the fall the Greenbrier will be played, count me in as someone who'll miss it's place on the summer schedule.
Betting Strategies

Just because TPC Twin Cities gives normal golfers fits doesn't mean it'll be much of a challenge for the best players in the world. Sure there could be some big numbers put up on a few holes with a few errant shots into the drink, but for the most part these guys should be able to pick the golf course apart with how long and accurate modern golf clubs allow them to be.
Unless for the most errant of tee shots, the fairways at TPC Twin Cities are very generous, often offering fairways 40 to 50 yards wide. If the players were able to go bombs away at the narrow Detroit Golf Club,  the bombers will be licking their chops and hit driver on almost every hole.
As far as what types of golfers to back this week, pound away at the players who rank highly in all the relevant strokes gained tee-to-green stats. This tournament also will likely be a birdie fest like last week, meaning that those who are striking their irons well should rise up the leaderboard as they'll have more scoring opportunities. And as we saw from last week, anytime the PGA Tour goes to a new venue they are always very cautious with the setup so they don't upset the players. That means easy, gettable pin positions on soft greens (either by mother nature or the tour soaking them) that the players can fire to all weekend. Viewers will once again be in to watch target golf over their 4th of July weekend.