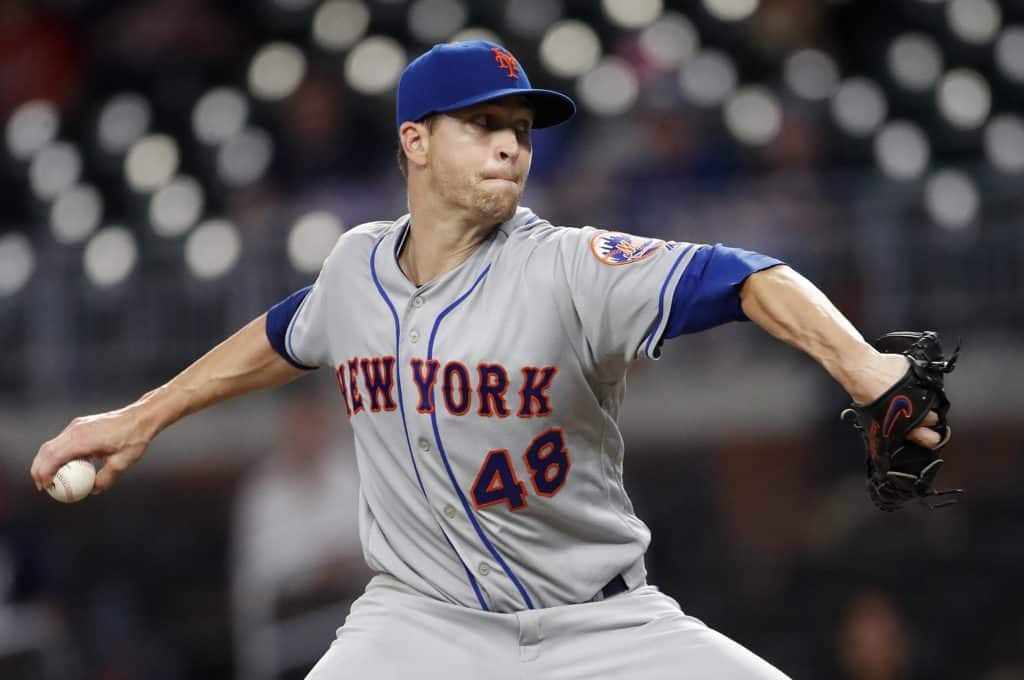 It isn't as often as you'd think that we receive such a well-rounded fantasy matchup in relation to having such high-performance pieces proportioned out to just about every position. But throughout this weekend that appears to be the case indeed as we're delighted to Mike Soroka vs. the resurgent and erratically powerful New York Mets offense, or Jacob DeGrom against the Murderer's Row of the Atlanta Braves. Either way you twist that one, we're in for a treat.
And in case you hadn't noticed on Thursday, the league-leading Dodgers are swinging at elevation against the Rockies in Coors Field, with the results thus far offensively proving to be every bit as worthy as anticipated. This means we get the latter three games of the series all through the weekend for those later game stacks, but who will you be pairing with those pieces elsewhere? Let's take a look at some of the off-the-radar options.
All Eyes on DeGrom
When it comes to if you're picking bats in this weekend's Braves/Mets series, it's honestly kind of hard to go wrong picking from either side to half your roster with. While the Atlanta Braves are much more of the recently obvious selection among the field (as evidenced by their price tags lately), when it comes to the New York Mets, some of you may have assumed the standout rookie Pete Alonso to be the only offense they've been brandishing…but not the case.
In fact, despite the typical downtrodden and depressing themes coming out of various outlets when it comes to any sort of Mets discussions (tune in to pretty much any national sports show and there's always a minimum of one sullen NY native bitching about one of the Mets or Knicks), you'd be quite surprised to know that the current 2019 New York Mets offense actually ranks 8th in Isolated Power (ISO), 6th in weighted On-Base Average (wOBA), and [wait for it]…3rd in weighted Runs Created Plus (wRC+). You just need to remember the Mets have a garbage bullpen that coughs up leads, that's why they bitch about them (we'll get to that).
So with all that being said, and Friday featuring a whopping fourteen-game slate, you can probably look to roster bats elsewhere considering who will be topping the mound, and that goes for both teams as well. Atlanta's Mike Soroka is often found in the conversation of pitchers getting too much love, and this to me is bullshit (but we'll save that for another discussion). Point being, his price tag didn't just fall in his lap for no reason and the kid has a lot of talent while mitigating fly balls into ground balls like crazy. Have some respect for him.
Now that we've managed to mount that soapbox for all of those prefacing details, let's go ahead and address the elephant in the room: Are you playing Jacob DeGrom, or are you against him? Despite how large the slate is as mentioned, there's one player who likely controls the weight of where things will go on Friday and it's the Man of the Metropolitans (sorry, Pete).
[So if you're at all familiar with my style of play, it's no secret that it doesn't take a bench warrant for me to go turning over stones that I often shouldn't be when it comes to digging into large weekend slates in search of the best contrarian plays possible. I'll be the first to admit, this is often to a fault. But I'll remind you of one of the very first things I ever told you guys in this series of articles, and that's to let me throw out the idea experimentation (see: Cincinnati Reds two weeks ago) along with the reasoning I see fit and let you decide if you're walking the plank with me.]
Now that we got that micro disclaimer out of the way, here's what I'll tell you when it comes to the most likely potency of this game: LOTS of weight here. Jacob DeGrom carries such an ownership magnet along with him, and rightfully so. The guy's stuff is absolutely ridiculous. Naturally, if you're Mass Multi Entering it will be a challenge to fade him entirely, and ill-advised to do so.
But keep this strongly in mind: if the Atlanta Braves manage to crack the armor of DeGrom early on, the flood gates may very well open up. Because the Mets bullpen specifically, as I mentioned earlier, is very much a reason for the NY natives to be bothered about their beloved franchise:
• 3rd-highest ERA in Majors (5.53)
• 3rd-highest Batting Average on Balls In Play [BABIP] (.321)
• 3rd- highest xFIP (5.04; tied with Orioles)
• 6th-highest Skill-Interactive ERA [SIERA] (4.46)
• 19th overall Swinging Strike rate (11.4%)
Granted, that's a very big 'if' going on up there. But if there's as much ownership on DeGrom as we should be anticipating, it would be wise to find yourself some room to hedge against that with the awful Mets bullpen on the hopeful early horizon. I would try to roster the likes of lefties Nick Markakis, Brian McCann, and Freddie Freeman, along with switch-hitting Ozzie Albies. This will likely garner the middle of the order, and stacking a fellow righty to bookend the bunch would probably be the angle of approach I'll be seeking to play in my hedging efforts.
How Will You Afford A Dodgers Weekend At Coors Field?
With Friday likely featuring one of the first $6K+ bats of the DraftKings 2019 MLB season (Cody Bellinger, $6,000), it's definitely a sign that things could spread out financially if you're going to get to full Coors Stacks this weekend with the Dodgers in town. Or if you're of the mindset to fade any part of the series entirely, then you'd best be equipped to put up just as many hopeful runs elsewhere.
And where else would be a better place to start than by targeting Chris Archer and Drew Pomeranz?! Somehow both still drawing an absurd amount of ownership on every slate (at least in my biased opinion), these guys have less than a handful of random solid performances to tout on their 2019 DFS resumes of sub-mediocrity.
With Chris Archer heading into Milwaukee on Friday, and Drew Pomeranz taking on the Diamondbacks at home in Oracle Park for the second time this season on Saturday (and the first time is on my list of personal favorite DFS days ever), these are merely a couple of options that standout to me as supplemental/replacement plays to your action rostered from the Dodgers/Rockies series.
The Brewers on one hand are priced extremely high, and with good reason coming against Chris Archer. This will almost assuredly make them way off the radar considering the likes of the Coors Field action taking place, so ownership should be in our favor there. While Archer's Steamer Projection for rest-of-season [courtesy of FanGraphs.com] looks to smooth out a bit in the ERA department (5.56 currently, 4.07 RoS projection), there's no taking away standout elements like his Home Run to Fly Ball ratio being at a career worst by far (23.7%) and playing a team with so much power like the Brewers likely won't fare well for Mr. Archer.
The Diamondbacks on Saturday will probably find themselves priced somewhere between being supplemental to Coors Stacks, but also on the higher side considering their performance against Pomeranz in their previous meetings this season. Posting a lofty HR/FB rate himself for 2019 (24.2%), a meager 9.4% Swinging Strike rate, and a 6.79 ERA, I'm still baffled how people manage to be so enamored by this guy's limited upside (watch that jinx me). The Diamondbacks don't strikeout (23rd, 20.3 K%), are just above the middle of the pack in HR/FB hitting ratio (13th, 15.8%), and seem to have Drew's number thus far regardless of location.
If either of these two are going to be bringing in the SP2 ownership, then it's going to be all the reason more to head in the directions of Brewers and Dbacks with some of your Friday and Saturday roster supplemental bats. And just as always, hope to catch you on the greener side.