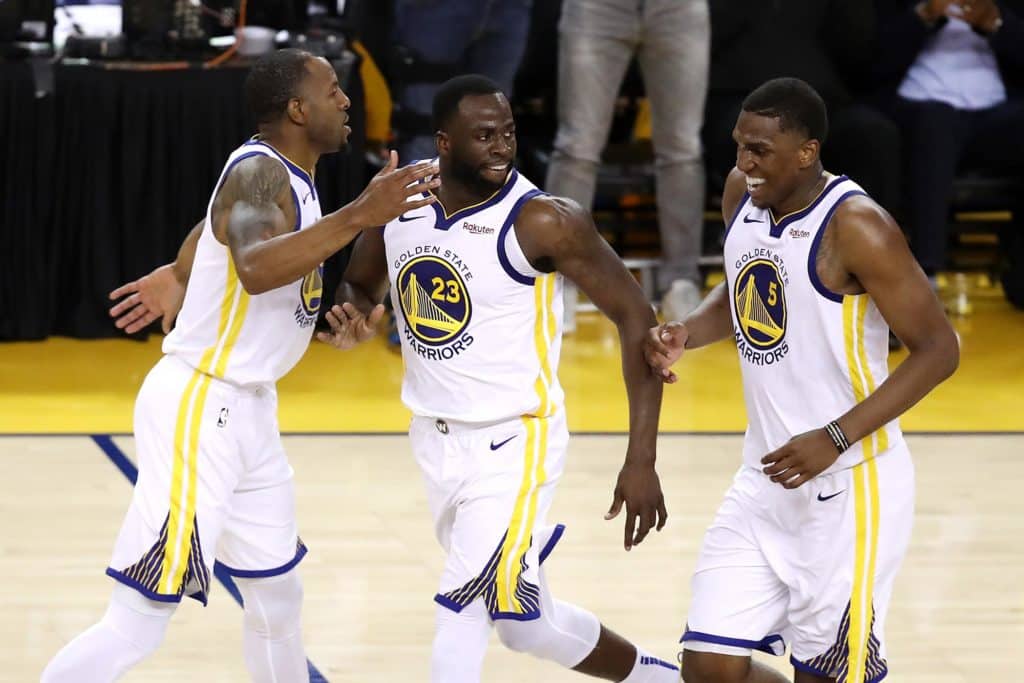 Well, that was painful to watch…on so many levels.
When a mere glimpse at the box score from Game 5 of the NBA Finals would indicate a hard-fought, gutted-out victory by the Golden State Warriors, little would you know from that distant glimpse of the game who that ultimately came at the expense of.
Kevin Durant, in an extremely controversial move by the Warriors medical staff, was cleared as a "full go" to play, after earlier word surfaced just last Thursday that would indicate otherwise. He was playing as if he hadn't missed a beat in the nearly twelve minutes on the court (11 PTS, 2 REB, 1 BLK), including perfect scoring from beyond the arc (3/3 3PM). Sadly, this came to an emotional halt when the mysterious calf injury he had been nursing for the past month proved to indeed be far worse than many had anticipated in a ruptured Achilles and had to be carried off the court by his still-determined teammates.
And now the Warriors live to see another day, on partial behalf of a Raptors meltdown in the waning three minutes of the game, just following an offensive onslaught by Kawhi Leonard in what appeared to be the dagger. The other thanks belong to the Splash Brothers in Klay and Steph, who provided the guts and silencing accuracy on the biggest stage's moment of truth. Lowry buckled (twice), the Warriors didn't flinch, setting up for a Game 6  that every daily fantasy basketball fan had hoped for, buying another day for a chance at the big $250,000 prize (should you opt to play that route on DraftKings; but there's plenty of other less expensive tourneys worth playing as well).
We already know that Golden State will come out guns-a-blazin', but that's not to say you shouldn't set yourself up to hedge in case the opposite does in fact turn out in favor of a lesser anticipated blowout on behalf of the Raptors. Let's take another look at some of our options for this evening…
Enter The Millionaire Showdown Using Promo Code SGP
Go to DraftKings.com or download the app NOW! Use code SGP and enter the all new Single-Game Showdown contest to compete for the ONE MILLION DOLLAR top prize!
Top Shelf
Steph Curry ($12,000/$18,000 Capt.)
I know, I know, I'm stating the obvious. Scoring 52 DraftKings fantasy points over a well-rounded 31 PTS, 8 REB, 7 AST doesn't require a road scholar to point out. But what does require a bit more attention is particularly just that: how much attention will Curry be getting in field ownership and do you trust he'll pay off his lofty price tag?
Well for those of you recency bias type folks, looking at the numbers following Durant's exit alone, Curry's worth every penny in a spotlight he's been past proven to succeed in under duress. While Curry posted a majority of his raw points in the first half of Game 5 (23 of 31 total), in the second half he proved beyond efficient otherwise, as he supplemented with seven of his eight total rebounds and four of seven total assists. The other key note is that his usage remained consistent before and after Durant's exit, posting 34% and 33% in the first and second half respectively.
In the most dramatic setting that the Bay Area faithful could hope for in an official farewell game at Oracle Arena, I highly doubt the poster child of their beloved franchise will let them down with anything short of a dynamic performance. But as I always emphasize, nobody is ever a "lock" play in any sport. While I'll certainly be trying my best to match the field ownership on Steph without sacrificing all reasoning in roster construction, I'll likely be under their ownership at the Captain designation specifically as it structures a bit too expensive for my taste.
Draymond Green ($10,400/$15,600 Capt.)
If there's been anybody to benefit from the absence of Durant, it's been this guy. Draymond has paid off his fantasy salary nearly every game since KD's initial injury against Houston, as his usage has consistently been in the 20-percentile range, besides the last game; and it doubled in the second half (16%) from the first (8%).
Posting yet another near triple-double performance (10 PTS, 10 RBE, 8 AST), the presence of Green is being felt both on the court and in daily fantasy scoring, and is due for yet another dominant stat line in front of the raucous fans in Oracle's finale.  And somehow his ownership proves to be low enough to be rather impactful leverage, particularly at Captain.
A note of interest will be how well-behaved he'll be in this game that requires not only his pinnacle performance on the scoring sheet, but also especially his manner on the court being just one technical foul beneath the suspension line for a would-be Game 7. How much this will impact his actual play is beyond anything we can quantify, so I wouldn't let that news affect how much I choose to roster of Draymond.
Draymond will be almost certainly be my highest owned player just over Klay Thompson, and will feature a majority of those lineups with him at the Captain spot.
Mid Grade
Marc Gasol ($7,000/$10,500 Capt.)
Proving to be one of the most consistently promising Raptors in this series, Marc Gasol's price tag has managed to get nowhere above $7,000 in any game through now, and was actually the featured captain of the winning lineup in Monday night's $250,000 top prize (sadly split 185 ways, paying $3,310.82 per entry).
Posting 30.5, 24.25, 31.25 DKFP in his last three games, Gasol is further evidence that by electing to roster an efficient and affordable player at the Captain position allows for the flexibility of rostering more stud players in general, as you can see in the lineup above. You would never be able to afford Curry, Kawhi, Cousins, and Lowry otherwise, and obviously that's what it takes to have a competitive lineup.
Bouncing back from a devastating loss that could've sealed a title due to a collapse in the final moments will rely on the confidence and veteran leadership of Gasol in Game 6, and I don't see his consistent performance coming to a halt yet. I'll easily be getting over the field ownership on Marc, which shouldn't be difficult, and at least a couple of those with him at Captain.
Enter The Millionaire Showdown Using Promo Code SGP
Go to DraftKings.com or download the app NOW! Use code SGP and enter the all new Single-Game Showdown contest to compete for the ONE MILLION DOLLAR top prize!
Lower Tier
Andre Iguodala ($4,800/$7,200 Capt.)
Another reliable beacon of consistently reliable fantasy production much like Gasol, Andre Iguodala comes in at a similar productivity level but on a slightly lesser scale…and with a significantly lesser price tag. While you won't likely be getting extremely high ceiling performances from Andre, you're just as certain to be getting an extremely stable floor, as he hasn't dipped beneath 21 DKFP since nearly a month ago against Portland.
Beyond noteworthy in consideration to playoff reliability in crucial moments, Game 6 seems like the perfect place for a star to shine as a potential sleeper for the Finals MVP should he come out with a reminiscent performance to that of the Warriors' first title of the current dynasty. While that may just be the contrarian in me speaking and getting ahead of myself, there's no denying that Iguodala is far too cheap at $4,800. On that note, he will certainly be the chalkiest player of the game, so getting ahead of the field on ownership could potentially be difficult depending on how high it comes in.
But with Andre's floor, and potential ceiling being the highest it's been in any recency given all the circumstances at hand, I will not be at all hesitant to plug Iggy into most of my rosters with his undeniable floor here. And if they roll him out the Hampton's 5 as the starting lineup, this bodes even better for him as he'll be included there and due for higher upside. Don't at all be shy at designating him at Captain either.
Dart Throw
Quinn Cook ($2,600/$3,900 Capt.)
I think the ship has sailed on Alfonzo McKinnie in this series, and part of that is thanks to Quinn Cook proving to be readier to step up to the task in that sporadic support role. Aside from a dud in Game 4 thanks to Kerr only divvying out seven minutes to him, Cook's actually managed to put up numbers that exceed his fantasy salary throughout the Finals. You could argue his tag in Game 3 was too high at $3,200, but still dished 14.25 DKFP in that outing which would've proved at least serviceable.
Coming in at a much more realistic $2,600 in his last game at Oracle, Cook will have a much easier time paying that off, where I could see him hucking up as many shot attempts as possible given the opportunity. He hasn't shied from firing from the three-point line especially, which makes his potential to pay off his cost that much within reach.
Although I wouldn't roster him at Captain, Cook is worth considering in at least a couple of your lineups as a punt play and matching the field shouldn't be a chore.