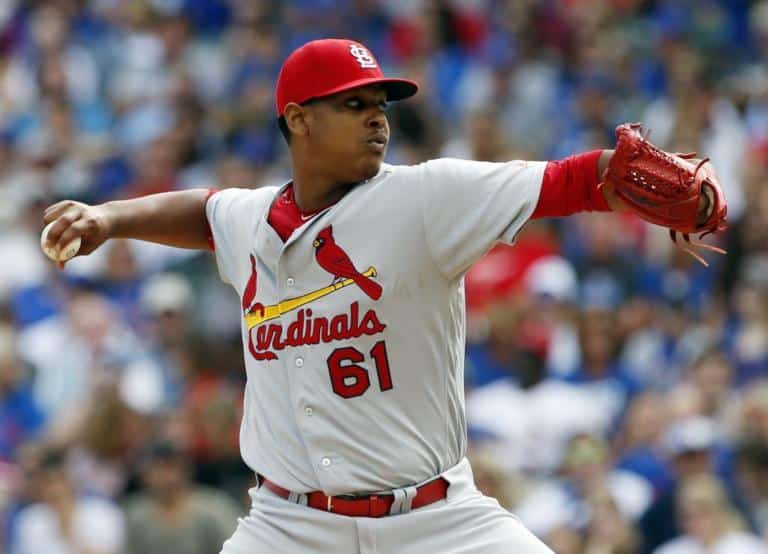 Risers
Alex Reyes, RP/SP, STL
Reyes is on the brink of getting called up to the big league club.
While he's not exactly dominating in AAA right now, the Cardinals are in need of a spark in the rotation. Manager Mike Schildt recently said publicly the star prospect will make at least one more start in AAA. Assuming he performs decently and shows he can swing a bat (he had a minor finger injury), Reyes will get the call.
The potential is tantalizing with Reyes as he could be the next breakout star. He has thrown a few innings as a reliever with the big club but this time he will be in the starting rotation.
The young fireballer is currently owned in 60% of CBS leagues, 30% of Yahoo leagues, and 11% of ESPN leagues.
If you can pick up minor leaguers in your league, Reyes is worth an add in all formats. The upside is too high to ignore as his ceiling is far higher than any of the waiver wire fodder you have on the bottom of your roster.
Jose Ramirez, 3B, CLE
Ramirez has been the biggest flop of the season so far. Drafted in the 1st round in basically any league format, Ramirez has rewarded his owners with a pathetic line of 4 home runs and a batting average right at the Mendoza line (.200).
He's still stealing bags (15 SBs) but you bought Ramirez for his power (39 home runs last year, 29 in 2017).
Still mired in a slump in early June, surely many owners out there are ready to throw in the towel. But that would be a huge mistake. You would be selling him at his lowest possible value. I also see many signs for optimism as his underlying numbers are much better than the surface numbers.
Ramirez's BABIP sits at .222, a low number for a hitter that has a Hard% of 37.3%. Consider that he had a Hard% of 36.1% with a BABIP that was 30 points higher (.252) last year. Ramirez' batted ball numbers are strikingly similar to last year's numbers across the board (47.4 Fly Ball% vs. 45.9% last year, 33.4% Ground Ball% vs. 33.3% last year, and Infield Fly Ball% of 13.2% vs. 13%).
I know it's hard to buy Ramirez now, but his vaue will likely never be lower. This is an excellent opportunity to get a 30-30 talent at a bargain price. Make a low-ball offer and see if another owner is desperate enough to make a deal.
Fallers
Josh Bell, 1B, PIT
Bell has come out of nowhere this season, putting up MVP-caliber numbers for the Pirates.
He is batting .333 with 18 bombs, 45 runs and 56 RBIs. He has already easily surpassed his meager total of 12 home runs from last year in less than half the number of plate appearances.
So what exactly is going on with Bell? Well we know for starters this year's ball is juiced as we are seeing an incredible number of home runs (and strikeouts). Digging into the underlying numbers, Bell's current run of dominance does not appear to be sustainable.
Bell's BB% is down (9.4% from 13.2%) and his K% is up (21.1% from 17.8%). His BABIP of .370 is also quite high for a player with no speed (Bell has 0 stolen bases). He is hitting the ball hard (48.1%), so perhaps the BABIP won't regress all way down to the league -expected number of .300 over a large sample.
Amazingly, Bell has only a 1.7% Infield Fly Ball%. That's unheard of for a player constantly trying to lift the ball out of the park. It's extremely unsustainable to maintain that super low number going forward.
I know it's hard to sell a guy that is basically carrying your team, but it's the perfect moment to put him on the market. He should net at least a #2 starting pitcher or perhaps you can convince another owner to part ways with a slugger having a down year (like Bryce Harper).