One of the biggest non-major tournaments of the year takes place this weekend as a star studded field heads to the infamous Muirfield Village in Dublin, OH for the Memorial.
This tournament is typically earmarked on the calendar for most of the biggest names in golf so they can pay tribute to the host of the tournament – Jack Nicklaus. With Arnold Palmer gone, Nicklaus now stands alone as the elder statesman of American golf and a titan of the game. As such, the Memorial annually has one of the strongest fields of the regular events on the PGA Tour.
Here's a preview of the tournament, along with winners picks and props.
The Field
With 68 OWGR points to be awarded to the winner, the Memorial boasts the strongest non-major/WGC field of the year. Headlining the field is an embarrassment of riches in star power – Tiger Woods, Phil Mickelson, Rory McIlroy, Justin Rose, Jordan Spieth, Jason Day, Rickie Fowler, Matt Kuchar, and Adam Scott, just to name a few.
When the likes of Henrik Stenson, Louis Oosthuizen and Marc Leishman are more than 50/1 to win the tournament, that's a murderers row of huge names in a field.
Besides the big names in the field, the player I'm most looking forward to watching this week is Justin Thomas, who returns to action following a lingering wrist injury that kept him out of the PGA Championship. Justin Thomas's price to win the U.S. Open is depressed due to his recent injury and poor play over the last few months, but he's a great fit for Pebble Beach. If he shows well this weekend and demonstrates the injury is a thing of the past, then he'll be back on my radar of golfers I'm looking at to win the U.S. Open in a few weeks.
The Golf Course & Betting Strategies
Following his win at Muirfield at the 1966 Open Championship to complete his career grand slam, Jack Nicklaus purchased a tract of land in Dublin, OH, which is a suburb of his hometown of Columbus, OH. He sought to build a golf community to highlight his career achievements in golf and named it "Muirfield Village". Though the land was purchased in 1966, the golf courses on the property were not opened until 1974. The community also began selling houses to the public surrounding the golf course, and many big names reside in the village such as Jason Day, Urban Meyer, and several prominent members of the Columbus Blue Jackets.
There are two golf courses in the community. One is the Country Club of Muirfield, which is your standard country club with a board of electing governors, tennis and pool facilities, etc. The other is the home of the Memorial, the Muirfield Village Golf Club, a national golf club similar to that of Augusta National and is very exclusive and secretive with who can get in and how much it costs. While Jack Nicklaus is a tremendous ambassador for the game of golf, Muirfield Village unfortunately is an icon of the negative stereotypes of golf – expensive, inaccessible, and unwelcoming. Nevertheless, the annual PGA Tour tournament held at Muirfield Village does tremendous work for the Columbus community, specifically through massive fundraising for the Nationwide Children's Hospital and honoring those who have fallen during their military service for this country.
As far as the conditioning of Muirfield Village Golf Club itself, there are few golf courses more well maintained that is played on the PGA Tour. Jack Nicklaus wanted to create prestine conditions similar to that of Augusta National, and by the end of May the golf course is in perfect tournament conditions with lush rough and greens that roll fast and true.
Front Nine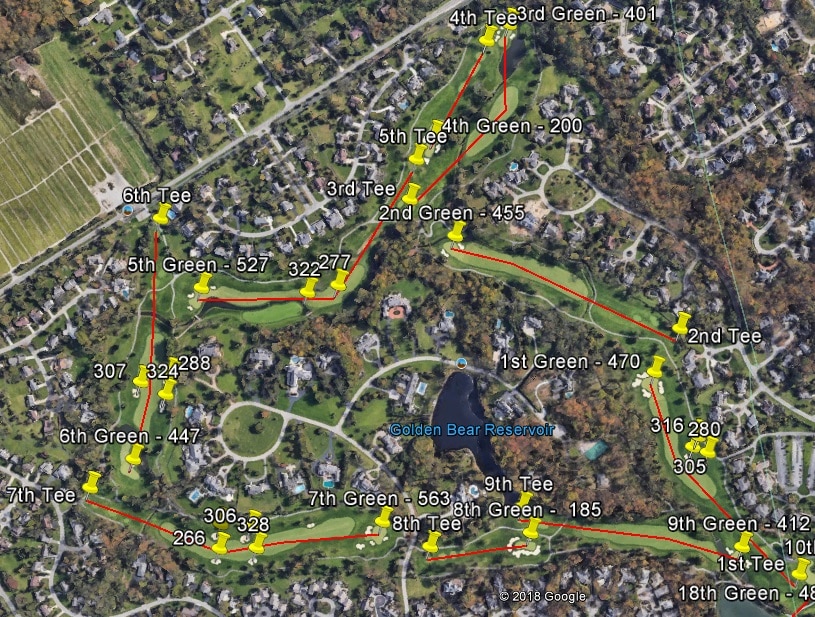 Back Nine
Jack Nicklaus boasts over 400 golf courses that he can claim as the primary architect or as a chief consultant, but Muirfield Village Golf Club is his masterpiece. Still, there are issues with some holes that embody many of his chief criticisms from golf architecture snobs, specifically unnecessary forced carries, the over-reliance of water hazards and bunkers, and unimaginative routing tee-to-green. As a test of the professional golfer, however, the golf course does a fine job and shows very well on television to the viewer.
At almost 7,400 yards and a golf course with well positioned hazards off each fairway and around the greens, this golf course is a true test tee-to-green for the professionals and requires both length and precision. When looking at the tops of each leaderboard in recent years, those who annually rank highly in the relevant ball striking strokes gained statistics fair well, particularly on approach shots. It's no wonder a golfer like Tiger Woods, considered the greatest iron player of the modern era, is a five time winner of the Memorial.
Still, the list of recent winners of the Memorial is, to be frank, a bizarre hodgepodge:
2018: Bryson DeChambeau (-15)
2017: Jason Dufner (-13)
2016: William McGirt (-15)
2015: David Lingmerth (-15)
2014: Hideki Matsuyama (-13)
2013: Matt Kuchar (-12)
In the years they won the tournament, Matt Kuchar, Bryson DeChambeau and Hideki Matsuyama were certainly not surprise winners. Jason Dufner is also a household name, but his win came out of nowhere as his best playing days appeared long behind him. And as for William McGirt and David Lingmerth, well, that didn't exactly make the CBS Execs too thrilled with their emergence as the winner.
Nevertheless, the golfers to target this week are those who excel tee-to-green, especially on long approach shots into the greens. While special attention was paid to those who are good putters, because the greens are so fast at Muirfield Village it tends to level the playing field overall (as evidence when guys like Jason Dufner and Hideki Matsuyama, some of the most unreliable putters on tour, call themselves former champions).
Here's who I like this week (with odds courtesy of mybookie.ag):
Patrick Cantlay – 16/1: Cantlay should have won last year's tournament, but yacked it away on the Back Nine during the final round. Still seeking a big breakthrough victory on the PGA Tour (his lone win came during the fall season against a weak field), he is in prime position to do so. Over his last five ShotLinked measured tournaments he's averaged 1.32 Strokes Gained Tee-to-Green, including terrific performances at the PGA Championship and the RBC Heritage, as well as the Masters which was not statistically measured. He has been held back by his putting in his career, but he has putted well of late and the greens at Muirfield Village levels the playing field for everyone. He should find himself gunning for the win again in 2019.
Matt Kuchar – 20/1: Besides his fantastic form (he has five consecutive Top 12 finishes), Kuchar is the horse for the course at Muirfield Village. He leads all active golfers in total strokes gained at the golf course in his career, gaining just under three strokes per round over the field. He is playing some of the best golf in his career as evidence by his ball-striking statistics in 2019, and he's a serious threat to win again at the Memorial. He also has Top 10 prop odds at +175, which is another viable avenue to explore this weekend.
Gary Woodland – 33/1: Woodland hit a wall during the spring because he struggled with his irons, but at the PGA Championship he was 2nd in the field in Strokes Gained – Approach. Bethpage Black set up well for those who excelled at approaches from long distances, a strength of Woodland's. At Murfield Village, he should see plenty of long approach shots that favor those with high ball flights, and if he can carry over his form from the PGA Championship he could return to the winners circle.
Henrik Stenson – 50/1: While he had a valient effort, Bethpage Black proved to be too long and daunting of a task for him. Muirfield Village should be a little more manageable for Stenson. Over his last six ShotLink measured tournaments he's gained over 1.5 strokes on the field with his approach shots, which should translate well to this tournament. He could be a surprise winner this weekend.
Others to Consider:
Rory Sabbatini – 60/1: There's no one hotter in professional golf at the moment than Rory Sabbatini. Per DataGolf, Sabbatini is performing over 1.5 strokes higher than his baseline average over his last five tournaments, which leads all golfers in the field at the Memorial. That's helped produce three Top 10 finishes in that stretch and seen him climb from 212th to 118th in the World Rankings. Sabbatini has been terrific tee-to-green during this stretch, and Sabbatini could add his name to the list of head-scratching recent winners of the Memorial
Emiliano Grillo – 60/1: Grillo has showed well in all three of his appearances at the Memorial, gaining on average over 1.6 shots on the field per round. Grillo consistently is one of the best golfers tee-to-green on the PGA Tour, and would be more of a serious contender every week if it weren't for how terrible he is on the greens. Of late he hasn't been a complete trainwreck in that department, so he could be a surprise winner this weekend at Murfield Village.
Aaron Wise – 100/1: Wise is one of the more talented young-guns on the PGA Tour but has had a bit of a sophomore slump in 2019. He seems to have woken up over his last three tournaments where he's gaining on average 1.63 strokes per round tee-to-green. It hasn't amounted to much on the leaderboard of late, but with ball-striking like that he seems due for a strong finish. At 100/1, he's a longshot with a big ceiling.
Matchup Props
Gary Woodland -125 over Bryson DeChambeau: The case for Woodland was laid out above. As for DeChambeau, I'm in full fade mode with him until he proves otherwise. He played terribly at Colonial last week to continue his slump and seems to be in a mess both with his game and in his head. While he does return to a golf course he won at last year, his form at the moment is a far cry from where it was a year ago.
Russell Knox -130 over Kiradech Aphibarnrat: This is more of a indictment of Kiradech than it is an endorsement of Knox. While he finished T13 at Muirfield Village last year, overall his body of work on the PGA Tour just isn't very good and he's struggled badly with his irons in 2019. Knox is a much more consistent golfer every week than Kiradech is, and that's the side I'd rather be on even if his ceiling isn't tremendously high.
Rickie Fowler -145 over Jordan Spieth: At some point, the putting is going to cool off as Spieth is currently on an unsustainable pace on the greens. In his last three tournaments, Spieth has gained over 24 strokes on the field on the greens, and gained only two total strokes on the field tee-to-green in that same stretch. With the fast greens at Muirfield Village, Spieth's tremendous advantage over the field should be neutralized, and if that happens Spieth would need a drastic improvement with his ball striking to compensate. Meanwhile, Fowler was downright miserable at Colonial, but given his recent trends he should bounce back at Muirfield Village. He should best Spieth one on one.