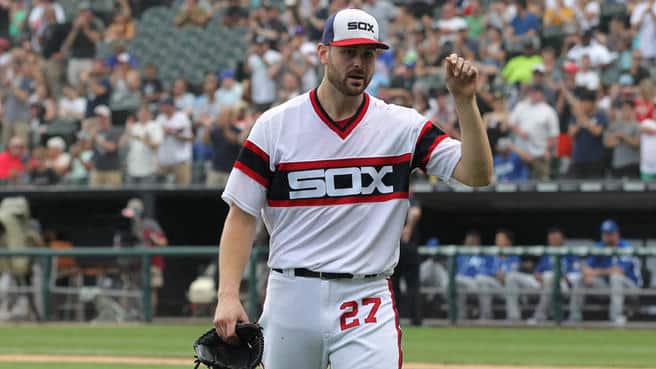 Betting on Major League Baseball can be done many different ways, and as you know, the best way I've found is to take a long term stock market like approach to it. That's why whichever statistic you use to measure the value of an asset — whether it be a team, pitcher, player, umpire, you name it — is one of the most important market tools you can have.
Let's check in and see who are some of the most undervalued and overvalued assets out there in Major League Baseball present day.
Most Undervalued Pitchers 
1.Max Fried, ATL (7-2 2.88 ERA)
Max Fried has come out of nowhere this season to own a 8-1-1 first 5 inning record, a 7-2 overall win/loss record, and a stellar 2.88 ERA. His ERA would actually be so much less if not for getting hit in the hand with a line drive and having to come out of the game with runners on and the bullpen allowing 4 runs in 1IP charged to him, but the point is, he's even better than the stats say.
2. Lucas Giolito (6-1 2.77 ERA)
My how the tables have turned. After being mentioned with names like Homer Bailey last season (I was a big Giolito F5 auto fade guy), he's finally come around to see his potential as the once best pitching prospect in baseball has went back to his roots. He spent all season with his high school pitching coach, who is the same guy that turned Joe Kelly around (that's why the now have the same delivery), and as a +150 or higher underdog every start but one, made backers some serious money.
Giolito was once looked at as a future ace, and he's putting it together this season, not giving up more than 1 earned run beside his first start in May. During that time, he's 4-0 with a 2.22 ERA.
3. Mike Soroka (5-1 1.01 ERA)

Tom Glavine recently just dubbed Soroka John Smoltz 2.0, and he's honestly right on the money right now. Soroka is one of the best pitchers in baseball at the moment,t coming in with a 1.01 ERA. He hasn't given up more than one run this season. 
Most Over Valued Pitchers
1.  Jacob deGrom
deGrom is someone I was onboard with last season, as 79% of his starts went under the F5 total, but this season he's much more human at times, giving up either 1 or 0 runs, or 3 and above, and there's not much in-between for him. He's been up and down, but if he can minimize the bad starts, he should turn it around. We knew regression would come a little bit, and we're seeing it in some let down spots. The Mets are just 4-6 in his starts this season. My personal take goes like this:
When Thomas Nido catches deGrom: 0.43 ERA | When anyone else catches deGrom: 6.39 ERA. That has lead to mass changes:
Mets are changing their tune on basically everything.

-Dom Smith will receive OF reps

-J.D. Davis is also an outfielder

-Edwin Diaz will be used for multi-inning saves

-Tomas Nido is essentially deGrom's personal catcher

The team was on the record against all this in April.

— Anthony DiComo (@AnthonyDiComo) May 22, 2019
2. Max Scherzer
Much like deGrom, Sherzer is someone who just never gets run support. Sherzer is just 2-6-2 on the F5 ML, and routinely priced as a -200 favorite or higher. Look, the talent is out of this world, always has been, always will be.
You can't back him start to start though, your best bet is to try a long term short and put some capital against him every start and just pray the bets don't show up, while taking the long term buy in the Cy-Young market. He has the name value, yet his price shouldn't reflect his current odds. That being said, voters showed last season with deGrom, wins aren't what they used to be.
3. Gerrit Cole
This pains me to say it, because I hold stock in Cole having his breakout season, but he's one of those pitchers who has given it up to bad teams. He got lit up by Chicago (6 ER), and Texas (9ER).
If you take out those two bad starts he hasn't given up more than 3 runs this season outside of his first start of the year. He's only 3-6-1 on the F5 ML and when you take account the team he plays for, you're looking at a usual -180 to upwards of -300 favorite with a 3-6-1 record.