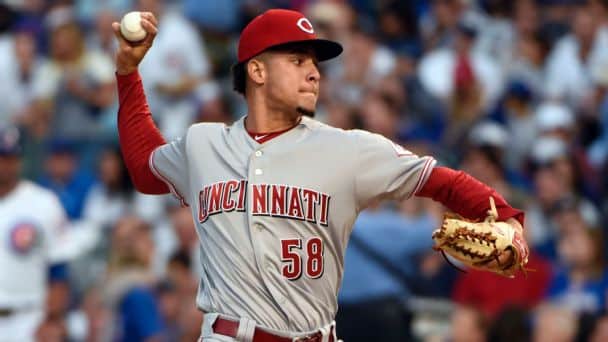 We're already a month into the 2019 MLB season. If you breathe it and love it the way I do, that makes you both happy and sad. I'm sad it's a month closer to the off season, but I'm happy because we now have a tremendous amount of data to pull from.
One month into the MLB season is when I start focusing on what teams actually are instead of what they were in 2018. Let's dig into the biggest stories and odds one month in.
FIRST
Player Future's Movement
AL Cy Young: 
Tyler Glasnow (+10000 to +300)
Jose Berrios (+3000 to +400)
Justin Verlander (+1200 to +300)
Trevor Bauer (+2100 to +400)
Gerrit Cole (+1800 to +800)
Blake Snell (+2000 to +1200)
Marco Gonzalez (+10000 to +1200)
Corey Kluber (out for season +200 to +20000)
Chris Sale (+200 to +60000)
NL Cy Young:
Luis Castillo (+10000 to +400)
Max Scherzer (+250 to +400)
Jacob deGrom (+150 to +450)
Clayton Kershaw (+2500 to +700)
German Marquez (+4000 to +800)
Aaron Nola (+1200 to +50000)
AL MVP:
Mike Trout (+100 to -175)
Mookie Betts (+250 to +800)
Alex Bregman (+1200 to +800)
NL MVP:
Bryce Harper (+850 to +2000)
Nolan Arenado (+850 to +600)
Paul Goldschmidt (+1200 to +300 to +1800)
Christian Yellich (+1800 to +350)
Ronald Acuna (+3000 to +700)
Cody Bellinger (+4000 to +175)
Some huge names breaking out this season as we see Tyler Glasnow now the favorite at +300 along with Jose Berrios (+400) and Bauer (+400) on the AL side fighting established veteran Justin Verlander. Corey Kluber is now out of the running, which narrows the field.
In the NL, Luis Castillo is now the favorite (+400) fighting off Degrom and Scherzer. If you'd like to buy some stock in Tyler Glasnow (+1000), Jose Berrios (+1500), or Luis Castillo (+4000) still, you know where to find me:
Tyler Glasnow is now the +350 favorite for AL Cy Young. Offering 4.01/1 odds on @PropSwap to win $20,200 pic.twitter.com/WZFGN4MBFa

— Christian Pina (@ChristianPina) April 29, 2019
Others:

Castillo 40/1 (now +350 favorite)
Berrios 15/1 (now 5/1 second fav) pic.twitter.com/qJYRraAWzS

— Christian Pina (@ChristianPina) April 28, 2019
TO
Teams Futures Movement
AL Pennant:
Astros (+350 to +225) Yankees: (+275 to +300) Red Sox (+300 to +500) Indians (+600 +700) Rays (+1400 to +700)
I've got Rays fever, and they make the most sense. I can't wait until Forrest Whitley faces Brent Honeywell / Tyler Glasnow in game four of the ALCS.
NL Pennant:
Dodgers (+450 to +225) Cardinals (+700 to +450) Phillies (+450 to +800)
It's the Dodgers and Cardinals worlds in the NL. Philadelphia was overpriced from the start once Harper was signed, and now the market is where it should have always been.
THIRD
Where We Are
In the AL East, the surprise has to be Boston's problems: a 14-17 record, Chris Sale imploding, Eovaldi out for months, Porcello regressing, and a top heavy lineup. It looks bad in Beantown.
The Yankees injury bug is just being unlucky, but you have to start to wonder if they just have a team of injury prone players: Stanton, Judge, Sanchez, Severino, etc. The Rays are writing the sequel to Money Ball.
Minnesota has been a pleasant surprise in the Central on the back of Jose Berrios' breakout and beautifully constructed lineup of on base and power. It's fair to wonder if the rest of the rotation can hold up.
Cleveland still has the best rotation top to bottom despite losing Clevinger, but eventually they're going to have to get going. Lindor will help with the bats.
In the AL West, it's Houston's world and Seattle is trying to live in it. They defied every expectation early, but Seattle shouldn't be this good and will regress.
The National League has baseball's best division in the East, with 4.5 games separating 1-4. The Nationals at 12-17 is incredibly hard to swallow for me because I think they're so much better without Harper, and I would take this Nationals team over last year's any day.
The Cardinals are running the Central and are who I would invest stock in the NL pennant with. The Cubs are not going to get better and Milwaukee's pitching staff is always up and down.
There's not much to say about the Dodgers, except I love the team. Arizona and San Diego are great surprises and we will have to wait and see how long they can keep up with LA. In my opinion, The Giants are the worst team in baseball.
Other quick hitters:
Cody Bellinger is hitting .425 one month into the season with 14 home runs (+175 MVP and +175 Most HR) and may win a triple crown.
Your ERA leaders one month into the season are Zach Davis (1.38), Luis Castillo (1.45) Joe Musgrove (1.54) Tyler glasnow (1.75) and Chris Paddack (1.91). Who saw that coming?
The Padres bullpen and pitching in general has been outstanding, as Kirby Yates leads baseball in saves (14) and Craig Stammen leads baseball in holds (9)