SATURDAY
NC STATE @ FLORIDA STATE
Both these teams are tournament teams so they are fine on that front but NC State sure could use a big win for conference and NCAA tournament seeding sake. Florida State doesn't want to give any ground as well.
MICHIGAN STATE @ INDIANA
One of my biggest complaints about College Basketball is that Indiana a team that has only won two games in the past six weeks is still somehow alive to make the NCAA tournament although they're barely above .500 for their season record. Indiana pulled off a nice overtime win over Wisconsin in maybe the worst basketball game of the season. If they sweep Michigan State I think you'll see Indiana perhaps on the inside of the bubble. Michigan State needs this win to stay in front of Michigan for the one seed in the BIG TEN tournament.  
LSU @ ALABAMA
We Tigers! LSU choked at home to Florida a week or so ago but then earned a gigantic win against Tennessee in Baton Rouge last Saturday. If LSU can win out they will be the top seed in the SEC tournament and win the regular season title. The question is will they be able to do that? Alabama is a bubble team who's currently on the inside but they need every win they can get. This one should be a dandy.
KANSAS @ OKLAHOMA STATE
Somehow, someway Kansas is still very much in play to win the Big 12 despite having a pretty awful year by their standards. The Jayhawks beat their rival Kansas State last Monday keeping them alive to win the Big 12 regular season title yet again. Kansas has been awful on the road within the Big 12. Oklahoma State is a weird team that is known for playing decent ball at home in Stillwater. This is a dangerous game for the Jayhawks but the fact their still alive to win the conference is pretty amazing.
OLE MISS @ ARKANSAS
Head coach Mike Anderson is pretty much a done deal at Arkansas right? Wait. The Razorbacks gave Kentucky all they could handle in Rupp Arena and might of won that game if not for some awful calls down the stretch. The Razorbacks are certainly on the outside of the bubble but if they can get a win here and close out the regular season hot and perhaps pull a upset or two in the SEC tournament than maybe just maybe Mike Anderson will have nine lives.
KENTUCKY @ TENNESSEE
Hopefully this matchup isn't like the first one where Kentucky just blew the Vols straight out of the water. Tennessee has revenge on the mind and both these teams still are alive to win the regular season title in the SEC. This game is a gigantic game for both teams but probably even more so for Tennessee. The Vols need to show they can win a big game late in the season or perhaps their confidence may be dwindling down the stretch. This one is must watch TV.
BUTLER @ VILLANOVA
Jay Wright finally got a much needed win for the Wildcats who had been fading down the stretch before the Wildcats knocked off the top seeded Big East Marquette. Butler is outside of the tournament and needs some key wins to even enter the bubble picture. Technically they are still alive but time is running out on the Bulldogs.
IOWA STATE @ TEXAS
Iowa State has been a really challenging team to gage this season. One game the Cyclones will look like a possible final four team and the next they look like a team that could lose to a small school in the first round. I guess the question is which Iowa State team will we see on Saturday? Texas is still in need of some quality wins so this game is much more important for the Longhorns who are currently in the tournament but not by too much.
WEST VIRGINIA @ OKLAHOMA
Oklahoma is currently a tournament team but they really can't afford a bad loss to a bad West Virginia team who's been absolutely awful on the road this year.
OHIO STATE @ PURDUE
The Buckeyes got a nice win against Iowa earlier in the week that really seems to have Ohio State in the field of 68 but this one here against Purdue would leave zero doubt. Purdue is still playing for both conference and tournament seeding so it's a big game for both teams.
TEXAS TECH @ TCU
TCU lost a multiple overtime game to West Virginia and things are looking pretty bleak for Jamie Dixon and the Horned Frogs. Then comes this opportunity. A chance to beat a top 15 team in your own backyard? This is the opportunity manny bubble teams would dream of. TCU needs more than this win but this would be a heck of a start for them.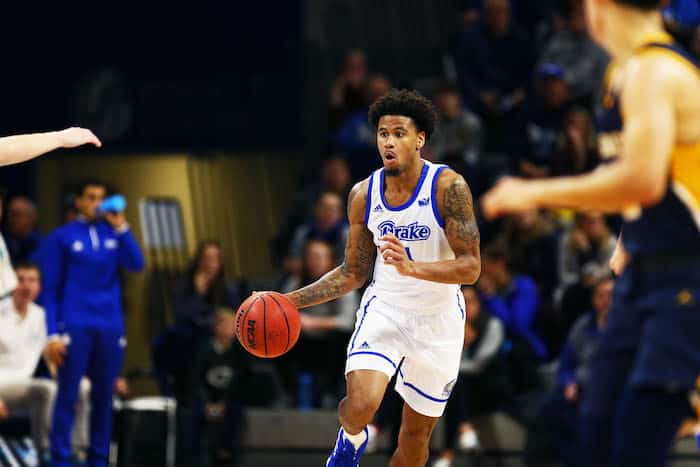 DRAKE @ MISSOURI STATE
Two of the top four seeds in the Missouri Valley doing battle in a very close conference race for the top seed makes this game absolutely gigantic. Drake was the top seed before getting upset last week. Missouri State is coming off a tough loss at Illinois State. Both these teams really need this win.
MISSISSIPPI STATE @ AUBURN
Two tournament teams doing battle for conference seeding. That's what this one is and I can't wait to watch. Both these teams don't have to worry about not making the tournament but still this one has big SEC conference seeding implications.
CENTRAL FLORIDA @ HOUSTON
UCF has been playing good ball of late despite losing at Cincinnati. This Knights team is a real dangerous team and seems to be playing their best ball of the season currently. Houston has only one loss and that was basically at the buzzer at Temple back in January. If there's ever a chance for a 2nd loss for the Cougars it's this game and the season finale at Cincinnati. This is a must watch as the AAC is the best it's ever been when it comes to College Basketball.
NORTH CAROLINA @ CLEMSON
UNC has been playing red hot and looks like a nice sleeper team to win the whole thing. Clemson is still somewhat fighting for their postseason lives. It looks like they're in right now but a win here could basically guarantee them a spot in the field of 68. This place should be on fire for this one.
BRADLEY @ LOYOLA (CHICAGO)
This is the other absolutely huge game in the Missouri Valley this weekend. These are two of the top four seeds who are all within a game of each other. Loyola is the defending champs and Bradley is located in Chicago as well so the chip on the shoulder should be gigantic.
SETON HALL @ GEORGETOWN
Right now I think both these teams perhaps are in the field of 68 but not by much which means this is basically a playoff game here. Patrick Ewing is doing a great job in Washington D.C. and exceeding expectations but man this would be a gigantic win for them. This place should be electric for this game.
BAYLOR @ KANSAS STATE
Kansas State can't afford to lose this game if they want to win the Big 12 regular season championship. The Wildcats should've already ran away with this league but instead find themselves in a must win situation against a pretty good Baylor team.
MEMPHIS @ CINCINNATI
If Memphis could somehow pull off a win here perhaps they would work their way up the bubble ranks. They already pulled off a big win against Temple earlier in the week. Cincinnati can't afford a loss since they are one game behind Houston and get the Cougars at home in Cincinnati on the final day of the regular season.
GEORGIA @ FLORIDA
Florida earned a gigantic win at LSU last week and perhaps earned them themselves into the field of 68 and now they get their rivals in the Georgia Bulldogs. Florida if you want to find out what can knock you right back out of the field of 68 it would be a loss to your rival Bulldogs here.
NEVADA @ UTAH STATE
Utah State is exactly on the bubble and although they beat San Diego State earlier in the week which perhaps maybe put them over the hump. This is the real one that could absolutely earn their way into the field of 68. Logan, Utah will be absolutely lit for this one.
GONZAGA @ SAINT MARY'S
Saint Mary's is currently a bubble team. I see some projections having them on the outside and some on the inside. Which means a win here would be so gigantic. Now is it possible? Gonzaga is still playing for a top seed in the NCAA Tournament. This is must watch tv.
SUNDAY
ST. JOHN'S @ DEPAUL
DePaul has been fading away of late. St. John's is coming off a bad home loss to Xavier but should still be good to go dancing but yet this is still a big game for conference seeding sake.
NOTRE DAME @ LOUISVILLE
Is there a team in the nation that needs a blowout win in a big way more than Louisville? The Cardinals seem like they can't get the monkey off their back from the Duke 20 point comeback loss that has this team in shambles. Louisville just lost to Boston College so a loss to Notre Dame is not out of the realm of possibility.
CREIGHTON @ MARQUETTE
The Big East is as wide open as I can ever remember it being. Marquette is the top seed but are they that much better than everyone else? I'm not so sure they are. Creighton needs some big wins to have any hope at a postseason and now enter this opportunity.
MICHIGAN @ MARYLAND
Maryland has their eye on revenge since Michigan buried the Terps in Ann Arbor a few weeks back. Plus the Terps are coming off a bad road loss to Penn State. Michigan is still alive to win the regular season BIG TEN championship but they must win road games at Maryland and Michigan State to do so.
ARIZONA STATE @ OREGON STATE
What is happening in the PAC 12? ASU gets destroyed at Oregon? Top-seeded Washington losses to winless conference rival Cal? I have zero read on this besides the fact there is some conference seeding at stake here. This conference is so wide open when conference tournament play starts that literally any team has a decent shot to win the tournament.