The Genesis Open is barely in the ground, but we're already pressing onward as 70 of the world's best head south of the border for the WGC – Mexico Championship at Club Chapultepec, Mexico City.
This event marks a bit of a transition in the schedule as the PGA Tour starts to shift from the Pacific Time Zone to the East Coast. With a stacked field and a lack of course history to bank on, betting and daily fantasy will be challenging this week. It will be difficult to properly weed out the contenders and pretenders among a never-ending parade of big names.
Here's a run down of everything a gambler should know before putting down any bets.
The Field
As a WGC event, this tournament brings out all the top stars in the world. Name a big name and most likely they're there. The only notables not in Mexico City this weekend are Justin Rose and Jason Day, the only two players inside the Top 20 in the world who are taking the week off.
Joining the normal roster of top players are those who spend almost all of their time on the European Tour. Those players include a pair of talented Danes in Thorbjorn Olesen and Lucas Bjerregaard, Englishmen Lee Westwood, Eddie Pepperell and Matthew Wallace, and the talented Hao Tong Li from China. Club Chapultepec has a very European flavor to the design of the golf course, and gamblers simply can't write them off because they're not on CBS every weekend. It will be important to take a look at their ball-striking statistics over on the European Tour before deciding if you're looking to ride them or fade them this weekend.
The Golf Course
This is only the third year that this golf course has hosted a WGC, as this tournament was previously known as the WGC-Cadillac Championship on the Blue Monster Course at Trump Doral, located just outside Miami, FL. But after Trump made some not-so-kind remarks about the character of Mexican immigrants in 2015, the governing bodies of the PGA Tour, European Tour, and the other officially sanctioned world tours pulled the all-time troll move by switching the location of the event from Trump's golf course to – wait for it…MEXICO!
There's a debate that can be had on if it's proper for a sports league to mix impactful decisions with politics, but there's little debate that the Blue Monster was very unpopular for both the players and the golf media, especially after the renovations that were made for the 2014 tournament. Players complained about the design the greens, the length, and the overall boring and repetitive layout of each hole. The golf course is overly-bunkered and overly-hydrated with water hazards on almost every hole.
To put on the tin-foil hat for a second – I think the PGA Tour used Donald Trump's comments, no matter where you stand on them, as a cover to move the event from a saturated South Florida market to Mexico in an attempt to #growthegame. While Miami is a large city with numerous marketing opportunities, there's no real growth to be had there as it just felt like another run-of-the-mill tournament in Florida. But like their ambitions with the WGC-HSBC Champions event in Shanghai, there came the opportunity to put a premier event at the 23rd largest city in the world with a fast growing population. There they could attempt to siphon off an untapped market for golf and further expand its global footprint.
All of this is a notable endeavor, but the WGC – Mexico Championship has similar problems that the WGC – HSBC Champions has. Both events are in markets that are not friendly for the less-affluent aspiring golfers to be captivated by the stars coming to their city and take up the game themselves. For the WGC – HSBC Champions, the ruling Communist Party has banned its members from playing golf, and any construction of new golf courses in China normally comes with a price to pay to the government. As for the WGC – Mexico Championship, there is no public golf courses in Mexico, and all golf courses in the country are either at luxury resorts or at private clubs. Unless you're a tourist or a part of Mexico's more affluent population, golf is nearly inaccessible for most residents.
All of that aside, the average American fan could care less about any financial ambitions and just cares about watching the world's best play on an interesting golf course. While there certainly isn't a lack of star power in the event, the golf course is, to put it bluntly, woefully inadequate to deserve to host an all-star event:
Club Chapultepec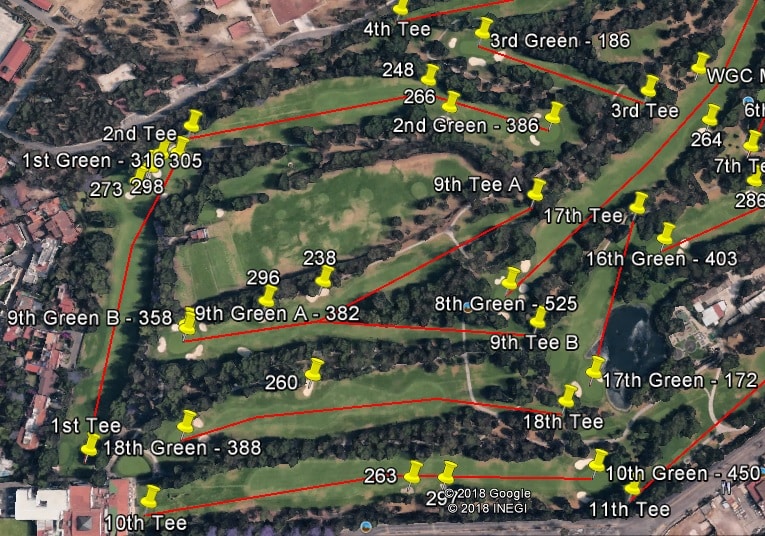 Most holes at Club Chapultepec are of the same template – long, tree-lined, slightly doglegged tee-to-green designs with back-to-front sloped greens and shallow greenside bunkers. While tall trees and fairway bunkers off the tee may pose a bit of a challenge, because this golf course is at an altitude of 7,800 feet everyone can add about 10% to their normal yardage off the tee. That creates the opportunity to hit well past any bunkers or take lines over the tops of the trees to cut the corner. While this golf course runs at about 7,300 yards on the scorecard, when accounting for altitude it plays more like 6,700 yards.
This golf course encapsulates one of the biggest gripes about the WGC tournaments – this an event of all-stars with one of the highest money purses in the world, yet these events are played at Mickey Mouse golf courses like Club Chapultepec, or Sheshan International, or TPC Southwind (puke). An event of this stature with as fantastic of a field it attracts should be played on an equally fantastic and interesting golf course. Until then, these events ring as soulless and hollow.
Betting Strategies
While there are two years of data to look back on, this golf course is still far too new to draw any sort of meaningful conclusions. When I look at this golf course, however, efficiency from tee-to-green and the ability to stay in your lane between the large swaths of trees guarding all the fairways will be the most important attribute. The greens at Club Chapultepec are not difficult to navigate and the rough around the green isn't all that challenging either. And while the tight fairways may lead someone to think accuracy off the tee is paramount, consider that the two winners at Club Chapultepec are a bomb-and-gouger in Dustin Johnson and Phil Mickelson, who has as much accuracy off the tee as Yosemite Sam wildly firing off his pistols in a Looney Toons episode.
Simply relying on year to date or prior year rankings in the ball-striking statistics is inadequate, as you'll just end up liking everyone in the field. Instead, rely more on recent performance over the last 4 or 5 tournaments to weed out who's hitting solid and those who aren't. That'll help narrow down which players to target in matchup props, futures bets to win the tournament and in DFS.
While there isn't much course history to rely on at Club Chapultepec, this golf course has a very European feel to it and strikes a bit of a resemblance to a very notable golf course on the European Tour – Valderrama. That's another tight, tree-lined golf course, and if you look at those who have fared well at Valderrama you'll notice a few familiar names pop up towards the top of the leaderboard at the WGC-Mexico Championship. That list includes Jon Rahm (T3 in 2017), Sergio Garcia (T7 in 2018), and Rafa Cabrera Bello (T3 in 2018). Even a less heralded player like Joost Luiten has good success at Valderamma and followed that up with solid performances at Club Chapultepec. Make sure to check out the 2016 Open de Espana and the 2017-2018 Andalucia Masters leaderboards to see who performed well there. You may find a few overlaps for some under-the-radar golfers to try and target.