I've long held the stance that oddsmakers, much like professional handicappers are creatures of habit. While the salted sports professional handicapper is always going to stick to their guns when it comes to betting bad teams getting perceived value for public opinion, take double-digit underdogs, grab home underdogs, and look for a point or two of value from their personal power rankings, they refuse to come into the new age.
Despite the fact that the average margin of victory in the NFL is closer to eleven than three, oddsmakers refuse to adjust. There's no doubt that times have changed when it comes to offensive output in the league, but yet again oddsmakers stomp their feet down clinging to stats and trends of yesterday. The worst part is they are going to continue to get away with it and make money in spite of themselves because the older population of professionals are also clinging to yesterdays National Football League.
In one of the most misleading stats ever created, from 2002-2014, the most common margin of victory in the NFL has been 3 points with 418 games out of 2,668 games. This is equivalent to 15.67% of games finishing with a 3 point difference between the winner and loser at the end of the game: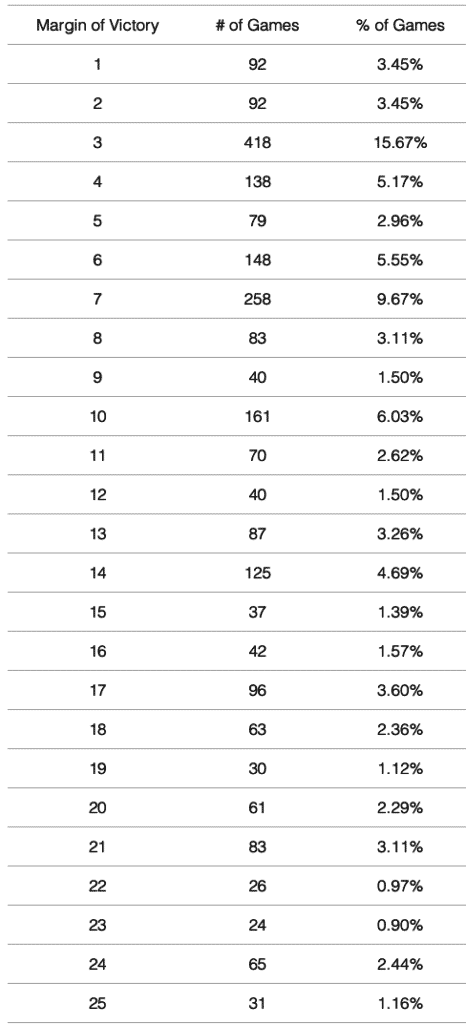 Here's my beef. Just because 15.67% of games ended on three, all the sudden it became the biggest key number and became gospel to build power ranking numbers through them. Here's what a 1.6% truly looks like in a given week. With a 14 game NFL slate, one to two games per week are going to end on three. Great, we can agree on that.
But, by this logic, if out of a fourteen game NFL slate, games ended 3,3,6,7,8,9,10,11,12,14,20,21,24,28, yes, 3 is the most repetitive key number, but that doesn't make it the most important number. Games in today's NFL are being won by an average of over eleven points for over three years. Parody has gone by the wayside as the bad teams are really bad, the good teams are really good, and now we have to worry about a little thing called tanking.
Let's take this all the way back to The New England Patriots of 2016. I will grant you they are something of an outlier, but I'll get to that. Despite the fact New England in 2016 had a winning margin of +12.3, they were consistently only put in spreads from -7 to -10 outside of a handful of games. To make matters worse, bookmakers would sit there and cry about how much money they were losing week after week yet adjust the betting market a freaking point or two for a "New England Premium." This was one of the greatest teams of all time and yet they required only a point or two "tax?" It's laughable. But, as I said, they were something of an outlier and I'm simply using them as an example of how they refuse to take a stance in the betting market. I'm only using the New England Patriots in 2016 to illustrate this point because it's the most glaring illustration of how slow bookmakers are to adjust. The worst part is once again, professionals bailed them out by betting against New England with the house every step of the way.
For whatever reason, bookmakers have this notion that they can somehow be middled outside of their own shop or sports book. Due to this, oddsmakers have refused to take a stance on any team and be different. What I mean by this is if a head oddsmaker makes a raw power ranking New England -17 Vs. Cleveland Browns but the offshore and MIT programs, and algorithms spit out a -10 (Actual 2016 NFL spread) bookmakers are petrified to look different and hang anything close to their own number. Maybe you'll see a half-pint or point difference based on a specific shops liability, but that's literally it.
Take Alabama this season. While Alabama went a historic 9-0 in the first half market, bookmakers simply refused to adjust as they crept the first half number up essentially a point a week, while crying via every podcast out there that they lost yet again on those specific markets. You have the ability to make your own lines you know. There's a reason why Boston bookmakers do better-inflating spreads for New England teams upwards of a field goal at least on every game and you know what, people still lay it.
So, now that I've sent a shot across the bow of every single bookmaker out there, Allow me to finish the job.
Over the past five years there are certain teams you can point to on the college football schedule and the word "Over" immediately will pop into your head based on the matchup. Oklahoma, Oklahoma State, Memphis, Oregon, West Virginia, and frankly, most of the BIG 12. Let's take a look at some of the most recent obvious totals with a team they continue to be slow to move totals on, Oklahoma and the points scored.
Oklahoma Vs. FAU (77)
Oklahoma Vs. UCLA (70)
Oklahoma Vs. Baylor (93)
Oklahoma Vs. Texas (95)
Oklahoma Vs. Texas Tech (97)
Oklahoma Vs. Oklahoma State (97)
Yet oddsmakers continue to hang totals in the range of 72-80 for the higher end games. I understand I'm honestly showing you only one team, but check out any of the above-mentioned teams that are notorious over teams and you'll find the same exact thing.
Gamblers, usually recreational and with a Twitter account flock to social media to talk about the new "highest total of all time" every time it's posted. In 2015,  The Texas Tech-Baylor game touched 90.5 on the betting screen, which was the new high after the previous total of 88 for the 2012 Oklahoma State and Baylor game. Oklahoma State won that game 43-31. That was three years ago and passing schools are only getting better on that side of the ball. If you've been a fan of live wagering, after the inevitable first two touchdowns within five minutes, your seeing what the totals should actually be in the first place in the 80-90 range consistently.
Enter this week, where I have to finally tip my hat to oddsmakers for once again finally moving in the right direction. Oklahoma takes on West Virginia with a total of 84. Like I said above, oddsmakers had two decisions to make here. They can hang there usual line of 74 and take over money instantly, move it to the next key number above 70, likely 77 for 11 touchdowns total, take a loss, and repeat. Yet they actually hung a nice premium on this game, bravo.
Conversely, on the other side, NFL oddsmakers reached the new high of…63…last Monday Night between The Kansas City Chiefs and The LA Rams. That score? 54-51 with 105 total points. So, what's an oddsmaker to do? start hanging totals in the 90's? I'm not asking for something so extreme, but they need to stop valuing these key numbers and start understanding that the NFL is changing to a passing league. It's essentially the same style of BIG12 football playing SEC teams with slightly better defenses. Think Texas Tech Vs. Tennessee. That's the style employed by the National Football League.
The best part? oddsmakers are going to repeat history again and tip there hands to where they have to up the total, but aren't really going to employ the type of adjustment that is warranted yet, which is where you can take advantage.
Don't believe me?
There have been Thirteen games in NFL history to close with a total of 58 or higher. The OVER is now 10-2-1. You also get to employ this nice little trend on Thanksgiving this year of all days as The Atlanta Falcons Vs. New Orleans Saints game currently has a total of 60. By the way, the last time these two teams faced off points were scored in the 70's. So, why isn't this game mirror an NCAA total that would surely be in the 72-74 range?
This article is by no means telling you to take out a loan and bet the over on Thursday, but it's something you need to input into your long-term betting portfolio starting now. Don't be afraid to look square, because oddsmakers are simply not doing enough to get in the way of the new pass-happy version of the NFL. You will see (or at least should) see a gradual uptick in totals, so don't miss out. The difference from 55 to 60 is less than one touchdown at a time where 2-3 more touchdowns per game is a very real thing.