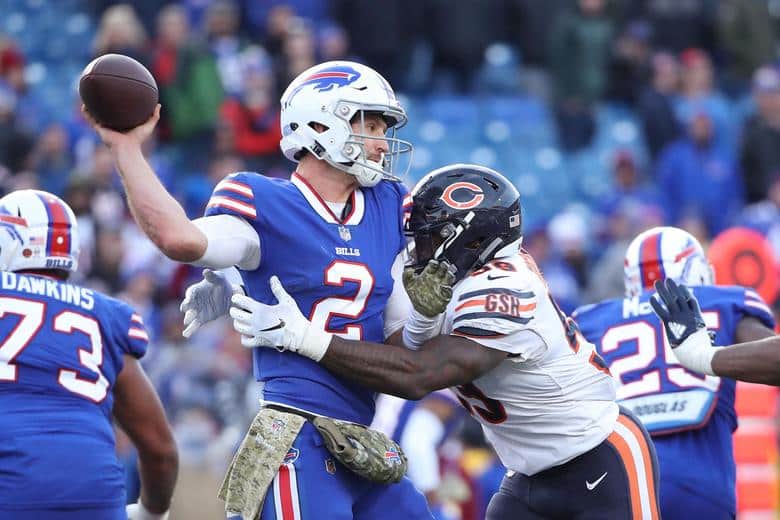 1. Updating The Dying NFL Spread
Again, over the last four years, the NFL spread has mattered two to three times a week within the NFL
This week not one team covered the spread without winning outright or winning and covering.
YTD: 21 times out of 137 games (15%)
Moneyline it. Don't take the points and reduce your break-even point. Conversely, parlays-not teasers are more profitable, despite the stigma.
Remember-When a favorite wins the game straight up, they cover the spread 85.1% of the time over the last three-plus years and when an underdog covers, they win the game 82% of the time.
2. No One Is Crying For The Books
Sunday, bloody Sunday. Sportsbooks took their worst beating of the season this past week as just about every favorite and even public underdogs came through. Kansas City (80%), Patriots (70%), and Minnesota (75%) all came home to line the general public's pockets.
There's no shortage of outcry either:
NFL Week 9: Sportsbooks lost millions on "worst Sunday of season."
Vegas Says NFL Week 9 was a "disaster" 
Disaster Week For The Books, "Fate Was Sealed."
No ones crying, but the books did have their third straight losing week.
3. Never Bet On The Unknowns
Hand Up. I bet on The Oakland Raiders last week breaking one of my own rules on not betting on unknown starting quarterbacks. There's a school of thought that while you can get ahead of the market on a guy like Nathan Peterman before people know who he is, sometimes you run into a Nick Mullens. Mullens flat out looked great, but this is definitely more of an indictment of The Oakland Raiders. Take the lesson from this game to stay far away when there is an unknown, even if he is an undrafted free agent out of Southern Miss.
4. Play The Prop Market
We're over halfway through the 2018 NFL season and at some point you have to throw out any notions you had of what teams were last year and ride out what teams are this season. The Jaguars defense may not come back to what we thought they were. Buffalo was dead last in defending the run last year, this year their top ten, for example.
This past week Greg Olson (Vs. Tampa) had 70, Baltimore doesn't even really employ a tight end and Mike Andrews still had 50 yards (Vs. The Steelers) and OJ Howard lit up Tampa for 53 yards and two touchdowns.
Through nine weeks, the bottom three teams defending the tight end have allowed over 70 yards over 75% of the time no matter who it is. Look to go against Carolina, Pittsburgh, and Tampa Bay with the tight ends. This week: Vance Mcdonald, Greg Olson, (Playing against each other), and Jordan Reed. Look this way for the rest of the season and enjoy your profits.
5. As Long As Peterman Plays, You Have To Fade Him
I don't care how you do it, and make no mistake there's many ways to skin this cat.
Prop: Will there be a D/ST Touchdown
O1.5 INT 
Under Pass Yds
Against The Spread
Moneyline
Teaser
Jets Defense in DFS
That's just a few of the ways to go about fading Nathan Peterman. He's the worst quarterback in the league and it's not close. Don't believe me? take a look for yourself: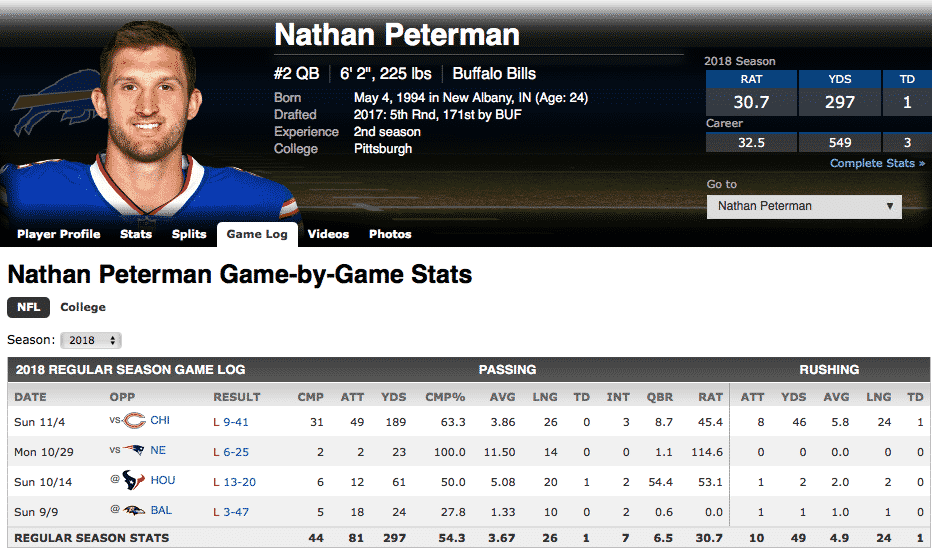 Sometimes a picture is worth a thousand words, this time it could be worth thousands of dollars.