Some columns are a lot more fun to write than others. From my "Who Sits On Golf's Iron Throne" column in the fall of 2017 to all of my major previews, it's those ones that most often lets my true excitement and love of professional golf seep from my brain to my fingertips. I tip-toe the line between unbiased blogger and exuberant fan full of hot takes that probably needed another 30 seconds in the microwave before they were suitable for public consumption.
Considering the 2018 Ryder Cup column is one I've looked forward to writing for months, I'm about to habitually line step so much Charlie Murphy is going to have to come in and check me.
Chances are if you're reading this, you're just as fired up about the Ryder Cup as I am. But if you're not pumped for what we're about to see in France and this clip doesn't induce you to break out into a spontaneous "USA" chant, I just can't help you:
While the 2016 Ryder Cup was one of the best golf viewing experiences I ever had the privilege to watch, I've salivated for at least the last 18 months of the prospects of adding the likes of Justin Thomas, Jon Rahm, Tommy Fleetwood, Bryson DeChambeau and Tony Finau to an already loaded event for both sides. And if the golf gods couldn't spoil fans enough with an abundance to elite talent on both teams, they also throw the G.O.A.T. into the fray on the heels of his first victory since 2013.
Here would be the time where I would transition from the pleasantries and get into the meat and potatoes of what to expect, who will win and what props you should be looking to put your capital down on.
But I have a confession to make…
It's three days before the event, and I have absolutely no idea how to bet this thing.
I could use the excuse of "well it's match play, which makes arguably the most unpredictable sport to gamble on even more unpredictable". Or I could also use the excuse that unlike traditional stroke-play events I'm much too biased as a U.S.A. homer to even consider the prospects that those snooty Europeans will snatch back the trophy on their home soil.
But both of those reasons are dishonest. Rather, there are very compelling reasons to give a gambler enough confidence to lay their bets on either team to win the 2018 Ryder Cup:
Why the Americans will retain the Ryder Cup
1. They're the most loaded American Ryder Cup Team of my lifetime
Now before I get the baby-boomers screaming at me saying "how dare you not respect your elders you avocado loving millennial!", I'm only 32 years old and fully acknowledge Jack Nicklaus, Arnold Palmer, Tom Watson, and Johnny Miller would like a word.
But seriously, where's the weak link on this team?
Dustin Johnson

– World #1 Golfer; one career major; three victories in 2018

Brooks Koepka

– Winner of the 2018 U.S. Open and PGA Championship; went 3-1 in 2016 Ryder Cup

Justin Thomas

– Former #1 Golfer; one career major; two victories in 2018

Bryson DeChambeau

– Winner of two 2018 FedEx Cup events

Rickie Fowler

– Member of every Ryder Cup team this decade; superb ball-striker; tolerates Bubba Watson

Jordan Spieth

– Former World #1 Golfer; three-time major champion

Tiger Woods

– Pretty good golfer; won some big events; made some money; fans seem to like him…anything else?

Bubba Watson

– Two-time major winner; winner of three 2018 events, including the WGC-Match Play

Patrick Reed

– 2018 Masters Champion; 6-1-2 Career Ryder Cup Record; literally #MAGA in the Ryder Cup.

Webb Simpson

– 2018 Players Championship winner; one career major

Tony Finau

– long-hitting rookie; only golfer to finish Top 10 at three majors in 2018

Phil Mickelson

– 5-time major champion; winner of the 2018 WGC-Mexico Championship; member of every Ryder Cup team since 1995
Because of how the points are structured, normally a few guys who have a pretty dicey resume ends of sneaking onto the team. But not this year – all of them are not just titans of the golf world but have had tremendous success in 2018.
Granted, just because a team has the most talent doesn't make them a shoe-in to win. It'll take smart choices from Captain Jim Furyk to find the right combinations to get the most out of his team (and I'm not going to lie – having one of the worst Ryder Cup players the United States has ever had calling the shots is a little stomach turning for anyone looking to back them). But the blueprint is there and they have a plethora of talent to work with this weekend.
2. For the most part, Team USA is in great form
Sometimes results on the leaderboard aren't the best way to gauge a golfer's recent form, and in match play where they have a teammate that counts on them, a golfer's ball-striking tee-to-green needs to be on point if they want to succeed in a Ryder Cup.
Here's how each member of Team U.S.A. have fared in the relevant ball-striking statistics since the Open Championship:

Seven of the twelve members of the American side are averaging 0.90 Strokes Gained Tee-to-Green or more since returning from Carnoustie. That is an excellent clip and one that would rank at least 22nd on the PGA Tour this season. As I'll discuss later, controlled ball-striking (especially with approach shots) will be critical to have good look at birdies at Le Golf National to get their teams ahead in match play. Even Webb Simpson, who's only coming in at 0.60 Strokes Gained Tee-to-Green, is a great addition to the team as he's putted fantastically and is one of the best iron players inside 150 yards during 2018. He'll be a tremendous asset in Foursomes if he's paired with a guy who can hit it long off the tee. Anyone who wants to back the United States can rest assured that the team overall is hitting the ball great.
Not all is peaches and cream for the United States, though. For one, Phil Mickelson and Bubba Watson have been pretty mediocre for the last few months. If it were up to me, neither would be on the team. But Jim Furyk can protect them a bit as long as he plays them only during Fourball. Birdies are king in Fourball, and their aggressiveness and creative shot-making ability could catch fire to make them a very useful player in that format.
It's a little concerning that the super-team of Jordan Spieth and Patrick Reed have really struggled ahead of the Ryder Cup. They've been the gasoline that has lit the fire that's burned under the United States team in each of the last two Ryder Cups, and they're the closest thing to Team Shake 'n Bake that golf has. But 2018 has been a disappointing season for Jordan Spieth that has included a loose driver, shaky putting and blowing the 54 hole lead of the 2018 Open Championship. Meanwhile, Patrick Reed seems to have hit a wall after having a phenomenal first half of the year that saw him win the Masters and finish runner-up at the U.S. Open.
It's possible that a week off for Spieth was enough to get himself back together, and Reed is a different cat in match play. While I'm waffling on who to pick to win the event, though, I have a much firmer stance on this hot-take – the Spieth/Reed bromance comes to an end after they get waxed by Rory McIlroy and Tommy Fleetwood in Friday AM Fourball, and Spieth gets benched in the afternoon. If that happens, that'll be a huge blow to the United States and give the Europeans a ton of momentum.
3. Team USA is much better managed

The period between 2002 and 2014 was a really dark period for Team U.S.A. The Americans won the Ryder Cup only once and that stretch includes getting blown out back to back in 2004 and 2006, choking away a near insurmountable lead at Medinah in 2012 and getting thoroughly embarrassed at Gleneagles in 2014. For over a decade the Europeans outwit the Americans, outplayed the Americans, and out-cared the Americans.
In response to the way Tom Watson wrote the book on how not to captain a Ryder Cup team, the United States formed a task force following the 2014 Ryder Cup to try to close the gap on the competitive advantage the Europeans had. While the task force was widely mocked by most cheeky bloggers and columnists, what good that did come out of it was the revival of the pod system that was implemented by Paul Azinger during their triumphant 2018 win at Valhalla. This system helped to identify groups of golfers based on talent, strengths, and personality who would mesh together and build camaraderie to excel in a team event.
Davis Love III masterfully executed the system in 2016 and is a big reason why not only the Americans excelled but how much energy and excitement they showed. Yes, winning had a lot to do with it, but there was a different aura that the players exhibited, even more so than in 2008 and the first two days of 2012 where they saw success. And by rolling it out again in 2018, the Americans can remain comfortable and lean on each other in the face of a hostile European crowd.
If I had to handicap how the pods will be in 2018, here's who I'd select:
Pod #1: Jordan Spieth, Patrick Reed, Tiger Woods, Justin Thomas
Pod #2: Brooks Koepka, Webb Simpson, Bubba Watson, Rickie Fowler
Pod #3: Dustin Johnson, Tony Finau, Phil Mickelson, Bryson DeChambeau
A lot has been made of Tiger and Bryson being grouped together because they both play Bridgestone, but I think the power brokers of the Ryder Cup (Spieth, Reed, and Thomas) will get their way and play with their hero. Besides, if I'm right and the pairing of Spieth/Reed goes south, a natural fix would be for Reed to play with Tiger (who's expressed his desire to do so) and for Spieth to pair with Justin Thomas and subject us to 74,238 reminders by Johnny Miller that they're good buddies.
Pod #2 puts the three golfers most likely not to bury their 4 iron into Bubba's skull. Webb is a familiar partner for him, Fowler gets along with anyone and Koepka doesn't care at all who he plays with. That and the combination of Koepka and either Webb or Fowler could be a really formidable Foursome group.
And Pod #3 becomes an absolutely stacked Fourball group because of how many birdies the four of them are capable of scoring, though it lacks a bit to be desired for Foursomes. If Jim Furyk puts Phil Mickelson in Foursomes, Davis Love III and Steve Stricker should form a mutiny and send him straight to the guillotine. However, Mickelson would be a great pairing in Fourball with the two rookies.
As for Dustin Johnson, the idea of him and Tony Finau taking turns firing missiles off the tee and piling on birdie after birdie makes me hot and bothered. He doesn't have a great pairing for Foursomes in the pod, but if they wanted to keep him up for Foursomes they could move Fowler or Webb over to play with him.
Why the Europeans will reclaim the Ryder Cup
1. The European lineup isn't half bad either
Much has been ballyhooed about how stacked the lineup of the Americans is, but lost in all the talk is that the Europeans are significantly stronger than the team they trotted out in 2016. Jettisoned from the squad is an aging Lee Westwood, Martin Kaymer (whose career has taken a wrong turn), Danny Willett (whose promising career has been derailed by injuries), Matthew Fitzpatrick (who just isn't ready for the big time yet) and Andy Sullivan and Chris Wood (who are fine players but don't strike fear in any of their opponents).
In are three huge names who had fantastic 2018 seasons in Jon Rahm, Tommy Fleetwood, and Francesco Molinari. Rahm won the CareerBuilder Challenge in January, finished Top 10 at both the Masters and the PGA Championship, and can match the Americans in firepower off the tee. As for Tommy Fleetwood, he's won on the biggest stages in international golf and has shown big-time moxie insignificant events in the United States in 2018. Lastly, Molinari rejoins the team after winning three of five events this summer, including the 2018 Open Championship and can be a deadly Foursomes and Fourball player.
Ian Poulter also returns to the team, who is one of the greatest Ryder Cup players ever to live and won for the first time since 2012 at the Houston Open. Paul Casey, Alex Noren, and Tyrrell Hatton all played very well in big events in the United States in 2018 and are welcome additions to the team. And while Thorbjorn Olesen is the token European that makes casual United States fans say "who?", he's a tremendous talent who played superb golf over in Europe this year, and after his great performance in the 2013 Masters, he was considered the next big young talent in golf.
Most of the Europeans also come into the event in very good form:

Like the Americans, seven of the twelve members have all averaged at least 0.90 Strokes Gained Tee-To-Green since the Open Championship. The two black sheep of the group has been Paul Casey and Alex Noren, who have struggled over on American soil since returning stateside. Nevertheless, Paul Casey is one of the best ball-strikers in the world and could turn it on instantly, and Alex Noren sets up as a sneaky good Foursome player with how well he strikes his irons and putts.
If anyone had a gripe about who made the team, it's those who say Stenson and Garcia weren't deserving. I disagree that Stenson shouldn't be on the team. Yes, he has an elbow injury that has hampered his performance of late, but most of his struggles haven't been with his ball-striking, it's been with his putter. He can still be a valuable teammate in Foursomes with Justin Rose and Captain Thomas Bjorn can manage his reps to keep his elbow feeling good.
But I share the concerns of many that Sergio Garcia may have lost his edge. In my opinion, the wrong Spaniard was picked and it should be Rafael Cabrera-Bello representing the Spanish Coat of Arms in France. But given Sergio's track record at the Ryder Cup, it likely was decided months ago that he would be a captain's pick if he didn't get in on points. I expect Thomas Bjorn to throw Sergio out Friday morning to see what he has, and if he disappoints then we probably won't see him again until Sunday Singles.
2. The Europeans truly have a home-field advantage

Over the years, the Europeans have been highly critical of how the golf course is set up when the Ryder Cup is hosted in the United States. In 2012, Lee Westwood was critical of the setup at Medinah as he felt the rough was cut too low and gave the longer hitting American team a much bigger advantage. In 2016, Justin Rose called Hazeltine "incredibly weak" and that the event set up as easy as a "pro-am".
In response, the Europeans tend to set up their golf courses much tougher to reward more accurate hitters off the tee and punish those who spray the ball with deep rough and well-placed hazards. The European style of golf is a much more patient, thorough affair and by setting up a golf course like that is one of the reasons why the United States hasn't won in Europe since 1993.
In recent years, the Ryder Cup in Europe has been played at a golf course that is unfamiliar for both teams, but this year is different. Le Golf National has hosted the French Open 26 times and has been played by each member of the European Ryder Cup squad multiple times. In fact, some of the big question marks of the European Team has tremendous history there. Rookie Alex Noren won the French Open earlier this summer, and fellow rookie Tommy Fleetwood won there in 2017. Francesco Molinari is a three-time runner-up at Le Golf National, and Thorbjorn Olesen has a runner-up finish there in 2011. Past success at Le Golf National will only give these four more confidence as they try and fight off the nerves of a stressful match play event.
As for the Americans, the only ones who have seen the golf course before this week is Justin Thomas, Bubba Watson, and assistant team captain Matt Kuchar. While Justin Thomas finished Top 10 there, both Matt Kuchar and Bubba Watson missed the cut in their lone appearances at the event, and Bubba even railed against the French crowd before jetting back to the states (think he'll hear about that one this week?)
But the biggest advantage the Europeans have at Le Golf National is how the course is set up.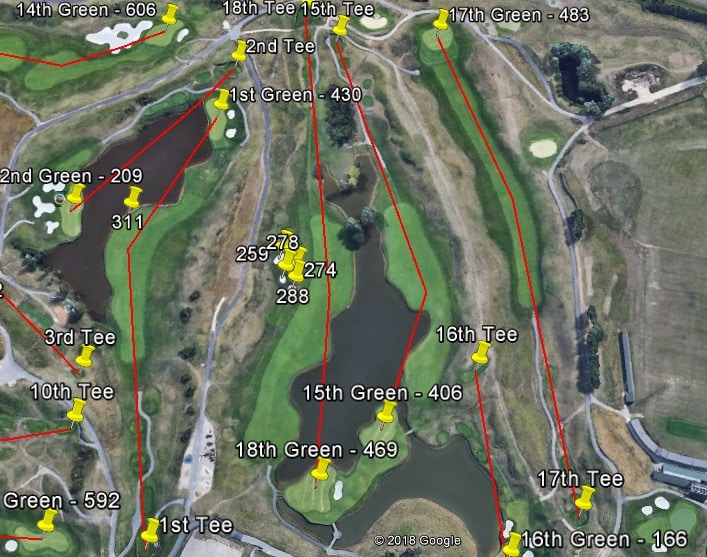 The course plays at a long 7,331 yards and will be made longer not just because of the deep rough and the multiple water hazards to swallow up errant tee-shots, but by how narrow the fairways will be. That should neutralize the big advantage off the tee that the Americans have over the United States, and the Europeans can comfortably lay back off the tee and lean on their strength in their iron game. In fact, Justin Thomas said that he only used driver seven times during the French Open and was forced to lay back off the tee with three-wood and iron to get into proper position.
If there was a close comparison in the United States, Le Golf National reminds me of some of the Florida golf courses like PGA National and TPC Sawgrass. These two golf courses also feature narrow fairways, tight sightlines and multiple hazards that must be avoided off the tee. Several of the perceived shakier Europeans like Ian Poulter, Sergio Garcia, Henrik Stenson, Alex Noren, Paul Casey, and Tyrrell Hatton have all enjoyed success at these golf courses, further reinforcing that they may well exceed expectations at the event.
Birdies will be much tougher to come by than at Hazeltine, and the golf course could put a restrictor plate in the Americans' engines this weekend. That will help shorten the talent gap between them and the Europeans.
3. A sense of urgency for the Europeans
At least in terms of the Ryder Cup, we're on the edge of a significant changing of the guard for the Europeans. The average age of the European Ryder Cup team is 34, and mainstays like Ian Poulter, Henrik Stenson, and Paul Casey could be playing their final Ryder Cup. Even Justin Rose, who is playing the best golf of his life is 38 and isn't getting any younger. Sergio Garcia is also 38, and he probably only has one or two Ryder Cups left in him as well.
In looking at the next batch of young stars under the age of 25, other than Jon Rahm there isn't anyone in the European pipeline that's ready to take the torch from the elder statesmen. The window is definitely closing on the Europeans…and they know it. Because time isn't on their side, I think the Europeans lay it all on the line and elevate the importance of this Ryder Cup in knowing this might be the last time the band plays together.
In the months leading up to this event, I often thought about how the Europeans fared against Asia in the 2018 EurAsia Cup (warning – this is about to get super inside baseball and after you're done laughing at my attempt to compare the Ryder Cup with the EurAsia Cup, bear with me…you'll understand why in a moment). Most of the big named Europeans skip out on this event and it's used as an introduction to competitive match play format for the younger players on the European Tour. But 2018 was different, as several seasoned European stars made the trip to Malaysia to compete in the event, including Tommy Fleetwood, Henrik Stenson, Paul Casey, Alex Noren and Tyrrell Hatton.
Well, the Asians put up way more of a fight than the Europeans expected (and as someone who parlayed Team Europe with the Patriots Divisional Round ML at ~even odds, I was none too thrilled with their sluggish play through two days). Heading into Sunday singles, Team Europe was actually on the verge of an embarrassing defeat as they were down a point to Team Asia. The Europeans hunkered down in a pressure spot and dominated the Asians on Sunday, as 2018 Ryder Cup representatives Stenson, Hatton, Noren, and Fleetwood all won their matches, and Paul Casey lost a hard-fought battle with Poom Saksansin 1 UP.
My point is this – I was impressed that Team Europe seemed to use the EurAsia Cup as a warm-up for the Ryder Cup and a sign of how serious they were to be ready to take on the Americans on their home turf. And even though the Europeans had a superior talent advantage over the Asians, I loved how they battled at Sunday Singles to win the event going away.
This is not a European team that is going to go quietly into the night. The time is now for them, and they'll be hungry to get one more victory over the Americans before the sun sets.
***********
In full disclosure to the reader, part of this exercise of laying out why either side will win the Ryder Cup is to try and give myself a firm position on what side I'll choose to bet.
And after 3,500 words laying the case for both sides…I still am at a stalemate. Here I sit like Matthew McConaughey in Two For The Money sweating against the bathroom stall about to flip the coin to decide his betting recommendation for the Super Bowl. I never have felt so torn on what side to bet in my life. But it is a sure bet that my waffling back and forth only means we're in for a Ryder Cup for the ages.
Check back tomorrow for my official pick to win the Ryder Cup and other props