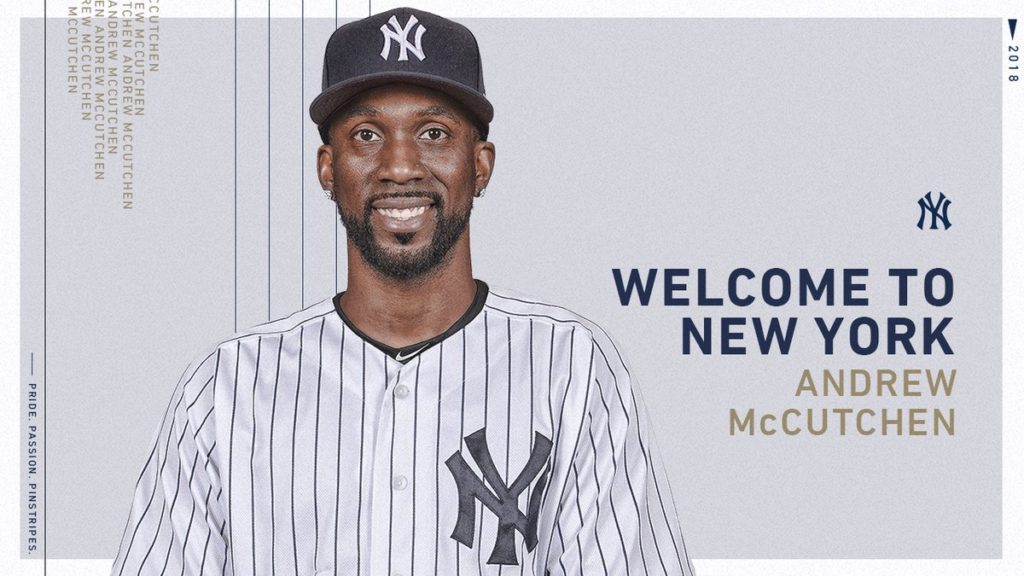 Welcome into the home stretch of First To Third. With just under a month of the regular season remaining, First To Third is moving from twice a week to once a week, on Fridays. We only have four editions left before the playoffs, so let's dive in!
1. Cutch To The Bronx
It's no secret just how badly The Yankees are missing Aaron Judge, having a mismatched display of right fielders, New York's right fielder production is currently tied for last in every offensive category including batting average, home runs, RBI, and OPS. Enter former MVP, Andrew McCutchen.
No, he's not close to the player who was in the top five of MVP voting for five straight seasons including an MVP win, but he will provide a veteran presence to at least solidify The Yankees corner outfield spot.
McCutchen has batted .255 with 28 doubles, two triples, 15 home runs, and 55 RBI's in 130 games for San Francisco this season, while also adding in 13 steals.
What this move does say, not so subtly, is that Aaron Judge is likely gone for the regular season. Judge was initially diagnosed with a chip fracture in his right wrist after being hit by a pitch over a month ago but was given an optimistic timetable of just three weeks to return. Fast forward to August 31st and Aaron Judge has yet to resume any meaningful baseball activity. Cutch isn't on the same planet as Aaron Judge, but he'll be much improved over their current right field situation, it's a nice get for New York in the stretch run.
2. Another past MVP Possibly On The Move
If you're wondering why clubs are scrambling to add talent all of the sudden, it's because the deadline to acquire players and have them eligible for the 2018 postseason is midnight tonight (Friday). Again, this is all subject to the quirky nature of waiver moves, as the non-waiver trade deadline passed on July 31st, but with declining veterans on pricy back-end contracts, their markets aren't overwhelming-especially to non-contenders to try and block a move.
Josh Donaldson is another MVP who is generating some serious trade inquires this season for the underperforming Toronto Blue Jays. Donaldson has been limited to just 36 games this season due to a vast array of injuries, most notably a calf injury. Donaldson is also due to become a free agent this winter.
Donaldson hasn't been himself this season by virtually any metric, but again, most of that can be attributed to his injuries, and if he can get healthy, he could provide veteran power off the bench and still plays some great defense. The Cardinals have been linked to Donaldson, as have The Indians. With Vlad Guerrero Jr. looking ready to play now, let alone in 2019, Toronto is likely to let Donaldson walk, so this will be their last chance to get something in return for the former AL MVP.
3. Playoff Implication Series Plenty
The NL West is razor close at the moment with just 1.5 games separating Arizona, Colorado, and The Dodgers. The good news is we should have some clarity after this weekend, as Arizona and LA are playing each other in the middle of a four-game series that Arizona took game one of Thursday night, but there are three games remaining and another four this month head to head. Houston, now that they have returned essentially their big three are back on track but did just drop another game to Oakland with ace Justin Verlander on the mound Friday. Houston is now 2.5 games ahead of Oakland, but they too are playing a series this weekend and things could get very interesting if Oakland can get two wins.
Divisions that seem to be wrapped up include Boston (8.5 games ahead of New York), Cleveland (14 games ahead of Minnesota), and while the rest of the National League is close, Chicago has a 3.5 game lead on Milwaukee, and Atlanta has a three-game lead over Philadelphia.