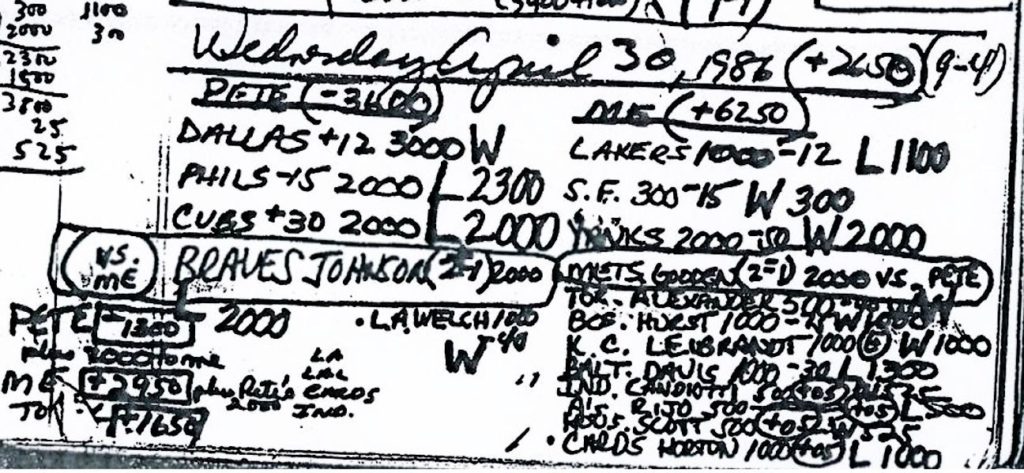 Man, Pete Rose's record keeping sure was shotty. Dude ever heard of a Google doc? In his defense, back in 1986 the world of offshore internet sites hadn't been invented yet and he probably would have made it a lot further in his gambling had he not have to keep his own records, but that's neither here nor there. The 2018 halfway point in the MLB season just recently came and went, and as I've been known to say a time or two if you don't learn from the past you are doomed to repeat it. Truthfully, I stole that from somewhere, but it applies to gambling and handicapping nicely.
Surprises? Sure. The Seattle Mariners finally breaking through is a nice story, although probably not likely to catch Houston. The Baby Braves of Atlanta coming of age a few years too early is my personal favorite, the emergence of young aces like Luis Severino, Blake Snell, Patrick Corbin, Aaron Nola, and Sean Manea just to name a few come to mind. The beautiful and sometimes tricky thing about betting baseball is that it's a game centered around randomness and variance, and the rub-is to try to predict that very metric. The key with the stats and information below is to find out what is actually predictive, and what is just pass data that can't be used. So, let's dive into what the 2018 MLB gambling season has shown us.
1. The Good, Bad, And The Ugly
Worst MLB Team To Bet On: Baltimore Orioles: 25-66 (-35)
Best MLB Team To Bet On: Seattle Mariners: 57-34 (+18.7)
Best Home Team (First 5 Innings): San Francisco Giants (+11.)
Best Road Team (First 5 Innings): Houston Astros (+15)
Best Run Line Team: Tampa Bay Rays (+18.0), Milwaukee Brewers (+12.5)
Worst Run Line team: Baltimore Orioles (-22), Kansas City Royals (-21)
Not a ton of surprises here as Baltimore is on a historically bad pace and are likely to get worse knowing that they need to move all-star shortstop Manny Machado, one of the brightest young stars in the game. Baltimore being this bad would make you think they probably have to positively regress just a little bit, but they are in full tank mode ready to offload anyone of value for prospects. I think the Baltimore fade train is going to be alive and well in the second half of the season.
On the other hand, Seattle, as I touched on above, is a great story finally breaking through and looking like the team that was supposed to win these games years ago. Paxton is a legit ace, and as you'll see below, 3/5 of their rotation not named Paxton have been some of the most profitable pitchers to bet on. That being said, they have won over 20 one run games this year which would lead you to believe regression could be coming.
2. Nuts And Bolts Stats (Courtesy of OddsShark)
Overall Team First Five Innings Record:
First 5 Innings (Over)
One scoop awful pitching, one scoop competent offense. Meet The Reds, White Sox, and Pirates while The Yankees and Red Sox offenses are just more than capable of making up for the 0 their pitchers are tossing on that day.
First 5 Innings (Under)
The recipe for a great first 5 inning pitcher is simple. Great pitcher with a bad offense. Look no further than Jose Berrios and co. on The Twins, Skaggs on The Angels, and The Astros are on this list simply because their starting pitching may be the best of all time and can't score 5.5 runs by themselves every 5 innings.
Most Profitable First 5 inning ML Pitchers: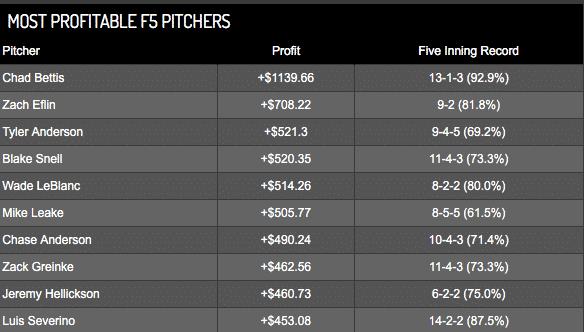 As someone who plays the first 5 market almost exclusively, I am somewhat shocked to see Chad-freaking-Bettis being this good. Efflin has finally come into his own while Snell may be the best pitcher in the AL. I think most of these are predictive and should hold up just fine in the second half. One thing of note is Bettis was also the best first 5 pitcher in the first quarter of the 2018 season as well. 
Least Profitable First 5 Innings ML Pitchers:
The usual suspects here as these have been the bottom of the barrel guys for what seems like years. Ride them into the ground before they are relegated to the bullpen…or worse, demoted.
Overall Most Profitable Pitchers (Full Game)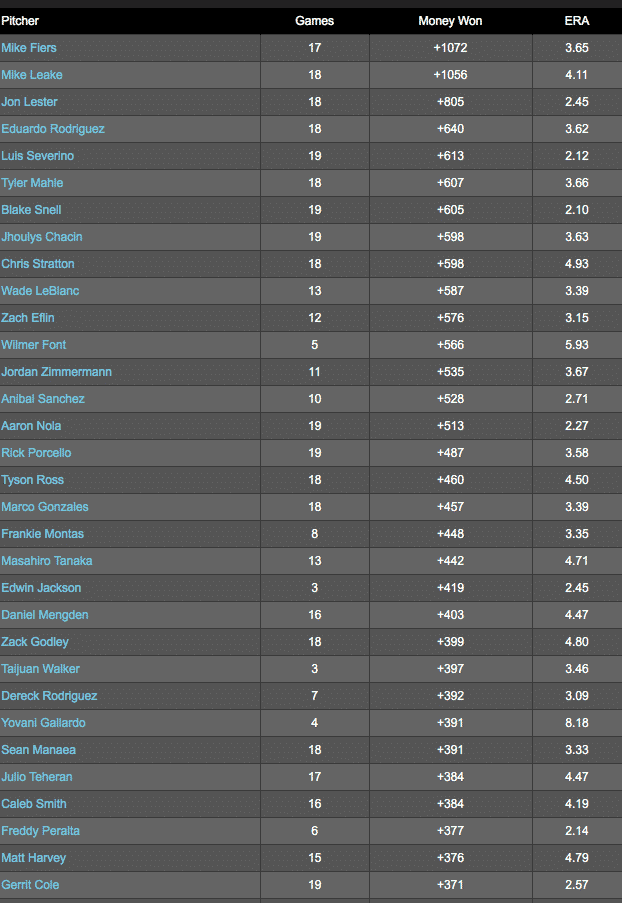 Tons of surprises here as Fiers is consistently lined as an underdog and on down the line. Lester, Severino, Cole, and Porcello are about the only ones paying off their high price tag constantly. 
Overall Least Profitable Pitcher (Full Game)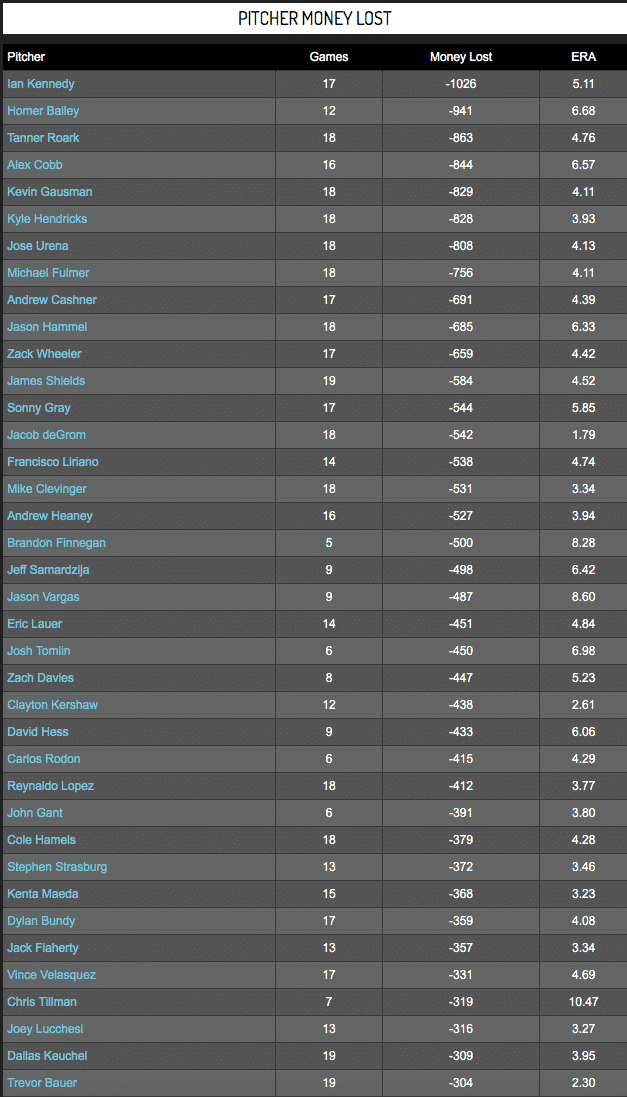 Bad pitchers on bad teams. See the trend there? Kennedy (KC), Bailey (CIN), Cobb (BAL) all make sense, but Roark, Hendricks, DeGrom, Kershaw are just victims of the price you have to lay to back them. LA is only 4-6 in Kershaw's starts, but none are lined below -200. 
Run Support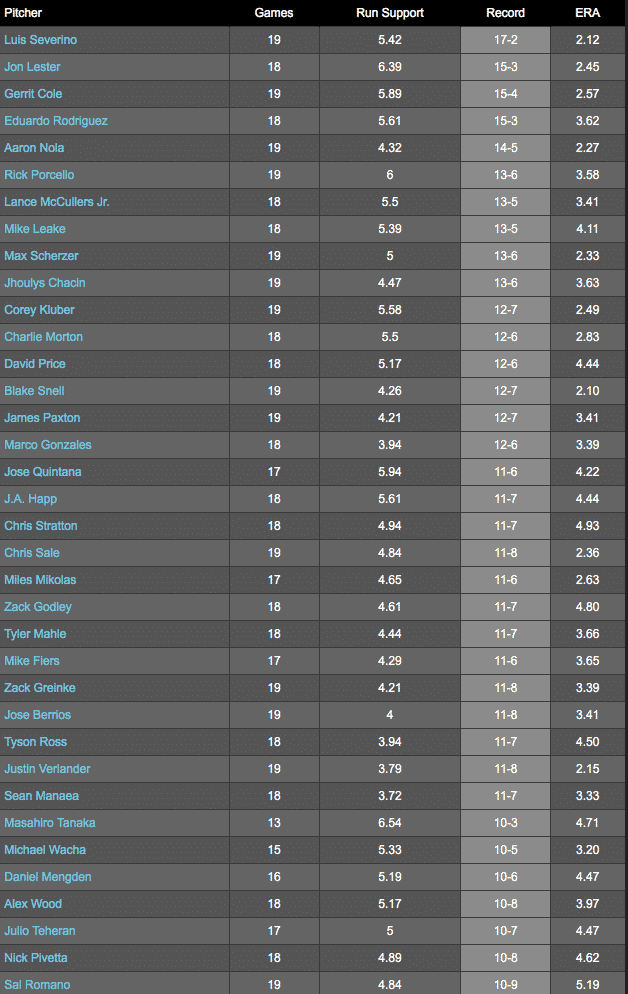 Not a ton of surprises here as some of the best pitchers in the game pitching behind the best offenses lead to great run support. Severino (Yankees), Lester (Cubs), Cole (Astros) are as good as it gets, but look for some others whose prices are a bit more manageable (Nola, Porcello, Leake, Morton, Snell, Quintana, Happ, Tanaka.
3. Umpire Statistics: Courtesy Of DonBest.com
Umpires Over
Umpires Under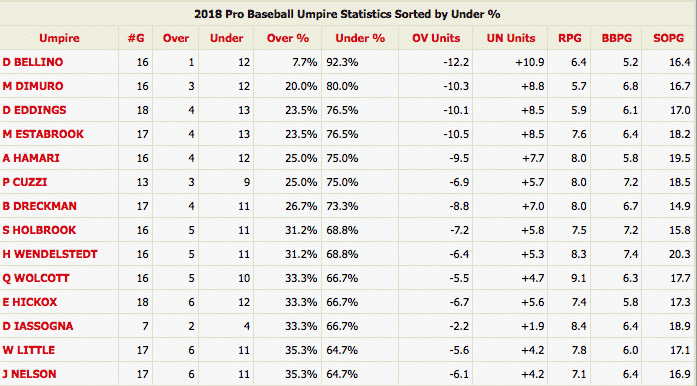 Again, the key with all this data is to figure out which is actually showing a pattern and which trend is just a small sample size of randomness and variance. I'm not going to give you all the answers, but the best way that I know how to make sense of this data is to back test it.
Look at the past three or so seasons and see how any of the above pitchers or hitters have done in any given category listed above and you'll be able to see who may be an outlier or who actually has the trends and data to show the type of pitcher or team that is being shown to you this year. May the second half of your 2018 MLB gambling be profitable!