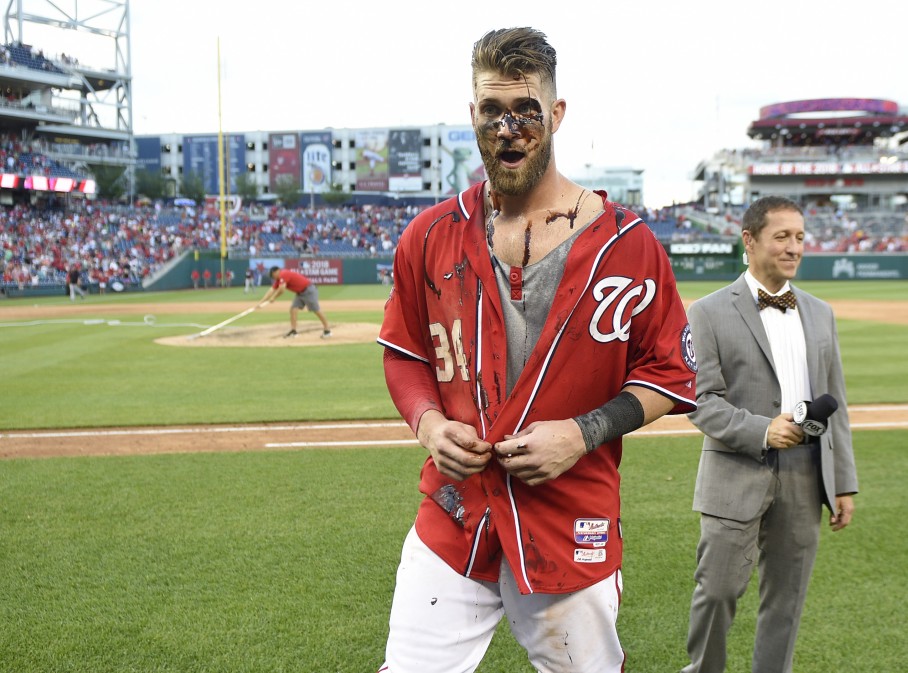 1.Smile Of The Game…Disrespect At Window
For the life of me, I've been racking my brain as to why Francisco Lindor is 40/1 to win the AL MVP. I understand Mike Trout is doing Mike Trout things, but truthfully, after hitting my claim to fame of Jose Altuve +800 last season for MVP, I thought I had a back to back winner with Francisco Lindor at +800 prior to this season. Mike Trout was slumping, Mookie was coming up, but Lindor was always right there. All the sudden while sitting at The Westgate Superbook the other day The MVP odds caught my eye and I nearly jumped out of my seat. After hitting a grand slam and a three-run home run in the same game last week, Lindor's odds haven't moved. In what universe should a gold glove shortstop slashing .297 with 23 home runs and 55 RBI through 84 games be 40/1 on a first-place team ready to coast into the playoffs? The bet may not win, but take my money, Vegas.
Francisco Lindor AL MVP +4000
2. Should The Nationals Do The Unthinkable?
This won't happen for a billion reasons, but it'd be really enjoyable if the Nats (losers of 16 of their last 22, and 6.5 out in the East) decided to blow up the trade deadline and dealt Harper somewhere later this month.

— Mike Petriello (@mike_petriello) July 3, 2018
This tweet caught my eye the other day and I actually started thinking about all the reasons it makes sense. In all likelyhood Bryce Harper is going to become A Yankee next season, and if the blueprint laid out by Lebron James and how the Cleveland Cavaliers show that without one player the franchise is pitiful, what if The Nationals actually did it? They are in third place in the NL East currently and without some serious trade deadline help and an Atlanta implosion, they may actually miss the playoffs. Imagine the haul The Nationals could get even as a rental. It's a bit of a predictament due to the fact The Nationals would want essentaily a teams whole farm system and the best system is actually The White Sox, who have no need for Harper…yet. One team that actually has the pieces to pull it off is wait for it..The LA Dodgers. The package would likely have to include Julio Urias, Walker Buehler, Alex Verdugo (#5 on top 100 MILB pipeline), Keibert Ruiz (#27) , and possibly an established young talent like Cody Bellinger or Cody Seager, which I don't even know if LA would want to clean itself out like that. Harper is probably over rated, but imagine what Cleveland could have gotten for Lebron James-and double it. It's not going to happen, but man would it be fun.
3. The Future(s) Is Now
During the MLB All Star break, one event is actually overlooked although it is probably the most important-The Futures game. The U.S goes up against The World every year and it's your first chance to see the best prospects in the game. Just about every player who is a household name has played in this game including the likes of Bryce Harper, Francisco Lindor, Yoan Moncada, Mike Trout, Hanley Ramirez (when he was good), You name it. the household name to watch out for in this game if he plays is Vlad Guerrerro Jr, but the talent pool is as deep as ever.
Futures Game:
☑ 8 different countries
☑ 30 Top 100 prospects
☑ All @MLB clubs represented
Here are the complete rosters for the Futures Game: https://t.co/Hqh5b1YjAP pic.twitter.com/BC7ulVpP9J

— MLB Pipeline (@MLBPipeline) July 6, 2018