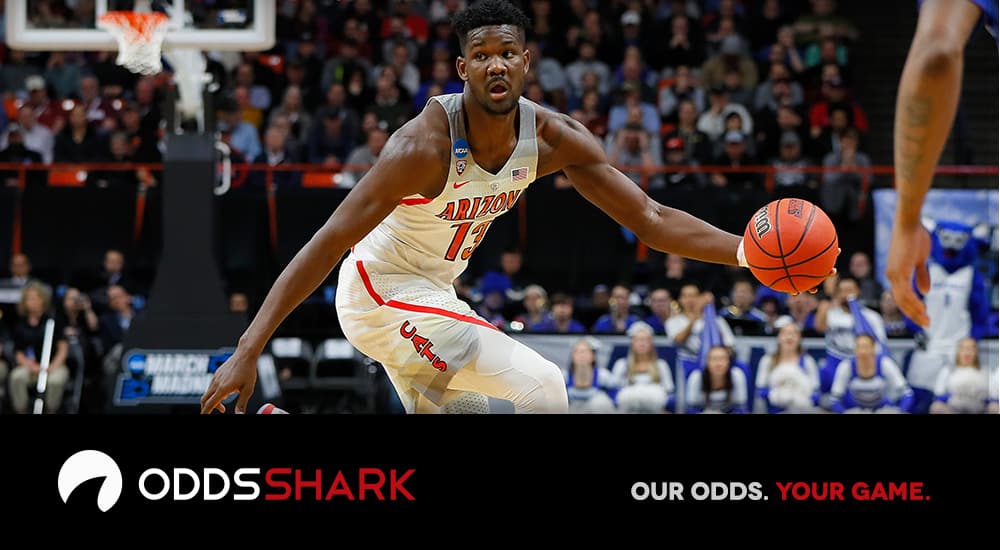 Arizona center Deandre Ayton is a massive betting favorite on the odds to be taken first overall in Thursday night's NBA Draft at sportsbooks monitored by OddsShark.com.
Ayton is the -1500 favorite (wager $1500 to win $100) at the sportsbooks on the NBA first overall draft odds for this week, putting him well ahead of Slovenian guard Luka Doncic, who sits second at +500 odds (wager $100 to win $500). The only other player listed on the betting prop is Michigan State center Jaren Jackson, at +4000.
It's the Phoenix Suns that hold the first overall selection for Thursday night, so barring a trade they'll get the chance to decide between the favored Ayton and the underdog Doncic. The Sacramento Kings, Atlanta Hawks, Memphis Grizzlies, and Dallas Mavericks are slated to pick second through fifth in the 2018 NBA Draft.
And those teams therefore play into the rest of the NBA Draft betting props for Thursday night. Doncic, for example, is set at +175 odds to be selected second or higher on Thursday night, and -220 odds to be selected third or lower. Jackson sits at +120 to be selected third or higher, and -150 to be selected fourth or lower.
Draft position props are also set out for Marvin Bagley, Mo Bamba, Michael Porter Jr., Wendell Carter Jr., Trae Young, and Donte DiVincenzo. Guard DiVincenzo, from the NCAA Tournament champion Villanova Wildcats, is at +150 odds to be selected 18th or higher, and -180 odds to be selected 19th or lower.
DiVincenzo's Villanova teammate Jalen Brunson is set as a small +115 underdog to be taken in the first round of the 2018 NBA Draft on Thursday night. Overall, on the prop asking how many Villanova players will be taken in the first round it's One at +850, Two at -110, Three at +125, and Four or More at +750.
The Orlando Magic, Chicago Bulls, Cleveland Cavaliers (via Boston and Brooklyn), New York Knicks, and Philadelphia 76ers (via Phoenix and the Lakers) round out the Top 10 for Thursday night's draft. The Los Angeles Clippers have back-to-back picks at No. 12 and No. 13, while the Hawks hold down three picks in the first round.