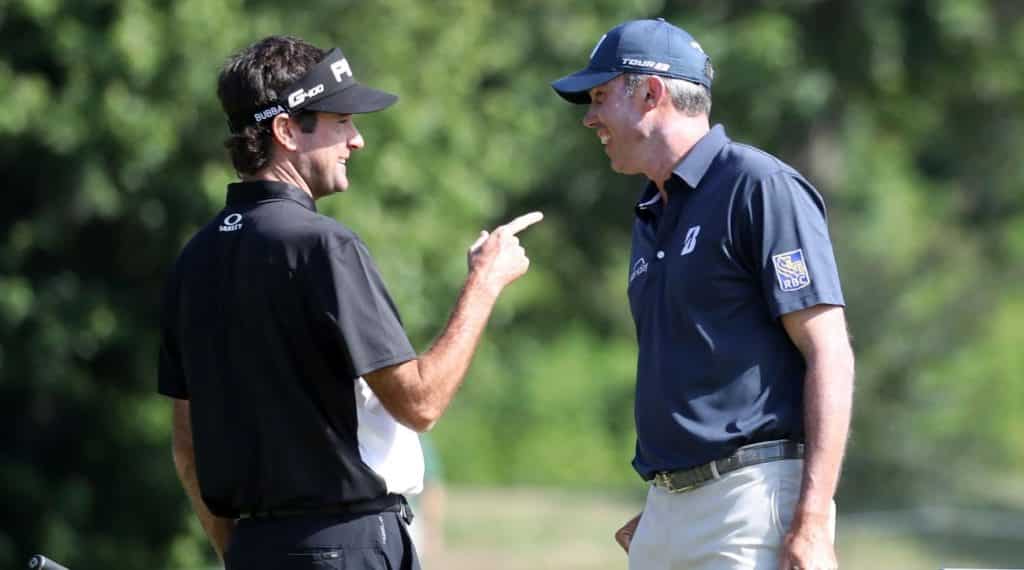 Most of the money that'll be wagered on the U.S. Open this year will be on win futures. It's these that generate the most public money for those who are looking to score a big win or brag to their buddies about how they were the one who bet on that 100/1 longshot (along with tickets on 24 other golfers that he ripped up into the trash by Friday afternoon).
Back when Tiger obliterated fields on a weekly basis, a bet on him to win a tournament was about a coin flip. Nowadays those odds are unheard of and the favorite of a major usually is no better than 10/1. But even those are a fairly bad value for a bettor to put their money on, especially at a tournament like the U.S. Open that features deep fields and grueling conditions that don't always allow the best golfer of the weekend to win.
Savvy bettors know that the real money to be made on a major is in the matchup market. The odds aren't nearly as lucrative but it takes out a significant amount of variance that a golf tournament can offer. You're no longer betting on one guy against 150 others. It's just mano-y-mano and allows a bettor to narrow their focus to exploit potential mismatches between two players.
Casual bettors who are only jonesing for some action might make the mistake of placing bets in matchups pitting two favorites against each other. That's not the best strategy, especially at this year's U.S. Open. Most, if not all, the favorites are coming into the event is very, very good form. Even if a favorite is perceived as a weaker option due to poor recent form, their natural talent could quickly reverse their funk and see them post a better than expected finish, even if the side the bettor was on played well themselves.
Instead, the best matchups are often found deeper down the card. It's here where you can find more vulnerable golfers heading into a tournament that has a much lower chance of turning things around. Most books offer dozens and dozens of matchups and trying to pick the right one can be a daunting task. But if a bettor does the right amount of homework they can reap the rewards.
For this post, I combed through all the matchup props offered by mybookie.ag. Here are some of my favorites of the week:
Tommy Fleetwood (-120) vs. Sergio Garcia (EVEN)
Tommy Fleetwood was right in the thick of things at the U.S. Open in 2017, and he's back at Shinnecock Hills to try and have another strong showing. Fleetwood tried his hand on the PGA Tour this year and normally the transition from the European Tour to the PGA Tour can be rough. Instead, he's held his own quite nicely. For the year, Fleetwood ranks 11th in Strokes Gained Tee to Green and 9th in Strokes Gained Off The Tee on the PGA Tour. While his stats have cooled off a bit since the Masters, Fleetwood remains a premier ball-striker and should find that the setup of Shinnecock Hills brings out the best in him.
Sergio Garcia is in a bad place. He was playing great heading into The Masters, but he went full Tin Cup and deposited five balls into the water on 15 to card an Octuple Bogey and eject him from the tournament. Since then the results haven't been any better as he missed the cut at the Valero Texas Open and the Byron Nelson, He was also a complete non-factor at The Players Championship, a venue he normally thrives at. What's ailed him since The Masters is poor ball-striking. Since the Masters, he's lost strokes to the field in almost all the major Tee-to-Green categories, areas of the game he has typically flourished at in his career.
When looking at the entirety of 2018, on paper these two seem evenly matched. But while both aren't as strong as they were at the beginning of the year, Garcia is firmly on a downward trajectory while Fleetwood is treading water with solid, consistent play.
Edge: Fleetwood -120
Bubba Watson (-110) vs. Matt Kuchar (-110)
I'm surprised Volvik hasn't filed for Chapter 11 bankruptcy given how Bubba showed how crappy their golf ball was. He took a fat payday from them to use their golf ball in 2017 to disastrous results. Nearly all his ball-striking statistics cratered. Bubba switched back to Titleist in 2018 and, whatdayaknow, he won a couple golf tournaments and finished T5 at The Masters! Since then he hasn't played a lot of golf, only teeing it up twice at The Players Championship and The Memorial where he placed T57 and T44, respectively. For the year he still ranks well in all relevant ball-striking categories, but he definitely doesn't have as much heat heading into the U.S. Open as he once had.
Conversely, Matt Kuchar seems to be trending up as we head into the summer. Unlike Bubba, Kuchar has racked up a ton of frequent flier miles since lately as he's teed it up six times in nine weeks. Though Kuchar didn't have a Top 10 finish during that stretch, his ball-striking statistics have improved a lot since the beginning of the year. Since the Masters, Kuchar gained ~0.9 Strokes Tee to Green over the field and gained over a stroke per round in four of six tournaments he played. While his performance off the tee is still mediocre at best, Kuchar's performance in his approach shots is what's improved his recent play. Kuchar is heading in the right direction on the eve of the U.S. Open.
But the stats are just the cherry on top. The biggest factor comes down more to intangibles and temperament. Of all the majors, the U.S. Open is the one that puts the most amount of stress on a golfer's psyche. It's a grind, it's hard, and there will be times during the tournament where things will go horribly wrong. Those who can roll with the punches, stay positive, stay patient and take what the course gives them will be able to overcome the inevitable speed bump.
Those are not traits that Bubba Watson possesses. He's not as big of a brat on the golf course as he once was, but he still runs hot under the collar and when things go wrong it tends to snowball for him. It's a big reason why the U.S. Open is his worst major, as he's missed six cuts in 11 tries including three of the last four. On the other hand, Kuchar is a steady-Eddie in tough course conditions and doesn't let adversity get the best of him. While he only has one Top 10 finish at the U.S. Open since 2010, he's never missed a cut and has seven Top 30 finishes.
So while Bubba does things like this: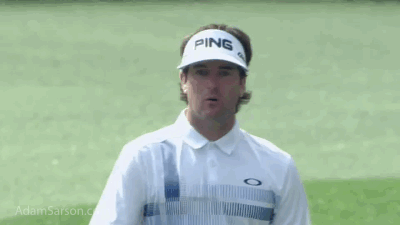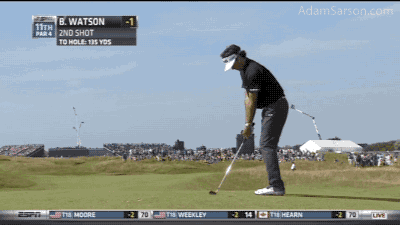 Look for Kuchar to cash in this prop as we head into the weekend.
Edge: Kuchar -110
Rafael Cabrera Bello (-130) vs. Charl Schwartzel (+110)
There's another Rafael from Spain who's upstaged the native of Las Palmas lately, but Cabrera Bello is no slouch either. He's only played in the U.S. once since The Masters, but he finished a respectable T17 at The Players Championship and posted a very robust 1.53 Strokes Gained Tee to Green in the event. Cabrera Bello then returned to Europe to play in the BMW Championship and the Italian Open and posted a pair of Top 10's there. He's not the most elite golfer off the tee, but his statistics on approach shots have been wonderful in 2018 – 8th in Strokes Gained Approach and 46th in Scoring on Approaches 175-200 Yards (a good sign for long approaches into the Par 4's he'll face several times this week).
Schwartzel's season-long statistics are uncharacteristically dreadful for a golfer of his pedigree. For the year he's 143rd in Strokes Gained Tee to Green, 150th Off The Tee and 118th on approach. Since the Masters, though, he's been a little better. While he struggled mightily at Harbour Town and TPC Southwind, he posted very respectable ball-striking stats at Quail Hollow, Muirfield Village and most notably at TPC Sawgrass where he finished runner-up to Webb Simpson. Over the course of those three events, Charl averaged 1.71 Strokes Gained Tee to Green, much better than his season-long average. Schwartzel also played well at Chambers Bay in 2015, a similar comp to how Shinnecock Hills could play tee-to-green.
Despite an uptick in play since The Masters, Rafa's big edge on his approach shots should separate the two on the leaderboard. This is another matchup that could be decided by Friday if Charl struggles out of the gate and doesn't even make it to the weekend.
Edge: Cabrera Bello (-130)
Ian Poulter (-140) vs. Martin Kaymer (+120)
Ian Poulter is having a wonderful 2018 and should be a lock to return to the Ryder Cup in September. After an injury-plagued 2016 nearly cost him his PGA Tour card, Poulter has rounded back into form as one of the most consistent players in the world. For the year, Poulter ranks 38th in Strokes Gained Tee to Green and 24th on approach, two important attributes that contenders will have to excel at if they want to hoist the trophy on Sunday. His performance on the scorecard has also matched his solid ball-striking, placing 7th and 11th at Harbour Town and TPC Sawgrass before heading overseas to place T20 and T8 at the BMW Championship and the Italian Open. Heading into the U.S. Open, Poulter seems primed to be near the top half of the leaderboard and a factor over the weekend.
The same can't be said for Martin Kaymer. Since The Masters, he's missed the cut in three of seven tournaments he's entered and didn't crack the Top 40 of any tournament he played on the PGA Tour. His Strokes Gained Tee to Green statistics are virtually zero during that time, and he's a far cry from when he was considered the world's best ball-striker in 2010. But there is some positive mojo he can draw upon as he prepares for the toughest test in golf. For one, he knows what it takes to win a U.S. Open when he won at Pinehurst in 2014, and the areas around the green there will play very similar to that of Shinnecock Hills. He also placed T8 at the Italian Open two weeks ago, so he should have a bit of confidence from that tournament as he heads out to the Hamptons.
Nevertheless, Poulter has the big edge in both recent and season-long performance. While I expect Kaymer to fight tooth and nail to make the weekend, Poulter should be hanging around the Top 20 and come out on top in this matchup.
Edge: Poulter -140
Byeong Hun-An (-135) vs. Matthew Fitzpatrick (+115)
An has been playing really solid golf since the Masters…but then Memphis happened. It didn't always show up on the scorecard, but up until Memphis, he was averaging 1.87 Strokes Gained Tee to Green over the last two months, which is just a massive clip. This run of great golf included a runner-up finish at The Memorial where he posted four rounds in the 60's to nearly taking the win. The following week, though, he missed the cut badly.
Was the performance in Memphis a bit of a hangover, or is his hot streak about to come to an end? The data suggests that what happened in Memphis was a bit of an outlier. Despite the poor showing in Memphis, his recent performance in Strokes Gained Tee to Green is still 1.33, which is right near his season-long average of 1.23. Considering how close these two numbers are, I'm comfortable that he still has a high, safe floor.
It seems like Matthew Fitzpatrick has been playing at a high level for a while now, but people forget that he's still just 23 years old and has his best golf ahead of him. He's won some big boy tournaments in his young careers like British Masters, the European Masters and the DP World Tour Championship in Dubai. While he has a tremendous amount of success overseas, he's very rarely brought his A game over to the United States. His only Top 10 stateside was at the 2016 Masters, and in 2018 he's hasn't made any noise over here either. Between his struggles in the U.S. and a few uninspired performances in Europe, there's not a lot of positive momentum on his side.
Fitzpatrick has tremendous ability and the raw talent to show well this weekend, but there's nothing in his recent form to suggest that's coming. His Strokes Gained stats on both the PGA Tour and the European Tour are very poor, and he'd need significant improvements in those if he wants to make it the weekend, For that, I'll take the guy who has shown consistent, solid ball-striking for the last two months in this particular matchup.
Edge: An -135