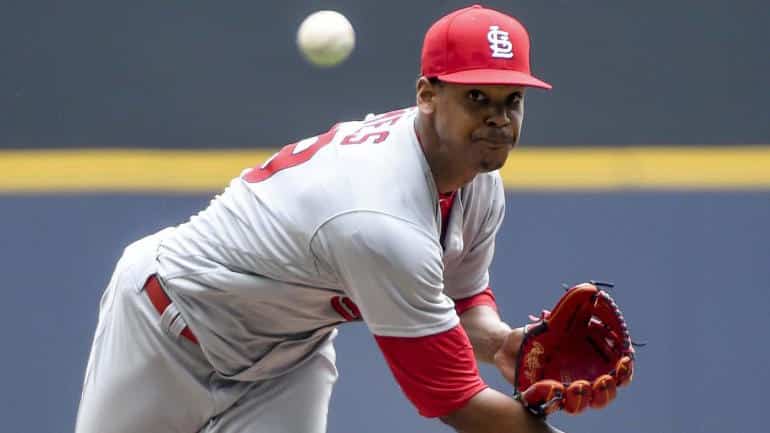 1. The Best Pitcher You Don't Know About Came Back…And Went Again
For those of you that have been following me for any amount of time, amongst the "new blood" of Major League Baseball's pitchers, Julio Urias, Sean Manea, Jameson Taillon, Jose Berrios, etc. The one I covet the most and think is a potential Cy-Young winner is Alex Reyes, of the St. Louis Cardinals. Alex Reyes has a lot of Pedro Martinez in his game, and that is high praise coming from a Boston born guy. From 2016 on before getting hurt and needing Tommy John, Alex Reyes was probably my favorite pitcher in baseball to bet on, not a lot of people knew of him, his lines were low, and the kid was dealing. Take a look for yourself:
If you are more of a visual learner, let me enlighten you:
.@AlexReyes_67's stuff is crazy 🔥#STLCards pic.twitter.com/bdQdtqVGJB

— VENUE KINGS (@VKingsStlouis) May 30, 2018
In his first start in over a year, Alex Reyes went 4 scoreless innings and looked to be even better than his own self…only to be pulled with a "significant" lat injury:

He cashed one first 5 bet, but it looks like it may be a bit before he cashes some more for us. The point is, when he's back, be ready because if he can stay healthy, he's a future Cy-Young winner in my opinion.
2. Clayton Kershaw Better Get On The Phone With Greg Maddux
Clayton Kershaw's first start back from the disabled list was actually a pretty good one, although he did lose to the new Cy-Young contender Aaron Nola 2-1. He lasted just five innings after being pulled from the start when his back tightened up according to manager Dave Roberts. Kershaw, who will now need another MRI this weekend may be DL-bound again. Kershaw struck out five, but what is really concerning is one thing, his velocity. Kershaw was routinely in the neighborhood of 87-90 on his fastball, averaging 88 mph. Look, Kershaw is good enough to get by on location and game planning, but he in fact, is going to have to re-define his whole game if this is indeed the new Kershaw, or if this is just an injury-riddled season. People somewhat forget that Kershaw has been in the game for a decade now, debuting at 20 and now 30. Velocity is somewhat the first thing to go, and if he is going to keep his career and the "elite" title, he's going to have to channel Greg Maddux and re-define his whole game. The thing is, the "great" version of Kershaw is still top 10, but the days may be numbered as the automatic top 5 Cy-Young contenders. Now that Kershaw is probably out of the picture for Cy-Young (+1800 at Westgate Las Vegas at time of writing) Max Scherzer may be a bargain at -175, and I'm making the investment, Aaron Nola isn't a bad long shot either at +600 as a darkhorse, if Philadelphia keeps winning.
Max Scherzer To Win NL Cy-Young (-175)
3. It's Time To Take Milwaukee For Real
At the time of this writing, Milwaukee is in first place in the most competitive division in baseball, the NL Central. The top four teams are all over .500 and all four teams are separated by 6.5 games, while Milwaukee holds a four-game lead over Chicago. Milwaukee actually touts a Cy-Young contender in the most unconventional of ways with Josh Hader. If you don't know who Josh Hader is, let me enlighten you. Josh Hader is a relief pitcher who isn't even a closer, however, his numbers are videogame-like. Hader has a 1.09 ERA, 17.8K/9 and a 0.57 WHIP. Do I honestly think Hader can win the Cy-Young over Scherzer, Nola, or DeGrom? No, but the fact it's even in the conversation says something about the leader of the best bullpen in the National League. Milwaukee has been known to sell out when the time is written, as evident by the time they picked up C.C Sabathia, which few people actually remember. Christian Yellich has caught fire after the injury like most thought he would, Travis Shaw is still the mayor of ding dong city, and they are only going to get better when Eric Thames' bat comes back. Another reason to like Milwaukee's chances of getting better is they just called up their top prospect, second basemen Keston Hirua. I touched on him in one of the past editions of First To Third, but he's here to stay as baseballs 49 overall prospect and Milwaukee's number one. Hiura was promoted after a career night, going 5-5. Overall, Hiura was hitting .316 with 7 home runs and 23 RBI's in 50 games. Braun, Shaw, Thames (eventually), Yellich, and Lorenzo Cain, the offense is very underrated blending speed and power. Yes, the starting pitching needs to be improved, but if they add at the deadline, look out, especially Cubs futures holders.
Milwaukee Brewers To Win NL Central