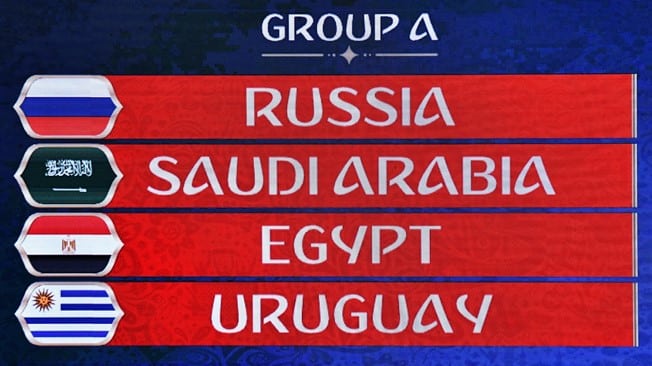 Russia
The host, under a telescope, viewed by the universe, will welcome the 2018 FIFA World Cup into their country for a month of the most prestigious soccer one can desire. Russia was granted the automatic qualification and will be looking to join a list of six countries to Hoist the Cup, on home soil.
Uruguay 1930
Italy 1934
England 1966
West Germany 1974
Argentina 1978
France 1998
Since making a semifinal in the 2008 European Championships, Russia has failed to make it out of the group stage in International competitions. In the last World Cup in Brazil, Russia was unable to win a group stage match, drawing 2 and losing 1, only managing to score two goals. The performance was disappointing from a country that had much higher aspirations after going 7-1 in qualifiers scoring 20 goals and only conceding 5.
Now, in 2018, after experimenting with different managers in Fabio Capello and Leonid Slutsky, Stanislav Cherchesov will lead this team in the hope of making it to the knock out stages. The former National Goalkeeper has been tied to a 3-5-2 formation, making it hard for fans to fall in love with the style Cherchesov displays. While the team has become somewhat better at the offensive end, the three-man back line of the Russians leaves them exposed, giving up three goals in each of their last three matches.
One of the downsides to hosting the World Cup is it virtually makes for four years of friendly games in preparations outside of other International tournaments, in Russias case, the 2016 Euro and 2017 Confederations Cup were bitter served failures. The host has been playing friendlies in the build-up while other teams have participated in crucial matches and can be classified more as battle-tested as of late. A focal point for this team will be to stay engaged for the full 90 minutes, something they haven't been able to do with the low-intensity games that aren't asking for results. This has been a problem going back to the friendlies before the confederations cup, where Russia was allowing goals at a frantic pace.
Egypt
"The Pharaohs" travel to Russia with a new found group of fans, thanks to the evolution of Liverpool Star Mohamed Salah. The Premier League player of the year will be hoping to lead his team into the round of 16, backed by one of the tournaments stingiest defenses.
After a 27 year absence, Egypt finds itself back in the tournament in a group they believe they can advance from. The Pharaohs, are led by Argentine Manager Hector Cuper, who has inspired the African team to play compact, defending football while exposing minimal spaces in low scoring games. Egypt beat Uganda, Ghana and the Republic of Congo to reach Russia, but only managed to find the back of the net eight times in 6 matches.
Cuper has managed the team to 20 wins in the last 30 matches, proving his tactics to be successful for the talent he has at his disposal. Salah can be moved around in many places but was traditionally used as a right winger when Liverpool opted for a 4-3-3 formation. At times, Jürgen Klopp deployed a 4-4-2 formation which saw the Egyptian sensation drift to a more central position, something he had much success with and puts a lot of pressure on defenders.
Egypt lines up in a 4-2-3-1 formation with Salah playing on the right wing; only thing is he is left footed, giving merit to a gameplan that doesn't rely on crosses and an aerial attack. On the opposite wing, Stoke's 21-year-old Ramadan Sobhi will be featured after 19 caps with the national team. Sobhi has been waiting for this competition to arrive to showcase his skills as the world watches, in order to obtain a transfer from his current English Premier League team. A strong performance here can link him to many clubs who have shown interest, one being that of teammate Salah's Liverpool. Something to keep your eye on will be if Egypt field Essam El-Hadary, the 45-year-old goalkeeper, doing so would make him the oldest player to step on a World Cup pitch.
Saudi Arabia
The " Green Falcons," enter this tournament backed by ultra-defensive tactics. Saudi Arabia also comes into this tournament in somewhat search of an identity as they have had three coaches in the last three years. Juan Antonio Pizzi will have the obligation of driving this team to play a little more offensive, something other managers failed to do.
The only problem, the Green Falcons rely heavily on their defense and operate in a 4-2-3-1 or a 4-1-4-1. When in these formations, they virtually play a five-man back line as one of the players in front drops back and plays as mainly an extra central defender. The Saudi's like to move as a unit and don't take many chances on defense. The outside defenders don't support the attack through runs and overlaps, they remain in place and take few risks. When playing a team like this, expect crosses that come early and not exactly from the corners as they won't let you get deep into their defensive third. The way to beat them is with individuals dribbling into the heart of the defenders making them come up to have to make a play, at which time the lack of speed from the Arabians will hurt them and leave them exposed to 1-2 passes and through balls.
The majority of the preliminary list players play domestically in Saudi Arabia, so in January, the soccer federation wanted to get their players more exposure to other leagues and sent nine players to Spain on loans, to get a taste of La Liga and better competition in preparation for Russia 2018. Of the nine, only three were named to the preliminary team. One thing that will be in question will be how much success will these three players have after not getting any playing time in La Liga. Those three players only got a total of about 90 minutes of playing time combined in the last five months since the transfers, how will this affect their overall performances? The objective was to get them playing time at a higher level, did at least participating on the training grounds vs. higher caliber players help them overall?
Odds- The Tournaments longshot 1000-1
Uruguay
Saving the best team in Group A for last, La Celeste (The Sky Blue), come into this tournament as a low-key favorite. Priced at 33-1, the South Americans qualified second, in the tough CONMEBOL qualifiers for the 2018 World Cup.
This version of the national team brings just the right amount of mixture between, youth, experience, and world-class talent. The defense will be anchored by no other than captain Diego Godín and his Atletico Madrid teammate José María Giménez. Godin, a seasoned 32-year-old veteran, appended to a young, quick Giménez, equates to a sturdy, dependable defense. Godin is excellent in the aerial game and is keen on setting hard tackles on opponents to set the mood in matches. The young Jimenez has the pace the captain might lack at moments, and will give Uruguay speed in the back to be able to convert defense into counter attacks as he is incredible on the ball.
Up top, one of the tournaments most lethal duos, Luis Suárez and Edinson Cavani will man La Celeste in Russia causing havoc on opposing defenses. The dynamic tandem, share 197 caps between the two while netting 92 goals combined while sporting the sky blue jersey. Of those 92, 50, belong to Suárez, pasting him at the top of the Uruguay record books as the top goal scorer. The 2010 4th place finishers bring a specific philosophy and mindset to international competitions, which have led them to plenty of success in the past. Suárez has 5 World Cup goals in his career and will be looking to surpass the record of 8, held by Oscar Míguez. This will also be his 3rd World Cup appearance for La Celeste (2010-2014-2018), cementing him second in the record books with the likes of William Martínez, Luis Cubilla, and Diego Forlán.
The artist that paints the picture for this country, El Maestro, Óscar Tabárez. His first gig with the Senior National team came in the 1989 Copa America, where he led Uruguay to the final and wound up tasting defeat to the host Brazil, 1-0. Tabárez would stay with the team through the 1990 World Cup in Italy, where they were eliminated in the round of 16. The defeat led El Maestro back to managing at the club level, where he managed some of the most prestigious clubs in the world in Boca, Milan, and Velez to name a few. 2002 saw the boss, take a break from football for a stint of four years, it was the failure of La Celeste to qualify for the 2006 World Cup in Germany, that sparked the desire to led the national team to triumph, once again.
Experienced Manager CHECK
Dependable Defense CHECK
Lethal Finishers CHECK
Youth and Experience CHECK
This team has everything to make a run, look for Uruguay to make some noise in Russia 2018.