With just over a month of the season into the books of baseball, there's been some surprises, some stat quo, and some heartbreak depending on what team you call your own. If you want team by team breakdowns, get MLB network. We're here to talk gambling folks, so let's break it down. Remember, if you don't learn from the past you're doomed to repeat it.
*All info is brought to you by Sports Insights and OddsShark, to me, these are the two standards for betting trends and statistics.
*Stats Via Sports Insights
1. Most profitable teams
1.DBacks (14.18)
2. Braves (+9.12)
3. Rockies (+8.58)
4. Red Sox (+8.04)
5. Giants (+7.44)
6. Yankees (+6.79)
7. Mariners (+6.38)
Breakdown: The Dbacks have finally found an identity (and an Ace with Patrick Corbin) and they look to have finally found their way in the NL. The Dodgers are riddled by injury and inconsistency, they are a hard BUY Team, especially if you were all-in on LA the way I was to start the season with futures bets for their division and the NL. The baby Braves are the most fun team to watch in MLB to me with their big three and are poised to be here for the next 5 years if things break right. The Giants being on this list is a bit surprising, but with Cueto regaining his form and Shark coming back, they are usually lined as an underdog, so that helps.
2. Least profitable teams:
Reds (-16.65)
Orioles (-16.36)
White Sox (-11.41)
Royals (-9.78)
Dodgers (-8.78)
Indians (-7.8)
Breakdown: I was actually somewhat high on Cincinnati this season and boy was I wrong. It's not too late to correct your mistake though, as they need to be put on auto-fade every single time out there, especially in the series market. Baltimore is also on their way out as Manny Machado is likely to be traded before the deadline, Chicago, and KC will also both be sellers as always (goodbye Danny Duffy-more on him later), and LA and CLE are just lined in such a way that you have to basically win two games for everyone that you do. We've talked at length about LA's struggles, but they are on the avoid list at the moment. Cleveland is the interesting one because of how awful their division is, you can still somewhat buy low on them, even though they are still in first place. 
3. Sports Insights Trends:
Visitors: 251-249, +28 units
<40% Bets: 130-188, -4 u
<30% Bets: 49-93, -13.1 u
<20% Bets: 10-9, +8.47 u
Underdogs: 212-293, -6.9 u
+250 dogs: 6-5, +12.3 u
*Stats by OddsShark 
4. Pitchers with most run support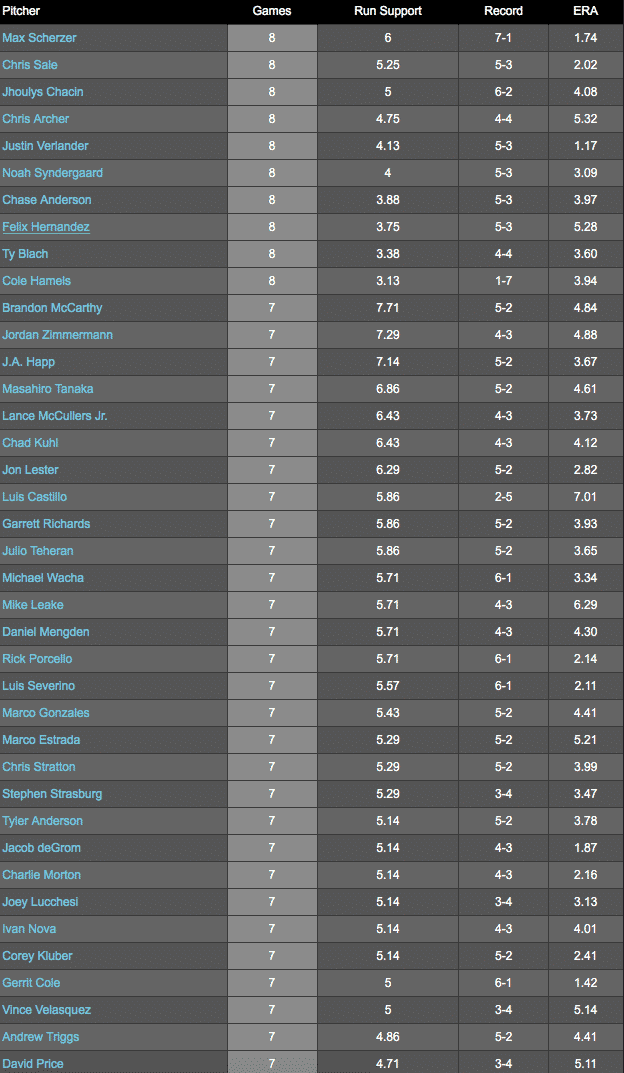 Breakdown: This is where your first 5 market comes in. It's not the greatest idea to back an F5 under total with a pitcher receiving a great amount of run support, even though they pitch lights out (Scherzer). These are who you should be looking at in the first five innings money line or runline market only. 
5. Pitcher Money Won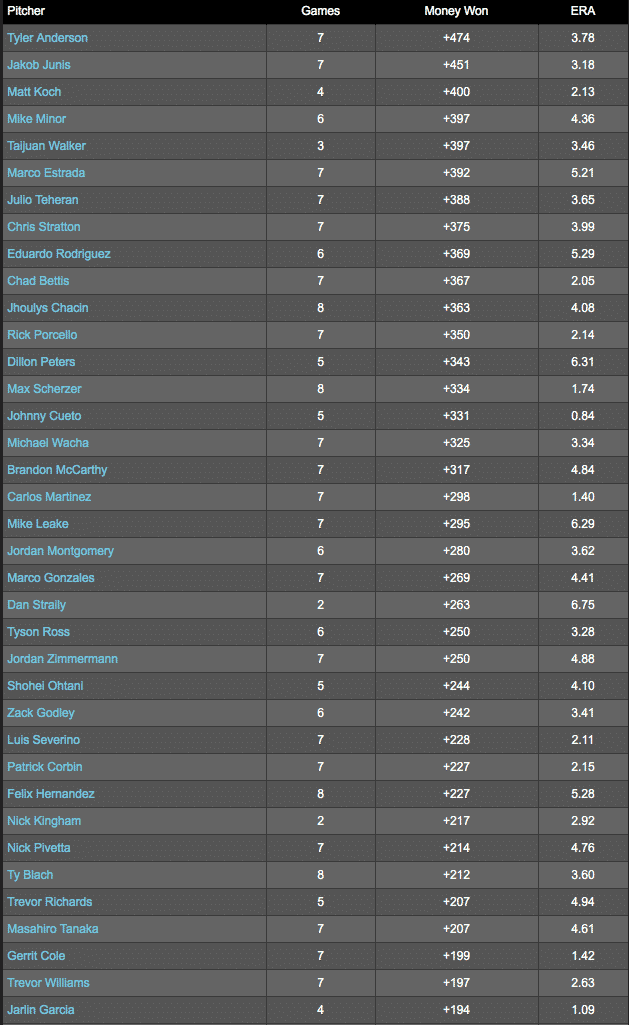 Breakdown: The same goes for this in that look to eliminate variance and take a first 5 market stand.
Pitcher Money Lost
Breakdown: Not much needed here, These are your run of the mill auto fades, Duffy will turn it around if he can get himself on a new team, but take advantage of some of these guys before they lose their rotation spots both in the Team Total market and F5 market.