And now…back to our regularly scheduled program.
After a one week hiatus from normal proceedings, the PGA Tour is back with traditional stroke play featuring a star-studded field at the Quail Hollow Club in Charlotte, NC. Six of the Top 10 players in the world are set to tee it up this weekend along with other big names like Phil Mickelson, Jason Day, and some dude named Tiger Woods who makes his return to Quail Hollow for the first time since 2012.
The last time we saw Quail Hollow was last year's PGA Championship won by Justin Thomas, and while that event saw the highest relative to par field average of any event held there the tournament directors are expected to set the course up much easier for the regular tour stop. The course should play slightly shorter than last year's major set up, the rough won't be as thick and the greens should run around 12 on the stimpmeter, which is much slower than the lightning fast speeds it saw last August.
My normal protocol when handicapping a PGA Tour stop is to take a look at the last five or six events and identify what profile of golfer fares well there. However, that plan has a bit of a monkey wrench in it given the significant changes to the course in 2016 to get it major ready. The most significant changes were made to the Front Nine. Hole No. 1 was lengthened by about 100 yards and took over the former No. 2 Green, and former Hole No. 3 became the 2nd hole. The renovation of the 1st also changed the desired shot off the tee, as a power fade (for a righty) through the dog leg and away from the trio of fairway bunkers is now the ideal ball flight.
Before:
After: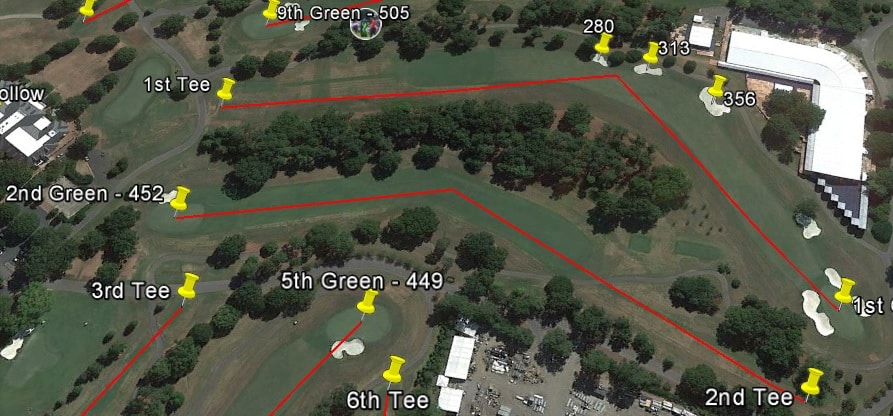 Additionally, the club cut down huge swaths trees to create a new Par 3 4th, while the tee box on No. 5 was moved up to eliminate a Par 5 and make the scorecard a Par 71. Though there weren't many total yards added to the scorecard, a 7,600-yard course plays a little harder as a Par 71 than a Par 72, and it successfully gave the golfers a much tougher test than in years past.
The course was always considered a bombers paradise, and the renovations only reinforced it. The golfers I'll be targeting on my betting ticket and on DraftKings primarily will be longer hitters off the tee in both distance and the strokes gained statistics. A few exceptions will be made for moderate hitters if they're good ball strikers on longer approaches. With a deep field, there's also a lot of golfers I like that are below $8,000 on DraftKings, so there should be a lot of flexibility to round out your rosters if you want to splurge on a few top dollar names.
Here's who I have my eye on this week (with DraftKings values and odds courtesy of mybookie.ag):
The Favorites:
Rory McIlroy – 8/1, $11,800
Justin Thomas – 10/1, $11,300
Rickie Fowler – 10/1, $11,100
Jason Day – 18/1, $10,200
Patrick Reed – 20/1, $9,700
Phil Mickelson – 20/1, $9,200
Hideki Matsuyama – 22/1, $9,400
Tiger Woods – 22/1, $9,100
Tommy Fleetwood – 28/1, $9,000
The big favorites are clearly Rory McIlroy, Justin Thomas and Rickie Fowler based on their strong course history at Quail Hollow. Rory is a two-time winner at Quail Hollow in 2010 and 2015 and has four other Top 10 finishes there. Justin Thomas captured his first major title at Quail Hollow last August and had another Top 10 there in 2015. And Rickie Fowler scored his first PGA Tour win at Quail Hollow in 2012 and has three other Top 10's, including at the PGA Championship last summer. All three will probably be very popular plays in DraftKings lineups this week but given their track record and performance this year they should all be solid. With the deep field this week, though, their futures odds leave a bit to be desired and several other names down the card have a little better value.
Despite some lackluster play of late, I'm kind of digging Jason Day this week. The last time we saw Jason at Quail Hollow, we were witness to someone having a complete mental break on his final hole of the 3rd round.
(It's been nine months and I still have no clue what he was trying to do on his second behind the tree).
Since the West Coast swing he's been relatively quiet in the results column and he's struggled in a few statistical categories, particularly on approach shots. But Day has historically excelled at setups reminiscent of PGA Championship conditions – long, hot, muggy courses. That's exactly what we'll get at Quail Hollow this weekend and as long as he doesn't completely lose his mind again, he should be right there at the top of the leaderboard on Sunday. I also don't expect his ownership in DraftKings to be all that high, so if he does have a nice weekend that could give you a big leg up in bigger contests.
Another favorite who's flying under the radar is Hideki Matsuyama. Hideki should have won the PGA Championship last year at Quail Hollow but a lackluster Back Nine cost him his chance at snagging his first major title. He's taken a few weeks off since the Masters and his wrist injury should be healed up by now. Where he's struggled is off the tee but all other parts of his game appear to be in great shape, particularly on the longer approaches. Both his $9,400 DraftKings price and 22/1 futures odds are pretty appealing to me this week as he looks to get back on track heading towards the U.S. Open in June.
Finally, I'm contractually obligated to talk about Tiger Woods (it's all about the clicks). He has a bit of a mixed bag of results at Quail Hollow over the years. From 2004-2009 he played the tournament four times and racked up a win and two other Top 5's. However, he's missed the cut in his last two appearances in 2010 and 2014 (in all fairness, he was battling injuries during both tournaments). At Quail Hollow, the driver is a key club for the contenders and Tiger has famously struggled with that club all year. It was a bit better at Augusta but he's fared better off the tee with tighter site lines to narrow his focus, especially when he could get away with hitting a fairway metal or iron. That's not how Quail Hollow will suit his eye this week and I don't expect him to contend. Some books have stopped offering Tiger Props, but if yours does I like the side of No on the Top 20 prop at -145, and I even see some value of a Tiger Missed Cut at +350. Better to bench the Big Cat this week…but let's talk next week when he heads down to TPC Sawgrass.
Other Contenders
Tony Finau – 48/1, $8,700
Warning – Finau might end up being the most popular play in DraftKings this weekend, so if you're trying to field a more contrarian lineup he should be nowhere near it. But in terms of the futures market (both win and Top 10), he's someone I really like this week at Quail Hollow. His ankle is still bothering him a bit from his gruesome injury at Augusta, but he once again showed no ill signs it affected him in New Orleans last weekend. Finau is gigantic off the tee and has been stuffing his long approaches close to the pin all year. He's played very well at courses like Augusta, Torrey Pines and Riviera that demanded excellence with the driver off the tee, and I expect him to contend for a win again this week.
Byeong Hun-An – 55/1, $7,600
Byeong Hun-An doesn't have a lot of history playing Quail Hollow but he definitely has the game to contend there. He missed the cut at the Wells Fargo in his first start, but at the PGA Championship last year he posted a very respectable T28 finish. An is 21st in Strokes Gained Tee to Green and 12th in Strokes Gained Off the Tee in 2018. He also ranks 12th in scoring on approaches over 200 yards on tour this year, an approach he'll face plenty this week. His DraftKings price is very affordable and if you are looking for a solid mid-tier golfer look no further than this guy.
Brian Harman – 60/1, $7,900
You may be asking "wait a second, Steve…I thought you said this course is a bombers paradise. Why are you recommending a dude who ranks 163rd in driving distance you hack?!?!". Well if you ask Harman, he'd tell you he's long enough off the tee before telling you to go shove it where the sun don't shine. More importantly, though, is that despite his deficiencies off the tee he's more than held his own in big ballparks in his career because of his tremendous ability to hit the ball close on long approaches for good scoring opportunities. He also has a good history at Quail Hollow, racking up a Top 10 finish in 2013 and posting a very respectable T13 at the PGA Championship last year under tougher, longer conditions than he'll face this week. Because the prevailing theme among most gambling experts will be an emphasis on guys long off the tee, his ownership shouldn't be all that high in DFS formats. He's a great addition if you look to load up on one or two studs and need to round out your lineup with a few discounted options with upside.
Longshots
Grayson Murray – 110/1, $6,900
Ah, Grayson Murray. The Donald Trump of golf. Like our current Tweeter in Chief, Murray has seemed to make more headlines with his social media accounts than his performance on the course. Murray has been very up and down during his PGA Tour career, but he's a huge hitter off the tee and has posted a Top 20 in three of his last four tournaments. He also showed very well at Quail Hollow last August as he hung around the Top 10 for most of the weekend. He's a cheap option for DraftKings and someone to target in matchup or Top 20 props.
Trey Mullinax – 120/1, $6,800
Meet the longest hitter on the PGA Tour at a cool 318.5 yards/drive. Mullinax's transition from the Web.com tour last year was very rocky (save for a surprise Top 10 at the U.S. Open), but over the last few months, it seems like he's found what it takes to succeed in the Big Leagues. Mullinax has a pair of Top 10's in two of his last three starts, including a T2 at the Valero in an event that, like the Wells Fargo, favors those who have length off the tee. Like Grayson Murray, he's shaping up as a nice Top 20 prop play and a cheap option for DraftKings that could outperform his value.
Wells Fargo Championship DraftKings Lineup #1
Hideki Matsuyama: $9,400
Tommy Fleetwood: $9,000
Tony Finau: $8,700
Emiliano Grillo: $7,700
Byeong Hun-An: $7,600
Xander Schauffele: $7,400
Wells Fargo Championship DraftKings Lineup #2
Justin Thomas: $11,300
Alex Noren: $8,100
Bryson DeChambeau: $8,000
Brian Harman: $7,900
James Hahn: $7,800
Grayson Murray: $6,900
Wells Fargo Championship DraftKings Lineup #3
Rickie Fowler: $11,100
Jason Day: $10,200
Luke List: $7,400
Jason Kokrak: $7,300
Kevin Streelman: $7,200
Trey Mullinax: $6,800