This week the PGA Tour changes things up when it heads down to TPC Louisiana to play The Zurich Classic. Last year the PGA Tour decided to switch the format from a traditional singles event to a team event. The first and third rounds will be played in a best-ball format (team records the lowest score between two golfers) and the second and final rounds will be played in an alternate shot format. While this switch has breathed new life into a rather mundane event and attracted several notable stars that otherwise would take the week off, it creates a nightmare scenario for gamblers. Team events, especially when the alternate shot is involved, are so hard to predict and forecast.
So I'm copping out this week and passing on giving out picks.
Instead of throwing money this week at what basically amounts to Russian Roulette, let's get a gauge on the futures market of the U.S. Open to find good values or forecast the perfect time to put down a bet.
The 2018 U.S. Open returns to Long Island as the most grueling major championship in golf heads to Shinnecock Hills in Southampton, NY. Shinnecock Hills last played host to the U.S. Open in 2004 and saw an epic duel between Retief Goosen and fan favorite Phil Mickelson in the final round. After 16 holes Mickelson and Goosen were deadlocked at -4, however, Mickelson three-putted from 5 feet and carded a disastrous double bogey to hand Goosen his second career U.S. Open title.
The 2004 tournament played ~7,000 yards and was fast, firm and windy. Shinnecock plays toughest in these conditions and it provided a tough test for everyone on the weekend. In fact, during the final round play was actually halted because of the unexpected dry conditions due to the winds, particularly on the 7th green where several golfers were putting into bunkers. But it won't be as easy to draw a straight line and find trends between the 2004 tournament and this year's for two reasons – one is the advancement in technology, and second is the course's response to the advancement in technology with it's lengthening and restoration.
While the USGA hasn't exactly laid out how the course will be set up, here's a good video of what they have in mind:
A couple comments to the video above:
-If you're reading between the lines, it seems like the USGA was none too thrilled with how many low scores there were at the U.S. Open at Erin Hills last year. The USGA has this fetish with the idea of "par". Each year they try and make par the standard and even set up the course with the goal of having that be the winning score. It's such a misguided notion because the point of golf is to put the ball in the hole in a few of shots as possible (that hard-hitting analysis is why they pay me the big bucks!). Par is just a number and with the advent of strokes gained statistics it's made that term less and less relevant. But the USGA is stubborn in their ways and too often trick out a course to obsessively protect this sacred number (see Merion and Chambers Bay).
Last year was not how they envisioned the tournament playing. When the winds are whipping, Erin Hills actually plays a lot like Shinnecock Hills with it's rolling fairways, sloping greens and treacherous gusts to play mind games with the golfers. But the big winds never came and the course had no defenses for big drivers like Brooks Koepka and Justin Thomas, who were able to bomb the ball into the wide fairways to set up great birdie opportunities. That's probably the reason why the USGA has requested Shinnecock to tighten up the fairways. After the restoration, most fairways at Shinnecock were 40-50 yards wide, which is rather generous for a U.S. Open but would allow the course to play more flexible off the tee. They'll still be between 28-34 yards wide, which is larger than they were in 2004, but as they said in the video above they want to bring "driving accuracy" back into the equation (cue the Zach Johnson Dance Party!!!!!!)
-Not mentioned in the video was that most of the trees at the course were cut down. Shinnecock Hills already played with gusty winds but what little protection the existing trees provided on the property are now almost completely gone.
Before (2004):
After (2018):
The USGA is really playing with fire here. They already had egg on their face with the stoppage of play in 2004. Could we see a similar situation again this year? They did put more collars around the greenside bunkers in hopes of reducing the chance someone will putt into them like what happened in 2004, so at least they tried to address that issue. But if the course doesn't receive much rain in the weeks leading up to the tournament and the winds are 15-30 MPH all weekend, there's going to be a lot of griping about the speed and firmness of the greens.
-Recognize this guy from the video?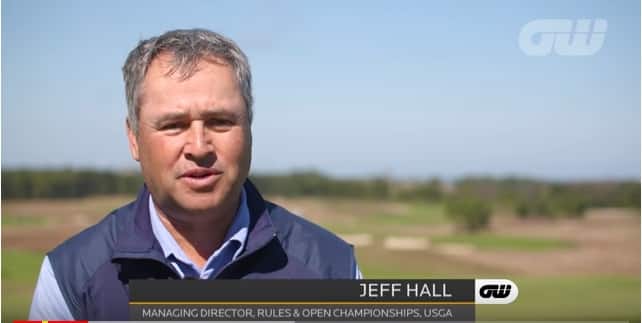 This is the sacrificial lamb that the USGA trotted in front of the cameras to try and justify the ludicrous penalty Dustin Johnson sustained at Oakmont in 2016. Luckily, the penalty didn't matter and Dustin Johnson still won anyway, but the USGA avoided a public relations nightmare if it did affect the tournament results.
In case you need a refresher, here's the incident:
My god. The horror. Everybody with me…LOCK HIM UP! LOCK HIM UP!
This poor schmuck had to try and defend how Dustin Johnson caused the ball to move while his putter wasn't in contact with anything. Not only that, THE USGA TOLD DJ MID-ROUND THEY'D DISCUSS IT AFTER THE ROUND AND DECIDE IF THEY'D LEVY A PENALTY. Sure enough, this dude and the USGA were dragged for it (even Tiger Woods demolished them on Twitter), so much that they changed the rule to prevent this from happening again. That's a good thing if the winds of Shinnecock Hills make the greens borderline unplayable as there could be a few of those situations again.
If I had to venture a guess on how the course will play in 2018, it'll play how most experts predicted Erin Hills to play last year. Many predicted the winning score to be around -4 or -5, and as long as the course plays firm, fast and windy that should be about where the winner ends up. Of course, a guy like Jon Rahm or Dustin Johnson could nuke the course with their driver and run it too -10. But my initial hunch is to gravitate towards guys who keep the ball in play off the tee, excel on approach shots and play well on a links-type track where creativity using slopes and humps to get the ball close to the hole is key. Sure the course was lengthened, but on a firm course like Shinnecock most modern golfers can easily poke it out 300 yards or more, and they even could get away with less than the driver to do so. That should bring in more medium hitters into contention.
At this point in the game, though, it's important not just to identify golfers who may do well. Gamblers should gauge the market to determine if now is the right time to get in on the price or to wait a few weeks and see if a golfer's number drops.
Here are a few guys I have my eye on now and in the upcoming weeks (odds courtesy of mybookie.ag)
Jordan Spieth – 12/1
Projected tournaments before U.S. Open:
The Zurich Classic (Team Event)
The Players Championship: 4 Appearances, 1 Top 5, 3 Missed Cuts
AT&T Byron Nelson: 5 Appearances, 1 Missed Cut, Highest Finish – T18
Ft. Worth Invitational (Colonial): 5 Appearances, 1 Win, 4 top 5's
The Memorial: 5 Appearances, Highest Finish – T3
To me, Spieth is the ideal golfer for Shinnecock Hills. His ball striking stats remain elite on the PGA Tour and he has the creative knack to turn the undulations of the golf course from an enemy into an ally. Spieth has publicly stated that he feels he excels on courses with uneven lies, and he'll have plenty of that at Shinnecock Hills.
One would think that his putting woes (which haven't gone away) could hold him back at a place like Shinnecock because of how fast and tough the greens could play. If Speith is off in that department he could quickly turn sure-fire automatic 4 footers into three putts. But like Augusta, the difficult greens should level the playing field as it'll play difficult for everyone. As long as Spieth is striking the ball beautifully and hitting the correct side of the fairway off the tee, he should be right near the top of the leaderboard on Sunday.
The question, though, is if 12/1 is a good enough price to jump on it now. Looking ahead at his schedule, he routinely dominates at Colonial but he's been very pedestrian at the other four tournaments he's slated to tee it up at before the U.S. Open. The wildcard is the Byron Nelson, which moves to Trinity Golf Club in 2018. That's a course that plays a bit like Shinnecock with gusty winds and sloping fairways and greens. He typically plays that event, but he may pass on it so not to tire himself out before the U.S. Open. But if he does play, that tournament could be one he exceeds his past performance to cause his odds to rise.
Verdict: Wait it out until after The Players Championship. Spieth hasn't played well at TPC Sawgrass since his Top 5 performance in 2014 and has missed three straight cuts there. If he has another so-so week that should be enough to cool him off and possibly drop his odds a bit. If his odds drop to 14 or 15/1, hammer it, especially before he tees it up at Colonial. That should be his bottom and though it might not seem significant, any drop in odds with one of the big favorites can make a whole lot of difference.
Hideki Matsuyama – 28/1
Projected tournaments before U.S. Open:
The Players Championship: 4 Appearances, 1 Top 10
The Memorial: 4 Appearances, 2 Top 5's, 1 Win, 1 MC
Matsuyama's schedule looks to be pretty light on the road to the U.S. Open but he plays two tracks he's had fairly good success at. Matsuyama notched his first victory on the PGA Tour with a win at The Memorial in 2014 and his lowest finish at The Players Championship is a T23. It doesn't look like he'll play his way towards lower odds between now and the U.S. Open.
Matsuyama hasn't been the same player since his wrist injury in Scottsdale and his troubles this year seem to be off the tee. This year he ranks only 128th in Strokes Gained Off the Tee but has been saving himself with solid approach shots and a great short game. Matsuyama has never ranked worse than 39th in that stat category in his career, and as his wrist gets healthier I would expect him to improve in that area between now and the U.S. Open.
He has a pretty good track record at U.S. Open setups. He finished T18 at Chambers Bay in 2015 and runner-up at Erin Hills last year thanks to a blistering 66 on Sunday to rocket up the leaderboard. And since 2014 he ranks 4th in Strokes Gained in tournaments designated as having "windy conditions". Assuming his wrist is healthy, Matsuyama should be a strong contender to hoist the U.S. Open trophy in 2018.
Verdict: You still have time to put down a futures bet on Matsuyama and see if his odds come down a bit. Because of the lack of buzz he's generated this season, I wouldn't be surprised if Matsuyama falls to 30/1 or worse by the time the Players Championship rolls around. If that happens, I'll be looking to put down a futures bet on him with the expectation of a good showing at either the Players or Memorial to send his odds back up the charts.
Henrik Stenson – 30/1
Projected tournaments before U.S. Open:
The Zurich Open (Team Event)
The Players Championship: 12 Appearances, 1 Win, 3 Top 5, 4 Top 10, 3 Missed Cut
The BMW PGA Championship (European Tour): 11 Appearances, 3 Top 10, 3 Missed Cut
Back at the Masters, Justin Rose turned into everyone's "under-the-radar-that-isn't-really-under-the-radar" pick to win the tournament. While he played just fine, he didn't live up to the lofty expectations that were bestowed upon him.
I have a feeling that guy for the U.S. Open might end up being Henrik Stenson.
What's not to like about him though? He seems to fit the prototype golfer who would do well at U.S. Open venues – accurate with his trusty three wood without giving up too many yards off the tee, greens in the regulation machine, and a fantastic scrambler to get him up and down for par from tough spots.
The results at U.S. Open venues haven't quite matched his attributes though. He's only recorded two Top 10's in 11 tries at the U.S. Open and has failed to make the weekend in his last two appearances. Stenson can be a hothead on the course at times. In order to play well at a U.S. Open patience is key and often requires one to take their medicine to settle for bogey instead of doing something foolish and card a big number. That seems to be something he struggles at in this event. He did hold a share of the lead after Round 1 at Chambers Bay in 2015, but faded after complaining that the greens were like "putting on broccoli". I have to imagine that got in his head over the weekend.
Once again, his performance statistically is certainly good enough to play well at a venue like Shinnecock Hills. He hasn't played enough tournaments to qualify in the statistics, but if he had he would rank 8th in Strokes Gained Tee to Green, 20th in Strokes Gained Off the Tee and 1st in Strokes Gained on Approach. But for me the difference for him this year seems to be his state of mind. Stenson played uncharacteristically well at Augusta in part because he put a lot less pressure on himself heading into the event than in years past. If he takes that same approach at Shinnecock Hills and doesn't let the course get the best of him between the ears, he can certainly win the tournament.
Looking ahead, Stenson has pretty good success at the Players Championship and considering it's a Ryder Cup year he also should head over to Europe to play in the BMW PGA Championship at Wentworth. He's been hit or miss there but in his last two appearances he's racked up a Top 10 finish, so he might have the course finally figured out. He also is playing the Zurich this week with his Ryder Cup BFF Justin Rose and those two have been quite formidable when paired together in team events.
Verdict: I've seen Stenson as high as 40/1 on some offshore books, so if that's listed on yours I would grab that immediately. Otherwise, I might hope that Rose and Stenson can't get it going this week at the Zurich and you can buy yourself some more time to put down a wager on him. If he doesn't make much noise this week, I could see him cooling off and trend downwards towards 35/1 before The Players. After that, I expect his odds to creep towards the 25/1 range as he posts solid finishes leading up to the U.S. Open and the market starts to fall in love with him.
Branden Grace – 55/1
Projected tournaments before U.S. Open:
The Players Championship: 5 Appearances,
The BMW PGA Championship (European Tour): 6 Appearances, 1 Top 5, 3 Top 10
Branden Grace has played OK golf on the PGA Tour this year. He hasn't missed a cut and notched a Top 10 at the Valspar, but he's mostly hung around the Top 30 on the leaderboard and is just another guy out there at the end of the weekend. And he's pretty so-so in the relative ball-striking statistics on the PGA Tour this season – 76th in Strokes Gained Tee to Green, 66th in Strokes Gained Off the Tee, and 120th in Strokes Gained on Approach.
Yet, he's 55/1 to win the U.S. Open thanks to some tremendous results at the event in his career. He finished T5 at Oakmont in 2016 but he's most known for going toe to toe with Jordan Spieth and Dustin Johnson down the stretch at Chambers Bay. Grace was tied for the lead with Spieth heading to the 16th hole on Sunday, but then…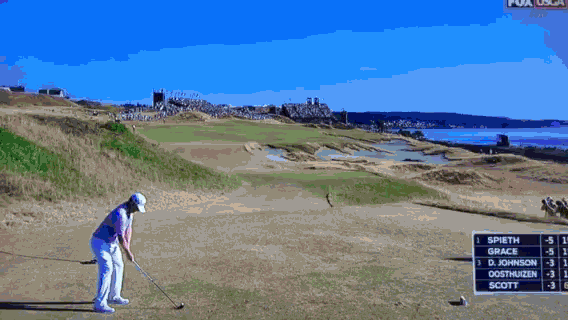 CANNONBALL!
While his performance this year doesn't scream as a guy you need to run to the counter and put a bet on, Grace will always be a contender at open, windy tracks because he has such a low ball flight. If the winds are howling at Shinnecock Hills when his shot trajectory should enable him to run the ball up towards the green for manageable par and birdie looks. It won't look as pretty as the towering iron shots a guy like Dustin Johnson or Jason Day can hit into greens, but it probably will be more effective as long as he has good distance control.
Verdict: Those who like Branden Grace at Shinnecock Hills probably have a lot of time before committing any capital on him. He's never missed the cut at the Players Championship but his highest finish is only T42. The time to strike might be leading up to the BMW PGA Championship where he has three Top 10's in 6 appearances. By then, I would expect him to drop to 60 or 65/1 due to the lack of buzz, but I don't expect his odds to go any lower than that. If he's at that price before that tournament, it's probably time to invest in him.