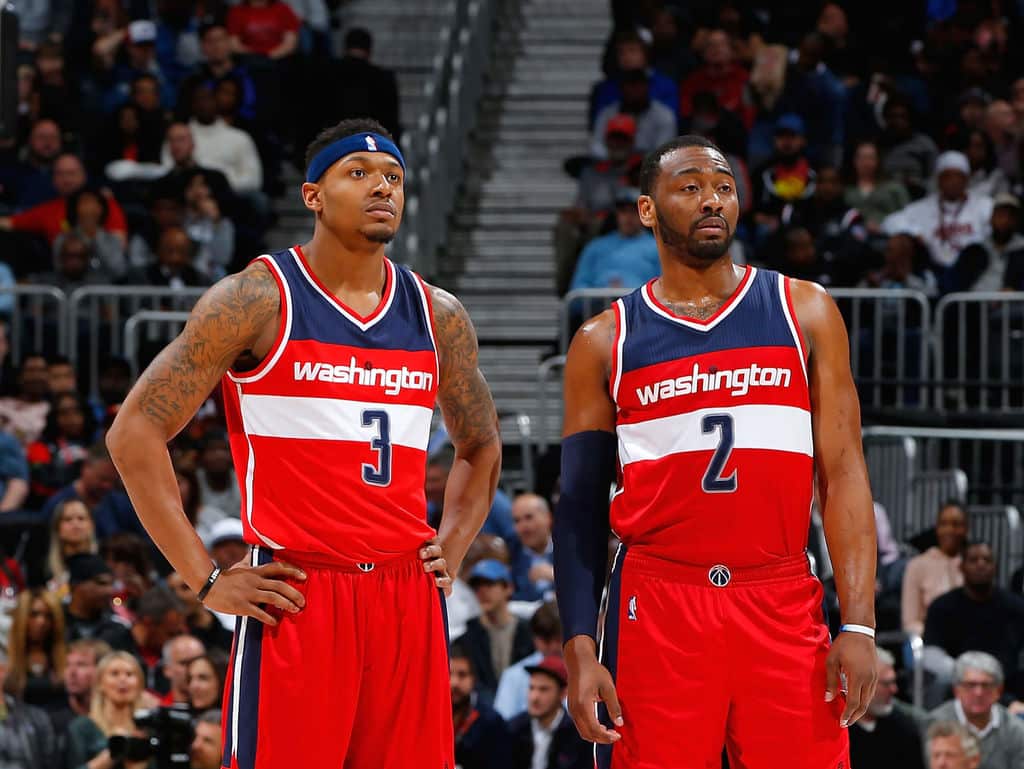 Throughout the playoffs, we'll be doing series previews for each and every matchup. For more in-depth analysis, check out our Eastern and Western Conference Preview Articles, which covered the conferences at-large. Find all of our NBA playoff content here and on Twitter (@GamblingPodcast and @NBAZachB).
Series Prices and Game 1 Line
Washington Wizards +500 vs. Toronto Raptors -700.
G1: WAS @ TOR (-8), O/U 211.5, +300/-380.
Regular Season H2H (Split)
John Wall did not play in any of these games.
11/5/2017: Washington 107, Toronto (-6.5) 96. Under 213.5.
11/19/2017: Washington 91, Toronto (-6.5) 100. Under 208.5.
2/1/2018: Toronto (-4) 119, Washington 122. Over 214.
3/2/2018: Toronto (-3) 102, Washington 95. Under 216.5
Facts and Figures
Toronto Raptors (#1)
59-23 Overall. 43-38-1 ATS. 40-40-2 O/U.
Leading Scorer: DeMar DeRozan, 23 PPG.
Best Stats: +7.8 Scoring Margin/Gm (#2), 111 OffRtg (#3), 44.9% Opp. FG (#5).
Worst Stats: 21.8 Fouls/Gm (#27), 35.8% 3-PT (#18).
Notable Injuries: None.
Washington Wizards (#8)
43-39 Overall. 37-44-1 ATS. 36-44-2 O/U.
Leading Scorer: Bradley Beal, 22.6 PPG.
Best Stats: 37.5% 3-PT (#4), 25.2 AST/Gm (#4), 14.9 Opp. TOV/Gm (#8).
Worst Stats: 42.3 Pts in the Paint/Gm (#25), 26.5 3PA/Gm (#23). 26.5 Opp. Pts in 4Q/Gm (#25).
Notable Injuries: John Wall, Knee – Will Play. Mike Scott, Concussion – Day-to-Day.
Key Overall Matchup
The Battle of the Benches
Washington is not your typical #8-seed. They have an elite backcourt and have been around the block a few times, in fact sweeping this very Raptors team in 2015. With Wall and Beal on the floor together, this team has been good all year long. As a duo, they create a theoretical stalemate in the backcourt against DeRozan and Lowry. The problem for Washington, however, is their weak bench. The plus for Toronto, indeed, is their fantastic bench.
Toronto's bench this season, led by the young talent of Fred Van Vleet, posted an absolutely incredible +8.6 Net Rating. Their non-starters likewise played the second most minutes of any team in the league, outscoring teams by 3.6 points per game during those minutes. For a team that had an overall point differential of +7.8, that means close to 50% of their lead accumulation is occurring from the second unit.
Washington's bench isn't atrocious, but it really can't touch Toronto. Their bench posted a -1.5 +/- and a -2.6 Net Rating. They just can't match, talent-wise or execution-wise, what Toronto will bring into the game with their second unit. This not only spells trouble when the second units are in the game but also puts added pressure on the starters to build and grow leads instead of "hanging in."
Of course, it is the playoffs, so rotations will be tighter. But Bradley Beal played all 82 games for the first time in his career, and John Wall is just now recovering from a nagging knee injury. They will have to be balanced in their workloads, and the second either of them goes to the bench, Toronto will smell blood in the water.
Key Individual Matchup
Wall/Beal vs. Lowry/DeRozan.
It really doesn't get better than this in terms of a backcourt matchup. For a variety of reasons, most notably of which is the lack of elite talent around them, Wall and Beal will likely have to post a herculean collective effort in order to win this series. It's not out of the question, though. These are two of the most talented guards in the NBA, and showed last year in the playoffs just how dominant they can be when locked in together; there, they averaged 52 and 13 combined and brought the Wizards toe-to-toe with the Celtics in an unbelievable series. This is an example of a backcourt that elevates their game in the playoffs.
If you're looking for an example of the opposite, look no further than DeRozan and Lowry. They have been collectively awful in the playoffs, receding in nearly every major statistical category and routinely failing to meet expectations as individuals or with their team. They will need to show up against Washington's elite talent, or they could risk going home too early again.
The first time these two teams met, Beal dropped 38 and led the Wizards to victory. The next, DeRozan had 33 and the Raptors won. Good guard play and, more importantly, great individual scoring performances, will be the key to the outcome of this series.
Meaningful Trends
Toronto is 32-6 SU as a home favorite. Washington, however, is 13-9 ATS and 10-12 SU as a road dog.
The under is 24-16-1 when the Wizards play on the road. The under is 21-18-2 when the Raptors play at home.
The Wizards are 10-22-1 ATS as a home favorite. They are 6-2 ATS as a home dog. They will likely be short dogs at home in their home games here.
Washington wins if…
Wall and/or Beal have multiple 30+ point games; the bench plays well enough to hold their inherited score margin; they get games into the fourth quarter and Toronto struggles to score in clutch situations.
Toronto wins if…
They get rid of their playoff curse and play like the team they really are; their bench dominates; they execute their new and improved offense in close games.
The Pick
Raptors in 7.