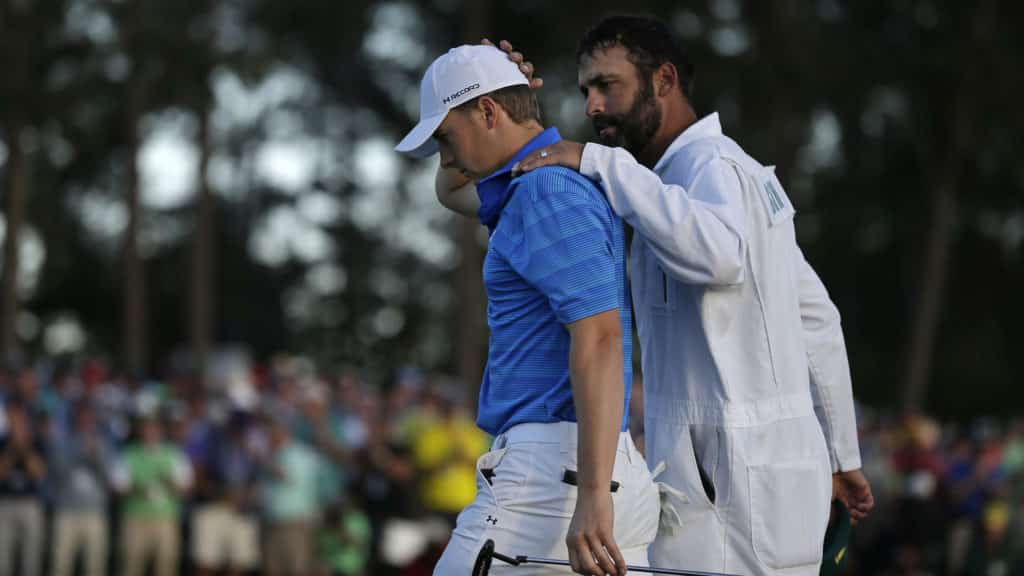 Of the four golf majors, The Masters does the best job telling the story of the champion from start to finish. It's partially due to how the broadcast is framed by CBS. Admittedly, CBS wants to push the narrative of a golf tournament rather than show, you know, actual golf shots. This approach can rub the hardcore golf fans the wrong way when CBS decides to spend 90 seconds on the leader grinding over a bunker shot instead of showing an excellent shot live from another player a few holes ahead. But at a tournament as rich in history as The Masters and a course that is inherently designed to deliver dramatic golf, focusing the viewer's attention on the emotions and nerves of the contenders is the perfect way to go.
But there's the untold story about improbable and memorable gambling wins and losses during the tournament broadcast, and with the PGA Tour implementing an anti-gambling policy on the players and support staff, it'll stay that way. Unfortunately, there's not a lot of archived pre and live tournament odds available on the internet, but there's been plenty of incredible events at The Masters in recent history that either won bettors a fortune or left them ripping their hair out after their winning ticket leaked into Rae's Creek.
Here are some notable Masters tournaments over the last decade told from a gambler's perspective:
2007 Masters
For every major between 2000 and 2008, Tiger Woods was no worse than 2.5/1 to win across all the books. He won twelve of his fourteen majors during that stretch, and his only consistent and credible rivals during that time were Phil Mickelson, Ernie Els, Vijay Singh and Retief Goosen. The field didn't beat Tiger Woods, Tiger let the field win. Not only was his dominance in majors the reason why his odds were so low, Tiger was (and still is) the most public golf bet on the market. The books had no choice but to cover themselves because of the massive liability he'd incur each major.
The 2007 Masters was no different and Tiger came into the tournament as a +150 favorite to win his 5th Green Jacket. And while I wasn't able to find pre-Final Round odds anywhere, it's safe to say you'd have to lay juice on him to win as he sat just one back of Stuart Appleby heading into Sunday.
Enter Zach Johnson, the pride of Drake University, who came into the tournament as a 125/1 longshot and two back of the leaders heading into the Final Round. Cold and blustery conditions at Augusta made the tournament into a war of attrition, and that suited his grinding, conservative game quite well. Despite laying up on every Par 5 that week, he posted 11 birdies and 0 bogeys in doing so. While the leaders near him faltered, Johnson dinked and dunked around the front nine before birdieing 13 and 14 to hold a 2 shot lead and give hope to his longshot backers.
The most pivotal and dramatic moment of the Back Nine was the sequence when both Tiger and Zach Johnson were playing the pair of Par 5's, with Tiger on 13 and ZJ on 15, as shown in the video below.
(Sidenote: my favorite moment of that video was how fast the operator updated the leaderboard so Zach Johnson knew that Tiger made eagle to get two back. It's almost as if Billy Payne said "I'm not letting no Iowa hick lay up on every Par 5 this weekend and make a mockery of my club. Bobby Jones is rolling in his grave. Turn up the heat on that guy").
When that eagle dropped for Tiger on 13, I can only imagine how high the blood pressure of the bookies got in fear of yet another late Tiger run. But the late charge never came as Tiger parred out to finish three back.
Admittedly, I am not a fan of Zach Johnson's game. I find his conservative play nauseatingly boring, and I judge anyone who ever places a bet on him to win a major. But anyone who held that 125/1 winning ticket had the last laugh all the way to the counter, then spent their winnings drinking all night hoping to erase the manner in which he won it for them.
2011 Masters
There have been several notable choke jobs at the Masters through the years, but one that isn't discussed a lot is Rory McIlroy's in 2011. The tournament was setting up as the 21-year-old Ulsterman's coronation as the one to take the torch from aging stars like Tiger Woods, Phil Mickelson, and Ernie Els. Rory led after all three rounds and held a four-shot lead heading into Sunday, and with 25/1 pre-tournament odds his backers were setting up to have quite the nice pay day later on that afternoon.
Despite a shaky start, Rory still held a one-shot lead heading into the back nine and had plenty of birdie chances up ahead to keep one hand on the Green Jacket. However, disaster struck off the tee on 10 for both him and his backers, as instead of a power fade he double-crossed his tee shot not just left, but WAY left near the houses off the fairway.
Watching this unfold on television doesn't truly do justice how far off line he was. To give you an idea, here's a screen capture from Google Maps where he hit his tee shot: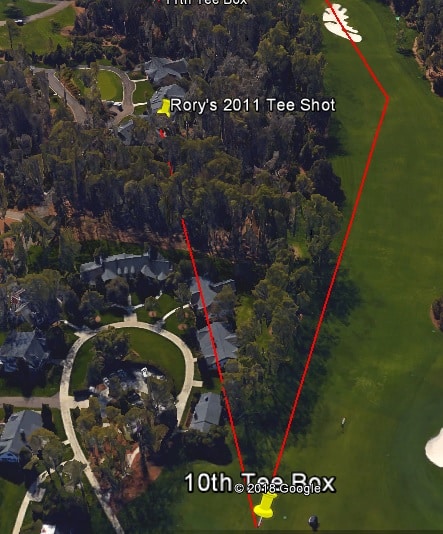 Rory ended up making triple bogey on his way to carding a back nine 43, and barrels of 25/1 Rory McIlroy tickets were thrown into the incinerator.
But his sacrifice wasn't in vain, as that set up a dramatic back nine for both gamblers and non-gamblers alike. After Rory went nuclear the lead changed hands several times over the course of two hours The following nine golfers either had at least a share of the lead or were one back down the stretch:
Tiger Woods: 9/1
Luke Donald: 25/1
K.J. Choi: 60/1
Adam Scott: 66/1
Geoff Ogilvy: 66/1
Jason Day: 100/1
Angel Cabrera: 100/1
Charl Schwartzel: 100/1
Bo Van Pelt: 150/1
Once again the books faced a huge liability in Tiger Woods, especially with his odds at 9/1 instead of the less costly near even odds he was normally priced at. But can you imagine the excitement of someone who held a ticket on one of those other guys? You went from pretty much dead to start Sunday to having a great chance to score a 60/1 or 100/1 pay day. That's a golf gambler's dream! It made for a very exciting final round for many gamblers who backed one or two of these guys.
In the end, longshot Charl Schwartzel was the one to come through for his backers, closing out in remarkable fashion with four straight birdies to win the tournament outright. He was the most unknown of the group above, and while the 100/1 payout was steep the books breathed a heavy sigh of relief as his volume was relatively low. Like in 2007, they dodged a major bullet and came away relatively unscathed on the bottom line when it was all said and done.
2012 Masters
The final round was looking very dicey for the books, as though Tiger Woods was never in contention the People's Champ Phil Mickelson was and presented a big 10/1 liability against them heading into Sunday. But Phil never got it going and scuffled to a final round 72 thanks to a triple bogey at 4 to knock him out for good. Instead, 50/1 Bubba Watson scored four birdies in the final five holes and 66/1 Louis Oosthuizen carded an albatross at 2 to find themselves tied at -10 and heading to a playoff. That meant anyone who backed them had a 50/50 shot at a very nice payday Sunday evening.
Each parred the 18th and went to a second playoff hole on 10. Bubba teed off first and tried to hit his patented power slice around the corner, but instead double-crossed and hit it deep into the trees. That sent all the Oosthuizen backers over the moon as it looked like he just needed par to capture the Green Jacket and send them racing to the counters to cash their 66/1 ticket.
While Louis played conservatively and hit 3 Wood, he blocked his tee shot badly to leave him a long, tough approach to the green. Despite Oosthuizen coming up short of the green on his approach, when his backers saw the shot Bubba faced they thought at worst the playoff would extend to another hole, and at best there was a 60/40 chance he'd win anyways.
Most guys would punch out of the pine straw and try and get up and down for par from 100 yards out. But most golfers can't shape the ball as well as Bubba Watson can, and he pulled off arguably the greatest shot in Masters history:
An absolute MIRACLE not just him but anyone who held his 50/1 ticket. Say what you want about the mercurial Bubba Watson – that took major stones to pull that off. After he two-putted for par his backers were euphoric while anyone who had Oosthuizen were left dumbfounded and dejected.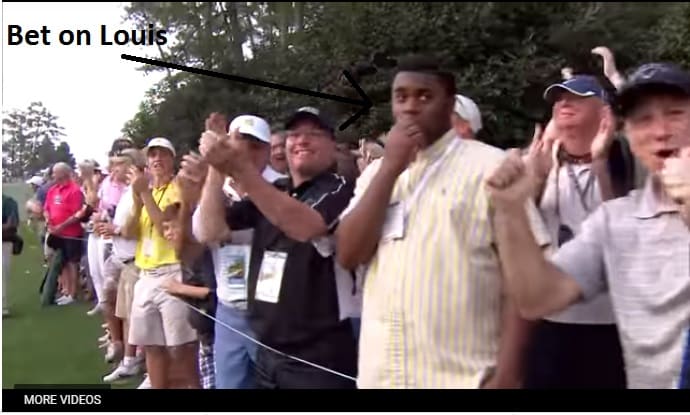 2016 Masters
Jordan Spieth entered the 2016 Masters as a very popular favorite at 8.5/1, and through the front nine it looked like the books would be taking a bath with all his backers cashing in. Spieth fired off an opening 32 to take a five-shot lead and seemed certain as defending champion to slip the Green Jacket in Butler Cabin on…himself.
But as the saying goes "the Masters doesn't start until the back nine". Spieth had been shaky with his driver all year, and at 10 and 11 he blocked both to the right and settled for bogey to drop back to -5. Meanwhile, Danny Willett, who began the tournament at 50/1 to win the Masters (and could have been had as much as 125/1 to start the year), birdied 13 and 14 ahead of him to pull within 1 and put the pressure on the anointed Golden Child.
Though that brought me a jolt of excitement as a Danny Willett shareholder, I knew deep down it was nearly impossible to think Jordan would continue his death spiral and actually blow the tournament. All he needed to do was find dry land on 12, and then he had birdie opportunities on 13 and 15 regain momentum and pull away for his second consecutive Masters win.
But then…
When Spieth's first shot leaked into the water, I leaped across my living room with the Tiger Woods fist pump as my 50/1 ticket was suddenly a live dog. But when that second one went in the water, I collapsed onto the couch in disbelief and shock. Spieth managed to squeeze in all of Greg Norman's 1996 death march into three short holes and left viewers (and gamblers) speechless.
(Sidenote: CBS gets a lot of flack, but BIG kudos to the production team for having Spieth's ill-fated 12th tee shot in 2014 ready to go in case disaster struck).
But it wasn't only Danny Willett backers who were jumping for joy. Like in 2011 Spieth's meltdown brought several gamblers back from the dead, including those who had tickets on 15/1 Dustin Johnson and 125/1 Lee Westwood. In the end, though, Danny Willett held off all challengers and scored an improbable 50/1 gift for all his backers.
What thrills (or spills) will the 2018 Masters deliver to gamblers this year? There should be plenty given the caliber of favorites like Tiger Woods, Phil Mickelson, Jordan Spieth, Dustin Johnson, Justin Thomas and Rory McIlroy all at the top of their games. But though it seems like a golfer 40/1 or better will win, you never know when a long shot can pull off a miracle and deliver big profits to the gamblers.