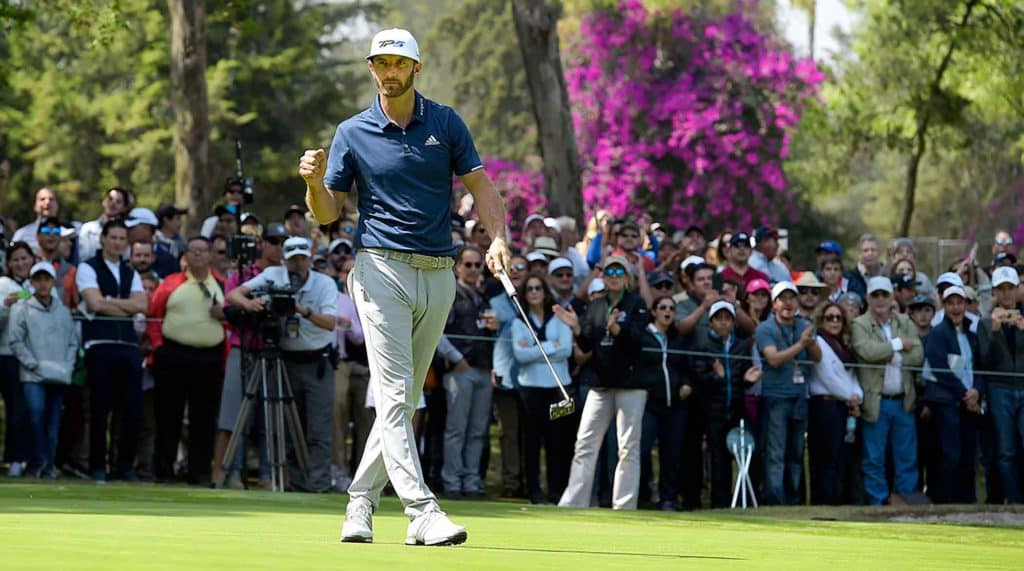 Tiger Woods found success by benching his driver in favor of a 3 wood and iron all weekend, and as a result, he was able to make the cut and finish just outside of the Top 10 of the 2018 Honda Classic. By making the cut, the event saw its usual "Tiger Bump" on the weekend as both television ratings and on course attendance for the event were way up from last year.
Unfortunately, it seems like Justin Thomas might have let the additional influx of patrons out on the course on Sunday get under his collar, and instead of celebrating his 8th win on Tour he found himself mired in controversy on all the sports talk shows. After Justin Thomas ejected a heckler who wished his tee shot to "get in the bunker", people cried foul at Thomas's over-sensitivity, paper-thin skin, and elitist country club attitude.
Though Justin Thomas apologized on Twitter, the controversy boiled over when Dave Portnoy decided to drop this napalm fire take to unleash his army of Barstool Acolytes to pile on Justin Thomas for how terrible he is for the game of golf:
Is Justin Thomas's criticism warranted? Or is this the 2,967,824th example of mock outrage our society obsesses about before our ADD mindset gravitates towards something else that pisses off 50% of the country.
Let's roll the tape:
On first blush – not a good look for JT. It'd be one thing if the guy screamed it in the middle of his downswing. But the heckler decided to wish ill will on Thomas's Titleist well after the ball was in the air, and maybe I need to get my ears checked but I missed that line as I watched live. I even had to rewind the clip a few times just to pick out the taunt.  If Justin Thomas had let that slight go, I doubt anyone would have picked that up and even tweeted about it. So on its face, he's responsible for opening himself up to any heat that came out of the incident.
But saying that Justin Thomas deserves the level of criticism he's received is missing a lot of context about what was going through his head not just at the Honda Classic, but from the week before as well. At the Genesis Open, Justin Thomas was paired with Tiger Woods in the first two rounds of the tournament and was vocal about the pressure that a larger pro-Tiger gallery draws, including a few incidents of overzealous (overserved?) fans yelling in the middle of back swings.  Thomas received a little heat for these comments, so it's possible he was perturbed from the week before about his, in my opinion, valid concerns. Throw in the fact he was in a high-pressure situation being tied for the lead late in the tournament, and from his account, the guy was riding him for a few holes before that, it seems like he lost his cool and snapped. In essence, he's human.
Attending a golf tournament can truly be a unique experience for a patron. If you position yourself right, you could be standing mere feet from a Tiger Woods, or a Phil Mickelson, or another titan of the Golf World. You can hear their conversations with their caddies, see their swings up close and pick up on other mannerisms that you wouldn't be able to see from your couch. It's like standing in the backfield of an NFL game or courtside of an NBA game. There's not a lot of other situations in sports where a fan can get that much-unfettered access to the best the game has to offer.
But unlike other sports, there comes the unspoken rule (other than the 16th at TPC Scottsdale) that if you're lucky enough to get that close to the golfer to be respectful to them when they're in the heat of the action. Golf requires an unfathomable amount of concentration in order to play just at an average level. As Sean described on the podcast last night, he was put on tilt at his local public track just by some hobo in flannel blasting Creed through the boombox he found in a dumpster. Sure, cheering is perfectly acceptable, but there's a level of respect that should be shown by the gallery, especially when they're that close to a golfer in the middle of a tournament.
Unfortunately many choose to take this access for granted and try and insert themselves directly into the tournament. They come in all walks of life. You have the O.G. "Get In The Hole" guy shooting decibels towards the golf ball in hopes of magically steering a 450-yard tee shot to a hole in one. Then you have "Baba Boey" Guy, a Howard Stern reference so dated there's probably "Baba Boey" shouting millennials out there who have no idea who that guy actually is.
But my favorite is "Mashed Potato" Guy, who tried in valor to ruin everyone's time when my hometown hosted the 2013 PGA Championship at Oak Hill Country Club. Players had been grumbling for a few weeks about out of control crowds, but my neighbors here in Rochester, NY really put it over the top. I'll never forget standing in the gallery at 16 following Jim Furyk, who was one back of the lead and seeing this reaction to some dummy who screamed MASHED POTATOES at the top of his lungs as soon as he made contact.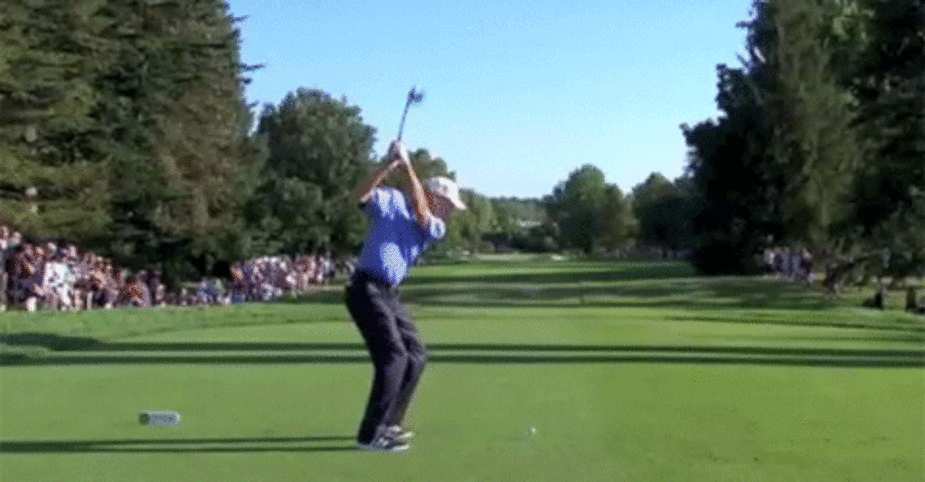 And we all know why these guys feel the need to scream inane nonsense right after a shot. They only yell so that their friends and family can say they heard them on TV, or maybe they'll get RT'd by a few golf blogs to give them their two seconds of fame. They're the worst a golf tournament has to offer, even surpassing the embarrassing grown-ups who walk the grounds wearing a Rickie Fowler Halloween Costume: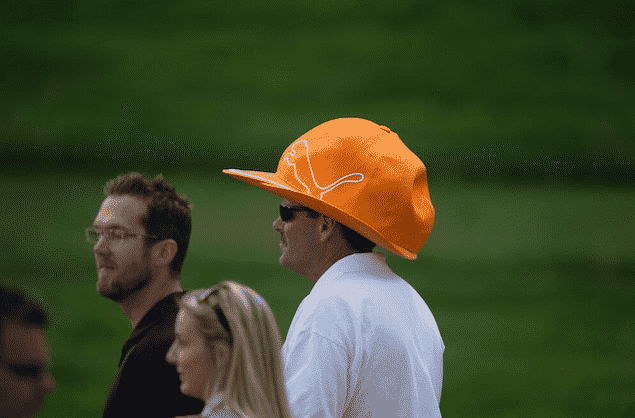 So am I supposed to feel sorry for a guy who inserted himself into the tournament to try to get under Justin Thomas's skin and got bounced from the premises? What is uttering "get in the bunker" even accomplishing anyway? Did this guy have a 100/1 ticket on Luke List and hoped by wishing ill will on the tee shot that'd help him cash it in? Sure, Justin Thomas overreacted. But let's not pretend this guy was some victim who had his First Amendment Rights violated here. He got what he deserved, and anyone who wants to say Justin Thomas is what's wrong with golf has watched Happy Gilmore one too many times and has the wrong impression of how one should conduct themselves at a tournament.
WGC Mexico Championship Picks and Preview
This event used to be the WGC Cadillac Championship held at Trump National at Doral, Florida on it's Blue Monster Course, which was annually panned by the pros who teed it up there. Lucky for them, future President Trump (like he always seems to do) said a few dumb comments about Mexican Immigrants that gave the international golf bodies the excuse they needed to change venues away from his club. And in the ultimate troll move the new venue they decided to hold the tournament was…drum roll, please…MEXICO!
Club de Golf Chapultepec is a significant upgrade to the long, boring track of Doral. While the course runs 7,300 yards on the scorecard, the course sits 7,800 feet above sea level. The higher the elevation the farther the golf ball carries, so it should play more like 6,700 yards this week, which would rank as one of the shortest tracks on the PGA Tour. There are also multiple tee boxes the pros can hit off of, meaning that the tournament directors can play around with the angles to create more challenging conditions and give the golfers different looks each day.
To protect course against bombers, all fairways are lined by huge trees extending all the way from tee box to the green, with very little rough flanking it. If you're not in the fairway, chances are you're in jail and punching out for your second. There's very little room for error off the tee and combined with the shorter distances the pros should rarely hit driver all week. Precise tee shots and pinpoint accuracy on approaches will be king.
Because this is only the second year the tournament has been held at Club de Golf Chapultepec, slaves to statistics like I have very little to work with. However, with Kikuyu grass fairways and Poa annua greens it should play a lot like Riviera or Torrey Pines. And with a large pool of European Tour golfers in the field, we can draw upon their history at high elevated golf courses like in South Africa or at the Omega European Masters, or at a tight tree-lined course like Valderamma. Normally I prefer to rely on history from the actual course itself, but exceptions will have to be made this week.
Here's who I like this week (all odds and values courtesy of MyBookie.ag and DraftKings, respectively):
The Favorites:
Dustin Johnson: 5/1, $11,900
Justin Thomas: 6.5/1, $11,500
Jon Rahm: 10/1, $10,600
Jordan Spieth: 10/1, $10,500
Given the deep field a WGC has to offer, it's stunning to me that anyone not named Tiger Woods can be a 5/1 or 6.5/1 favorite to win the tournament like Dustin Johnson and Justin Thomas are. But given that Justin Thomas won last week, Dustin Johnson is the reigning winner of this event and has four other WGC titles to his credit, and both excel at poa annua and less than driver courses thanks to their tremendous length, I can see how the oddsmakers are protecting themselves. If I had to bet on either to win the tournament it's Dustin Johnson, but I see don't see a lot of value betting either given the talented field. Additionally, I had trouble building solid DraftKings lineups around these guys without really, really scraping the bottom of the barrel. Despite the high price point, each should have pretty high ownerships as users didn't scoff at their high price points at either the Genesis Open or the Honda Classic. I'm going to pivot towards other options this week and hope the contrarian mindset prevails.
Jon Rahm offers much more reasonable odds and a DraftKings price to work with and allow yourself to build a formidable lineup. And given his great history both at this event and on poa annua courses, I'd endorse laying 10/1 on a win bet. But like DJ and Justin Thomas above, his DraftKings ownership should be fairly high and I'm finding myself gravitating towards Jordan Spieth as the thoroughbred I'm building around. He hasn't had a lot of great finishes at WGC events in the past and his putting woes this year has really bogged him down. But he checks the boxes of what it takes to play well at Club de Golf Chapultepec – a strong history on Poa Annua, impeccable iron play, and with Jordan hitting iron or hybrid he should show much better off the tee than if he would use the driver. And if he does find himself in jail, there's not a lot of golfers better at scraping out a par from ridiculous places around the course than he is. I expect his ownership to be pretty low for a favorite on DraftKings, and I wouldn't be surprised if he fulfills a feat missing from his illustrious resume – a WGC trophy.
Other Contenders:
Phil Mickelson: 15/1, $9,300
Sergio Garcia: 23/1, $9,100
Do I think Phil Mickelson will win the tournament? Probably not. But he's been tremendous so far this year and is a great fit for this golf course. Like Spieth, leaving the driver in the bag this week should help him out and as long as he continues to strike his irons well there's no reason why he can't deliver another Top 5 performance for your DraftKings Lineup. And if not, you can enjoy Phil miraculously finding sprinkler heads in the middle of the woods to try and pull off ridiculous par saves like last year:
Sergio Garcia disappointed a lot of backers last week, including me. While he gained 1.71 strokes/round on approaches, he struggled off the tee for most of the weekend. But while others might flock to Alex Noren at $8,800 after his near miss at the Honda Classic last week, I'm going to stick by Sergio and hope he can right the ship. As mentioned earlier, the tight fairways remind me a lot of Valderrama, which is a course Sergio won at last fall and the golf course has a distinctly European style that favors strong ball strikers like him. I have a hunch he plays much better this week and is right there in contention down the Back 9 on Sunday.
Honorable Mention: Justin Rose (16/1, $9,700), Paul Casey (25/1, $8,400), Patrick Cantlay (28/1, $8,700), Tony Finau (40/1, $8,500)
Marc Leishman – 45/1, $7,600
Matthew Fitzpatrick – 50/1, $7,600
Marc Leishman has been awfully quiet in 2018 after enjoying a very successful second half to 2017. Maybe he was burnt out after a jam-packed schedule in the Fall that saw him travel to Asia, Australia, Hawaii and the West Coast. He was a trendy favorite at the Genesis Open thanks to his strong track record on Poa Annua and Kikuyu surfaces but was sent packing on Friday thanks to a wild driver. With a week off and less of a reliance on the driver this week, I like Leishman as a darkhorse winner at 45/1. As long as he can keep his tee shots on the map, he should post a good finish at the event.
Because of the lack ShotLink Data on the European Tour, sometimes Matthew Fitzpatrick gets overlooked when looking for sleepers in a WGC or PGA Tour event.  The European Tour only offers basic statistics like Driving Distance, Driving Accuracy, Greens in Regulations, etc., and because Fitzpatrick struggled at a few ShotLink tracked events in a limited PGA Tour schedule in 2017 he can be hard to gauge on the health of his game. But ask anyone on either tour who the best ball strikers in the world are, and Fitzpatrick will be on their short list. He also has success on the European Tour at higher elevation courses like the Omega European Masters and the Nedbank Challenge, which should translate well to Club de Golf Chapultepec. He could yield big returns given his price point this week.
Honorable Mention: Branden Grace (55/1, $7,700), Rafael Cabrera Bello (55/1, $7,700), Brendan Steele (65/1, $7,500)
Joost Luiten: 100/1, $7,300
Gavin Green: 300/1, $6,700
With very expensive prices for the top guys, you might have to go dumpster diving if you use anyone with a salary over $10,000 in DraftKings this week. While Joost Luiten's value is a little inflated because of his win at the Oman Open last week, the European style and high elevation the course offers should fit well given his past success at events like the Valderamma Masters and Omega European Masters. While Luiten isn't the longest off the tee, he's one of the most accurate on the European Tour and annually ranks highly in Greens in Regulation %. That could help keep him hovering within the Top 30 as a low owned DraftKings option for your lineup.
As for Gavin Green, he was a popular sleeper pick back in the fall during the PGA Tour's Asian Swing. I brushed off the hype and he didn't necessarily deliver spectacular results for any of his backers. But the young Malaysian really caught my eye during the EurAsia Cup as I was sweating out a Patriots/Team Europe parlay at 3 AM like a true degenerate. This kid is the truth! He absolutely bombs the ball off the tee and was draining putts all over the green to help put Team Europe in an early hole in the tournament. He came away from the EurAsia Cup as the guy I was most impressed with. So for a cheap end of lineup option, I'll sign up for a guy who has more raw ability than anyone else in his price range. Maybe he'll keep his composure and avoid a blow up round that helped derail him during the Fall Series to deliver a solid Top 20 finish.
Honorable Mention: Bernd Wiesberger (130/1, $7,100), Dean Burmester (220/1, $6,900)
WGC Mexico Championship DraftKings Lineup #1
Jordan Spieth – $10,500
Sergio Garcia – $9,100
Paul Casey – $8,400
Branden Grace – $7,700
Matthew Fitzpatrick – $7,600
Gavin Green – $6,700
WGC Mexico Championship DraftKings Lineup #2
Tommy Fleetwood – $10,000
Justin Rose – $9,700
Rafael Cabrera Bello – $7,700
Marc Leishman – $7,600
Jason Dufner – $7,500
Brendan Steele – $7,500
WGC Mexico Championship DraftKings Lineup #3
Phil Mickelson – $9,300
Patrick Cantlay – $8,700
Tony Finau – $8,500
Ross Fisher – $8,200
Louis Oosthuizen – $8,000
Joost Luiten – $7,300