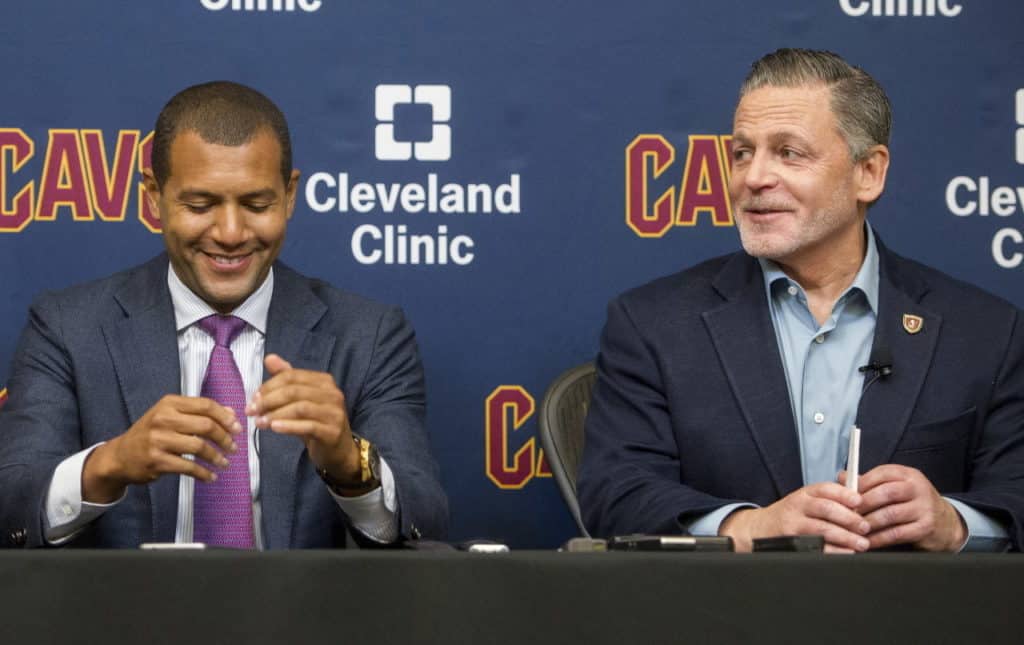 Well, it didn't take long at all for the happenings of the 2018 NBA Trade Deadline to send shockwaves throughout the league. Not only have we already seen some significant changes on the court from the involved teams at the deadline, but the specific moves that did (and didn't) transpire perhaps more importantly taught us a lot about where the league is today and where it is headed. Both strategically and financially, the NBA is a rapidly changing universe — full of reactive franchises all trying to mimic the Warriors' "light years ahead" approach to the game and the balance sheet.
Four biggest takeaways from the NBA trade deadline.
1. A Cleveland team that, just a moment ago, was on the verge of collapse has now ripped off back-to-back blowouts against playoff teams, looking like a completely new franchise in the process. Lebron is smiling again and playing with a genuine joy that we haven't seen from him in a while. Cleveland's unprecedentedly extensive overhaul at the deadline tells me that the issues there ran deeper than perhaps any outsider could have known. Isaiah Thomas HAD to be sent out of that building. So did Jae Crowder. But in trading away half their roster and bringing in four new guys to play major roles down the stretch, it's clear that Cleveland was willing to scrap whatever progress they had made over the first 50+ games of the season in exchange for a reset button. This is not a "minor upgrade" or an "improvement" situation. The Cavs are an entirely new team with no precedent, no floor, no ceiling. We don't know how good they can or can't be because we legitimately don't know who they are yet. It could click (as it has thus far) and be something really special — Lebron, Kevin Love, and a bunch of young gunners who get up and down the floor with an NBA Finals-level ceiling. They could also, however, crash and burn. George Hill had looked completely washed up in Sacramento, Rodney Hood got traded for a reason, and Clarkson and Nance have been marginal contributors thus far in their careers (at best).
Cleveland has shown drastic improvements on both ends of the floor in their two games against Boston and Oklahoma City, rejuvenated by youth and inspired by the collective "fresh start" that the entire franchise must feel. What we learned about Cleveland, thus, is that things were so fucking bad there that, instead of even attempting to stabilize the ship, they were willing to gamble Lebron's looming free agency on 25 games (and the playoffs) with an entirely overhauled roster
2. Boston will regret not adding a scorer at the deadline. Danny Ainge and his treasure chest of assets have long had the flexibility and foresight to exercise restraint when faced with the prospect of "win-now" moves. They've passed on Jimmy Butler, Paul George, Boogie Cousins, etc, and instead built a team reflective of their organizational philosophy: sustainable, flexible, high character, and unselfish. But perhaps Boston was a bit too conservative at this particular deadline, given that the Eastern Conference is as open as it's been since Lebron was a teenager. In combination with arguably the league's deepest collection of young talent, Boston also has the following ammunition in their back pocket (including all of their own picks):
2018 first round pick from the Lakers (will only convey if between picks 2-5)
2019 first round pick from the Clippers
2019 first round pick from the Grizzlies
2019 more favorable first round pick of the 76ers or Kings (only if Lakers pick doesn't convey this year)
The Celtics are a game out of first in the East with a better win differential than Cleveland. Their kryptonite, however, is they can't buy a bucket when Kyrie Irving sits. Their offensive rating drops from a solid 110 when he is on the floor down to 102 when he's off. Scoring punch off the bench is essential down the stretch of the regular season and even more so in a playoff series. Having Tyreke Evans or Lou Will for 25 minutes a night would have done wonders for Boston in both non-Kyrie and small-ball lineups. Both players, according to reports, would have required a first-rounder to snag…
3. Speaking of first-round picks, NBA teams are holding onto them tighter than ever. Just three first rounders were moved this year, going for Mirotic, Blake Griffin, and the Lakers-Cavs blockbuster. Just a season ago, eight first-round picks were moved at the deadline. Not only is the talent in the draft as good, if not better, than its ever been, but the financial clarity associated with a rookie contract is also at a premium as the league enters a new financial era. The reluctance of teams to part ways with first-round picks came to the surprise and dismay of deadline sellers who were confident in their ability to trade veterans for draft compensation. Tyreke Evans, perhaps the most popular example, is averaging 19, 5, and 5 on a struggling Memphis team who is clearly headed towards a rebuild. Memphis, according to reports, was never offered more than two second-round picks for him. A year ago, fucking Mason Plumlee, Jerami Grant, and Kyle Korver all fetched first-rounders on the open market. As the financial landscape of the league changes, first round picks are arguably the most valuable asset (aside from a young superstar) in the league today.
4. So, without offering up first round picks, how can teams improve midseason? Investing in the buyout market is the new "part with draft assets for a win-now veteran". Toronto, Boston, Houston, and Golden State all chose to sit out the deadline and instead improve their teams by finding contributors on the buyout market — veteran players who will be let go from a bad situation and instead free to join a team of their choosing with an open roster spot. Boston added Greg Monroe for some big-man scoring off the bench, and Houston has already pounced on Joe Johnson (a fantastic addition) and Brendan Wright. Look for Golden State to take their pick in the next couple of weeks, as the buyout market is open until March 1. I'd expect them to do something between now and then as they look to add an extra weapon for the playoffs.