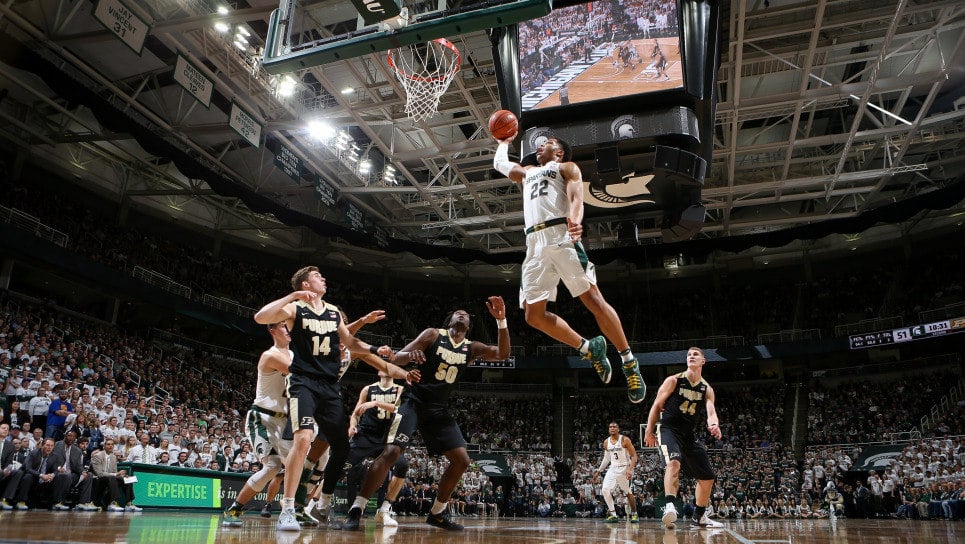 Washington State @ Oregon

(Sun 5pm ESPNU) – The Ducks are coming off a huge win against Washington and are playing a lot better of late. They are currently 16-8 and still a ways away from being on the bubble but hey each win counts.
Toledo @ Miami (OH)

(Fri 3pm CBSS) – Toledo is 1st in the MAC west and Miami (OH) is 2nd in the MAC east so this is a pretty huge game for the MAC. Toledo is coming off a win against Northern Illinois but it was closer than they would of liked so they need a solid outing.
Louisiana Lafayette @ Georgia Southern

(Sat 2pm ESPN3) – Louisiana Lafayette was cruising in 1st place and then got hit by a buzz saw that is Georgia State on Thursday. Lafayette needs to rebound in a big way but this is another really tough road game. Georgia Southern is currently 3rd in the Sun Belt right behind Georgia State.
UCONN @ Wichita State

(Sat 3pm ESPN2) – I know, I know. I doubt this will be a game but every once in a while UCONN shows up to play. Wichita is 18-5 and looking to jump up the ranks as March nears. This is a huge game that the Shockers need to win.
DePaul @ Providence

(Sat 1pm) – DePaul is just 9-14 but they've shown some improvement compared to last years team. Providence is a bubble team and although they are sitting at 16-8 they really need to take care of work here. They can't afford a home loss to a team with a losing record.
Bradley @ Southern Illinois

(Sun 1pm ESPN3) – Southern Illinois is currently ranked 2nd in the Missouri Valley and are looking for revenge after a early January loss at Bradley. Bradley is currently ranked 4th in the Missouri Valley so this game will have major conference tournament seeding implications.
Boise State @ Utah State

(Sat 6pm ROOT) – Boise State is currently the top ranked team in the Mountain West despite losing to Nevada a few weeks back. Boise earned a huge road win at New Mexico earlier this week and now goes on the road again against a decent Utah State team. Boise has won four in a row and will look to make it five come Saturday.
Tulane @ Houston

(Sun 3pm ESPNU) – Tulane is 10th in the American and despite having a winning record they appear to be out of postseason contention but they've still had moments where they played up and shocked a few teams. Just ask SMU. Houston is a bubble team that is currently in the tournament if you ask me, but the Cougars can't afford a home loss to a 10th place team.
Grand Canyon @ New Mexico State

(Sat 6pm ESFC) – Grand Canyon is currently 3rd in the conference and they gave New Mexico State all they could handle last year. New Mexico State is in first place yet again and this Aggies team is legit. They've already notched some nice wins against New Mexico, Illinois, Davidson & Miami (FL).
Wake Forest @ Syracuse

(Sun 10am ESFC) – Syracuse is 16-8 and most certainly a bubble team. The Orange are currently 10th in the ACC and could sure use a nice home win against a Wake Forest team that has really underachieved this year. This Wake Forest team has talent though so this won't be a push over.
Loyola (IL) @ Indiana State

(Sat 11am ESPN3) – Loyola is still the top seed in the Missouri Valley but they need to handle business on the road against a up and down Indiana State team. If the Indiana State team that beat Indiana shows up this could be a game but Loyola should be able to handle this test.
Seton Hall @ Georgetown

(Sat 1pm CBSS) – Seton Hall really needs a win here. The Pirates four of their past six games and really need to find a way to get this thing back on track. Georgetown is still looking for their first marquee victory of the Patrick Ewing era and this one potentially could be it.
Rutgers @ Nebraska

(Sat 1pm BTN) – Shhhhhh quiet. Let's not talk about this too much but Nebraska is currently 18-8 and 4th in the Big 10! This Cornhusker team is playing great basketball and well they could really end up dancing in March if they can continue their play. Rutgers is 12-14 but they've really tested a few big time teams this year. Just ask Michigan State who needed overtime in East Lansing to beat them.
Wyoming @ UNLV

(Sat 10pm CBSS) – Wyoming is currently 3rd in the Mountain West and since they upset Nevada they could really make a run at the one seed providing they can take of business. UNLV is currently 6th in the Mountain West but the Runnin' Rebels have me wondering which team will show up? The one who just beat Nevada or the one who lost to Northern Iowa.
Dayton @ VCU

(Sat 3pm CBSS) – These two teams are mirror images of themselves. Both are athletic and breaking in new coaches. Both lack great shooters but both could be dangerous teams to face come Conference Tournament time. VCU is currently 5th in the A10 and coming off a heartbreaking loss to Richmond where they blew a large lead to lose by one. Dayton is currently 8th in Conference and with the Conference Tournament right around the corner they'd sure like a better seed than 8th.
California @ Utah

(Sat 6:30pm PACN) – Utah was tumbling fast and perhaps saved their chance of a postseason berth with a huge win over Stanford in Salt Lake City. Now the Utes need to take care of business against the PAC 12's worst team.
Minnesota @ Indiana

(Fri 4:30pm FS1) – Indiana is currently 8th in the Big 10 and need to get some wins if they want any chance at the postseason. Minnesota was once looking like a dangerous team in the Big 10 but that was before the injuries and suspensions and now they're pretty much looking at next season.
San Diego State @ Nevada

(Sat 5pm ESPN2) – San Diego State is having a down yet despite still having a winning record and being 8th in the Mountain West. This Aztec team still has talent and is capable of beating the Wolfpack. Nevada is coming off a shocking home loss to in state rival UNLV. The loss knocked the Wolfpack back to 2nd in the MWC and puts them even more on the bubble if they don't win the Conference Tournament.
Penn State @ Illinois

(Sun 4pm BTN) – Penn State is currently 6th in the Big 10 and 17-9 as a team. I repeat. 17-9 as a team! Yes, the Nittany Lions may just be able to go dancing this year if they continue to play like they have. PSU is coming off a big time home win against Maryland. Illinois is currently 13th in the Big 10 so Penn State needs this game.
Ole Miss @ LSU

(Sat 1pm ESPNU) – Both these teams seem to be in trouble when you talk tournament but luckily for them there's a few weeks left. Can the winning team get hot and make a run?
Iowa @ Ohio State

(Sat 3pm BTN) – Iowa is just 12-14 but Ohio State is coming off a huge win at Purdue and could be in a let down spot. Iowa isn't very good but they've given a couple decent teams some scares this year but can they come into Columbus and give the Buckeyes a game?
Marquette @ St. John's

(Sat 9am FSN) – Okay now. Who is this St. John's team? They were winless in the Big East and had a losing record but then beat Duke and Villanova in back to back games and suddenly there's life for the Red Storm. Marquette is a true bubble team looking from the outside so this is a huge game for them.
Cincinnati @ SMU

(Sun 1pm ESPN) – SMU sure could use a win here. Cincinnati is currently ranked 6th in the country and appear to be running away with the American Conference. SMU is a bubble team that's on the outside so this is there shot to shake things up.
Washington @ Oregon State

(Sat 7pm ESPNU) – Washington is certainly a bubble team but now they're looking to be on the outside of that bubble after getting blown out in Eugene on Thursday and now they really need this game. Oregon State is coming off a nice blowout win over Washington State so perhaps they can continue to ride the momentum.
Miami (FL) @ Boston College

(Sat 11am ESFC) – Miami is currently 25th in the and looking to make a push in the ACC as the Conference Tournament approaches. The Hurricanes are currently 4th in the Conference. Boston College is currently 11th in the ACC and despite being much improved from last year and having a winning record they could sure use a top 25 win here.
Vanderbilt @ Arkansas

(Sat 5:30pm SECN) – Arkansas is a legit bubble team that needs every win it can get. Vanderbilt is 9-15 but the Commodores have been playing some decent ball this month. Can Vandy pull the big upset in Fayetteville?

Michigan @ Wisconsin

(Sun 11am CBS) – Michigan is currently 20th in the Country and 19-7 overall. They're on pace with being in the Tournament but must continue to take care of work.The Wolverines got upset by Northwestern earlier in the week and can't afford two upsets in one week. Wisconsin is in the midst of their toughest year in quite some time. The Badgers are currently 11-15. Can the Badgers get up for a ranked team coming into Madison?
Duke @ Georgia Tech

(Sun 3pm ESPN) – Woah now. What's going on in Durham? The Blue Devils have lost three of the past four games including a loss to a really bad St. John's team. No way they could possibly lose at Georgia Tech right? GT is 11-13 and in the rear of the ACC but still they've been known to give top 25 teams hell in Atlanta.
Stanford @ Colorado

(Sun 1pm PACN) – Both these teams are overachieving but yet on the outside when it comes to bubble talk. Stanford is coming off a blowout loss at Utah, while Colorado scored a nice home win against Cal. This is a huge game if one of these teams wants to make a run at dancing in March.
USC @ Arizona

(Sat 7pm ESPN) – Both of these teams lost games on Thursday night and now the PAC 12 race got a little bit closer. Arizona is still in the top spot but a loss here would change that. USC is currently 3rd in the PAC and could sure use a big time road win.
Northwestern @ Maryland

(Sat 9am ESPN2) – Both these teams need big wins in a major way. That's what makes this game so compelling. We're a few weeks away from the Conference Tournament and these teams are running out of chances to gain quality victories.
Davidson @ Rhode Island

(Fri 4pm ESPN2) – Rhode Island hasn't lost a game since December 6th of last year and they barely lost that game. They're currently the top seed in the Atlantic 10 and looking at a automatic birth. Davidson is ranked 2nd in the A10 and if they want any shot of getting the one seed in the conference then this is a must win game.
Oklahoma State @ West Virginia

(Sat 9am ESPN) – Can Oklahoma State score another huge road victory? The Cowboys went in to Lawrence, Kansas last week and shocked the Jayhawks. Then they came back home to Stillwater and lost at home to Baylor so you figure it out? West Virginia is coming off a huge road win at Oklahoma and needs this one if they still want the top spot in the Big 12.
Mississippi State @ Missouri

(Sat 11am ESPN2) – Two bubble teams that are most likely in the tournament as of right now set to do battle on Saturday. Can't wait. Miss State is coming off a huge home win over Alabama. Missouri scored a nice road win at Ole Miss.
Florida @ South Carolina

(Sat 9am CBS) – The rematch! Florida has probably had this once circled since South Carolina came into Gainesville and pulled off the big upset. South Carolina seemed to be waking up then and headed towards another NCAA tournament bid but then they hit the wall. The Gamecocks have lost four in a row so they desperately need this one.
Oklahoma @ Iowa State

(Sat 11am ESPN) – Iowa State is just 12-11 but man they're tough to beat in Ames. The Cyclones have beat West Virginia and Texas Tech in Ames so perhaps Oklahoma gets a big test. Oklahoma is coming off a two point home loss to West Virginia and needs a nice win to stay among the tops of the Big 12.
Butler @ Villanova

(Sat 9am FOX) – I still can't believe Villanova ranked number 1 in the country lost at home to St. John's? What's happening in the world? Look for Villanova to bounce back in a big way. Butler is currently 5th in the Big East but don't get it twisted the Bulldogs are certainly capable of beating Villanova.
Kansas @ Baylor

(Sat 11am CBS) – Okay Baylor here's your shot. You played Kansas tough on the road the first time and now you could sure use a huge win in Waco. Baylor scored a nice upset win at Oklahoma State and now if they can beat Kansas they can really make a run at dancing in March. Kansas is coming off a nice win against TCU but must win this game if they want the top seed in the Big 12.
Auburn @ Georgia

(Sat 12:30pm SECN) – Auburn is still in 1st despite losing a heartbreaker at home to Texas A&M. Georgia is coming off a bad loss to Vanderbilt and could sure use a big time home upset win.
Texas @ TCU

(Sat 11am ESPNU) – Both these bubble teams need to win this game badly. Texas is coming off a crucial home loss to Kansas State. TCU is coming off a tough road loss at Kansas. These teams are currently ranked 6th and 7th in the Big 12.
Virginia Tech @ Virginia

(Sat 3:15pm ESPN) – Can the Hokies get some revenge after the Cavs went to Blacksburg and beat down VT? Virginia is still 23-1 and on the verge of being ranked 1st in the country. Virginia Tech is 17-7 and 7th in the ACC and could sure use a huge win against a top 10 team, let alone a hated rival.
UCLA @ Arizona State

(Sat 4pm PACN) – The Bruins scored a gigantic win at Arizona on Thursday and now looks to do the Arizona sweep with a big time game at ASU. Arizona State is coming off a nice come from behind win against USC and now they're looking to do the Los Angeles home sweep. This is a big one for PAC 12 seeding.
Florida State @ Notre Dame

(Sat 1pm ESPN2) – Florida State may be a bubble team who needs every win it can get, but Notre Dame is completely desperate for a win if they want any chance at making a late season push towards the tournament.
Xavier @ Creighton

(Sat 11:30am FOX) – Xavier is currently ranked 5th in the nation and 1st in the Big East but uh oh here comes a potential huge trap game. Creighton is really good and currently ranked 3rd in the Big East and they've got to be thinking about the top seed in the conference. I can't wait for this one.
Texas Tech @ Kansas State

(Sat 5pm ESPNU) – Texas Tech is currently ranked 7th in the country and 1st in the Big 12. Kansas State is currently 17-7 and ranked 4th in the Big 12. This is a huge matchup! Both teams should be dancing come March but this game is all about seeding in the Big 12 Tournament.
Tennessee @ Alabama

(Sat 3pm SECN) – Both these teams are probably going to be in the Tournament but this is a big game for SEC seeding. Tennessee is currently 15th in the nation but they're thinking about that top seed since Auburn lost.
North Carolina @ NC State

(Sat 11am ESFC) – UNC came up huge on Thursday with a big time win over their hated rival Duke. Now can the Tar Heels continue the great week with a win against another rival? NC State came into Chapel Hill a few weeks ago and shocked the Tar Heels, can the Wolfpack get the sweep?
Gonzaga @ Saint Mary's

(Sat 7pm ESPN2) – This is a big time rematch! Saint Mary's upset Gonzaga in their backyard and now it's the Zags turn to get revenge. The winner of this game will most likely be in the drivers seat for the top seed in the conference tournament. This is a huge game.
Kentucky @ Texas A&M

(Sat 5pm ESPN) – Texas A&M is finally waking up with some nice wins over Arkansas, South Carolina and Auburn and they must continue to do that with a big time home win over a ranked Kentucky team. Kentucky is coming off a home loss to Tennessee and they'd love to steal one in College Station.
Purdue @ Michigan State

(Sat 1pm ESPN) – Okay, I don't care that Ohio State came into Purdue and upset the Boilermakers earlier in the week. We've been waiting for this game all year. Michigan State hasn't played as well as I thought they would be this year. Perhaps the scandal is a distraction? Who knows? Purdue has overachieved thus far this year, which makes this matchup such a must watch game. Not only does this game have major Big 10 seeding implications both teams are currently ranked 3rd and 4th in the nation.