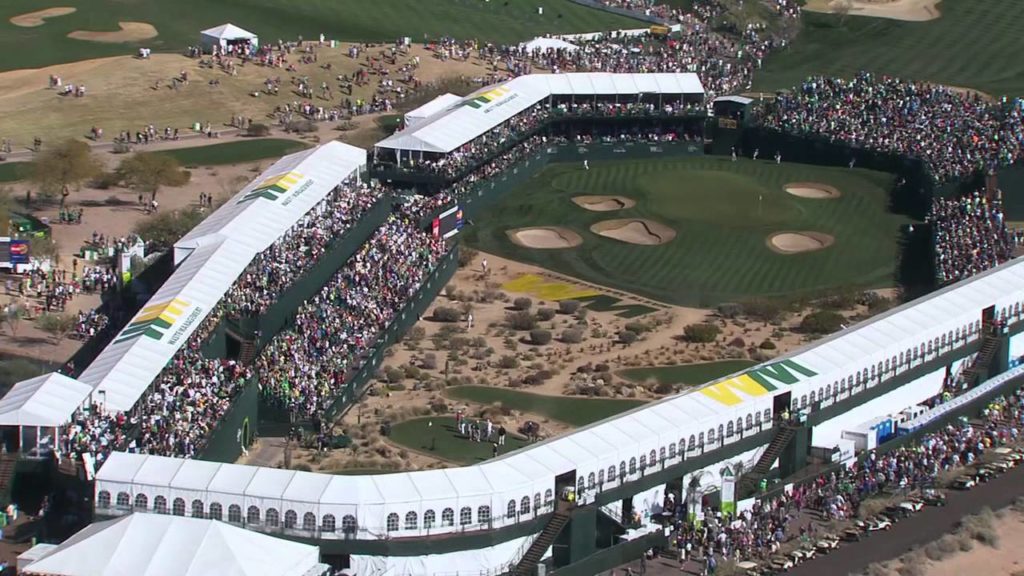 51 weeks of the year, TPC Scottsdale is about as vanilla and benign as golf courses can come. It's a pretty nondescript track – long Par 4's where you're hoping to avoid a fairway bunker about 285-300 yards off the tee, slight doglegs, reachable Par 5's, little elevation changes. Yawn.
Yet the Waste Management Phoenix Open is one of the most anticipated golf tournaments of the year for both spectators and  TV viewers. Not only is the tournament a perfect lead in to the Super Bowl, the vibe of the tournament can best be summed up as a wild frat party on the Par 3 16th, where a 16,000 seat arena is seemingly dropped from the heavens to encircle the hole. No need to iron your golf slacks or press your collared shirt at this event; Arizona St. Bro-Dogs donning tank tops and board shorts are more than welcome through the gates. They'll join the anticipated 800,000 other boozehounds around the course this weekend where taking in Fireball Shots is a higher priority than taking in approach shots from the best the PGA Tour has to offer.
Some tournaments will kick out any over served patron at the mere echoing of "MASHED POTATOES" in the middle of a backswing, but on the 16th this week it's not only tolerated, it's encouraged by both tournament volunteers and the players themselves. The pros know what they're walking into as they head into the gladiator pit of the 16th Tee Box, so they let loose a little bit for at least the first three rounds. Check out the video below for notable highlights of the best party on the PGA Tour from last year:
But for those who'd rather go to watch golf instead of take funnels of Miller Light from sunup to sundown, the place to be on the course is actually the next hole over at the short Par 4 17th. This is probably the best hole on the golf course in that it's a high risk-high reward hole where tournaments have been both won and lost.
Pros have two options when they step to the tee at the 332 yard 17th. They can either pull a long iron or hybrid and hit it about 250 yards into the fairway between two flanking bunkers to set up a short approach. That'll ensure at worst walking off the green with a par, as well as earn a few boos from those waking up from their early afternoon alcohol coma.
Or they could channel their inner Roy "Tin Cup" McAvoy, pull out the Big Stick and attempt to drive the green. If they choose this option, not only do they run the risk of hooking their drive into the water left of the green, they also could hit it into the water behind the green should their adrenaline put a little more oomph into their strike, as poor Rickie Fowler found out while holding a two shot leading heading to the 17th in 2016:
A wonderfully designed hole – one round where you'll walk off the green with an eagle, and the next you'll card a double.
This week as you scour the entry list, try and gravitate towards golfers who excel in Strokes Gained Off the Tee and on Approach shots, and fare well on longer approaches from 175-200 yards. TPC Scottsdale isn't necessarily a bombers paradise like Torrey Pines was last week. But if you manage to avoid the fairway bunkers and have good distance control in your iron game, low numbers are there for the taking as the winning score should hover around mid to upper teens under par this weekend.
Here's who you should keep an eye on for your DraftKings lineups and your betting tickets this weekend (with win and DraftKings values in parenthesis):
The Favorites
Jordan Spieth (9/1, $11,400)
Hideki Matsuyama (9.5/1, $11,500)
Jon Rahm (10/1, $11,000)
Rickie Fowler (14/1, $10,400)
Justin Thomas (14/1, $10,300)
Though it's not reflected in the books, Hideki Matsuyama is the definitive favorite at TPC Scottsdale this weekend. In his four career starts at the Waste Management Phoenix Open he's finished no worse than T4 and notched a pair of playoff victories in 2016 and 2017 over Rickie Fowler and Webb Simpson, respectively. And yet, I'm finding myself rather uninspired by him heading into this weekend. He's struggled off the tee and gotten off to slow starts in the last few months to knock him out of contention early, and it seems that when everyone gets on him he under performs (or, to put it another way, lately when I'VE warmed up to him he's kicked me in the nuts). Despite the most expensive price tag on the board, he'll probably have a very high ownership percentage this weekend. I'm going to let everyone else take him and build my lineups around the other four guys (which given my recent history with him, he'll be in the winners circle on Sunday. #FadeSteve)
If I had to pick a winner out of this group, I'm going to go with Jon Rahm at 10/1. He faded badly at the Farmers Insurance Open after being one back of the lead after 36 holes by carding a 75/77 weekend. But he was still 2nd in the field in Strokes Gained off the Tee last week and his abysmal putting at Torrey Pines should reverse itself towards the norm. I like him out of this group to win in front of his fellow and likely highly inebriated Arizona St. alumni.
Other Contenders:
Daniel Berger (30/1, $9,500)
Gary Woodland (33/1, $8,600)
Zach Johnson (45/1, $7,700)
Daniel Berger often gets lost in the shuffle in the conversation of best young American golfers but he certainly has the talent to win the tournament. Despite a pretty unconventional swing, Berger is one of the best golfers tee to green on tour and is a birdie machine when he's hot with the putter. He's struggled a bit on approach shots at the Sony Open a few weeks back, but seemed to right the ship with a final round 64 to propel up the leaderboard to a Top 15 finish. His pricetag in DraftKings is a little high, but you can make up for it with some quality golfers in the $7,000-$7,600 range. Feel safe to throw him in your DraftKings lineup, and while you're at it put down some capital at 30/1 to win the tournament.
Gary Woodland doesn't necessarily have great recent history at the tournament, finishing no higher than T33 and missing the cut twice in his last four events at TPC Scottsdale. But with his recent form he checks all the boxes for me: long off the tee to hit past fairway hazards, solid ball striking to set up good scoring chances and the ability to pile on birdies on the greens. He's started his year with a T7 and T12 in two 2018 events, and I expect that good form to carry him once again into contention this weekend.
When you think of proficient drivers of the golf ball, Zach Johnson probably isn't in your Top 25 that'd come to mind. And you'd be correct on that assertion of late – since selling out to join Team PXG in 2016 his ball striking numbers have plummeted. ZJ finishing 80th and 86th in Strokes Gained Tee to Green in 2016 and 2017, which is a far cry from his normal Top 30 performances in that category this decade. But he's off to a very good start so far in 2018, posting five Top 30 finishes in his first 5 starts thanks to a vast improvement in his Strokes Gained metrics across the board. He's posted three consecutive Top 15 finishes at the Waste Management Phoenix Open, and I expect that trend to continue this week. His ownership percentage at $7,700 might be a little higher than desired because of the mainstream name and low cost, but I can still justify squeezing him into a lineup with his recent form. I also am feeling his 4/1 Top 10 Odds and will look to see if I can get him against an inferior golfer in Matchup Props this weekend.
Kevin Chappell (60/1, $7,700)
Scott Piercy (65/1, $7,500)
Keegan Bradley (65/1, $7,400)
I love Kevin Chappell this week at TPC Scottsdale. Chappell has been absolutely mashing the ball so far in 2018 as he sits inside the Top 10 in Strokes Gained Tee to Green, Strokes Gained off the Tee and Strokes Gained on Approach. The problem for Chappell so far is that his putter has let him down and cost him birdie opportunities in several events he's played. However, Hideki Matsuyama has shown that despite his own deficiencies on the green there's still a path towards success at TPC Scottsdale. As long as Chappell's ball striking continues to be elite, he'll be right in mix on Sunday.
Scott Piercy isn't exactly the sexiest name in the mid-$7,000's price range but he's had a great start to his 2018 season as he looks to climb back into the Top 100 in the world. Piercy struggled on approach shots last season but seems to have regained his form in that area, ranking 15th in Strokes Gained on Approach so far in 2018. Given some of the other more popular names in that price range like Kyle Stanley, Patrick Reed, Charley Hoffman and Xander Schauffele, I expect his ownership percentage to be low on DraftKings this weekend. But I like him as a solid pick for your lineup and a decent sleeper to finish in the Top 10 at 5.5/1 when it's all said and done.
I think I've put Keegan Bradley in a DraftKings lineup in every event he's played in so far in 2018, and I'm not going to stop now. Keegan Bradley is playing his best golf since 2014 and put together four solid rounds on a tough track at Torrey Pines last weekend. His DraftKings value continues to be underpriced and while he might be popular in contests this weekend, I'm confident in his game to keep throwing him into lineups until he proves me wrong. He'll certainly be a target of mine in tournament matchup props against inferior players.
Emiliano Grillo (100/1, $7,200)
Jason Kokrak (110/1, $7,100)
Bryson DeChambeau (140/1, $7,000)
Here's a trio of cheap golfers who you should target at the end of your DraftKings lineups and as sleeper Top 20 prop candidates. Emiliano Grillo had a dismal 2017 but so far has had a great start in 2018 thanks to his 11th ranking in Strokes Gained off the Tee. Jason Kokrak also has been solid in the Strokes Gained stats in 2018, and he's made the cut in 6/7 events he's played including a pair of Top 10's.  And even though Bryson DeChambeau is very streaky and is uber-obnoxious when he takes the media to Trigonometry Class to describe his form, he's been pretty strong from tee to green in 2018 despite missing the cut in his last 2 events. I like all three of these guys as low cost, low owned options in DraftKings this weekend.
Sample DraftKings Lineup #1
Jordan Spieth: $11,400
Gary Woodland: $8,600
Brendan Steele: $7,800
Zach Johnson: $7,700
Charlie Hoffman: $7,500
Chesson Hadley: $6,900
Sample DraftKings Lineup #2:
Rickie Fowler: $10,400
Justin Thomas: $10,300
Scott Piercy: $7,500
Chez Reavie: $7,400
Cameron Smith: $7,400
Bryson DeChambeau: $7,000
Sample DraftKings Lineup #3:
Jon Rahm: $11,000
Daniel Berger: $9,500
Kevin Chappell: $7,700
Keegan Bradley: $7,400
Emilano Grillo: $7,200
Jason Kokrak: $7,100
Bonus Bets
I would be remiss if I didn't cover some Super Bowl Props this week. While I don't have much inside information on what color Gatorade will be dumped on the winning coach or how many times "Dilly Dilly" will be said on the Bud Light Commercial, here's a couple golf-themed Cross Sports props I have my eye on this weekend:
Who Will Have More – Jordan Spieth 4th Round Birdies or Zach Ertz Receptions (-0.5)
Since Nick Foles took over under center for the Eagles, Zach Ertz has racked up (excluding Week 17 where the starters were pulled early) 6, 9, 3 and 8 receptions, and with the deficiencies the Patriots have at linebacker there should be plenty of room in the middle of the field for Ertz to operate. Right now Ertz's over/under on receptions is set at 5, so given this line the books expects Spieth to come in at ~4.5 birdies in the final round should he make it to the weekend.
So far in 2018 Spieth ranks 4th in final round stroke average and led that category in 2017. That's helped him deliver consistent finishes inside the Top 10 despite some slow starts over the last 6 months. Conditions in Scottsdale on Sunday should be ideal for scoring, with temperatures in the low 80's and little wind. Given the low numbers that will be had on Sunday, Spieth racking up between 5-7 birdies is a very real possibility.
I like the side of Spieth +0.5 birdies over Zach Ertz receptions. I don't think the Eagles will be blown out and will try and employ an offensive game plan similar to that of the Jaguars with short, quick passes to the WR's and lean heavy on the run against an undersized defensive front for the Patriots. That should keep the overall passing volume for the Eagles relatively low. While I wouldn't rule out Ertz busting loose for a few big plays over the middle, he could do so on a low target share and allow Spieth to come through on this prop with either a tie or win outright.
Who Will Have More – Hideki Matsuyama 4th Round Fairways Hit -1.5 or Stephen Gostkowski Total Points
As mentioned previously, Hideki Matsuyama has struggled in Strokes Gained off the Tee stats in 2018 and typically ranks below average in Driving Accuracy. He normally runs about a 60% clip, so over 14 potential fairways he's hitting about 8.5 a round. That puts the total points for Gostkowski at this spread at 7, which is actually well below the 8.5 clip I've seen him on prop sheets this week.
While there are some holes on the Front 9 with pretty narrow fairways, the Back 9 opens up a little bit and provides easy landing zones off the tee. That shows in Hideki's driving accuracy numbers over the last 4 years at this event, racking up percentages above 60% in three of the last four years. He's also played better golf on the weekends than Thursday or Friday lately, so I'd expect him to be pretty good with the driver in the Final Round on Sunday. That leads me to think he might be closer to 10 or 11 fairways hit in the final round, meaning Gostkowski would have to get to 9 or 10 points to cover the spread.
While I do anticipate the Patriots eclipsing 20 points for the game, I don't think Gostkowski will have enough opportunities to score points on his own. The Patriots are notorious for going for it on 4th down where other teams may settle for field goal opportunities, and there is always the possibility of the Patriots going for two late in the game if the circumstance dictates it. Therefore, I prefer the side of Hideki Matsuyama -1.5 Fairways Hit in the 4th Round.