1. "Sharps" Won't Quit The Browns
Stop me if you have heard this one before. "Value is value.", "I have to trust the numbers.", "The Spot is too good."
Stop It. cc: Stop Betting The Browns.
The autofade is now 12-3. Let's move on.
2. Miami Continues To Let Themselves Down After New England
Sometimes a picture is worth a thousand words, or could be worth thousands of dollars if you believe in it:

After playing New England, The Dolphins are now 0-7 straight up and against the spread since 2004.
3. New England Off A Loss Is A Great Bet
Under Bill Belichick, New England is now 55-18 straight up off a loss. More specifically in the last 3 seasons they are 7-2 against the number. Here are some other teams worthy of a bet off a loss: Minnesota, Seattle, New Orleans, Washington, Pittsburgh, and Jacksonville.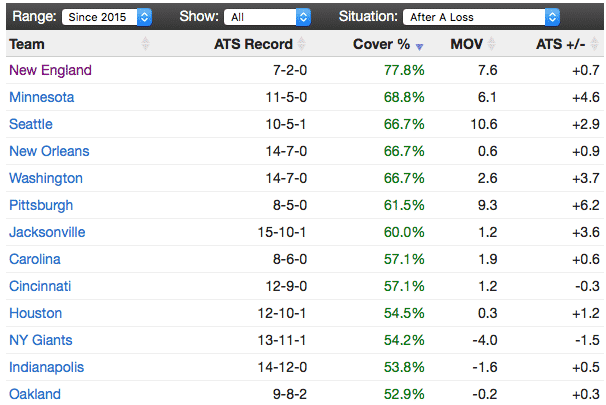 4. Seattle Is Broken And L.A Is For Real
Well then. Russel Wilson took a loss of more than 10 points at home for the first time in his career and it wasn't close as Seattle lost 42-7 to Jared Goff who apparently is the second coming of Joe Montana. It does help that Todd Gurley has emerged as a top 3 running back in the NFL of course, but Jared Goff and The Rams appear to be for real.
I don't know who this game says more about, but I dont' know how much longer I can not believe in the Rams. I'm a firm believer that the moment is far too big for first timers in playoffs (See: Dak Prescott last year) Which was a reason I was going to be betting against The Eagles this season in the playoffs, and I likely will be opposing The Rams in the playoffs for that same reason, but I'm petrified.
5. Jimmy G Is The Truth
Jimmy Garoppolo hasn't lost a game as a starter yet in his career combined with New England and San Francisco which is even more impressive when you factor in the talent that he is playing with in the Bay. The long standing rumor with Patriot fans was that there was always a slight chance that once Tom Brady had served his purpose-in a true "Patriot Way" move-he would be sent to San Francisco so that he could finish his career for the team he grew up rooting for and not to mention his idol Joe Montana played there.
Well, San Francisco got a quarterback from New England, just not the one everyone thought they may eventually get. The second round pick New England received from San Francisco is becoming less valuable by the start as Jimmy Garoppolo piles up wins, but it's also killing the placement of their first round selection. All that being said, as you know I always like to bet on a streak rather than against it, so ride the Garoppolo wave as long as it lasts. Remember-You can only lose once betting on a streak, but you can lose many times betting against it.