Welcome to another edition of The Social Media Player Profile. This week we are detailing Jon Campbell, who is a sports analyst at OddsShark.com. Jon covers a variety of sports and can be found on twitter at @JonnyOddsShark. OddsShark.com is a sports handicapping website with all the information you can handle including trends, betting advice, odds, and consensus picks. they also have a new podcast called PoddShark. Johns biography on Odds Shark is below, so let's jump right into it.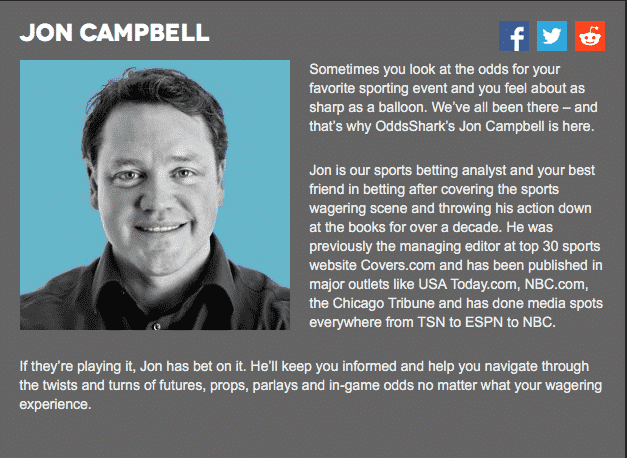 1.For readers who may not be familiar with your work, can you give us a background on yourself and how you got started in sports handicapping and what eventually led you into what some would call a dream job-your career being a sports handicapping analyst at your current job with Odds Shark?, and can you give a brief description of what Odds Shark aims to do?
I graduated with a degree in journalism a little over 15 years ago with the hopes of covering sports. Turns out it was actually sports betting, which was awesome by me, and I was hired by a site just starting to gain some traction with sports bettors at the time – Covers. I was Director of Editorial and Managing Editor there for years. I covered and bet on every sport you can put a wager on while helping grow the site and saw every aspect of the sports betting world along the way. Almost two years ago, I had a great opportunity with OddsShark and I couldn't be happier they brought me on. It's an amazing place to work and our aim is to be the best odds and sports information provider for sports bettors. It's absolutely a dream job and I am lucky as hell to do what I love. It drives me to keep working my butt off.  
2. You create content daily both in the way of written work and lately doing more videos and your pre-game periscope's you've started and put out on twitter. Do you prefer one style more than the other or what do you like about doing both, and what made you take the next leap into doing your very enjoyable Periscope's before the games kick off?
Thanks for tuning in! I really enjoy the Saturday Periscopes for college football. It's so cool having the audience interaction where I can answer questions that I hope bettors can benefit from. I think it was just the next step in the progression of my content. My aim is to help the average sports bettor learn much more quickly than I did and this is a great way to do it. There was nothing like that when I was just jumping into the sports betting world in the early 2000's so I think people learn a lot faster these days. I have always liked writing too but different features are better for different media platforms. If I'm going to dig into a lot of data, sometimes it makes more sense to write it and organize it in text form with charts that are easy to reference. There are so many options these days, it really depends on what you're trying to do in terms of what medium or platform you choose.
3. One thing that can be difficult in working for a major outlet like Odds Shark is that you are sometimes forced to give your opinion on games that you may not have the strongest opinions on. How do you deal with that or do you only try to give out picks and leans on things your always betting yourself?
It's a bit of a tricky balance sometimes so I try to organize it for the user. For my Periscope show on Saturdays, I make it clear which games I'm actually betting on myself for the week. I also write a column that looks at the biggest TV games exclusively because I know many like to bet on those for the entertainment value. Lately, I open it up to the audience to ask me about whatever games they want and I'll try to answer as many as I can. I'm here to help the viewer but my goal isn't to be a dart board that you can just throw picks questions at. I want to give viewers a glimpse at what goes into my handicapping to help them become a more confident bettor. I strongly encourage followers to use the info I give as just one part of their handicapping process. I started getting into more picks this season for college football though because ultimately I think anyone in my position has to put his expertise on the line a little bit to show the audience you can win at this game.
4. With that, what would you say your handicapping style is? OddsShark gives you so many resources to look at things from numbers and trends perspective, but are you more numbers-heavy, a bit of what your eyes tell you, or do you incorporate all of it when making a selection?
If I broke it down I would probably say I use 80 percent hard numbers & data and the other 20 percent is a mix of market analysis, gut feel and experience. I always start my research with scoring-related data in every sport and work from there. Experience helps me understand how the sportsbook thinks and how the market reacts. Experience also means I just don't fear the things I used to when I first started betting. A good number is a good number, whether it's laying multiple touchdowns on a road fave or taking the over on the highest total in history. The other thing that I think helps me is that I have a willingness to change. Even when I'm winning I'll adjust my handicapping style mid-season. A lot of losing the hard way has taught me I have to do that.
5. OddsShark has enjoyed so much success lately and continues to grow, and as a fan of your work for a long time, I really believe you've had a lot to do with that growth. Are there any plans for expansion for both yourself and OddsShark?
Thanks for the kind words, greatly appreciate it! The company has really done an incredible job for some time now and I'm fortunate to join things at a great time. My job is to bring a voice to what we do a little bit because we already have great odds and data. I try to help the everyday sports bettor wade through that with confidence and direction. We opened OddsShark studios last year so I think for now you can anticipate seeing more video and multimedia content from us. We just started a new Podcast (PoddsShark) too and I can see more live video coming in the future like our OddsShark Live show and my weekly Periscope show.
6. One question we always ask the people we interview for this series is that being a picks provider, you open yourself up to a ton of, let's just call them trolls. How do you deal with them?
I block, mute or ignore the trolls. It's just not productive to engage them. If someone wants to disagree or raise questions though, that's different. In that case, all I ask is to be respectful, be accurate and don't hide behind anonymity. These are just the basics of human decency whether it's real life or the internet. There will always be haters – that's life. Mostly I just try to focus on what I want to accomplish every day and the other noise tends to fade away. I have to say, though, the folks who have engaged me on social have been largely friendly and positive overall and I love hearing from them and answering good questions.
7. What do you feel is the current temperature of social media? What I mean by that is there is so much information available to bettors now that it can sometimes be information overload with so many people-both tout and free-providing information and picks. Do you feel that social media has made the public more informed or does it do more harm than good?
Social media – in particular, Twitter – is the best tool to come to sports betting since the Internet came along. But like anything worthwhile, it takes time and effort to get the most out of it. You have to refine your follows. You have to double-check the data, you have to post to get involved in more information sharing and you have to be on it a lot. It's worth it though. It becomes part of the fun and that's what most people are really looking for with sports betting.
Jon Campbell can be found on Twitter on @JonnyOddsShark and his written content can be found Here. Jon also does a pregame periscope for all of his selections on the NCAA and NFL seasons which can also be found on his twitter. Check out www.oddsshshark.com for all of his content, as well as the other featured writers.