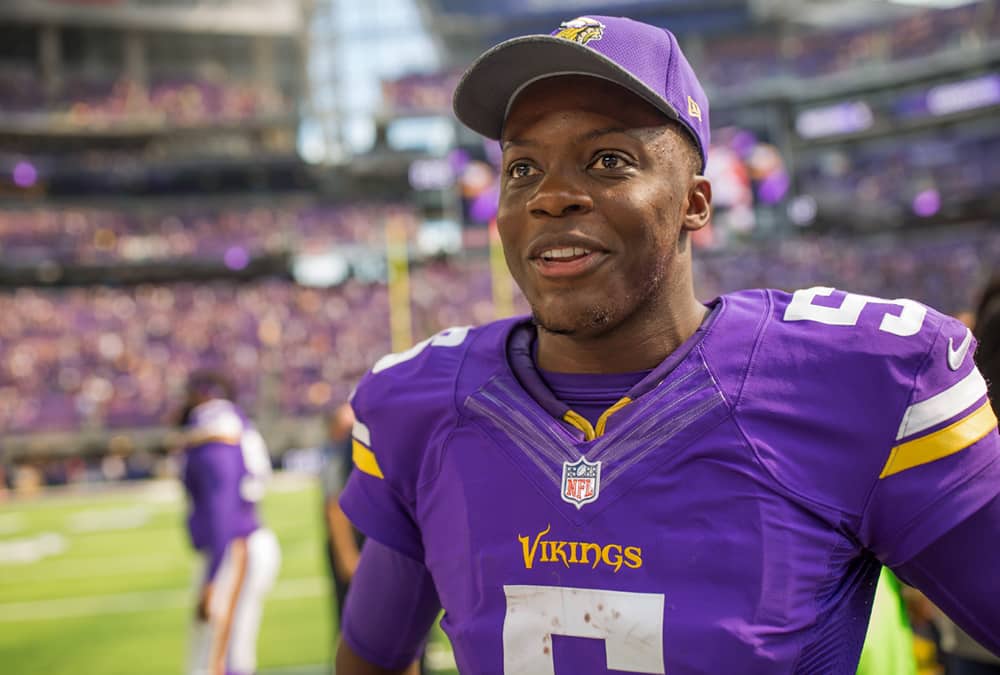 With the NFL just getting over the halfway point of the season, let's check in with some of the best teams to buy and sell from a futures standpoint, as well as check in on some season win totals from the most notable teams, teams that are on pace, already cashed, or have no chance. As I stated in The College Football Half Way Heat Check, my position on futures is very simple, I only buy a future before the season if you think the price will shorten during the season. The NFL is a little bit different however in that one loss doesn't impact a team the same way it does for a college football team. So, let's see if we can find some value at the halfway point of the 2017 NFL season.
The Nerd Stats: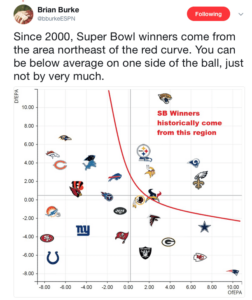 Above Tweet courtesy of @bburkeESPN
If you subscribe to that theory, that gives you Jacksonville, Pittsburgh, Seattle, LA, Minnesota, Philadelphia, and The Saints. Well, let's break this down even further:
Every year since 2000, a team in the top 3 of net yards per play has made the Super Bowl. Currently the top 3 is: Atlanta (+1500 for NFC), Jacksonville (+1200 for AFC), and Minnesota (+550 for NFC). Atlanta has played the second most difficult compounding schedule while Jacksonville has played the easiest.
The take away: The buy sign is flashing for Atlanta (+1500) and Minnesota (+550) in the NFC, and Jacksonville (+1200)…gulp… in the AFC.
The AFC Front Runners: 
Patriots (+140)
Steelers (+160)
Chiefs (+500)
Jaguars (+1200)
Raiders (+1500)
Titans (+2000)
Bills (+5000)
1.The Obvious: New England has been to 6 straight AFC Championship Games. The roulette wheel has come up red 6 straight times. Don't think that New England is "due" to not make it. There is probably only one team that you know will be there in the end and likely to have a bye. New England will be a favorite in every game in the AFC playoffs and for that fact alone you need to take a piece of New England at +140. It's New England. Buy them.
2. The Most Talented Team In The AFC: It's the Pittsburgh Steelers and it's not close. The key here is really Ju-Ju Smith Schuster and I can't believe I'm saying that. What he does is allow Antonio Brown to not be double and triple teamed while giving space to Leveon Bell. The price on Pittsburgh has come crashing down from +300 to +160 within the past 3 weeks and it's for good reason if they can get their offense firing on all cylinders. Mike Tomlin will always be Mike Tomlin, but the team is good enough to win in spite of him. From a talent perspective and trusting what your eyes tell you, the buy sign is flashing, the problem is you are buying this team at the height of the market.
3. The Outside Track: Let's start with KC. They came out and looked like world beaters as it appeared Alex Smith had a fire lit under him due to Patrick Mahomes simply breathing the same air as him on the sideline. After the first few games however, Alex Smith has regressed to the quarterback who is afraid to throw the ball down the field again as all of his stats have come back down to earth and it's somewhat the same dink and dunk offense that we have come to know and love/hate. Look, If KC is at home and the defense is playing how they are capable of, they have already proved they can beat New England. They could probably beat Pittsburgh too. If Reid can somehow get this team a bye and home field–look out. But things have to fall almost perfectly for them. To me, it's the same old Chiefs, and I'm not buying a futures ticket, if they get a bye and are at home, I'll play them individually in that game.
4. Jacksonville Has To Be Perfect: Jacksonville's offense is setting back the NFL at least 5 years, but somehow they are winning games. Jacksonville is a throwback version where they do a couple of things better than anyone in the league. They run the ball and play defense. In truth, I'm only even bringing them up because of the graphic at the top of the page that I actually put a ton of stock into, as 16 straight years of one of those teams making the Superbowl doesn't lie. The thing with Jacksonville is they are literally hiding their quarterback in plain sight. They have to play the perfect game and cannot fall behind because a 10-0 lead is an impossible hill to climb. That being said, a 10-0 lead for them is impossible for their opponents to climb against them with the number one ranked pass defense in the last 10 years. They are literally breaking football outsiders records for defensive pass efficiency. The playoffs are all about battling and getting through adversity and be very clear, if Jacksonville faces the smallest bit, they will fold because they simply can not throw the ball. Perfection is too much to ask for in the NFL playoffs and it's still Blake Bortles, but they are likely to win the AFC South now that Watson is out, but they will be an underdog throughout the playoffs, but not to the tune of +1200. A small investment is probably warranted, just be prepared to hedge out as soon as the first round comes.
5. The Rest: The Raiders, Titans, Bills, Dolphins, & Ravens: There's no value in a losing ticket, so I'm going to keep this one pretty simple. The Titans are the only team out of this group with a chance of even making the playoffs unless you think that Jay Cutler is the answer in Miami. Mike Mularkey will never get a futures ticket out of me, but at 20/1 for the AFC, if they get in you can hedge out pretty nicely. My advice for this group is pretty simple if you are going to take a stab at Jacksonville, take half that stake on put it on Tennessee at 20/1 to cover all your bases; as it's very possible and even likely that both get in.
Likely AFC playoff picture: New England (+140), Pittsburgh (+160), Kansas City (+500), Jacksonville (+1200), Tennessee (+2000), Buffalo/Miami/Baltimore (Pass)
The NFC Front Runners: 
Philadelphia Eagles (+200)
Seattle Seahawks (+300)
New Orleans Saints (+500)
Minnesota Vikings (+550)
L.A Rams (+800)
Carolina Panthers (+1200)
Atlanta Falcons (+1500)
Detroit Lions (+3000)
At first look, without the monopoly a team like New England puts on the AFC, you can see the NFC is way more open.
1. The Eagles Are Dominating: I know that headline isn't news to anyone, but when you put up 51 against a defense like Denver, it's time to take notice. That's matchup proof domination with an MVP caliber quarterback. Sound familiar? Sounds a little bit like the NFC Version of The Patriots to me. Look, they are dominating every aspect of the game and are only getting better. Philly is going to be the overall number one seed and a favorite throughout the playoffs. The price of +200 is more than enough for me for the simple hedge opportunities it brings with getting home field and a likely first round bye. Oh, and they're in the top right of our nice little chart above.
2. Seattle Isn't Good, Russell Wilson is: Russell Wilson is being asked to do more than any quarterback in the entire NFL and if you had a pair of eyes and were able to watch the Thursday Night Football game against the awful Arizona Cardinals, you saw that over and over. Earl Thomas is banged up, Richard Sherman is now done for the season, and they have no running game or offensive line. Russell Wilson is human and this price of +300 isn't even close enough to get me to buy a ticket on them right now. Things may get worse before they get better for the simple fact that Seattle somewhat knows all they have to do is get into the playoffs, so I'm fine with letting this market open up a bit. I need way more than +300 to back this team that very likely won't even win its division, and you know what Seattle is on the road (not to mention they just lost to Washington at home) No. Thank. You.
3. New Orleans Is Better, But Need Things To Fall Their Way: If you thought Drew Brees was simply bad on the road, you haven't looked hard enough. Yeah, he's sub-par on the road, but check out his stats in temperatures below 40 degrees.
That's 0-6-1 against the number if you're keeping track at home. The good news for him is that If he gets LA, Detroit, Atlanta, or Minnesota he's likely to escape that by being in warm temperatures or playing in a dome. That being said, a road matchup in Philadelphia is likely eventually standing in his path. New Orleans, much like Kansas City needs home field advantage to have any shot. This is another team I'd target from a regular one game play than a future.
4. Minnesota Is Getting A Quarterback: Minnesota is playing to their full potential right now and that's while Case Keenum is at the helm. Keenum, for all his faults, is sporting a 7 to 3 TD/INT ratio with a QB Rating of 88.3. Keenum is holding down the fort masterfully, but he may not see this thing through until the end as Teddy Bridgewater is waiting in the wings after being finally cleared after almost two years away from the game. To be honest, I do think that people have a bit of a warped view on exactly how good Teddy Bridgewater actually was, as the story of him getting back has masked exactly how good he was. That being said, Bridgewater may be just enough to get them over the top with weapons like Diggs and Thielen and a fantastic defense. Philly is the favorite, but Minnesota is quietly doing everything right. I'm buying a piece of +550.
5. Jared Goff Is The Most Improved Player Of 2017: No one was more wrong and enjoyed watching Jared Goff throw balls at peoples feet more during last season than me. I'm here to tell you, I was wrong. Well, I wasn't wrong because he was the worst quarterback in the NFL last season, but this year-Hello Pro Bowl! The Rams actually have a better offensive DVOA than the "greatest offense ever" the 2016 Falcons this season if you can believe that. The thing is, the defenses they have faced are all in the bottom 10 of DVOA as well. The Rams need to play some tougher opponents before I can endorse a buy on them because we really don't know exactly how good they are…yet. The fact that LA is +800 and Seattle is +300 to win the NFC is however a complete mistake given the injuries and lack of talent in Seattle. I really think LA would get the doors blown off them by Minnesota, but LA is better than Seattle, everywhere. A small nibble to find out just how good they are is good enough for me.
6. Atlanta Looks Bad, And That's Why I'm Buying Them: The stock has never been lower in Atlanta. When you actually dig into it though, as I stated above: Atlanta is in the top 3 teams in net yards per play, a stat that has had a team make it to the Superbowl every year since 2000. Atlanta has also played the second most difficult compounding schedule in the NFL. Atlanta is currently 4-4 and has a crucial matchup with Dallas this upcoming Sunday, although they get Dallas without Zeke Elliot. The schedule doesn't get that much easier after that though as they go on the road to Seattle, Bucs, Minnesota, Saints, Bucs, Saints and Panthers again. They have 5 division games remaining, and if they can get it together, the advanced metrics love them. I really believe in the Super Bowl hangover, but I'll take a bite of 15/1.
7. Matthew Stafford Is About To Look Really Good: If you've read my work, you know I think Matthew Stafford and The Lions are the easiest team in the world to handicap. Against teams that are projected to be over .500, Matthews Stafford is 6-49 in his career. When you break down The Lions remaining schedule they have: 
CLE, @CHI, MIN, @BAL, @TB, CHI, @CIN, GB. Minnesota has @WAS, LAR, @DET, @ATL, @CAR, CIN, @GB, CHI. If we use the Stafford model, The lions should finish 10-6 at worst. That should get them in the dance, and then it's auto fade from there. Give me The Detroit Lions (+3000) for an amazing hedge.
Likely NFC Playoff Picture: Philadelphia Eagles (+200), Minnesota (+550), AFC South, LA (+800), Seattle (+300)/Carolina(+1200)/Dallas/Detroit. (Wide Open)
Futures Worth The Price Verdict For Conference: New England (+140), Pittsburgh (+160), Kansas City (+500), Philadelphia Eagles (+200), Minnesota (+550), Detroit (+3000)