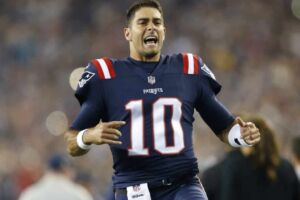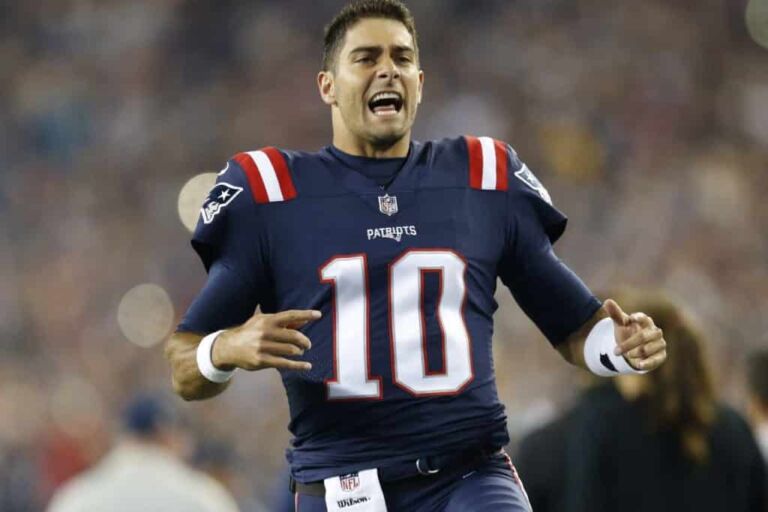 The cinematic metaphor to hear crickets, usually, refers to a moment of silence. When in conversation, its designated to a moment of stillness after something is said or described but gets no immediate reaction or response. Crickets
The "sound" a cricket makes is a product of stridulation. This is done by rubbing multiple body parts together to create a sound. Cricket wings contain comb-like edges, and when rubbed together they create a sound used to attract. Crickets
*Warning, a human, should not attempt stridulation in public as it could result in legal problems. Crickets
So Why " Cricket" for Jimmy Garoppolo?
Because that's what's heard around the NFL right now after the Patriots finally decided to move the backup quarterback. New England used the offseason to create noise surrounding Jimmy the "Cricket" Garoppolo; The Patriots dealt the former 2nd round pick to the 49ers in exchange for a second-round pick in 2018. The former Eastern Illinois quarterback was set to become a free agent in 2018, and the Patriots were in a position where they had to make a choice.
With Tom Brady showering in the fountain of youth through 8 weeks in 2017, the Pats knew the time was now. So why now rather than this offseason when reportedly the Patriots were asking for a first and fourth-round pick for Garoppolo. Well, for one, the Patriots had to make sure the Tom Brady was indeed capable of playing into his 80's.
Also, let's look back at last offseason and remember it for what it was. The Broncos and Texans defenses had the franchises feeling like they were one piece away from being contenders. But with the price the Patriots were asking for Garoppolo (1st and 4th) teams shied away, and the Texans chose to draft their future leader while the Broncos chose to keep experimenting.
Let's pretend the trade went down with either of these teams. With the teams seemingly being a piece or two from a serious championship run, you would have to think Garoppolo could lead them into the playoffs. So trading with one of these teams and getting their first rounder, essentially meant drafting at the end of the first round.
How brilliant is this move now that you still essentially got a first rounder, acquiring the second round draft pick of a team that is 0-8, guaranteeing you draft somewhere at the top of the second round. When the 49ers new look front office was constructed this offseason, they knew it would be a work in progress and time is something John Lynch and Kyle Shanahan had both signing 6-year contracts.  The 49ers were aggressive and made a move sooner than expected.
San Francisco Kirk Cousinsless
San Francisco no longer has to worry about the price tag Washington quarterback Kirk Cousins would bring. Garoppolo is currently in the last year of his rookie contract and is being paid  $434,158 this year. A massive drop-off from the hefty tag Cousins carried this offseason (28-35 million yearly) as well as having to include future draft picks.
The 49ers can now start planning to roster another top pick to make an immediate impact, and Penn State's Saquon Barkley looks quite impressive. Barkley in a Shanahan offense would be dangerous. San Francisco also has $115 million in cap space for 2018, making them a threat to land some big names this upcoming offseason.
As for the Patriots, yes they lost depth at the most important position, but were they going to lose him anyway this upcoming offseason? Jimmy Garoppolo made it clear he wanted to start somewhere and playing time was more important than money. Letting him go now and getting basically a first-round pick (something teams didn't do this offseason) was a work of art.
Knowing the genius of Bill Belichick, I'm sure he has some no named, undiscovered talent on his radar. The Patriots got their way again, the Patriot way. *Crickets*