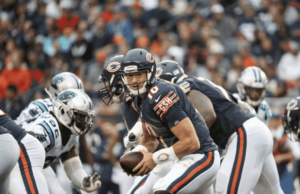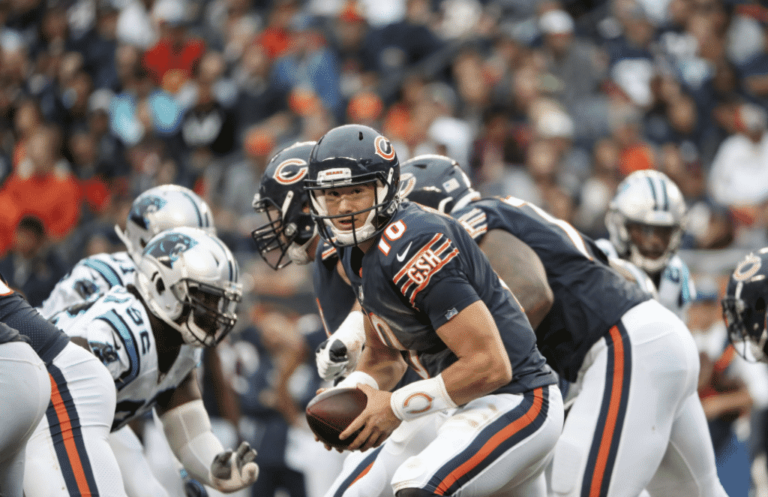 1. 70/30 rule Still Holding True
After taking a beating all season, the public finally got their revenge a little bit as favorites went 11-2 against the number here. The only two underdogs that got home for bettors were Chicago (which we will talk about below) and Cleveland (who we will also talk about).
I've harped on the 70/30 rule all season and how profitable how it's been to back the ugly side, however there was only a few that met this standard this week as the only game was Chicago (24%) got to the window. The early week betting splits that came in were: Cleveland +5.5 (29%), Chicago +3 (25%), San Francisco (+6) 30%, and LAC (-1) 30% to go 3-1. Early splits this week: Cleveland(27%), Jets (22%), Buffalo (22%), Washington (28%).
2. Chicago Is a Frisky Home Dog
As we touched on, Chicago and money making Mitch are on a streak of covering spreads at home all season that is somewhat unrivaled. Week 1 Vs. ATL (Covered), Week 3 Vs. Pit (Covered), Week 5 Vs. MIN (Covered), and Week 7 Vs. Carolina (covered) with two outright wins. Chicago is raising some eye browns as an undervalued team, but I just can't trust them on the road…yet.
That being said, at home they are almost an auto back if they are going to keep catching points and be undervalued. Being 4-0 against the number at home isn't anything to sneeze at, and with two outright wins, they're flirting with auto-back territory. They are basically running a college offense with Trubisky, He literally completed 4 passes this week on 7 attempts. One thing to monitor, keep an eye on Trubisky's props, as they are another auto back to the under, despite the outcome. This is Tim Tebow-Esque.
3. Cody Kessler Makes The Browns Competent 
Quietly, Cody Kessler isn't a bad quarterback. I know, I know. It's still The Browns, but in a world where spreads are mattering less and less, Kessler is somewhat of a covering machine. Usually I have a rule that unless I think a dog can win outright, I don't back them. However in the case of Chicago at home, and The Browns with Cody Kessler, I'm beginning to make an exception.
Tennessee's defense is hot garbage, so expectations need to be tempered, but he has held his own each time he's been thrown into the fire (he even held his own against New England for about 2 quarters last season.) Kessler is clearly the best quarterback they have on the roster, and as long as it's not Kizer or Hogan behind center, The Browns are going to be undervalued with him.
4. New England At Home
For the second time within one calendar year, sharps took a bath backing Atlanta against The Patriots. This was the shortest spread for a New England team at home in over 4 years for this game, and it wasn't even competitive. My apprehension in backing Atlanta came from one simple fact. The Patriots had already lost 2 games at home this season, so were they really going to lose 3 games within a 7 week span after losing only 2 in the past 3 years? The answer was clearly no.
Obviously, from a market perspective given how bad New England had looked on defense laying points with them against what was the highest powered offense in the league a year ago wasn't something that was appetizing either however. My point here is that fading New England at home isn't a good investment, despite the fact they burned some money with losses against Carolina and KC already this season. Given they already have two losses at home, New England at home is going to be somewhat of an auto back, and this price comes at a discount this week against The Chargers, especially in teaser format. Don't overthink this one, as they get L.A at home. The play: New England -1 (tease) against The Chargers please.
5. Situational Spots Are More Important Than Skill
Teams with their backs up against the wall, a "must win" scenario, or a season on the line spot has been one of the most profitable all season. This week, Oakland came through in that spot, as did Dallas, and the Chargers. I don't believe in trap lines, but with nearly 75% of tickets on Denver, it was somewhat suicidal to back them where the line was only at a PK most places. The market will tell the story, it always does. There really isn't a ton of great spots for this angle this week however, although I would make the argument that Tampa Bay who are favored at home by 2 points is right on the cusp.
Carolina looks like they probably should be favored in the eyes of most public bettors, yet the line hasn't moved and Tampa Bay couldn't have their backs up against the wall anymore. Denver also makes for an intriguing angle off of two straight losses and are catching over a touchdown on the road in Arrowhead. I realize Trevor Siemian isn't someone usually worth backing on the road, especially at Arrowhead, however taking a small stab on them with the world likely to be on Kansas City does make a little bit of sense.