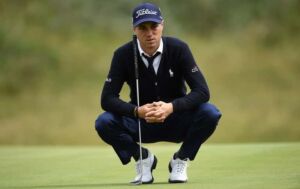 The early portion of the PGA Tour season is a time to look at players who are beginning to show good form. While most casual golf fans won't start paying attention until the beginning January, the Fall can be used to pick out golfers whose games are rounding into shape. Identifying guys who are trending upwards can give you a leg up in your early DraftKings contests or in your office pool set to begin after the new year as you begin to scope out players to fill out your entry.
Identifying in this space Pat Perez and Brendan Steele, our first two winners of this infant season, as an early season riser is too easy. Instead, here are three golfers who aren't in the spotlight that have impressed me so far.
Keegan Bradley
It's been a long three years for the winner of the 2011 PGA Championship.  It wasn't long ago that Keegan was a mainstay at the top of the leaderboards and the minds of golf fans as one of the best young Americans the PGA Tour had to offer. He enjoyed tremendous success on Ryder Cups and Presidents Cup squads, teaming with Phil Mickelson and delivered fire and brimstone playing the part of Captain America before Patrick Reed took that role.
While it wasn't his near on-course fisticuffs with Miguel Angel Jimenez that derailed his career, it's more likely due to the ban on anchored putting strokes that sent Keegan into a death spiral down the Official World Golf Rankings. Keegan choose to early adopt the new rule, scrapping his trusty belly putter for a standard flatstick, and the switch dramatically impacted his performance. Keegan slipped from 47th in 2014 to 128th in 2015 in Strokes Gained – Putting, and combined with a slip in ball striking he quickly became a bit of an afterthought on Tour.
While still regarded as one of the worst putters on tour, Keegan put together a solid year in 2017 to regain a little bit of confidence in his game. Pro golfers can be a little neurotic, and there aren't many that are quite as neurotic as Keegan Bradley as evidence by his happy feet pre-shot routine. Maybe the putter switch wrecked his swagger on the course. But it all came full circle last weekend when he finished 2nd alone at the CIMB Classic and put together four spectacular rounds.
Keegan is back up to 64th in the world and is knocking on the door of the Top 60. That's significant because that's the threshold needed to qualify for most majors and WGC events, tournaments with lucrative world golf ranking points at stake to keep him relevant. If he can keep up his great tee to green game, maybe we see him contend more often on Sunday's next year.
Andrew Landry
Remember him? Landry burst into the mainstream in 2016 when he went toe to toe with Dustin Johnson heading into the final round. While he limped to the finish carding a 78 on Sunday, it was a very admirable performance by the journeyman and showed he had serious stones and toughness.
So what has he been up to since then? Despite his Cinderella performance at the U.S. Open, Landry wasn't able to keep his PGA Tour card and spent 2017 on the Web.com tour. There he began his ascension up the World Golf Rankings, scoring one win and eight other Top 10's on the Web.com circuit to regain his status as a member of the PGA Tour for the 2018 season.
Despite his small stature, Landry can drive it as well as anyone, averaging 305 yards off the tee on the Web.com tour last year. He also ranked 31st in Green In Regulation on tour to set him up for easy birdie opportunities all year. Carrying over this success to the current season, Landry placed T7 at the Safeway Open in his return to the PGA Tour. He's someone to watch as the fall season progresses and could prove to be a sneaky sleeper for your pools and bets early next year.
Hunter Mahan
Hunter Mahan looks over at Tiger Woods' struggles the last two years and raises him a few more shanks and slices. Hunter Mahan was once the poster boy for Golf Digest in their swing analysis articles, perfectly molded by Sean Foley and having a swing coveted by most. He was an annual threat to win multiple tournaments and break through for a major title from 2007 through 2014.
But while students of Sean Foley rave about his scientific, almost nerd like approach to breaking down a golf swing, he's ruined quite a few others as described in this article by Kyle Porter in 2014. Coincidentally enough, it was only a few weeks after this article that Hunter Mahan scored his last victory on the PGA Tour. Following his win at The 2014 Barclays, he slipped all the way from 19th in the world to 859th as of the summer of 2017.
Every now and then I'd catch him on the telecast to try and get clues on where it all went wrong. His swing was completely broken, and you could see how shattered his confidence was. I often beat myself up on the golf course, cursing my bad shots and frantically search to try and find the right plane, hopelessly incredulous on how to get right. It was eye opening  to watch Hunter Mahan do the same after a wildly blocked tee shot or mishit iron into a water hazard. These guys are normally unflappable, but to see him just lost on the golf course was tough to watch given how good he was at his apex.
So I was very happy to see him score a nice finish at the Safeway Open a few weeks back, finishing T13 for his highest finish in a PGA Tour event since 2015. What impressed me about it was how he was able to put four consecutive solid rounds of golf together. This doesn't sound all that impressive, but for a guy who was as deep in the weeds as he was, any stability in his game can only be seen as a confidence booster.
He certainly has a long way to go, but it would be very nice to see him making cuts and getting into contention more often in hopes of revitalizing his career. Keep an eye out for how he does over the next few weeks. He'll be playing against some lesser fields, and if he can put together a string of solid performances it might be time to put him back on our radar heading into the New Year.
CJ Cup Picks
This weekend the PGA Tour continues it's Asian Swing by heading to South Korea for the first inaugural CJ Cup at Nine Bridges. Given the growth of golf in South Korea, particularly on the LPGA Tour, it was only a matter of time before the PGA Tour would put a regular tour stop in the country to continue to grow the game.
Because it is the first time the event has been played, herein lies the problem to try and handicap the event. We have no historical data points to reference to. This is typically my strategy when  breaking down a tournament by identifying what types of golfers have fared well at the course over the last four or five years, and then picking golfers with similar profiles.
But it's not just cheeky bloggers like me who are scouring Google to find any shred of clues on how the tournament will play. The course has undergone significant renovations over the last few years and no pro in the field has played it in recent memory. The guy with seemingly the most experience for the course – Sung Kang, who grew up near the course and last played it 15 years ago.
So now that I've given you full confidence in my shoot from the hip picks this week, let me tell you what I do know about Nine Bridges. While Nine Bridges plays only 7,196 yards at a Par 72, trouble can find one quickly all over the course. There are numerous water hazards and pot bunkers around the greens and lining the fairways that can ruin a good round in a hurry. I don't think bomb and gauge is necessarily going to be the winning strategy this weekend. It'll be the guys who can set up the best angles to the greens and avoid the big numbers that'll be towards the top of the leaderboard. Therefore, I'm going to try and target solid ball strikers who pepper greens at a high rate and can take advantage of the gettable Par 5's.
ShotLink wasn't available for the CIMB Classic, so once again the 2018 stats are too small of a sample size to gauge the field. For now, you can still use the 2017 stats as a guide, but start incorporating more and more recent form into your analysis as the Fall drags on.
The Favorites:
Justin Thomas – 7/1, $12,100 DraftKings
Paul Casey – 9/1, $11,600 DraftKings
Jason Day – 10/1, $10,600 DraftKings
Xander Schauffele, 15/1, $9,600 DraftKings
Tony Finau, 20/1, $10,200 DraftKings
Marc Leishman, 20/1, $9,900 DraftKings
Pat Perez, 20/1, $9,400 DraftKings
Patrick Reed, 25/1, $9,500 DraftKings
Once again the books and DraftKings do you no favors on finding value towards the favorites. Tournament favorite Justin Thomas has odds that are a little more reasonable than the ridiculous 4/1 he went off at last week. After a slow start at the CIMB he registered a 69-67 weekend to finish strong, so maybe he came out flat in his first tournament back since a tremendous late Summer. I still don't like the 7/1 odds on him, but for matchup plays or to build your DraftKings lineup around him, it's doable given some of the values that can be found.
I was feeling pretty sick about hitching my wagon on Paul Casey after his opening round 77 last week. But he proved why golf handicapping is incredibly difficult. We have much more access to golfers than our dad's did, yet we still have absolutely no idea what shape they'll show up to a golf course at. Maybe he was jet lagged. Maybe he ate some weird street meat from a Kuala Lumpur market that had him searching for the nearest bush to, well, you know. But whatever it was, Casey went 63-69-65 to backdoor a Top 10. Again, 9/1 are bad odds on a guy who hasn't won on the PGA Tour since 2009. But could I see him continue this hot streak to win in South Korea? Absolutely. If you placed a big bet on him at those odds, I wouldn't knock you for it.
If I had to make bet on the tournament winner from this group, though, I like Tony Finau at 20/1. I've long liked his game and feel this is the season he really breaks out. He finished 2nd at the Safeway Open a few weeks ago and is a ball striking machine. In 2017 he ranked 10th in Strokes Gained Tee to Green, 5th in Par 5 Birdie or Better % and 17th in Greens in Regulation %. He's on the verge of breaking through for a signature win on the PGA Tour, and this week might be his chance.
One guy I'm avoiding and hedging against is Jason Day. I'm a big fan of his game but it's just not in tip top shape at the moment. He started to show some signs of life in the FedEx Cup, but even when he was in contention his Greens in Regulation stats weren't where they should be to compete for the win. If he's missing greens this weekend he'll be in a world of hurt, as he'll find himself either at the bottom of an 8 foot pot-bunker or, worse, at the bottom of a lake.  If he does manage to find the putting surface, he could post low scores in a hurry as he is considered a bentgrass green specialist, which is the what the green complexes at Nine Bridges is composed of. But nothing about his form the last few months gives me an impression he can avoid trouble around the green. Best to avoid until he starts to show better form.
Other Contenders:
Gary Woodland – 40/1, $8,300 DraftKings
I'm going back to the well with this guy after he was one of my picks to win last week. He started off well by firing an opening round 66, but the rest of his weekend was fairly pedestrian. I still like his high Greens in Regulation and Par 5 birdie or better rates, and he has the length to hit it over fairway hazards for short irons into the greens. If I liked his odds last week at 30/1, I certainly like them at 40/1 against a comparable field. He should be a solid guy in your DraftKings lineup, a value Win bet or a Top 10 bet this weekend.
Kyle Stanley – 60/1, $7,200 DraftKings, Lucas Glover – 65/1, $7,800 DraftKings, Bud Cauley, 70/1, $7,400 DraftKings
Kyle Stanley and Lucas Glover make a return as middle of the road guys I like this weekend. Glover was solid all four rounds at the CIMB to score a Top 10 finish. Stanley also had a solid performance, but like most weeks his putter really let him down. Both guys are tremendous ball strikers and hit greens at a high rate. Each should be able to avoid the big number to post a solid performance at the CJ Cup.
As for Bud Cauley, he disappointed last week in Malaysia after posting a Top 10 at the Safeway Open the week before. Who knows what exactly went on, but I anticipate a better performance from him this weekend. In 2017, Cauley ranked 25th in Strokes Gained Tee to Green, 9th in Strokes Gained on Approach and 38th in Greens in Regulation %. He's a cheap option for DraftKings that might go unnoticed by the rest of the contest and pay dividends for you.
Harold Varner III – 100/1, $7,200 DraftKings, Hudson Swafford – 125/1, $7,300 DraftKings
Here's a pair of long shots that might serve well in the matchup market or long Top 20 plays. Each of these guys hit greens at a high rate in 2017 and had solid Strokes Gained Approach stats. Both are coming off good weekends at the CIMB (save for Swafford's 78 turd burger in the Round 2), and given all the unknown variables at play this weekend their solid tee to green play could pay off for you.
Chad Campbell – 225/1, $7,100 DraftKings
Feeling bold? Why not put a few smackaroons down on a Top 20 finish for this career underachiever. Campbell was once regarded as a potential rival to Tiger Woods in the mid-2000's but never fully lived up to his hype. He's turned into more of a grinder on the PGA Tour, struggling every year to keep his card. Last week at the CIMB he tanked the first two rounds, but responded strongly by posting a 66-69 weekend. Despite journeyman status on tour, he ranked very well in Strokes Gained Tee to Green, Strokes Gained on Approach and Greens In Regulation % in 2017. If he can continue to perform well in these areas this weekend he could be a surprise top finisher when it's all said and done.
Sample DraftKings Lineup:
Paul Casey – $11,600
Ollie Schniederjans – $8,600
Gary Woodland – $8,300
Kyle Stanley – $7,200
Harold Varner III – $7,200
Chad Campbell – $7,100