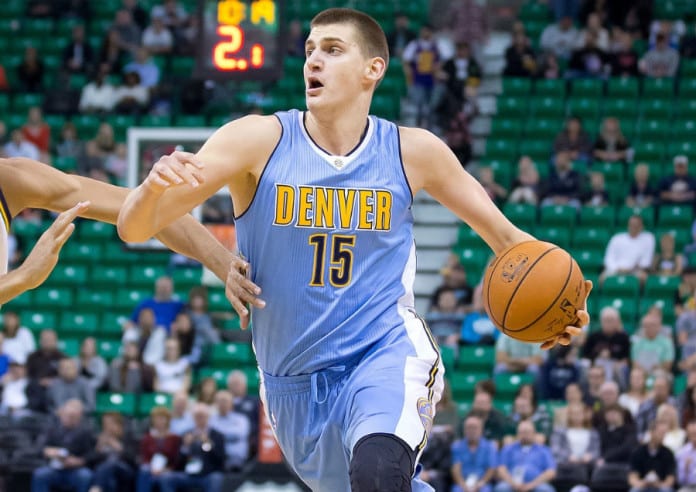 For every NBA team on the famed journey from good to bad to good once again, there comes that season where it's time to put up or shut up. In Philly, we may still be a year away from that moment of judgment, where the process can be officially classified.
There are, however, a few teams who enter this season with a relative urgency to both confirm and showcase that the results of their process have paid off. Teams like Minnesota and Milwaukee who, after striking gold with draft picks and building coherent team identities, are now entering uncharted waters of legitimate expectations that, if missed, will give fans a legitimate right to be heated.
One of these teams, and far and away my favorite of the lot, is the Denver Nuggets. Of course, coming from the state of Colorado, this would have been the perfect piece to infuse some jokes about what a "high-octane" offense these guys are building… if only Kramer had locked up one of those big-time vape pen sponsorships he so badly desires. Either way, Denver projects to be one of the most fun teams to watch this year and, for our purposes, to gamble on.
Last year's Nuggets, led by veteran head coach Mike Malone, chipped their way to a 40-42 record, narrowly missing out on the right to get destroyed by the Golden State Warriors. It's no secret that they weren't a legitimate contender last season, but what most people fail to recognize is that after inserting Nikola Jokic into the starting lineup in mid-December, these guys put together the best offense in the association. I repeat: the best offense in the association. After running a rather respectable offense through the first couple months of the season, hovering around 107 PPG, shit cranked up in Denver, averaging 117 PPG in the month of January and maintaining a similar potency throughout the rest of the season.
Playing Through Jokic
Playing through Jokic at the high post unlocked this offense, not only raising the level of the group but turning average role players into great ones and good role players into mini-stars. Case in point, Gary fucking Harris, aka my favorite player in the league. After the all-star break, Gary's scoring averages bumped from 13 to 17 and shooting percentages from 47 to 53. Perhaps most conducive to the team concept though, is the types of shots that Malone had Harris taking.
He took 48% of his shots within 8 feet of the hoop, and perhaps more impressively was assisted on 68% of these looks. Another 40% of his shots came from behind the three-point line. Don't look now, but Moreyball may be making its way to the Rocky mountains. Dunks and 3's, Dunks and 3's. The more Denver commits to this formula, the scarier their offense can become. Even though it's just preseason, their investment in spacing and efficiency seems to be stronger than ever.
On this fastbreak, Harris sees Mudiay grab the rebound in the middle of the floor. Instead of sprinting to the hoop for a dunk, he plays the pace of the situation perfectly, knowing that Mudiay's aggressive power-break down the middle will open up space for a wing jumper. Harris jogs to the exact spot he wants to get to, playing perfectly off of Mudiay, gets his feet set, and pings the jumper. 3 points instead of 2. This is classic Warriors stuff right here, essentially how Klay Thompson preys on defenses.
Similar situation right here. Off of a live-ball turnover, it's time for everyone to get to their spots. Now, while new addition Paul Millsap probably could have gone up here for a contested layup, he instead moves the ball to turn a good look into a fantastic look. Again, Harris doesn't sprint uncontrollably at 45 degrees to clog space at the rim. He instead flattens his cut straight to the corner, throws up a hand, waits, and bangs.
This is precisely how you turn a good offense into a great one. This is how you turn a toy into a machine. When Mark Jackson coached the Warriors, their 3-point attempt rate was around 29%. During the last couple of seasons under Steve Kerr, that number has climbed to around 36%. Denver is getting there, but there is still work to be done. Shooting 32% of their shots from behind the arc last year is cute, but I expect them to crank it up this year into the 35+ range. It may seem like a small difference, but the effect on their point totals and pace will be more than noticeable.
With Denver doing their best to avoid the inefficient hellhole of the midrange, their offense is built on ball-movement leading to an open 3 or a good look at the rim. Playing through Jokic is the perfect way to balance both of these objectives, as his savvy and ability to manipulate the floor is pretty much focused on making that exact calculus — to help and give space to shooters, or to press outwards and open up cutting lanes.
Watch here how all all three help defenders are worried just enough about their man that Murray has a sizable lane to fill after his fake-Dribble HandOff action with Jokic. Because of Jokic's known ability to whip the ball across the court to anyone, shooters have to be stuck to, meaning the numbers game/basketball calculus will always be in favor of Denver. It's 3 for 3 on one side of the court, with 3 shooters and 3 defenders worried. As Murray comes around Jokic, he does a great job of leveraginging his body to put Kyle Anderson on his back and, in turn, create a 2 on 1.5 situation.
Sure, Anderson is in fine position of Murray keeps goes horizontally or backwards, but the urgency to get downhill to the rim that Malone instills in these cutters creates an advantage. Though Aldridge helps at the last minute, he's too late, giving Murray the opportunity to finish. Still, though, that's Darrell Arthur in the corner, not exactly your ideal floor-spacer. This season, Denver will dare teams to help off of shooters, as Millsap, Harris, and Wilson Chandler (the other 3 starters along with Murray and Jokic) are all above-average from 3-point range.
It's essentially pick your poison. Don't help, and if Murray succeeds on getting behind the defender it's a 2-on-1. Do help, and Jokic or Murray have the option to kick to an open shooter from 3. This type of action is very, very difficult to cover, especially when run over and over again. Cut hard a few times in a row, and one of them is bound to succeed:
Watch here as the initial backdoor look to Harris is taken away. That's fine, as he drags baseline to become the third weakside shooter. Now, Jokic just toys with the defense, and Mudiay is able to work off-ball until he finally gets open. Wiggins, Lavine, and Towns are all frozen in their boots, especially because of the small-ball lineup with Gallo (on the Clippers now), Chandler, and Harris on the floor together. Jokic just moves the ball around above his body to manipulate Rubio, ultimately embarrassing him as Mudiay slices backdoor. Not a shred of help to be found and, if help had come, its easy to see how open a shooter would have become.
Right now, the Nuggets' win total is sitting at 45.5. I'm all about this over, as clearly I think this team has one of the highest offensive ceiling's in the league. Likewise, I'm looking to jump on Over's for their game totals at anything less than 215 (and probably up to 224ish depending on opponent) and individual team totals until Vegas realizes how much of a juggernaut this group is… sure, it's just preseason, but they've put up 108, 113, and 128 in three games thus far.
With the lack of parity in this NBA season, it's going to be important to find teams just below the threshold of elite that you want to play consistently. I expect spreads to be pretty daunting for the Warriors, Rockets, Thunder, Cavs, and Celtics, so finding semi-elite teams early that won't be astronomically favored is going to be crucial for early season success. The hype around Denver is pretty quiet right now and early in the season is going to be the best time to get behind this team.