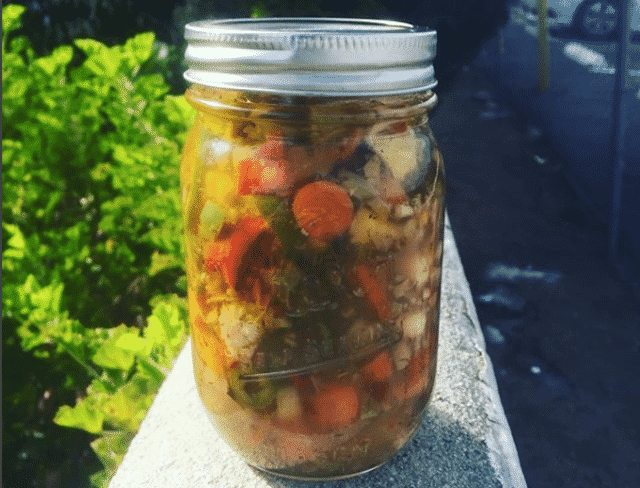 Last season I was so awful at picking games I should've hated every second of every Sunday all season. Fortunately I've been perfecting some recipes during those losses so I actually have something to show for it. For my first installment this year I've decided to share my Giardiniera recipe.
Giardiniera translates to "from the garden" and is an old Italian method of pickling veggies from harvest for the winter. Best known in the Chicago area as the ultimate condiment for beef sandwiches and sausages I have found it to be one of the most versatile things in my kitchen and try to keep a batch in my fridge at all times. You can chop the veggies bigger if you're going for an antipasto thing or as I do, chop them finely for more of a relish.
Anyway you do it it's a precious gift from the Gods. You can always add extra peppers to amp up the heat level or add habanero if you have no feeling left in your mouth. Since it's 100% vegan and gluten free you can gloat how amazing you are to cater to people that don't eat like the rest of us. From pizza to tuna salad, pasta, sandwiches, nachos, omelettes, hot dogs, burgers every tailgate and gameday party gets better with a jar of this stuff. Feel free to play with different colored peppers to get different looks.
1 cup chopped carrots
1 cup chopped celery
1 cup cauliflower florets
1 red pepper diced
6-12 sliced Serrano peppers
1/4 cup kosher salt
1 tablespoon oregano
1 teaspoon black ground pepper
1/2 teaspoon crushed red pepper
3 cloves minced garlic
1 five ounce jar of green olives with pimentos chopped
1 cup canola oil
1 cup white wine vinegar
Water
DAY ONE:
In a non-reactive bowl take all veggies and cover with salt. Add water mixing thoroughly until all veggies are submerged. Cover with plastic and lid and let sit 24 hours.
DAY TWO:
Add spices, garlic, chopped olives and vinegar in separate bowl then whisk oil in until mixture is consistent. Drain saltwater from veggies and rinse well or it will be too salty. Once veggies are rinsed add oil mixture and mix until everything is coated evenly. If needed add more oil.
Cover with plastic and lid again and let sit. You'll want to let it sit at least 48 hours but the longer you let it sit the better it will be. I wouldn't do more than a week but 3-4 days seems to work perfect for me. When ready place in mason jars and refrigerate. Should be good for 4 weeks.