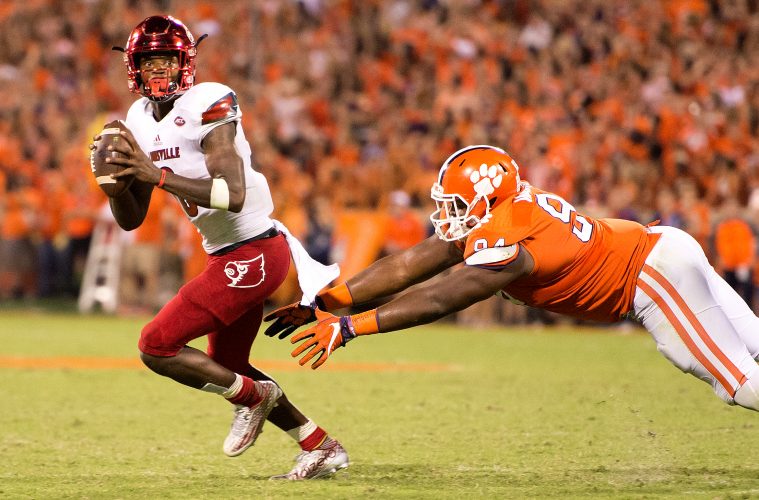 Here is my complete list of Week Three College Football Previews from least important to most important.
Delaware State @ West Virginia
Delaware State has been one of the worst FCS schools of recent and they are continuing that tradition by being 0-2 this season. West Virginia just played a high school team in ECU and should continue to roll past the Hornets.
Samford @ Georgia
Samford is 2-0 and Georgia is coming off a huge victory with their backup QB at the helm. Georgia will continue to roll. The better question is what's up with the QB position for the Bulldogs moving forward?
Mercer @ Auburn
Mercer is 1-1 and coming off a one point loss to Wofford. Auburn is coming off a pathetic offensive performance against Clemson. Look for the Tigers to drop 50 or more.
Furman @ NC State
Furman is already winless on the FCS level at 0-2. NC State came into the year with a ton of hype but opened up with a loss to South Carolina and looked very shaky against Marshall. I called for NC State to be overrated as they were but they should handle Furman in this one.
Arkansas Pine Bluff @ Arkansas State
Arkansas Pine Bluff has already matched their one win total from last year when they beat Morehouse in week 1. Last week the Lions lost at Akron 52-3. Arkansas State is a better team than Akron. See what I'm getting at here?
Georgia State @ Penn State
Georgia State is 0-1 and coming off a bye week, their one game played was a loss at home to FCS Tennessee State. This one will be ugly as Penn State continues to dominate.
Tulane @ Oklahoma
Tulane is getting better there's no denying that but it's still year two in the Willie Fritz era. Oklahoma is coming off their biggest win in some time. OU could come out flat but Tulane isn't ready to play OU close.
Army @ Ohio State
I have some very concerning questions with Ohio State and their offense. Urban Meyer is one of the best coaches in the country so it wouldn't surprise me to see him fix or hide those problems. Army has been very impressive in their first two games but this is obviously where that stops.
Fresno State @ Washington
Jeff Tedford already matched last years win totals at Fresno and covered the spread against Alabama. This will be another blowout loss but I do see Fresno making strides under Tedford.
Northern Colorado @ Colorado
Northern Colorado had their Florida game cancelled last week so they're still 1-0, with the one victory coming against a school called College of Idaho. Colorado came into the season with a questionable defense and a high powered offense but it's been the exact opposite. The Buffs offense has struggled while the defense has been quite impressive. Buffs will need to get the offense up to speed because the Washington Huskies come to Boulder next week.
Louisiana Lafayette @ Texas A&M
Texas A&M needed a fourth quarter rally to beat FCS team Nicholls State. The seat is hot for Sumlin but he should move the Aggies to 2-1 as LA Lafayette is in the rebuilding process.
Air Force @ Michigan
Air Force is 1-0 and Cincinnati played Michigan tough. Air Force is a better team than Cincinnati so there should be some optimism there but I can't see the triple option attack doing much against that Wolverine defense.
San Jose State @ Utah
San Jose State is coming off a getting shutout against Texas. Utah won their rivalry game vs BYU. The Utah offense continues to develop with a decent performance against the Spartans.
Morgan State @ Rutgers
Rutgers really let me down last week against Eastern Michigan, the team had plenty of chances to win or tie the game and just came up flat. Morgan State is winless and was one of the worst FCS schools last year. If Rutgers can't win this they don't deserve to have a football program.
Southern @ UTSA
Southern Miss just handled Southern last week with a 45-0 beat down. The bad news is the UTSA is projected to be better than Southern Miss this year so this one could be even uglier.
Idaho State @ Nevada
Idaho State is 1-1 and coming off a blowout loss @ Utah State. Nevada is 0-2 but has played decent in both losses. Look for the Wolfpack to finally put things together and get their first win of the season.
Alabama A&M @ South Alabama
Alabama A&M is awful but that's exactly what South Alabama needs after playing @Ole Miss and at home to Oklahoma State. This one should be ugly as the Jaguars should achieve thier first win.
Tennessee Tech @ Ball State
Tennessee Tech is another awful FCS squad so Ball State should be 2-1 after a nice performance against UAB where they put up 51 points.
North Carolina A&T @ Charlotte
Woah now this one could end up being compelling. North Carolina A&T is 2-0 on the season with those scores adding up to 101-3. Charlotte has just 14 points on the year and has given up 79 points. Yes, those were most likely against two bowl teams in Eastern Michigan and Kansas State but still North Carolina A&T could give the Charlotte 49ers a game.
Bethune Cookman @ Florida Atlantic
I'm not sure if this game will actually be played considering more than half the state is without power but FAU sure hopes it is so they can perhaps finally get a win. Bethune Cookman is 1-1 and played Miami (FL) decent in the 1st half so there's plenty of reason why Cookman could keep this close.
Colgate @ Buffalo
Buffalo really collapsed last week against Army in a game where they probably should of won. Now in comes Colgate who despite their 1-1 record, is a very solid FCS team. Buffalo should win this game but if they come in thinking this one is a cake walk they could lose.
Appalachian State @ Texas State
App State destroyed Savannah State last week after the opening season loss to Georgia. Texas State is coming off a blowout loss @ Colorado. The one nice take away from the blowout loss to the Buffs was the Texas State run defense looked solid. App State is a run first team so perhaps TSU can keep it somewhat close. I have my doubts but maybe App State is overlooking this one.
Rice @ Houston
Rice opened up week zero in Australia where Stanford just absolutely destroyed them. After a week off from the long travel Rice upset UTEP and got their first win of the season last week. Houston finally played a football game and went west to Tucson where they beat the Pac 12's Arizona Wildcats. Look for Houston to continue to develop with a nice sized win over Rice.  
Coastal Carolina @ UAB
UAB is coming off a loss to Ball State where they gave up 50 plus points. Coastal Carolina had the week off but is undefeated with their lone game being a win at home against Umass. This should be a decent game that could come down to the final possession.
Bowling Green @ Northwestern
Wow not a great start for either team. Northwestern came into the season with a ton of hype only to struggle with a win against Nevada and get absolutely dominated by Duke. Bowling Green opened up with a blowout loss to Michigan State before losing to FCS South Dakota at home. Ouch. Look for Northwestern to finally get on track with a big win.
North Texas @ Iowa
Iowa is coming off the big win against their hated rival Iowa State. So perhaps they look past a somewhat decent North Texas team. North Texas is coming off a blowout loss to SMU but their offense looked decent in that game. Iowa should overpower North Texas but every once in awhile Iowa lays an egg.
Arizona @ UTEP
The seat is mighty hot for Rich Rodriguez after losing to Houston at home. You can go ahead and say this is a must win game for him. UTEP looks bad after a big loss at Oklahoma in week 1 and last weeks loss to Rice. Look for Arizona to finally get the run game on track and move to 2-1 before conference play begins.
Idaho @ Western Michigan
Originally I thought this game was going to be a pretty decent game considering Idaho was a solid bowl team last year and Western Michigan had quite the cinderella season last year. Now comes in Idaho fresh off a home blowout loss to UNLV. Western Michigan is 0-2 but they played at USC and Michigan State and played somewhat well in those games despite the final results. Look for the Broncos to finally get the win they deserve.
Virginia Tech @ East Carolina
This one could be really ugly. ECU has known to be a thorn in Virginia Tech's side throughout the past decade or so but man have times changed at ECU. They have maybe the worst defense in the nation but they did just fire their defensive coordinator this week so there's that. ECU has also won two of the past three but let's not kid ourself those were different teams. VT is loaded on defense so I wouldn't expect much from the ECU offense. The only real concerning thing would be that this game is played at ECU where they have a great home crowd. This isn't happening though. Hokies roll big.
Troy @ New Mexico State
Troy is one of the favorites in the Sun Belt and rightfully so, the team is loaded with veteran players at almost every level. New Mexico State is a bit underrated and a solid sleeper to be a player in the Sun Belt this year. The Aggies played decent to open the season at Arizona State and they have some nice talent at the skill positions on offense. They are coming off a great rivalry win against New Mexico so perhaps they aren't ready for this Troy team. Troy handles business.
Kent State @ Marshall
Kent State got rolled by Clemson in week 1 but then held on against Howard who had upset UNLV the week before. Plus the Golden Flashes finally get their head coach back after having surgery to remove cancer. Marshall is coming off a loss to NC State where they really played the Wolfpack tough and almost came up with a win. I like the Thundering Herd and Marshall to win big at home.
Umass @ Temple
I was really convinced Umass was going to be a lot better than they are coming into the season. They just can't find a way to turn the corner but perhaps this game could be the one? Temple got blown out at Notre Dame and struggled against Villanova before pulling off the win. I still like the Owls in this one but Umass could give them a game.
Colorado State @ Alabama
This game probably shouldn't be 34th but come on its Alabama! Colorado State is a really good mid major football team but come on, playing at Alabama? If Bama somehow struggles on offense CSU could really surprise but come on its Alabama. Tide roll big despite CSU being better than people think.
Kansas @ Ohio
I thought Kansas would beat Central Michigan last week and boy was I wrong. Ohio is a pretty good football team that is coming off a bad loss at Purdue but Purdue is better than the Purdue's of the past. Give me Ohio to beat the Jayhawks but the game could be close.
Uconn @ Virginia
It's really hard what to make of this game. Uconn looked pretty bad in week 1 vs Holy Cross but came back to get the win. Virginia beat down William & Mary from the FCS level before losing big to Indiana. I think Virginia should be able to handle this game but maybe the Huskies keep it close.
Southern Miss @ Louisiana Monroe
Southern Miss looked pretty good last week handling Southern. Louisiana Monroe had a week off due to the Hurricane in Florida. LA Monroe did play decent at Memphis in the season opener so perhaps they can keep this game close in their own backyard.
Cincinnati @ Miami (OH)
Cincinnati really played up for the Michigan game after a lackluster win over an awful FCS squad in Austin Peay. Miami (OH) opened with a tough loss at Marshall, then Miami (OH) took on the same very shitty FCS squad in Austin Peay and beat them with a nice 31-10 victory. Something has to gotta give here. Should be a good one.
Utah State @ Wake Forest
Wake Forest has really impressed me this year with convincing wins in both of their games. Utah State is a solid football team that played with Wisconsin for one half and then beat up FCS Idaho State pretty bad last week. I like Wake to continue their ways but don't sleep on Utah State.
SMU @ TCU
This could be a very compelling game. TCU looks to be the real deal with a nice win @ Arkansas but perhaps they take this game lightly. SMU has been getting better every year and they barely missed out on a bowl game last year. This year they are 2-0 and I believe this is the year they turn the corner and make a bowl game. The team has some really nice talent, especially at the skill positions.
Northern Illinois @ Nebraska
Nebraska has some problems with the defensive side of the ball but you could argue that Oregon was lucky there wasn't a few more minutes on the clock. The Cornhuskers had a great comeback going before the clock ran out. Northern Illinois lost to BC week one on a field goal that hit off the upright. They are not known for their passing so perhaps they play into the strength of the Nebraska defense.
Tulsa @ Toledo
This should be a great mid major matchup. Tulsa really found their offense last week against Louisiana Lafayette and Toledo kept their undefeated season rolling with a nice road win @ Nevada.
Baylor @ Duke
Baylor has struggled in basically every facet of the game but new coach Matt Rhule finally went and made a QB change benching the 5th year senior Anu Soloman for sophomore Zach Smith. We'll see what that transition offers. Smith is much more of a pocket passer than Soloman so the passing game should get better. Duke has looked really impressive thus far this season. Daniel Jones is perhaps the best quarterback in the nation that no one has heard of. I look for the Blue Devils to keep the ball rolling.
Oregon State @ Washington State
Gary Anderson and Oregon State have all sorts of problems and the schedule is now getting tougher with a trip to Pullman. Washington State was very fortunate to win last week despite their starting QB Luke Falk getting knocked out of the game. Regardless who is QB they should win this one with the way OSU has looked recently.
Iowa State @ Akron
This is a interesting matchup. Akron is going to be a solid mid major this season despite being blown out by Penn State. Terry Bowden has this program going in the right direction. Iowa State should of won last week against Iowa but really let one slip through their hands. That happens with young coaches and young teams. The team needs to learn how to win and handle leads and this will be a great test.
Illinois @ South Florida
South Florida despite being 2-0 has really underachieved this year. Lovie Smith is perhaps a year or two away but wait his team is 2-0 as well and you could argue that they've been playing just as good if not better than the Bulls. I like Lovie and the points in this one.
Middle Tennessee @ Minnesota
Minnesota look much improved from week 1 to week 2 with a nice road victory in Corvalis. Middle Tennessee got owned by Vanderbilt in week one but came back in week two to upset Syracuse on the road. This should be a close matchup with perhaps the winning teams QB making the difference.
Central Michigan @ Syracuse
Shane Morris looked great last week for Central Michigan! Yeah I know it was against Kansas but he made great strides from week 1 to week 2. Syracuse can't afford another mid major upset so they must find their rhythm. This should be another fun matchup.
New Mexico @ Boise State
New Mexico almost pulled off a great comeback last week only to fall short to in state rival New Mexico State. I had New Mexico winning that game so that was pretty surprising. New Mexico has gave Boise some pretty good games recently but when it comes to games on the blue turf I go Boise just about every time. Plus, Boise had a heartbreaking loss last week so they'll be well aware of what they need to do to continue to make this season successful.
Louisiana Tech @ Western Kentucky
I originally had this game rated higher seeing how these have been the best two teams in the conference USA the past couple years but this year there's some real concern for both these schools after getting beat last week. This should still be a great conference matchup between two teams that have somewhat developed a rivalry now. I expect this one to be close all the way to the final minutes.
Notre Dame @ Boston College
Notre Dame really botched the game last week. They had plenty of opportunities but came up short. BC on the other hand not only got demolished at home to Wake Forest but they also lost their best offensive lineman for the season. This game has historically been a great matchup but I expect the Irish to let the Eagles have it this year.
Wisconsin @ BYU
Who knew the BYU offense would be this terrible? Last year they seemed to be a pretty good offense so what the heck has happened? The defense is still solid but when you spend 80 percent of the game on the field its almost impossible to hold up. Originally I thought this was a trap game for Wisconsin but I like the Badgers to get things done in Provo.
Arizona State @ Texas Tech
This weeks arena football game. Two high powered offenses and wait what? Could it be Texas Tech actually played a decent game of defense against FCS heavyweight Eastern Washington. ASU has already proven that their defense is absolute trash. I think Todd Graham is already on his way out the door but hey I've been wrong before.
North Carolina @ Old Dominion
ODU begins the ACC part of their schedule. This week they welcome UNC and next week they travel to Blacksburg to take on Virginia Tech. ODU struggled some last week but got the victory on the road against Umass. They're going to need a much better effort to beat UNC, despite the Tarheels being 0-2 on the season.
Ole Miss @ California
This is a weird game. Ole Miss looks to have some problems on defense and well Cal hasn't been known for great defense in quite some time. The Golden Bears did lose their starting running back for the year last week so that could play a factor but Cal has looked pretty impressive to me. The defense will need to shut down one of the SEC's slept on great QBs in Shea Patterson.
Oregon @ Wyoming
Oregon looked pretty darn good last week but we'll see if they can continue that on the road. Josh Allen struggled against Iowa but I don't think that was all his fault. The Oregon defense struggled against Tanner Lee some so we'll see how Josh Allen does. Should be a great crowd and a decent game.
Purdue @ Missouri
Missouri fires their defensive coordinator after two games? Hey, I get it but I'm not sure thats going to fix the problems headed their way. Meanwhile Purdue is looking like a team that could be dangerous in the future considering this is Brohms first year as coach of the Boilermakers. I expect Purdue to be in this game late and may just win it out right.
Stanford @ San Diego State
Stanford will need to fix that run defense despite playing a running team that dismantled Arizona State last week. I think the Cardinals will be up to task but they better not slip because San Diego State has a very talented team.
Oklahoma State @ Pittsburgh
I'm still not sure this is going to be a close game but Pitt is always one of those teams that can look like shit for a few weeks and then beat the best team in the country. I highly doubt that happens Saturday but Oklahoma State has been known to get upset on the road before.
UCLA @ Memphis
This is a compelling matchup with two great QBs squaring off. Memphis had the week off due to the hurricane so they should be fully prepared to take down Josh Rosen and company. Meanwhile UCLA might be able to make this season special after that amazing come from behind victory against Texas A&M.
Kentucky @ South Carolina
Kentucky is 2-0 but they have not looked like a very good team to me, but I suppose 2-0 is 2-0 at the end of the day. South Carolina looks to be a real player in the SEC East. Jake Bentley is looking like the real deal and Muschamp has his Gamecocks playing some good defense. I like South Carolina in this one but maybe Kentucky wakes up and gives them a game.
Kansas State @ Vanderbilt
Who would of thought this would be one of the better games of the week. Vanderbilt has really impressed me thus far this season and Kansas State has looked great despite not facing any real competition. This should be a defensive struggle that would have to favor Kansas State but hey Vandy has looked pretty damn good so far.
Texas @ USC
Texas has talent we all know that. USC is coming off their biggest win in september in some time. This game still screams trap game to me despite how bad the Texas defense looked against Maryland. Tom Herman could really use this one after the media's overreaction to the Maryland loss.
Tennessee @ Florida
Tennessee should of lost against Georgia Tech, I don't care what anybody says but Butch Jones literally is the luckiest coach I've ever seen. It's better to be lucky than good though so perhaps Tennessee can pull the upset on a Florida team thats been offensively challenged since Tebow left.
LSU @ Mississippi State
The main question here is how good is LSU really? I mean they dominated BYU and Chattanooga but does that even mean anything? Mississippi State had a real nice win at Louisiana Tech and Nick Fitzgerald is the real deal. This game is must watch tv come saturday because i expect it to go down to the wire.
Louisville @ Clemson
Lamar Jackson is a amazing but come on did you watch that Clemson defensive line last week? They've got to be the best D line in the nation. Meanwhile despite Louisville being 2-0 for the season there is quite a bit of concern on the defensive side of the ball when i look at this team. Clemson did just play a huge game and I'm sure Jackson has had this one circled since last year but I just don't think this Louisville team is as good as last years. Give me the Tigers to come into town and get the W.