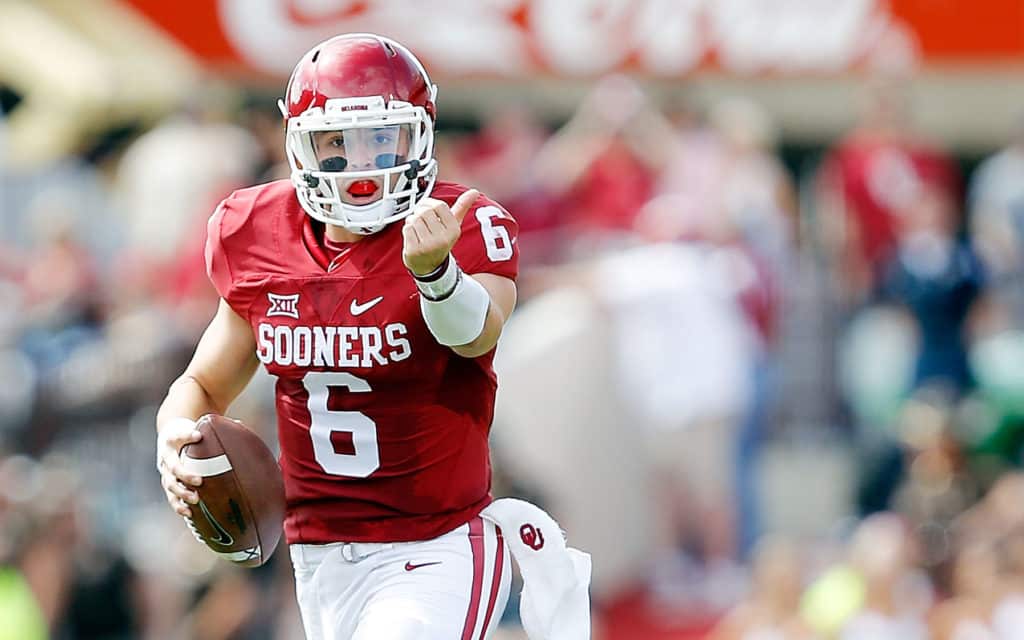 I've rated all 75 games on the slate for week 2 from worst to best and why you should want to tune in this weekend.
75. Northern Colorado @ Florida – Florida is coming off a royal ass whooping after only getting 3 offensive points in the game vs Michigan. Florida should also return some of the many suspended players I would think. Northern Colorado is a decent FCS team but this game should be over by the end of the first quarter, assuming Florida can move the ball.
74. Montana @ Washington – The Huskies struggled a bit at Rutgers but turned it on late to run away with it. Montana has long been a great FCS school but coming into Seattle with hope for a victory is just stupid.
73. Chattanooga @ LSU – LSU did what it had to do and completely dominated BYU. BYU only had 94 yards of total offense but Chattanooga might have a better offense than BYU. Still, this shouldn't be much of a game
72. Nichols State @ Texas A&M – If Sumlin still has his job this game should help fans breathe a little bit. Nichols State gave Georgia a game last year in Athens so don't go thinking this is a 100 percent sure thing like you did in the 2nd half of that UCLA game.
71. Indiana State @ Tennessee – I can't fully cover Tennessee since they play on tonights Labor Day matchup but come on Indiana State isn't even a FCS juggernaut. The Vols will destroy them as they prepare for the following weeks matchup vs Florida.
70. Fresno State @ Alabama – Fresno State won its first game under head coach Jeff Tedford! The win however, was against Incarnate Word. Tedford has already matched last years win total and he's only coached one game so maybe he's got some momentum. Alabama needs to continue to develop their offense and this is the perfect opponent to do so.
69. Abilene Christian @ Colorado State – The CSU offense struggled against Colorado despite the questionable refs. Look for the Rams to rebound with a big time performance.
68. Alabama State @ Troy – Both teams are coming off a tough loss the only difference is Alabama State's was to Tuskegee while Troy's was at Boise State. Troy should completely destroy Alabama State.
67. Louisiana Monroe @ Florida State – Florida State not only blew their chance to take down Alabama but they lost their star quarterback in Deondre Francois for the year. The good news is that they get to break in their new QB against the sun belts Louisiana Monroe who is coming off a loss to Memphis. Monroe covered the Memphis spread and played them pretty decent but let's get serious this game is against Florida State! Me or you could QB the Seminoles and they'd still lose.
66. Arkansas Pine Bluff @ Akron – Arkansas Pine Bluff had a nice win last week against Morehouse College. Considering that Arkansas Pine Bluff was 1-11 last year that's a big first week. Meanwhile Akron got completely obliterated by Penn State. I think Akron rebounds quite strong and makes a statement.
65. Austin Peay @ Miami (OH) – Miami lost a close one on the road to the Marshall Thundering Herd. Austin Peay who was winless in 2016 played Cincinnati somewhat decent despite losing. Miami should be a lot better than Cincinnati though.
64. Alabama A&M @ Vanderbilt – Lost in last weeks games was the really impressive performance Vanderbilt put on at Middle Tennessee. I actually figured Middle Tennessee would win that game straight up. Alabama A&M got killed 38-7 last week to UAB. See the problem here?
63. Gardner Webb @ Wyoming – Wyoming had their chances to beat Iowa and couldn't capitalize. Gardner Webb looked terrible last week losing 45-3 to North Carolina A&T. Josh Allen and the Cowboys will get to unload their anger on Gardner Webb.
62. Charlotte @ Kansas State – The 49ers are coming off a bad loss to Eastern Michigan and it's not going to get any better. Kansas State dominated FCS Central Arkansas who is probably a better team than Charlotte. The one thing the 49ers can hope for is perhaps some bad weather.
61. Towson @ Maryland – Wow, Maryland was perhaps the biggest story in college football this past week. The team looks like it could be a player in the big ten. The best time to catch any the Terps may just be this week. Towson did shutout Morgan State last week. Maryland wins this one big!
60. Savannah State @ Appalachian State – App State couldn't get their magic going last week at Georgia but I'm sure they will this week. Savannah State had the week off last week so they'll be fresh. Fresh for a big ass beating though.
59. Eastern Kentucky @ Kentucky – Western Kentucky beat Eastern Kentucky by 14 while Kentucky got past Southern Miss by 7. Kentucky should handle this one but it's always interesting to watch these in state games.
58. Tennessee-Martin @ Ole Miss – Ole Miss looked good in the week 1 win vs South Alabama so this one shouldn't be much of a game. Tennessee Martin did beat Clarion 36-0 but let's be honest, none of us even knew Clarion was the name of a university.
57. Eastern Illinois @ Northern Illinois – Northern Illinois had their hearts broken as they missed a game tying field goal off the goal post. Eastern Illinois squeaked out a win against Indiana State. Much like the Eastern Kentucky vs Kentucky game this could be interesting because it's in state. Remember last year when Eastern Illinois upset Northwestern? Northern Illinois will play desperate because this is a must win for them.
56. Delaware @ Virginia Tech – Virginia Tech looked pretty darn good against West Virginia but maybe they won't take this game seriously. Delaware is coming off a 22-3 win over in state rival Delaware State. The only problem is Delaware State is one of the worst FCS teams in the country.
55. San Jose State @ Texas – San Jose State played a great first quarter in week zero against South Florida before it all came tumbling down. Last week they beat a decent FCS squad in Cal Poly. Texas well you know what happened to Texas. They'll rebound strong or perhaps they'll start missing Charlie Strong.
54. Texas State @ Colorado – Texas State came up with a nice 20-11 win over Houston Baptist. Colorado surprisingly played better on defense than they did on offense. The Buffs will use this game to get the offense right.
53. Jacksonville State @ Georgia Tech – Much like the Tennessee game I can't really write up much on Georgia Tech besides the fact that normally the triple option attack destroys FCS programs. Jacksonville State is a pretty good FCS team that is coming off a 27-13 win over Chattanooga so perhaps there's hope.
52. Florida Atlantic @ Wisconsin – Lane Kiffin really let me down last week against Navy. I expected the Owls to be much further along with their offense. Wisconsin finally woke up against Utah State and then destroyed them like we knew they should of. Utah State is most likely a lot better than Florida Atlantic. See the problem here?
51. Cincinnati @ Michigan – I want this game to be good but Harbaugh is too good of a coach. Cincinnati didn't look too good last week but they got the win over Austin Peay. Michigan will continue to develop their youth.
50. Idaho State @ Utah State – Idaho State opened up with a nice 37-6 win over Western Oregon but now they get a Utah State team that is coming off a blowout loss to Wisconsin. Utah State should be angry and come out with a chip on their shoulder. This is the lone thursday night game so why not tune in?
49. Hawaii @ UCLA – What do we have hear? The 2-0 Hawaii Rainbow Warriors are already off and rolling. UCLA is coming off one of their biggest wins in recent years with the 34 point comeback win against Texas A&M. I expect the Bruins to continue to ride the momentum.
48. Weber State @ California – Somewhere lost in Saturday's fun was the California Golden Bears going cross country to Chapel Hill and getting the W. Most people, myself included thought the Bears would be pretty bad this year but perhaps we don't know shit. Weber State is a decent FCS team so they need not take this game lightly. Weber State is coming off a 76-0 win over Montana Western.
47. Alcorn State @ Florida International – Butch Davis's first game at Florida International most likely required a bottle of whiskey after Central Florida destroyed the Panthers. Perhaps now could be the time to get your first win. Alcorn State is coming off a nice 50-21 win over Miles University. It's time for Butch to get that first win.
46. South Dakota @ Bowling Green – South Dakota is coming off a nice 77-7 win over Drake! Bowling Green got beat up by Michigan State. Bowling Green will need to get on track and not take this game too lightly.
45. Southern @ Southern Miss – Southern got their first win of the season yesterday with a nice 14-8 win over South Carolina State. Southern Miss is coming off a close home loss to Kentucky by 7. Southern Miss will use this game to get back on track.
44. New Hampshire @ Georgia Southern – The New Hampshire Wildcats pulled off a nice 24-23 win over the Maine Black Bears while Georgia Southern was getting the tar kicked out of them at Auburn. Look for Georgia Southern to rebound, New Hampshire is a decent FCS school though.
43. Howard @ Kent State – No way. The biggest upset in college football history! Howard 45 point underdogs beat UNLV in Vegas last week in Mike London's first game. Now comes week 2. Kent State doesn't have their head coach who is out with health concerns and they're coming off a blowout loss to Clemson. In that loss Kent State threw six passes all game only completing one for just one yard! They benched one of their quarterbacks without him actually throwing an actual pass which just might be the funniest thing i've ever heard. This could play into Howard's favor.
42. Villanova @ Temple – Villanova is coming off a 38-35 victory over Lehigh meanwhile Temple is still adjusting from the Notre Dame ass beating they endured in South Bend. This is a backyard matchup which means it could be a good one. Villanova has been a good FCS squad for years now.
41. East Carolina @ West Virginia – I thought this maybe could of been a good game but that's because I'm a ECU fan and i completely had my blinders on. ECU lost at home to James Madison by 21 points and could of been worse. I also learned that ECU hasn't had physical practices. Meaning no tackling or hitting! I'm still outraged. ECU has a decent roster talent wise but after watching the JMU game I'm convinced this might be a 70-7 type score.
40. Old Dominion @ UMASS – Umass should of beat Hawaii in week zero but they blew it. Then they played Coastal Carolina in Coastal's first ever FBS game and they lose despite being favored. Old Dominion is building a good program. Umass has talent but must find a way to not kill themselves.
39. Louisiana Lafayette @ Tulsa – Tulsa is coming off a royal ass beating from Oklahoma State so I'm sure they have this game circled. Louisiana Lafayette snuck by FCS Southeastern Louisiana 51-48. Look for Tulsa to rebound big in this one.
38. Rice @ UTEP – What to make of this one? Both teams are coming off huge blowout losses. Rice has had a week to think about what went wrong while UTEP is freshly dealing with it. This should be a close game.
37. UAB @ Ball State – UAB welcomed back football to their program with a nice blowout victory in front of packed house, but now they hit the road. Ball State really played good enough to beat Illinois but fell just short.
36. New Mexico State @ New Mexico – The rivalry is back! New Mexico State impressed me despite losing at Arizona State. New Mexico is coming off a nice 38-14 win over Abilene Christian. The Lobos lost this game last year so look for them to get some revenge. New Mexico State has some nice talent on offense. This should be a fun one.
35. Buffalo @ Army – Buffalo exceeded expectations and really gave Minnesota all they could handle. Army looked amazing against Fordham. Buffalo won this game last year so perhaps Army wants revenge.
34. UNLV @ Idaho – UNLV head coach Tony Sanchez really could use a win after losing the Howard game. Idaho is coming off a nice win against Sacramento State and has a bowl game in their sights.
33. North Texas @ SMU – North Texas destroyed Lamar last week 59-14. SMU took down Stephen F Austin 58-14 that very same day. Do you see what I see? North Texas is one point better than SMU? I doubt it but hey this could be two bowl teams this year.
32. South Florida @ UCONN – South Florida keeps winning despite looking very questionable against San Jose State and Stony Brook. UCONN needed a late rally by their backup quarterback just to be Holy Cross. Something's gotta give right? I guess I'll take South Florida to pull away late?
31. Toledo @ Nevada – Nevada gave Northwestern all they could handle last week but fell short. Toledo blew out Elon and now has to travel cross country. This could lineup to be a pretty good game.
30. Central Michigan @ Kansas – Kansas is undefeated! Kansas is undefeated! Yes they beat up on Southeast Missouri State but hey a win is a win. Central Michigan needed overtime just to beat Rhode Island.
29. Western Kentucky @ Illinois – Western Kentucky beat up on in state Eastern Kentucky last week while Illinois took down Ball State. Could we possibly see a 2-0 Lovie Smith Illinois team? Western Kentucky has been one of the better mid majors throughout the past 10 years.
28. Tulane @ Navy – Both teams are 1-0. Both teams run the triple option attack. Both teams play this Saturday! If you like power football watch this game. I was really impressed with both teams last week so this should set up to be a nice little conference game.
27. Ohio @ Purdue – Purdue was pretty impressive last week against Louisville but they came up just short. Ohio is fresh off a dominating performance against Hampton. Frank Solich always has Ohio as a threat to be a thorn in power 5's side. Could Purdue be looking past this game?
26. UTSA @ Baylor – Welcome to Baylor Matt Rhule. As my friend Sean Green noted, "Baylor deserves some terrible karma". Well it appears he was right with Liberty pulling off one of the biggest upsets in recent years. UTSA was supposed to play Houston but the Hurricane ruined the game. UTSA is a better team than Liberty so good luck Baylor.
25. Middle Tennessee @ Syracuse – Syracuse blew out Central Connecticut State but come on its Central Connecticut State. Middle Tennessee was a real let down for me last week as they got owned by Vanderbilt. This could be a shootout.
24. Minnesota @ Oregon State – Minnesota got the win last week for PJ Fleck but it sure wasn't pretty. Speaking of ugly football Oregon State barely got past FCS Portland State. The Beavers really need this game if they want any hope at a bowl game this year.
23. Miami (FL) @ Arkansas State – Arkansas State gave Nebraska all they could handle but couldn't make it happen. Miami (FL) beat up on Bethune Cookman but it took a while for the Canes to really open things up. If they don't get their shit together this could be a trap game for the Canes.
22. Marshall @ NC State – Look there's no shame in losing to South Carolina but come on I called for it. NC State is just known to be a team that folds whenever they're hyped up. The wolfpack have a ton of talent there is no denying that but can they put it all together? Marshall came up with a nice win against a good Miami (OH) team in week 1.
21. Oklahoma State @ South Alabama – Okay I know this game shouldn't be this high but let me make my point. First off the game is at South Alabama who has pulled off a few upsets the past couple years. Second, OK State looks dominate but they always seem to lose a game to a team they shouldn't (Iowa State, Central Michigan). This is probably Gundy's best team at OSU so it will probably by a 50 point win for the Cowboys.
20. San Diego State @ Arizona State – San Diego State got a nice week 1 win against FCS UC Davis. Arizona State took down New Mexico State but I wasn't really impressed, the Sun Devils had the game but kept letting the Aggies back into the game. This could be a dangerous one if AZ State doesn't find a way to improve on defense.
19. Wake Forest @ Boston College – A conference and divisional game between two undefeated ACC teams? This should be a good one. I was impressed with both teams last week as Wake took down a FCS team and BC won a big game at Northern Illinois.
18. Indiana @ Virginia – Virginia beat William & Mary in Charlottesville while Indiana got blown out by Ohio State. Indiana still impressed me enough to think that the Wahoos might have a tough time this Saturday.
17. Western Michigan @ Michigan State – Western Michigan really impressed me last week at USC. Michigan State had a slept on solid performance at home against Bowling Green. This could be a real close game if WMU comes to play like they did last week.
16. Iowa @ Iowa State – The Iowa defense really shut down the Wyoming offense last week. Iowa State got revenge on FCS Northern Iowa. Iowa State now wants revenge on Iowa from the Hawkeyes beating they gave the Cyclones last year. Should be a great game.
15. Mississippi State @ Louisiana Tech – Louisiana Tech pulled away late against Northwestern State which didn't really impress me. Perhaps they were looking past NW State and looking forward to this game. Mississippi State handled FCS playoff team Charleston Southern. Skip Holtz better get his Bulldogs to play up for this one.
14. Memphis @ Central Florida – This is a huge conference game coming in week 2! With South Florida looking vulnerable and Temple, Cincinnati, UCONN and East Carolina all struggling this could be Central Florida's division to win. Meanwhile in the western division Memphis is supposed to battle Houston for the division but Navy, SMU & Tulane have impressed.
13. South Carolina @ Missouri – Missouri sure loaded up on points last week but let me assure you South Carolina is not Missouri State. South Carolina was really impressive in the upset of NC State and now looks to get out early on the SEC East with a win in Columbia.
12. Northwestern @ Duke – Duke destroyed NC Central while Northwestern came from behind to beat Nevada. Northwestern had a ton of hype heading into the season while almost everyone picked Duke to struggle. This should be a close game regardless.
11. Houston @ Arizona – Rich Rodriguez and Arizona need this game. The Wildcats looked great against Northern Arizona but can they keep the momentum going? Houston coach Major Applewhite not only wants to win his first ever game as head coach but the Cougars want to win for their city. Houston has beaten a power 5 school in each of the past three years.
10. Utah @ BYU – It's one of the best rivalries in the country and they say you should throw out the records when these two teams play. Still, I can't help but note that the BYU offense has looked awful in its two games vs Portland State and LSU. Utah struggled at times breaking in the new offense but still blew out North Dakota.
9. Louisville @ North Carolina – Louisville didn't exactly look dominate in a game vs Purdue where they were favored by 26 points. North Carolina is fresh off California upsetting them so this game is even more important.
8. Nebraska @ Oregon – Nebraska got past Arkansas State and the Big 10 is looking like the best conference in the country but Washington did beat fellow Big 10 foe Rutgers and Oregon State gets Minnesota this very same day. That means this game could be a big factory in the conference argument. Not that any of that really matters but this game is one I've had circled all offseason. Oregon is 1-0 but has yet to be tested. This should tell us something.
7. Boise State @ Washington State – Boise won this game last year in Boise, Wazzu wants revenge. Boise needs this game for their resume if they want to make a push to be the top from the group of five.
6. Pittsburgh @ Penn State – Penn State has revenge on their mind after losing to Pittsburgh last year. Akron didn't score a point on PSU and Pittsburgh needed overtime to take down Youngstown State. This game could get ugly if Pitt repeats that performance.
5. TCU @ Arkansas – Both these teams blew out FCS teams so who knows how good they are. Last year this was a great game that Arkansas stole from TCU. The Big 12 could use a nice marquee victory.
4. Georgia @ Notre Dame – Notre Dame finally looked like they should by blowing out Temple. Georgia was impressive with a nice win over a very good Appalachian State team. Jacob Eason's health could be the difference in this game.
3. Auburn @ Clemson – How could I put this game 3rd? It's a big time game but the other two are bigger. Auburn wants revenge and is untested. Clemson looked unstoppable last week against Kent State. This is must watch tv.
2. Stanford @ USC – This is a huge conference game! USC looked a bit overrated in week 1 while Stanford looked amazing in week zero. If USC wants to be the so called playoff team that everyone called for they'll need to play much better this week. Stanford has had a week to sit back and watch.
1. Oklahoma @ Ohio State – Both teams handled their opponent in week 1. Ohio State has one of the best defensive lines in the country. Oklahoma has perhaps the best offensive line in the country. Something has to give. The Sooners are looking for revenge from last years win from Ohio State. The Ohio State secondary struggled a bit so I'd expect Lincoln Riley to test them early and often.