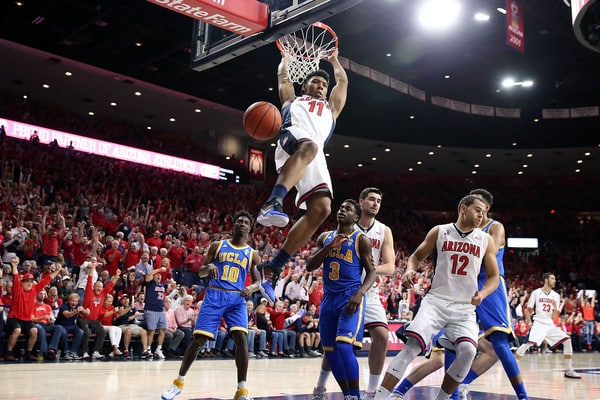 Written By: Colby Dant (@TheColbyD)
Hey, were less than two weeks away from the start of the college basketball season! Life doesn't get any better than this.
PAC 12 Basketball Preview
1. Arizona Wildcats
Sean Miller and the Wildcats are coming off a tough season where they got upset by Wichita State in the first round of the tourney. This year the Wildcats bring in some great freshman talent in 6'11' Lauri Markkanen from Finland along with freshman Rawle Alkins that should breathe a ton of life into Tucson especially when you pair them with sophomore guard Alonzo Trier. I like the Wildcats to finish in first in the Pac 12. With exception to the opening night game at Michigan State and a game where they host Gonzaga, the Wildcats have a uncharacteristically soft out of conference schedule.
2. Oregon Ducks
The Ducks seem like everyone's favorite to win the Pac 12 and rightfully so because they return Chris Boucher and Dillon Brooks. Out of conference wise the schedule is pretty easy with exception to a game at Baylor. Expect another great season in Eugene. I'm excited to see how freshman M.J. Cage (Son of former SuperSonic Michael Cage) and juco transfer Kavell Bigby-Williams. The Ducks should be loaded to make a great tournament run.
3. California Golden Bears
The Cuonzo Martin era has gotten off to a great start. Tennessee fans are still bitter that Martin pulled the classic "Fuck You" move. Cal lucked up in the offseason when forward Ivan Rabb decided not to be a lottery pick and come back to Berkeley for his sophomore season. Look for senior guard Jabari Bird to have a big season now that Jaylen Brown left for the NBA. The out of conference schedule has a few nice matchups at San Diego State, vs Seton Hall & vs Virginia. The Bears should be able to win 2 of the 3 if not all 3. Look for the Bears to be a dangerous tournament team as Martin continues to take the Bears in the right direction.
4. Colorado Buffaloes
Head coach Tad Boyle has the Buffs rolling in the right direction after making their six consecutive NCAA tournament. It's a safe bet to say a 7th bid is coming. The sad news is Josh Scott one of the best Buffaloes in the history of the program is gone but make room for senior Wesley Gordon and George King. The back court looks loaded. The out of conference schedule brings in games vs Notre Dame and Xavier and road matchups at BYU & Air Force. The road games they should win it's the home games that could tell the tale for the Buffaloes season.
5. UCLA Bruins
Yeah, Yeah, Yeah. I know the Bruins are bringing in a star freshman point guard in Lonzo Ball but I'm just not a believer in Steve Alford as a head coach. His teams are always terrible defensively which normally means quick L's in the NCAA tournament. There is no denying the team has talent but can they put it all together? The out of conference schedule has games at Kentucky, home to Michigan and at Ohio State. They should go 2-1 in those anything else should have Bruin fans disappointed. I expect the Bruins to reach the Tournament this year but I don't see a big run happening unless they start playing better defense.
6. USC Trojans
Last year's surprise team should of been loaded for a great run this year but then Nikola Jovanovic and Julian Jacobs both took terrible advice and left school early to enter the NBA draft. The only problem was they didn't get drafted. I hope they enjoy their time playing pro ball in Saudi Arabia or Turkey. Now back to the Trojans, head coach Andy Enfield has done a great job and luckily he returns guard Jordan McLaughlin. McLaughlin will lead the team in scoring as the Trojans break in four freshman who should see significant playing time. Out of conference wise the Trojans have games @Texas A&M & vs BYU. They should win all the others but those two could be L's. If they can steal those two and play decent within the conference they might be able to make the tournament. Realistically, I'm thinking NIT this year but if they can pull a few upsets who knows.
7. Washington Huskies
Lorenzo Romar started 4 freshman last year (although he lost two of them to the NBA), this year he landed Markelle Fultz a five star recruit from Maryland. This team should be fun to watch but might be a year away from being serious contenders. The out of conference schedule is manageable with games at TCU and at Gonzaga. They should beat TCU but the Gonzaga game should be a good one. It's really going to be a race to see how fast this team can develop, the talent is there but they are very inexperienced. I'm thinking N.I.T. this year but good things are coming.
8. Utah Utes
Larry Krystkowiak has done a great job in Salt Lake City but this season could be a challenging one since the Utes only return four players from last years roster. Still, Krystkowiak gets the most out of his team and I expect them to be a tough out for anybody playing in Salt Lake City. Out of conference they host Butler which is never easy then they travel to Xavier. I doubt their favored in either of those but if they can steal one that could be pivotal heading into conference play.
9. Oregon State Beavers
Gary Payton Jr. is gone, but don't be too bummed out the Beavers are returning some nice pieces. Tres Tinkle and Stephen Thompson should make the Beavers a tough out for anyone looking past the Beavers. The out of conference schedule is highlighted by matchups at Nevada, at Tulsa & at Mississippi State. All their big test come on the road which is unfortunate but the Beavers are more talented than those teams, so it should be interesting to see how they play out. All in all I got the Beavers coming in 9th but heading in the right direction.
10. Stanford Cardinals
The Johnny Dawkins era is over and boy was that a disaster. The Cardinals haven't been relevant since what seems like the days of Mark Madsen's terrible dance. Now, enter head coach Jerod Haase coming over from UAB where he did a remarkable job. Haase inherits a veteran team so maybe there is hope that the Cardinals can work their way out of the cellar of the Pac 12. Out of conference wise the Cardinals open up against a pretty good Harvard team, They need to win that game because they shortly after that are trips at Miami (FLA), at Kansas and at SMU not to mention a home game against preseason top 25 Saint Mary's. The Cardinals are in for a long year if they don't get off to a good start.
11. Arizona State Sun Devils
Year two under the Bobby Hurley experiment begins. Hurley worked wonders at Buffalo but the Mac is a bit easier than the Pac 12. The Sun Devils return Tra Holder who is a heck of a ball player but the rest of the team is quite unproven. One thing Hurley did do since arriving in Tempe is upgrading the out of conference schedule. This year the Sun Devils have games vs Kentucky, Northern Iowa, UNLV, Purdue, at San Diego State and a home matchup vs Creighton. Wow! They should be underdogs in all those games with exception to UNLV. Those games should tell the tale for the season. If they can play with those big boys then perhaps the Sun Devils could make a decent run in conference play.
12. Washington State Cougars
Oh what happened in Pullman? Tony Bennett had the Cougars rolling but then Bennett left for Charlottesville, VA and the cookie crumbled. Now Ernie Kent the former Oregon Duck coach is the man in Pullman and boy does he have his work cut out for him. The good news is that they return Ike Iroegbu and Josh Hawkinson. The out of conference schedule has games at Creighton, at Kansas State I doubt they win those which means they better win the games they should win before the enter Pac 12 play. All in all the Cougars are still easily the worst team in the Pac 12 but Kent was a good hire, give the man some time.