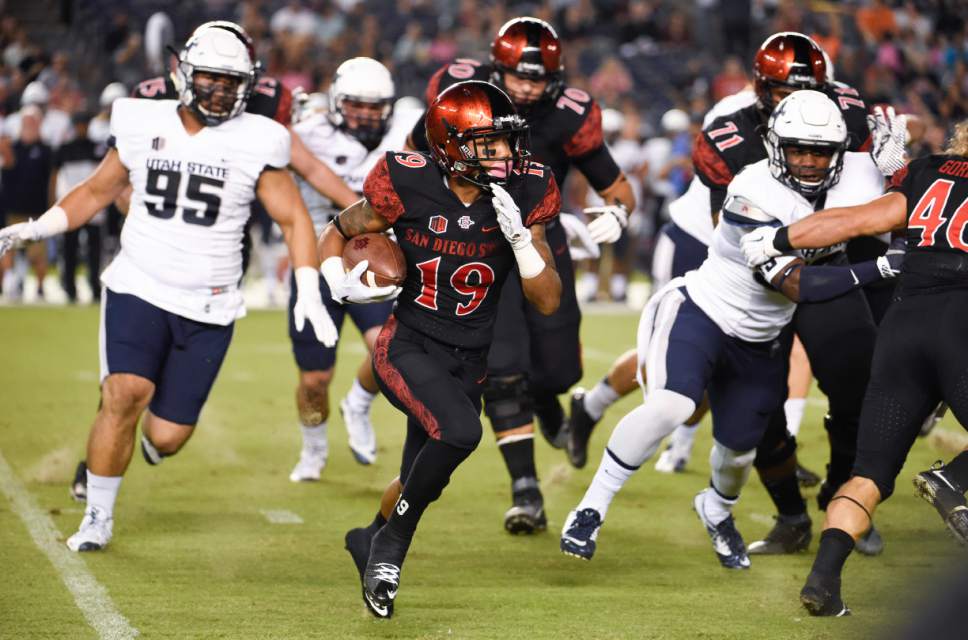 Written By: Colby Dant (@TheColbyD) also check out:

Mountain West – West Division Preview
1. San Diego State
Finally the Aztecs have put things together. For what seems like most of my life I couldn't understand why San Diego State was not better. They reside in fertile recruiting areas and they're in Southern California. When they hired Brady Hoke I knew they would improve and when Hoke left for Michigan and they promoted Rocky Long I thought wow that's even better than Hoke coaching himself. Rocky Long did great things at New Mexico throughout the 90s and that's New Mexico this is southern California. Last year Long won 11 games with the Aztecs and this year some experts have them running the table and potentially playing in a new year's six game.
The main reason why is because the Aztecs have one of the best defenses in the country. Schedule wise out of conference the Aztecs get vs New Hampshire, vs California, @Northern Illinois, @South Alabama. I think 4-0 out of conference is very realistic. Watch that game @Northern Illinois though. In Conference the Aztecs avoid having to play Boise State which is great for them. Their away games are @Fresno State, @Utah State, @Nevada & @Wyoming. They should be favored in all of them but watch out for the game @Utah State. The home schedule is favorable to with games vs UNLV, San Jose State, Hawaii, & Colorado State. I think they go 4-0 at home. So when it's all said and done do the Aztecs run the table? I think they have a great opportunity but for some reason I think they lose one they should win. Still a great season for Rocky Long awaits.
2. Nevada
The Wolfpack seem like they always find a way to make a bowl game. This year might be tough but I think they'll find themselves back in another one. Out of conference the Wolfpack get vs Cal Poly, @Notre Dame, vs Buffalo & @Purdue. I think 2-2 is realistic and if I were Purdue I'd watch out because Nevada is talented enough to beat the Boilermakers.
Conference wise Nevada has road games @Hawaii, @San Jose State, @New Mexico, @UNLV they could go 3-1 in that stretch but I think 2-2 is more likely. Now they get these guys in Reno Fresno State, Wyoming, San Diego State & Utah State. I think 2-2 is likely but I could also see them upsetting someone and coming away 3-1. All in all I got the Wolfpack going 6-6 and making a bowl game.
3. UNLV
Head coach Tony Sanchez did a great job in first season as head coach for the Runnin' Rebels. This year they should be even better despite losing their quarterback Blake Decker. The out of conference schedule is vs Jackson State, @UCLA, @Central Michigan , vs Idaho.
Three out of those four could be bowling later in the year still I think the rebels come away 2-2 in those games. In conference the Rebels have away games @San Diego State, @Hawaii, @San Jose State, & @Boise State. I think 2-2 is realistic but they must win the game @San Jose State. At home they get Fresno State, Colorado State, Wyoming & Nevada. I think they win 2 of those and get to 6 wins and become bowl eligible.
4. San Jose State
The Spartans went bowling last year and they'll be good enough to get back again this year but they'll have to pull off a few upsets out of conference. I want them to make a bowl but when you look at the schedule its tough. Out of conference they have these games @Tulsa, vs 1AA Portland State, vs Utah, @Iowa State.
I'm betting they go 1-3 in those games but they'll have their shot to win against Tulsa and Iowa State. In conference they have road games @New Mexico, @San Diego State, @Boise State, & @Fresno State. Ouch. 1-3 is realistic. Then they have home games against Hawaii, Nevada, UNLV, & Air Force. This is where they need to step up. I have them going 2-2 but its possible they could win all four. At the end of the day I have the spartans only winning 4 games this year and taking a step back.
5. Fresno State
I'm still mad that they fired Pat Hill four years ago. Hill had done wonders with the program. I remember them being a team the big boys hated to play. Now they're a doormat in the Mountain West? What happened? This is a make or break year for coach Tim DeRuyter and I think when it's all said in done it'll be a break year. Schedule wise they have out of conference games @Nebraska, vs Sacramento State, @Toledo, vs Tulsa.
I think 1-3 is realistic but they might be able to upset Toledo or Tulsa. Conference wise the Bulldogs have away games @UNLV, @Nevada, @Utah State & @Colorado State. They'll probably be the underdogs in every one of those but I can see them maybe stealing one of those. At home they get San Diego State, Air Force, Hawaii & San Jose State. I think they could possibly win 2 of those but more likely win just 1 that being against Hawaii.
6. Hawaii
Norm Chow is gone and boy do I bet the rainbow warriors would of just paid June Jones. He really had the program rolling and now they're here. New coach Nick Rolovich played QB under June Jones so maybe he'll have some of his magic. Schedule wise whoever did their out of conference scheduling must of been hammered because I don't know what they were thinking.
Here's the 4 out of conference games vs California (in Australia of all places), @Michigan, vs UT Martin, @Arizona, vs UMass. They'll maybe only get 1 win against UT Martin or Umass the other games they probably lose by 30 or more. In conference they have away games @San Jose State, @Air Force, @San Diego State, @Fresno State. I doubt they win any of those but maybe they can pull one out in Fresno. At home they get Nevada, UNLV, New Mexico, & Boise State. I doubt they'll get any wins there but maybe they can steal one.
Final Thoughts
For the record I have Boise State beating San Diego State in the MWC Championship and I have Boise going undefeated.