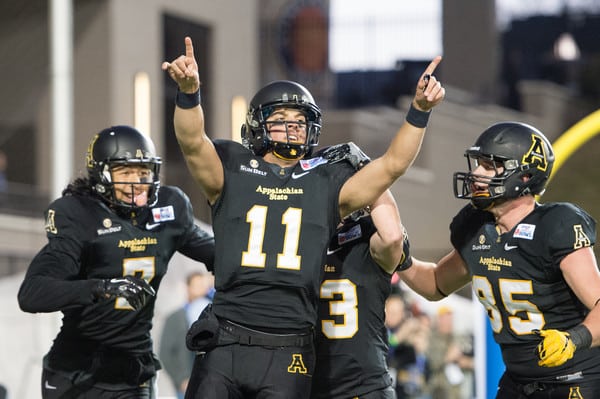 Written By: Colby Dant (@TheColbyD) also check out:

Sun Belt Preview
Colby are you really reviewing the SUN BELT CONFERENCE? Don't get it twisted people the Sun Belt has some teams that could really pull the upset this season. Appalachian State, Georgia Southern, Arkansas State & Louisana Lafayette could really be thorns in the big boys side at some point this year.
This is an up and coming conference that next year will add Coastal Carolina and the year after the conference will have a championship game added. Make no mistake the Sun Belt is headed in the right direction.
1. Appalachian State
Wow, I had no idea the jump from 1AA to single A would be this easy. The Mountaineers went 11-2 last year and had the best offense in the conference. Star quarterback Taylor Lamb is back and same with star running back Marcus Cox all in all the Mountaineers return 18 of the 22 starters. This is a veteran team so watch out. They start the season @Tennessee in Knoxville on a thursday night prime time game. They are 23 point underdogs at the moment. Everybody is in love with Tennessee this year but they need to not overlook the Mountaineers remember when App State took down Michigan?.
App State then heads home to take on Old Dominion followed up by a home game against Mark Richt and the Miami Hurricanes. That's the game I could really see the Mountaineers stealing. After that they travel to a rebuilding Akron team that went bowling last year. In division App State avoids playing Arkansas State but has a couple tough road games @UL Lafayette & @Georgia Southern. I think they're to experienced to lose both of those. I expect another great year with potentially double digit wins yet again.
2. Arkansas State
The Red Wolves are loading up again for another shot at the Sun Belt title. Blake Anderson is really working his magic in Jonesboro. This year the Red Wolves should be even better with Oklahoma transfer Justice Hansen at quarterback. Schedule wise out of conference the Wolves start at home against a good Toledo team from the MAC. I expect Arkansas State to win that game but it should be a good game.
Then comes week 2 @ Auburn. Could Auburn fall asleep and get upset? I suppose anything is possible, Arkansas State almost beat another SEC school last year in Missouri. Then comes week 3 when they travel to Logan, Utah to take on a good Utah State team before a home game against 1AA Central Arkansas. Out of those 4 games I think 2-2 is likely but they could go 3-1. In conference they luck up by avoiding Appalachian State. Their toughest in conference game is either home to Georgia Southern or late in the year @Louisana Lafayette. Regardless this is a team that at least 8 games and go bowling again.
3. Georgia Southern
The Eagles had the top rushing attack in all of college football last season but head coach Willie Fritz moved on to Tulane and now in comes Tyson Summers who is planning on keeping the same offense and the same deadly triple option rushing attack. Schedule wise GA Southern gets out of conference games with vs 1AA Savannah State, @Western Michigan, @Georgia Tech & @Ole Miss.
Wow, they really went for it. Theres a chance all of the single A opponents are ranked this year. As good as Georgia Southern is I can't see them winning those games. I think they go 1-3 out of conference. In Conference the Eagles have to play @ Arkansas State but they do get App State & Louisiana Monroe at home in Jonesboro. At the end of the day it will be another bowl season for the Eagles but a third place finish in conference.
4. Louisiana Lafayette
The Ragin' Cajuns should be better this year despite their inexperience at quarterback. Last year they were a much better team than their record would indicate. Sophmore QB Jordan Davis showed a few flashes last year that should have Cajun fans quite optimistic. Schedule wise they start the season off at home against the king of the little guys Boise State. I don't think they are ready for that one but perhaps the other non conference games will provide better opportunity.
The Cajuns get 1AA McNeese State, @ Tulane & @Georgia. They might be able to go 2-2 out of conference and if they do than fans should be happy with that. In conference the Ragin' Cajuns get App State and Arkansas State at home so they'll have their chances to flat out win the conference their only tough road game in conference is @Georgia Southern. I should note that they should watch out for the home game against Idaho. The Vandals could shock some people this year. All in all i got Louisiana Lafayette bowling this year.
5. Idaho Vandals
The Vandals might just be able to go bowling in their final year in the Sun Belt before taking a step back and joining the 1AA ranks. It doesn't make much sense to me but hey theres plenty of reasons to be excited if your a Vandals fan. Back at quarterback is junior Matt Linehan who really had a great season last year. Out of conference scheduling is a bit crazy with three of the four games being on the road (@Washington, @Washington State & @UNLV).
They will probably lose all three of those so that makes the opening game against Montana State a must win. In conference the Vandals have some more tough road games @Appalachian State, @Louisana Lafayette but they avoid having to play Georgia Southern & Arkansas State so thats good. All in all the story of the season will come down to how they play in the road games. If they can steal a couple the Vandals should be bowling for the first time in seven seasons.
6. Troy Trojans
Head coach Neal Brown had a good first season at Troy even though they had a losing record. This year maybe they can win some of the close games that they lost last season. In fact the Trojans went 0-3 in games decided by six points or less. This year they'll have to improve that stat if they want a chance to go to a bowl game. Out of conference schedule wise the Trojans get a nice start off game with 1AA Austin Peay before having to go on the road to Clemson & Southern Miss which they should both lose then the last of the out of conference games is a late season home game against the Umass Minutemen.
I think 2-2 out of conference is destined. In conference the Trojans get their shot at the big boys of the conference with home games against Appalachian State & Arkansas State in back to back weeks in November. They also end the season in the biggest conference road game of the year for them when they play @Georgia Southern. All in all i think Trojans go 6-6 and become bowl eligible although I doubt they go bowling.
7. Georgia State
Last year Georgia State went bowling and lost to San Jose State but this year maybe they can actually win a bowl game. They return 16 starters and they have a new QB at the helm in Utah transfer Conner Manning. Schedule wise it isn't as bad as some of the other Sun Belt teams when it comes to out of conference. The Panthers start the season at home against one of the MAC's worst teams Ball State.
That's a very winnable game. Week 2 they travel to Colorado Springs to take on Air Force followed by a game @Wisconsin and a late season matchup against 1AA UT Martin. 2-2 out of conference is very doable. In conference they have a few tough road games at App State & Idaho along with home games against Arkansas State & Georgia Southern. I doubt they'll get any of those. All in all the Panthers take a step back this year but hey maybe they can pull a few upsets like they did last year.
8. South Alabama
The Jaguars had quite the up and down season last year. I mean how do you explain how they beat a very good San Diego State team early on but then fall flat on their face when the in conference season begun. This year theres reason to be optimistic because hey they showed us flashes of being a good football team last year. Now can they put it all together? Schedule wise the Jags have it tough they start the season in the SEC @Mississippi State and after that they have a home game to Georgia Southern.
So they'll most likely be 0-2 when week three rolls around and then they have to play @Louisiana Lafayette which should be another loss but then they get a home game against 1AA Nicholls State so maybe they can end september on the right track with a win. The only problem is then comes October with a home game against San Diego State and I think the Aztecs might want some revenge. Then the Jags get a much needed week off before they play @Arkansas State after that game I've got the Jags at 1-5 to start the season but then they get some winnable games at home against Troy & Georgia State. They could win a few of those but they end the season with november games @LSU and @Idaho. All in all I think its another losing season in Mobile.
9. New Mexico State
After the season the Sun Belt is booting the Aggies out. Can they possibly turn that into an advantage and actually have the Aggies upset some teams and make a bowl? I doubt it but hey thats why they play the games. Out of conference the Aggies get @UTEP, vs New Mexico, @Kentucky, @Texas A&M. They'll be underdogs in all four and I think they lose them all.
I can't believe they didn't schedule a 1AA just to try and get the team a win. In conference they have road games @Troy, @Idaho, @Arkansas State & @South Alabama. They'll be lucky to steal one of those. At home they get Louisiana Lafayette, Georgia Southern, Texas State & Appalachian State. Ouch. I can only see them maybe stealing one of those. So for the season I have the Aggies winning one or maybe two games. Hey enjoy them for those will be the last ever in the Sun Belt conference.
10. Louisiana Monroe
Just a few years ago the Warhawks were upsetting SEC teams then what happened? The program lost its touch and now they have a new head coach in Matt Viator. Viator does return a great deal including seven starters on offense maybe the experience can help.
Out of conference the Warhawks start the season at home in Monroe, LA against 1AA Southern. Nice a victory to start the season before 4 straight weeks of potential bowl team opponents. @Oklahoma, @ Georgia Southern, @Auburn and home to Idaho. Yeah I think the Warhawks are looking at a 1-4 start before they host the Texas State Bobcats. Now there's a winnable game and its at home so thus is the reason I didn't pick ULM to finish in last place. I think they get the win against Texas State and win two games this year.
11. Texas State
Head coach Dennis Franchione is gone and now the new man is Everett Withers who I should mention did some great things at 1AA James Madison. However it's year one and its a completely new system on both sides of the ball. Out of conference the Bobcats play @Ohio, @Arkansas, vs Houston, vs Incarnate Word.
They must win the game vs 1AA Incarnate Word if they want to win any games this season because they'll be underdogs in every single other game. All in all I love the hire of Everrett Withers but he needs some time to put things in place. Be happy with the one win and let the man do his thing.