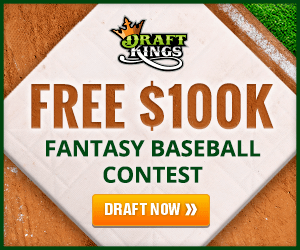 MLB Draft Kings Lineup 06/27/15 #DFS
Stat nerd Steve (@thestevemc) shares his MLB Draft Kings' Lineup for June 27th, 2015.
P – Garrett Richards ($9,400)
Seattle has the second-lowest OPS against right-handers this season and faces off against Richards in what is always a pitcher's park in Anaheim.
P – Gio Gonzalez ($7,900)
Gio has pitched much better than his 4.41 ERA. Although his K/9 is a down a bit from last year, his ERA should continue to fall towards 3 thanks to a high GB%, starting with today's matchup against the punchless Phillies in a pitcher's park.
C – Dioner Navarro ($3,400)
Saturdays are always a tough spot for catchers with the early Sunday game. Navarro sat out Friday night's action and has 2 HRs in his last three games.
1B – Anthony Rizzo ($4,700)
Rizzo is a nice value today on the road, where he has done most of his damage surprisingly (11 of his 15 HRs, 6 of his 11 SBs).
2B – Ian Kinsler ($4,400)
Kinsler has reinvented his plate approach this year, increasing his walk rate to 10%, from only 4% last year. Righties have clobbered John Danks this year to the tune of a .311 batting average.
3B – Miguel Cabrera ($5,500)
Part of the Tigers' right-handed stack against Danks, Cabrera continues to cruise with a wOBA (weighted on-base average) of .436 that leads all eligible third basemen by a mile and trails only one first basemen.
SS – Francisco Lindor ($3,600)
The recently promoted top prospect has four hits (including his first home run) in his last two games.
OF – Yoenis Cespedes ($4,300)
Cespedes is having a strong year with 14 bombs and 5 SBs, and is a right-handed hitter against lefty soft-tosser John Danks.
OF – Nick Markakis ($3,500)
Hiding in the bottom of the OF ranks is Nick Markakis and his .301 batting .389 on-base percentage.
OF – Brock Holt ($3,500)
Holt is another bargain play with .390 OBP and ability to steal a bag (4 SB in 57 games).