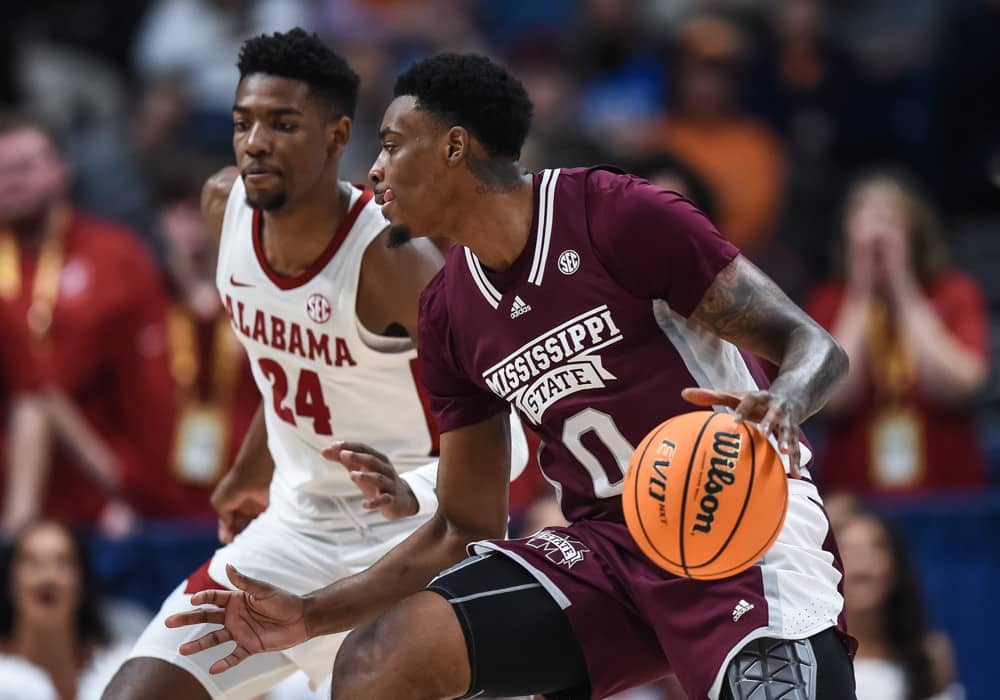 First Four Picks + March Madness Betting Strategies
The guys (@GamblingPodcast) give out their First Four picks in this March Madness predictions podcast. They also cover their best March Madness betting strategies in their March Madness commandments.
Selection Sunday has passed, and March Madness brackets are ALMOST set. The first four games will set the official bracket and will be played on March 14th and March 15th.  Stay tuned for those picks and the 10 commandments for betting on March Madness.
March Madness Betting Strategies aka The 10 Commandments
1.      Thou shall bet all 36 first half unders.
This includes the first four games as well because the numbers are just ridiculous on first half unders. This has hit at an alarming rate the past few years. A common reason for this is nerves since it is the first game and that a lot of these teams are playing in a different time zone that they are not used to. Also, teams have gotten used to playing their conference and now have to play a completely different style of team.
2.      Thou shall respect balance teams.
The cumulative rank for teams in top in the country in offense and defense needs to be under 50. Winners of the tournament in recent history have all fit this model except UConn. Some teams that fit this are Houston, Texas, Alabama, and UConn. Purdue is close as well as West Virginia and UCLA. Knowing which teams played a tough schedule also helps. In general, it is better to favor the teams that play better defense.
3.      Thou shall fade the first-round upsets.
Big time dogs who upset a big team typically go on to lose the next game if they are a big dog again. It is hard to win as a more than 7 point dog, and it is especially hard to do it twice.
4.      Thou shall ignore the seed number.
Everyone looks at the 5/12 seed matchups to take some upsets. This year has strong 5 seeds but 2019 was the only year a 12 seed did not advance to the round of 32. In the past 10 years, if you took every 12 seed on the ML you would be up money.
5.      Thou shall respect the play in game.
Only once since 2011 has a team in the play-in game did not reach the Final Four. Mississippi State and Iowa State both appeared on the fade list.
6.      Thou shall not believe in fairy tales.
Only 4 teams outside the top 3 seeds have won the National Championship since 1985. Very few teams outside the 7 seed have made it to the Final Four. Michigan State has an attractive path that could lead to them making a big run.
7.      Keep holy of thy free throw percentage.
Teams who shot 77% or higher from the line were 60-38-2 against the spread this year. If there is a double digit percentage shooting difference between two teams, take the one who shoots better.
8.      Thou shall fade major conference tournament winners.
Teams get tired when they are winning their conference tournament and are a high major. These games end very close to the first round and they can easily be tired. Some teams who lost early can benefit from all the extra rest.
9.      Thou shall not worship false idols.
Some coaches have great records against the spread in the tournament, and some have terrible records. Such as the TCU coach, Jamie Dixon, and Rick Barnes, the Tennessee Coach.
10.   Thou shall bet against Bill Self after the first round of the tournament.
This one could be changed though since Bill Self just accomplished a battle with death and could truly rally his troops to make a big run to be back-to-back National Champions.
First Four Picks:
Texas A&M Corpus Christi is -3.5 against SEMO. Corpus Christi fits with commandment 7 as they shoot much better from the line than SEMO. SEMO could be riding high from winning their conference tournament as big dogs.
Pittsburgh is +1.5 against Mississippi State. State has strong defense and poor offense but goes against a bad defense in Pitt. They also rebound the ball well on the offensive glass but Pitt should be more electric in the matchup.
FDU and Texas Southern battle on Wednesday. Texas Southern is awful at shooting threes and FDU shoots well from the line. FDU lacks collegiate experience in their lineup and might be physically outmatched.
Nevada is +1.5 against Arizona State. Nevada holds onto the ball well but isn't very impressive on offense. State has a very good defense though but fails in comparison in the free throw shooting category.
College Basketball Best Bets:
Kramer Lock: Arizona State -1.5
Kramer Dog: Texas Southern ML and Texas A&M Corpus Christi ML +175
Sean Lock: Texas A&M Corpus Christi -3.5
Sean Dog: Pitt ML
Colby Lock: Arizona State -1.5
Colby Dog: Texas Southern ML and Texas A&M Corpus Christi ML +175
First Four Odds via WynnBET
| | | | | | | |
| --- | --- | --- | --- | --- | --- | --- |
| Time | # | Teams | Sprd | ML | Tot | 1H T |
| | | | | | | |
| 3/14 3:40 PM | 16 | SE Missouri State | | 150 | 154.5 | 73 |
| Dayton, OH | 16 | Texas A&M Corpus Christi | -3.5 | -170 | | |
| 3/14 6:10 PM | 11 | Pittsburgh | | 105 | 132 | 62 |
| Dayton, OH | 11 | Mississippi State | -1.5 | -125 | | |
| 3/15 3:40 PM | 16 | Fairleigh Dickinson | | 110 | 147.5 | 69.5 |
| Dayton, OH | 16 | Texas Southern | -2 | -130 | | |
| 3/15 6:10 PM | 11 | Nevada | | 100 | 134.5 | 63 |
| Dayton, OH | 11 | Arizona State | -1.5 | -120 | | |
Podcast Transcription