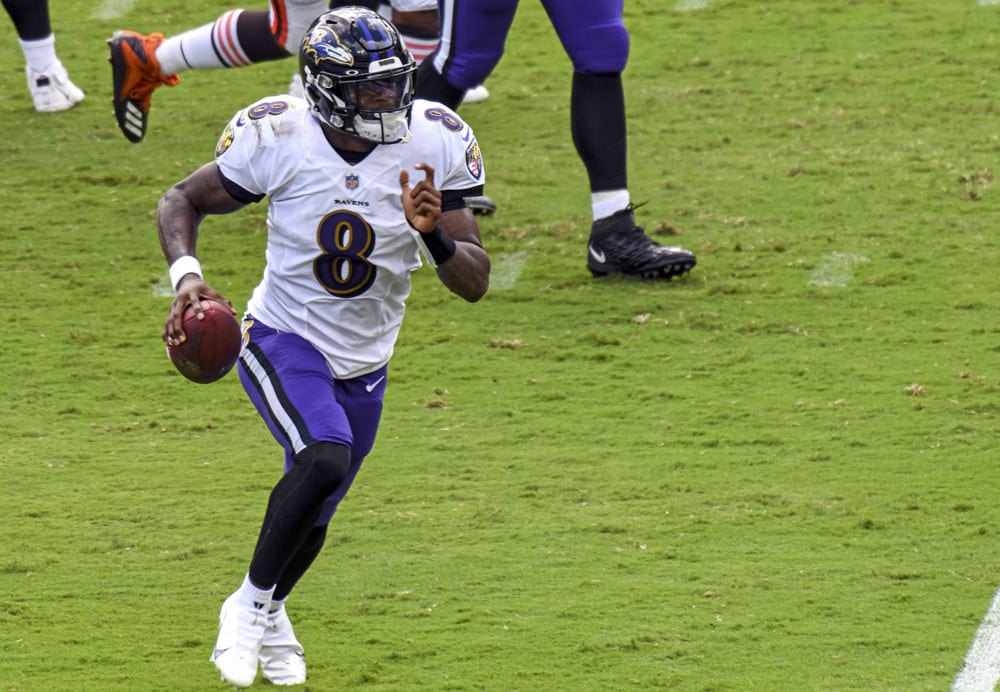 NFL Week Three Picks & Bill Burr
The guys are back doing what they do best handicapping the National Football League. They give out all their NFL week three picks and close out strong with their lock, dog, tease and survivor picks.
(08:45) Next the guys are joined by comedian Bill Burr (@BillBurr) the guys talk about Bill's 4-1 ATS record the previous week, the big Monday Night Football game between the Chiefs / Ravens and the Patriots at home against the Raiders. Plus Bill talks about turning down a trip to watch the Patriots Super Bowl in order to work on the classic Chapelle's Show sketch 'The World Series of Dice."
(28:44) Then the guys get down to walking through the NFL schedule picking every game against the spread. They hit on a lot of the big NFL news including the bizarre injury of Tyrod Taylor. Plus Sean pulls out all of the stops to reverse the Eagles struggles.
SIGN UP FOR THE $100 DEGEN SHOWDOWN
Want to see how the guys are doing in the handicapping contest? Learn more about the Capper Cup.
Podcast Video
NFL Week Three Lines
| | | | | | |
| --- | --- | --- | --- | --- | --- |
| Time | Teams | Look | Spread | ML | Total |
| 9/24 5:20 PM | MIA | | | 135 | 48 |
| | JAX | -1 | -3 | -155 | |
| 9/27 10:00 AM | CHI | | | 155 | 47.5 |
| | ATL | -3 | -3 | -175 | |
| 9/27 10:00 AM | CIN** | | | 205 | 46.5 |
| | PHI | -6 | -5.5 | -245 | |
| 9/27 10:00 AM | HOU | | | 170 | 45 |
| | PIT | -5.5 | -4 | -200 | |
| 9/27 10:00 AM | LVR* | | | 240 | 47.5 |
| | NE | -5.5 | -6 | -280 | |
| 9/27 10:00 AM | LAR | | | 115 | 47.5 |
| | BUF | -3 | -2.5 | -135 | |
| 9/27 10:00 AM | SF | -6.5 | -4.5 | -215 | 45 |
| | NYG | | | 175 | |
| 9/27 10:00 AM | TEN | | -3 | -150 | 49 |
| | MIN | -1 | | 130 | |
| 9/27 10:00 AM | WAS | | | 270 | 45 |
| | CLE** | -6 | -7 | -330 | |
| 9/27 10:00 AM | CAR | | | 220 | 43.5 |
| | LAC | -6.5 | -6.5 | -260 | |
| 9/27 1:05 PM | NYJ | | | 440 | 44 |
| | IND | -6.5 | -11 | -580 | |
| 9/27 1:25 PM | DAL | | | 185 | 55.5 |
| | SEA | -3.5 | -5.5 | -225 | |
| 9/27 1:25 PM | DET | | | 225 | 55 |
| | ARZ | -3 | -5.5 | -265 | |
| 9/27 1:25 PM | TB | -3.5 | -6 | -260 | 43.5 |
| | DEN | | | 220 | |
| 9/27 5:20 PM | GB | | | 145 | 52.5 |
| | NO* | -4.5 | -3 | -165 | |
| 9/28 5:15 PM | KC | | | 155 | 53.5 |
| | BAL | -1.5 | -3.5 | -185 | |
Podcast Transcription