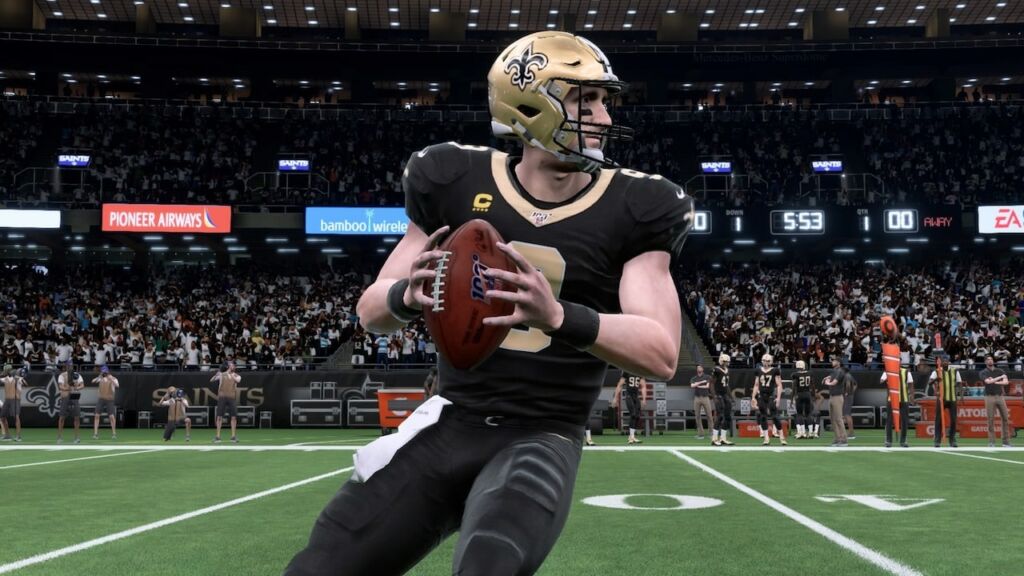 TGIMMT – Thank God Its Madden MAYhem Thursday! Our three-day hiatus is over and its Sweet 16 time. We last saw the heavily-favored Ravens lose on the last play of the game, as Bengals kick returner Darius Phillips took one to the house. In the process, I ripped up my Ravens +500 to win it all ticket and cried myself to sleep. It was a crazy first round of games and I can't wait to see what round two has in store.
If you are following along, I went 4-0 ATS and 2-2 O/U opening weekend. This last weekend saw me come back down to Earth, going 1-3 ATS and 1-3 O/U. That's 5-3 ATS and 3-5 O/U so far. Let's get this going!
Get your bets in exclusively at MyBookie !
All games can be viewed on Twitch, YouTube, Twitter (@GamblingPodcast), Twitter (@theSGPNetwork), Facebook, and Instagram
Atlanta Falcons @ New Orleans Saints
Line: Saints -7.5
Total: 52.5
Thursday 5pm PST
Our first game of the week crowns the NFC South Champion and advances the first team into the Elite 8. The 2 seed Falcons ruined Tom Brady's debut in Tampa, beating the Bucs 27-24. Matt Ryan had an excellent game, going 24-30 for 369 yards and 3TD's. His main target, of course, was Julio Jones who also had a monster game, hauling in 10 catches for 189 yards and a TD.
An area of concern for the Falcons offense was a complete lack of a running game. The newly acquired Todd Gurley led the team with 13 carries but could only muster 28 yards. A strong ground game is usually a recipe for success against the Saints. If the Falcons get too one dimensional and can't get their backfield involved in the offense, New Orleans will get their pass rush going and cause some problems for Matt Ryan.
The top seed New Orleans Saints looked thoroughly dominant in their 31-8 win over the Carolina Panthers. Drew Brees was the highest rated QB of the first round, completing 23 of 28 passes for 360 yards and 4 touchdowns. The Panthers had no answer for Michael Thomas who picked up 148 yards on 5 catches including 2 TD's. Additionally, Jared Cook had the best game from any tight end in round 1, catching 11 balls for 122 yards and a TD.
Arguably more impressive than Drew Brees and company was the Saints defense. Christian McCaffrey may have totaled 102 yards from scrimmage but it took him 29 touches (3.5 yards per touch) to do so. New Orleans also rendered Teddy Bridgewater totally ineffective, only throwing for a measly 187 yards on 37 attempts (just over 5 yards per attempt). If the Saints D can turn in this kind of performance again it will be a long day for the Falcons.
Picks
The Atlanta Falcons passing game is legit but New Orleans is more of a complete team.  The Saints will win outright but I fear a backdoor cover. Give me the Falcons and give the Over.
Las Vegas Raiders @ Kansas City Chiefs
Line: Chiefs -9.5
Total: 54.5
Thursday 7pm PST
Our second game of the night crowns the AFC West champion and advances the second team into the Madden MAYhem Elite 8. The 3 seed Oakland Raiders went into Denver as a slight dog and dispatched the Broncos 34-30. Derek Carr was given the starting nod at quarterback a few hours before kickoff and responded with a stellar game, throwing for 360 yards, 3 touchdowns and zero picks. If the Silver and Black can get this kind of QB play from Carr, they'll be thinking upset again in Kansas City.
Carr's top target, surprisingly, was newly acquired Nelson Agholor who caught 8 balls for 110 yards and a TD. Tight End Darren Waller and rookie wide receiver Henry Ruggs were also over 75 yards each and both caught TD's. Second year man Josh Jacobs had a solid game on the ground as well, going over the century mark and finding paydirt once. If the Raiders get this kind of offensive balance again, they'll be difficult to stop.
The Chiefs played in the opening Madden MAYhem game and took down the Chargers 41-31. As expected, the offense was dynamite. Mahomes threw for 385 yards and 3 TD's. Tyrek Hill went absolutely bananas reeling in 6 catches for 173 yards and a couple scores. Complementing Hill nicely was Mecole Hardiman who caught 5 balls for 91 yards and Travis Kelce who pulled in 7 catches for 50 yards. Additionally, rookie running back Clyde Edwards-Helaire showed off his chops in the passing game, reeling in 4 more grabs.
The KC offensive output certainly came as no surprise, but the defense was a bit discouraging. Rookie QB Justin Herbert threw for 370 yards and 4TD's while Austin Ekeler ran for 118 yards on the ground. The improved Raider offense will surely be licking their chops and eager to go up against this feeble defense.
Picks
After getting torched by the Chargers, I expect the KC defense to show a little heart and slow down the Vegas offense enough for a fairly easy win and cover. Plus, Derek Carr can't play that well again, right?  The Chief offense cannot be stopped and will put up points with ease. Give me the Chiefs and the Over.